The girl who has Hollywood a-buzz these days is Alexandra Hay—who recently divorced her guardian-husband. John Cassavetes and Gena Rowland, on the other hand, stay happily wed.
ROGER CORMAN presents an AMERICAN INTERNATIONAL picture
DEVIL'S ANGELS
... From the Producers of 'The Wild Angels'
Starring John Cassavetes Beverly Adams Mimsy Farmer
John Cassavetes and his wife, Gena Rowlands, may do a movie together next. He just did "Husbands" and Gena just had a new baby.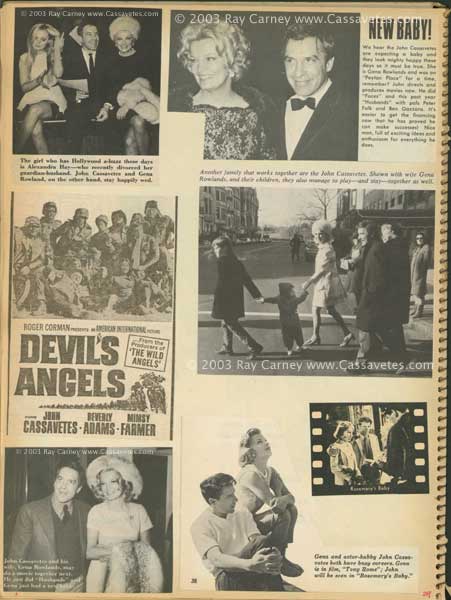 NEW BABY!
We hear the John Cassavetes are expecting a baby and they look mighty happy these days so it must be true. She is Gena Rowlands and was on "Peyton Place" for a time, remember? John directs and produces movies now. He did "Faces" and this past year "Husbands" with pals Peter Falk and Ben Gazzara. It's easier to get the financing now that he has proved he can make successes! Nice man, full of exciting ideas and enthusiasm for everything he does.
Another family that works together are the John Cassavetes. Shown with wife Gena Rowlands, and their children, they also manage to play—and stay—together as well.
Rosemary's Baby
Gena and actor-hubby John Cassavetes both have busy careers. Gena is in film, "Tony Rome"; John will be seen in "Rosemary's Baby."