Kicking up his heels, after some concentrated work, is Cassavetes' method for relaxation. First, some drum beating and then getting a few fan letters off is the order of the afternoon.
"Looks wonderful, honey," John encourages Gena as she makes with the brush strokes over her latest artistic endeavor.
Old friend, Edward McSorley, well-known author, dropped in for a chat and is interested in the latest addition to John's excellent press clippings—a bulky, ever-growing collection.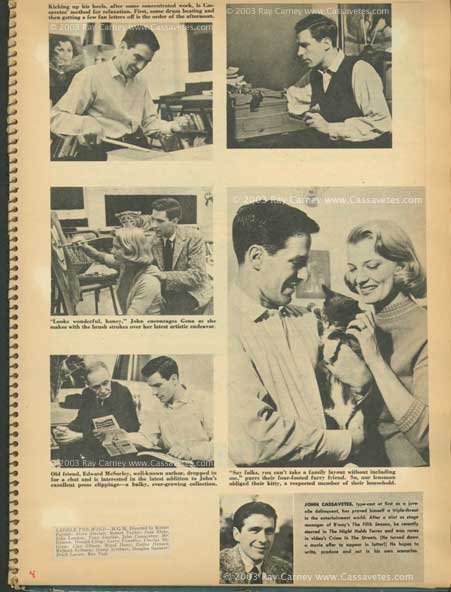 "Say folks, you can't take a family layout without including me," purrs their four-footed furry friend. So, our lensman obliged their kitty, a respected member of their household.
JOHN CASSAVETES, type-cast at first as a juvenile delinquent, has proved himself a triple-threat in the entertainment world. After a stint as stage manager of B'way's The Fifth Season, he recently starred in The Night Holds Terror and won raves in video's Crime In The Streets. (He turned down a movie offer to appear in the latter!) He hopes to write, produce and act in his own scenarios.
SADDLE THE WIND—M-G-M. Directed by Robert Parrish: Steve Sinclair, Robert Taylor; Joan Blake, Julie London; Tony Sinclair, John Cassavetes; Mr. Deneed, Donald Crisp; Larry Venables, Charles McGraw; Clay Ellison, Royal Dano; Dallas Hansen, Richard Erdman; Hamp Scribner, Douglas Spencer; Brick Larson, Ray Teal.