JOHN CASSAVETES & GENA ROWLANDS
"We must be kinder to ourselves and each other," says John. "Saying I love you means nothing. You must show love." A New Yorker, now 39, he married Gena, from Cambria, Wisc., 10 years ago. They have a son, Nicky, 8, and daughter, Alexandria, 4. He's a gentle father.
"RELAXING" over a game of chess. John and Gina (sic) prefer to stay at home, would much rather talk or read than go to a nightclub.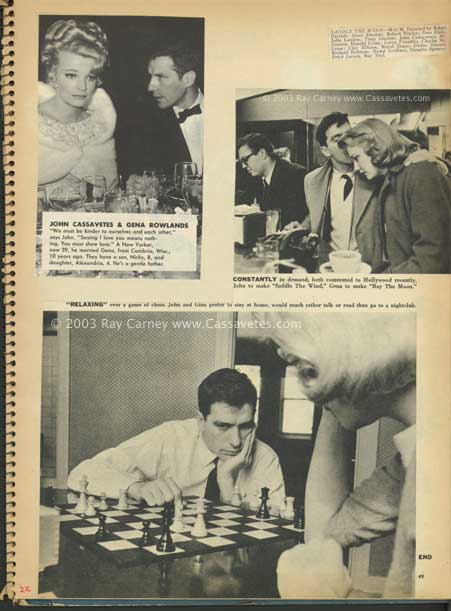 SADDLE THE WIND—M-G-M. Directed by Robert Parrish: Steve Sinclair, Robert Taylor; Joan Blake, Julie London; Tony Sinclair, John Cassavetes; Mr. Deneen, Donald Crisp; Larry Venables, Charles McGraw; Clay Ellison, Royal Dano; Dallas Hansen, Richard Erdman; Hamp Scribner, Douglas Spencer; Brick Larson, Ray Teal.
CONSTANTLY in demand, both commuted to Hollywood recently, John to make "Saddle The Wind," Gena to make "Bay The Moon."