WHO COULD ASK FOR ANYTHING MORE?
continued
As we were talking, Jerry had been crawling all over the room taking shots of Gena and John from every angle. "Get under the coffee table with the tiger," he requested. John and Gena shrugged and crawled under the table. "Cassavetes does anything for a laugh!" John exclaimed. "Now make like you're kidding around," Jerry said. "Okay, Janet Leigh?" asked John. "Okay, Tony Curtis," said Gena solemnly and they both burst out laughing. "We swore we'd never do this," Gena explained as she hugged both John and the tiger.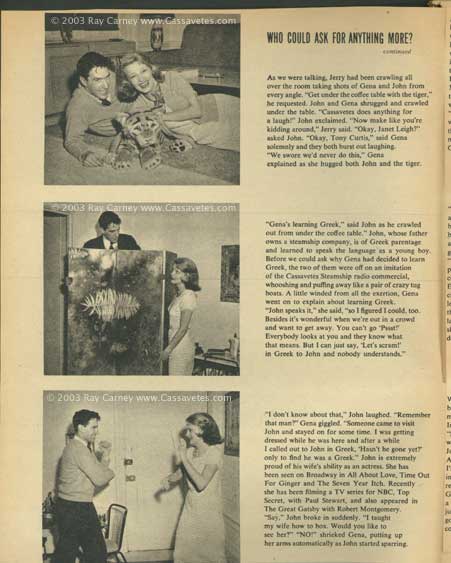 "I don't know about that," John laughed. "Remember that man?" Gena giggled. "Someone came to visit John and stayed on for some time. I was getting dressed while he was here and after a while I called out to John in Greek, 'Hasn't he gone yet?' only to find out he was a Greek." John is extremely proud of his wife's ability as an actress. She has been seen on Broadway in All About Love, Time Out for Ginger and The Seven Year Itch. Recently she has been filming a TV series for NBC, Top Secret, with Paul Stewart, and also appeared in The Great Gatsby with Robert Montgomery. "Say," John broke in suddenly. "I taught my wife how to box. Would you like to see her?" "NO!" shrieked Gena, putting up her arms automatically as John started sparring.
"Gena's learning Greek," said John as he crawled out from under the coffee table." John, whose father owns a steamship company, is of Greek parentage and learned to speak the language as a young boy. Before we could ask why Gena had decided to learn Greek, the two of them were off on an imitation of the Cassavetes Steamship radio commercial, whooshing and puffing away like a pair of crazy tug boats. A little winded from all the exertion, Gena went on to explain about learning Greek. "John speaks it," she said, "so I figured I could too. Besides it's wonderful when we're out in a crowd and want to get away. You can't go 'Pssst!' Everybody looks at you and they know what that means. But I can just say, 'Let's scram!' in Greek to John and nobody understands."