JOHN CASSAVETES, a 27-year-old, lean, dark New Yorker, appears to some to be a paradox: fun-loving about many things but intensely serious about his profession. Like others of his breed, John graduated from the school of hard knocks. Now, alternating Hollywood filming (MGM's "Saddle the Wind") with video, fame and money are secondary to him and actress-wife Gena Rowlands.
THE CHIP'S OFF HIS SHOULDER
When John Cassavetes left New York, he was prepared to hate Hollywood.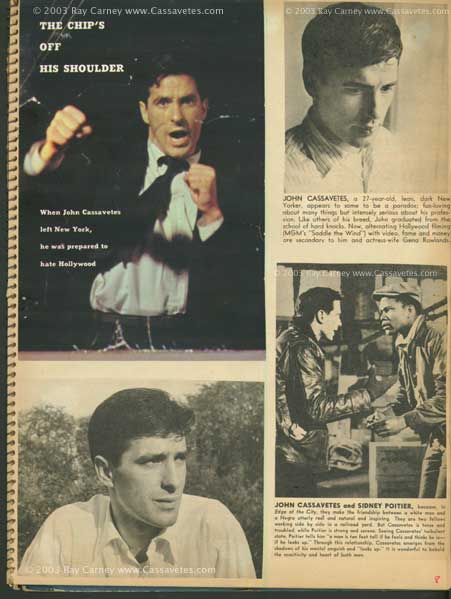 JOHN CASSAVETES and SIDNEY POITIER, because, in Edge of the City, they make the friendship between a white man and a Negro utterly real and natural and inspiring. They are two fellows working side by side in a railroad yard. But Cassavetes is tense and troubled, while Poitier is strong and serene. Seeing Cassavetes' turbulent state, Poitier tells him "a man is ten feet tall if he feels and thinks he is— if he looks up." Through this relationship, Cassavetes emerges from the shadows of his mental anguish and "looks up." It is wonderful to behold the sensitivity and heart of both men.