Every once in a while a reporter starts out on what she thinks is a perfectly ordinary assignment, but before she is through, a kid of magic permeates the interview. She's not sure whether or not she has a story that makes sense, but she knows she has a good story — one about people and what they're like inside. By the time we finished our interview with John Cassavetes, we were completely captivated by the young actor who is currently receiving such rave notices for his work on television. His charming actress-wife, Gena Rowlands, helped add to the magic that was there—the magic of two people in love, so infectious that we were caught up in it and swept along by it. This, then, is one reporter's story of two of the nicest people you'll ever meet.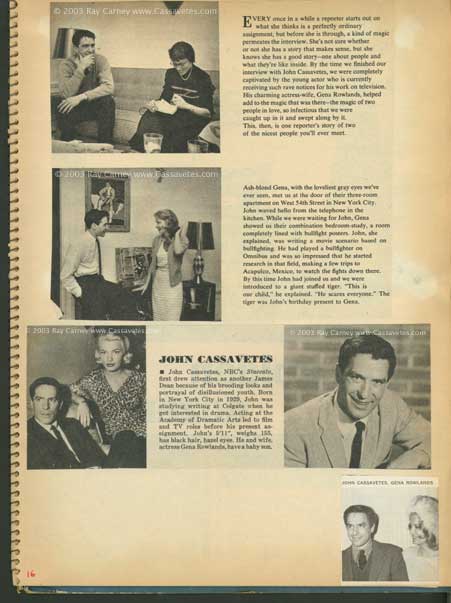 Ash-blond Gena, with the loveliest gray eyes we've every seen, met us at the door of their three-room apartment on West 54th Street in New York City. John waved hello from the telephone in the kitchen. While we were waiting for John, Gena showed us their combination bedroom-study, a room completely lined with bullfight posters. John, she explained, was writing a movie scenario based on bullfighting. He had played a bullfighter on Omnibus and was so impressed that he started research in the field, making a few trips to Acapulco, Mexico, to watch the fights down there. By this time John had joined us and we were introduced to a giant stuffed tiger. "This is our child," he explained. "He scares everyone." The tiger was John's birthday present to Gena.
JOHN CASSAVETES
John Cassavetes, NBC's Staccato, first drew attention as another James Dean because of his brooding looks and portrayal of disillusioned youth. Born in New York City in 1929, John was studying writing at Colgate when he got interested in drama. Acting at the Academy of Dramatic Arts led to film and TV roles before his present assignment. John's 5'11", weighs 155, has black hair, hazel eyes. He and wife, actress Gena Rowlands, have a baby son.