At this point we started off, in our most businesslike manner, to ask John about his career. He went to Colgate College for a while, he told us, then he quit to become an actor, attending the American Academy of Dramatic Arts. From there he went into television and was doing quite well until the influx of Hollywood stars. After that there was no TV work to be had for a young unknown. For a while he worked for Gregory Ratoff and then landed a job as assistant stage manager with the Broadway play, The Fifth Season. "Then one day," he said, "I met the greatest agent in the world. I hadn't been working for a long time, but the very next day Bill McCaffrey had me on Omnibus! Bill is a friend. He won't do anything to hurt me. You might almost say he's not in the business for money."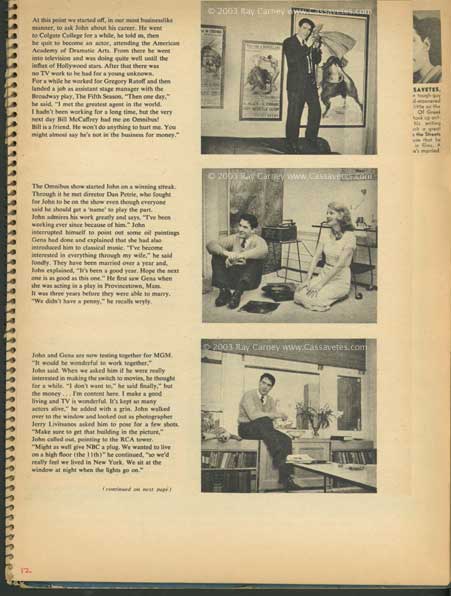 John and Gena are now testing together for MGM. "It would be wonderful to work together," John said. When we asked him if he were really interested in making the switch to movies, he thought for a while. "I don't want to," he said finally," but the money . . . I'm content here. I make a good living and TV is wonderful. It's kept so many actors alive," he added with a grin. John walked over to the window and looked out as photographer Jerry Livitsanos asked him to pose for a few shots. "Make sure to get that building in the picture," John called out, pointing to the RCA tower. "Might as well give NBC a plug. We wanted to live on a high floor (the 11th)" he continued, "so we'd really feel we lived in New York. We sit at the window at night when the lights go on."
(continued on next page)
The Omnibus show started John on a winning streak. Through it he met director Dan Petrie, who fought for John to be on the show even though everyone said he should get a 'name' to play the part. John admires his work greatly and says, "I've been working ever since because of him." John interrupted himself to point out some oil paintings Gena had done and explained that she had also introduced him to classical music. "I've become interested in everything through my wife," he said fondly. They have been married over a year and, John explained, "It's been a good year. Hope the next one is as good as this one." He first saw Gena when she was acting in a play in Provincetown, Mass. It was three years before they were able to marry. "We didn't have a penny," he recalls wryly.