EDGE OF THE CITY
Axel North.....John Cassavetes
Tommy Tyler.....Sidney Poitier
Charles Malik.....Jack Warden
Ellen Wilson.....Kathleen Maguire
Lucy Tyler.....Ruby Dee
Mr. Nordmann.....Robert Simon
Mrs. Nordmann.....Ruth White
Davis.....William Lee
Brother.....Val Avery
Directed by Martin Ritt
(MGM—Adults)
Music lovers—be it classical, pops, or a Spanish fandango — they spend free hours with record player.
When schedules allow, coffee together's a must! For a chess game, table cloth is whisked off.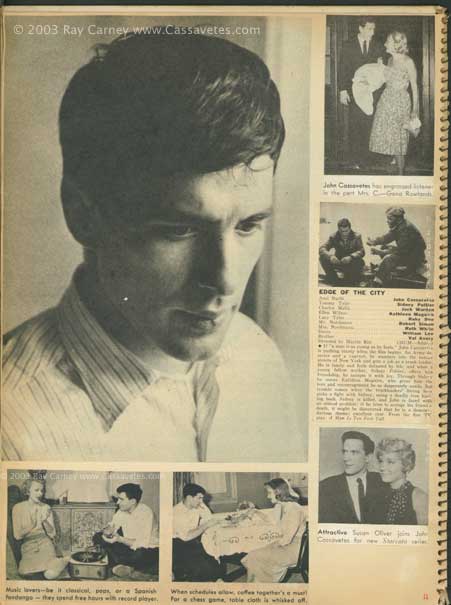 If "a man is as young as he feels," John Cassavetes is pushing ninety when the film begins. An Army deserter and a vagrant, he wanders into the border streets of New York and gets a job as a truck loader. He is lonely and feels defeated by life, and when a young fellow worker, Sidney Poitier, offers him friendship, he accepts it with joy. Through Sidney he meets Kathleen Maguire, who gives him the love and encouragement he so desperately needs. But trouble comes when the truckloaders' hiring boss picks a fight with Sidney, using a deadly iron loading hook. Sidney is killed, and John is faced with an ethical problem: if he tries to avenge his friend's death, it might be discovered that he is a deserter. Serious theme; excellent cast. From the fine TV play, A Man is Ten Feet Tall.