IN SOCIOLOGICAL FILM—These three enact principal roles in "Edge of the City," opening today at Loew's Warfield, and based on friendship between a white youth and a young Negro. The stars—Kathleen Maguire, girl friend of John Cassavetes, center. At right, with child in arms, Sidney Poitier.
As star of NBC's Staccato, John Cassavetes (above) plays jazz piano and solves mysteries, too.
COMPETITION. Terry Moore (with John Cassavetes) beat Marilyn Monroe to classics.
John Cassavetes gives a fine performance in his flick, Rosemary's Baby.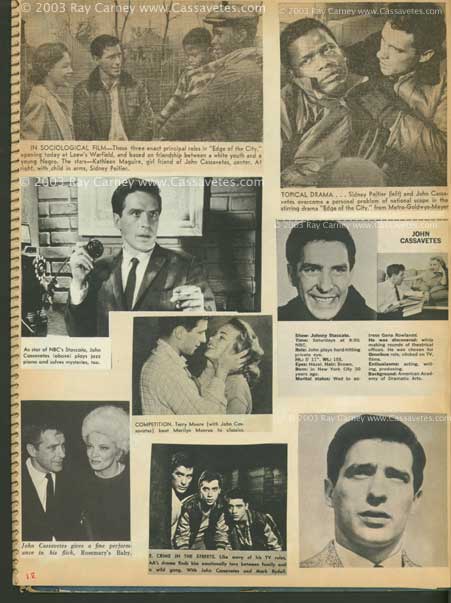 TOPICAL DRAMA . . . Sidney Poitier (left) and John Cassavetes overcome a personal problem of national scope in the stirring drama "Edge of the City," from Metro-Goldwyn-Mayer.
JOHN CASSAVETES
Show: Johnny Staccato.
Time: Saturdays at 8:30; NBC.
Role: John plays hard-hitting private eye.
Ht.: 5'11". Wt.: 155
Eyes: Hazel. Hair: Brown.
Born: in New York City 30 years ago.
Marital status: Wed to actress Gena Rowlands.
He was discovered: while making rounds of theatrical offices. He was chosen for Omnibus role, clicked on TV, films.
Enthusiasms: acting, writing, producing.
Background: American Academy of Dramatic Arts.