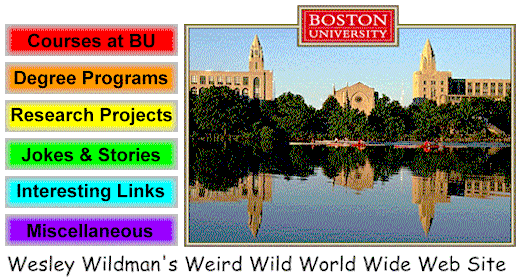 Highlights | Courses | Degree Programs | Research Projects | Miscellaneous | About | Search

The WeirdWildWeb is very large. To help you avoid getting confused in the maze of pages and to locate the most popular features, here are few highlights. Each highlighted item has its own entry page to help interested visitors find what they want. Now you can get there from here, wherever the there that appeals to you.
Boston Collaborative Encyclopedia of Western Theology
As it grows, this feature will become one of the premier sites for information on this topic anywhere on the web. Student articles on all manner of movements and figures contribute to a reference encyclopedia truly web-like in its volunteer spirit and constant expansion. There are now well over 100 index entries focusing especially on the modern period of Western Christian theology. The contributing students and I have been delighted to learn that this resource has proved useful to people in areas of the world where there are few or no library resources. That is the world wide web at its very best.
Paul Tillich Resources
This unique site includes an extremely valuable "Reader's Guide" to Tillich's Systematic Theology, which is the work of several Boston University students. It also includes photographs of Tillich, reviews of Tillich's writings, and links to other Tillich sites.
Friedrich Schleiermacher Resources
This unique site includes images, bibliographies, reviews, and "Reader's Guide" to Schleiermacher's Christian Faith.
Religious Experience Resources
This collection of reviews, essays, and links is the fruit of the "Religious Experience Research Seminar," which runs periodically at Boston University. It is growing so come back now and then.
Religious Naturalism Resources
This collection of reviews, essays, and links is the fruit of the "Religious Naruralisms Seminar," which runs periodically at Boston University. It is growing so come back now and then.
Spirituality, Medicine, and Health Resources
The aim of this website is to help visitors learn about the complex entanglements among religious traditions and spirituality, medical traditions and healing modalities, and norms for physical and mental health.
Spirituality, Medicine, and Health Bibliography
This 250-page compilation of basic resources in spirituality, medicine, and health is notable not only for its length but also for its original categorization and intelligent selectivity.
Atheisms and Theologies Resources
The aim of this website is to help visitors learn about varieties of atheism–older "classic atheism," so-called "new atheism" of recent years, and theologically inspired forms of atheism–and to understand the various theological responses to atheism.
Sustainable Development Bibliography
This list of resources in sustainable development has been compiled by my research assistant Sarah Fredericks as of Spring 2004. Sarah has since obtained her PhD and a great job in sustainability ecology and ecological ethics.
Ecological Ethics Bibliography
This list of resources in ecological ethics and eco-theology has been compiled by my research assistant Charles Demm as of October 1, 2003, with thanks to a number of other existing sources, especially John Cobb's "Ecotheology Book list" found on his web page and in the revised edition of Is It Too Late? A Theology of Ecology; and Joseph K. Sheldon's Rediscovery of Creation: A Bibliographical Study of the Church's Response to the Environmental Crisis. WARNING: This is a long page and will take a while to load over a slow connection.
Religious Language Annotated Bibliography
This annotated bibliography, primarily the work of Tim Knepper, is arranged according to the structure of the Boston University Religious Language Research Seminar, conducted during Spring 2003. Tim has since obtained his PhD and a fine job in philosophy of religion.
Gallery of Philosophers
I have done your work for you, gathering from all over the web pictures of the world's great thinkers. The gallery is not comprehensive but it is certainly one of the largest repositories of its kind.
Gallery of Religious Thinkers and Figures
Here we have an even bigger gallery of religious thinkers and figures—even bigger than the gallery of Philosophers, that is. It's often hard to say how to classify many thinkers so you might have to look in both places to find the person whose picture you seek.
Philosophical Stories for Teachers
This research project funded by the Association of Theological Schools resulted in the creation of stories custom designed to convey abstract philosophical ideas to concrete thinkers, of which there tend to be quite a few in seminary classrooms. That is a lot harder to do than you might think and the results are due especially to the genius of Sharon Ciccarelli. Visit the account of this research to find out more.
Introduction to Western Philosophy in Theological Perspective
This series of lectures presents aspects of Western Philosophy with special relevance for understanding the development of Theology, particularly within Christianity. Each lecture focuses on a figure or theme in Western Philosophy and combines ordinary exposition with remarks on the relevance of ideas discussed to Theology.
The Boston University Doctoral Programs in Theology
The "Red Book," named for its cover's color when first published, is the guidebook for the doctoral programs in theology at Boston University (PhD and ThD; Comparative Theology and Christian Theology programs). It contains information about the character of the theology programs at BU, as well as rules, regulations, and bibliographies. It is also linked to a vault of past qualifying examination questions.
The Boston University Doctoral Program in Religion and Science
This degree program breaks new ground in intensity of interdisciplinary study at the doctoral level. Here you will find a description of the program and information about how to apply, as well as a link to the Prospectus for the program, called the "SPR Green Book," reading lists, and an archive of examination questions.

Courses at Boston University
I teach the following courses from time to time. Active courses are listed first.
Courses: Anticipated Teaching Schedule at Boston University
Courses Taught
Religion and Science (CAS RN239)
Christianity Engaging Modernity (STH TF702)
Theology I: History of Christian Theology in Philosophical Perspective (STH TT704)
Constructive Theology (STH TT733)
Theology II: Christian Doctrine (STH TT810)
Scientific Approaches to Religion (STH TT824/954, GRS RN798)
Liberal Evangelical Christianity (STH TT828)
Christology (STH TT828)
Paul Tillich (STH TT832/932)
Religious Faith and Scientific Understanding (STH TT845)
Spirituality, Medicine, and Health (STH TT845/945)
Theological Thinking for Everyday Life and Ministry (STH TT852)
Atheisms and Radical Theologies (STH TT856/956)
Preaching Theological Challenges (STH TC856/TT856)
Varieties of Religious Naturalism (STH TT861/961)
Theologies of Liberation (STH TT862)
Science Literacy and Scientific Boundary Questions (STH TT871)
Contemporary Theological Systems (STH TT874)
Schleiermacher (STH TT899/934)
Core Texts and Motifs of World Religions (STH TT901)
Modern Western Theology I: 1650-1900 (STH TT909)
Science, Philosophy, and Religion Proseminar (STH TT921)
Modern Western Theology II: 20th Century (STH TT930)
Languages of Theology, Religion, and Mysticism (STH TT973)
Religious Experience (STH TT974)
Brains, Bodies, and Religions (STH TT974)
Teaching Assistant Seminar
Course Features Always Available
Student Projects (associated with Introduction to Theology classes)
Student Projects (associated with Theological Thinking for Everyday Life and Ministry classes)


Degree Programs at Boston University
Choose a question:
Do you want to know in which graduate programs I teach?
Are you an existing doctoral student looking for information about your degree program?
There are two main venues for doing graduate work in the fields I teach. They complement one another and students in both venues often take courses together.
Within the Graduate School (GRS) at Boston University (BU), the Graduate Division of Religious Studies (GDRS) offers MA and PhD programs in four tracks. PhD and MA information can be obtained from GDRS, 145 Bay State Road, Boston, MA 02215; (617) 353-2636. Admission forms are available through GRS here. You can see the Graduate School Bulletin (including links to application forms) online. You may request a printed copy of the bulletin/application by contacting the Graduate School Office at (617) 353-2696. I teach in two of those four tracks with a diverse array of first-rate colleagues:
Boston University's School of Theology offers the PhD in Theological Studies, as well as a variety of masters degrees. Several doctoral specializations are supported, including the PhD in Constructive Theology and Theological Ethics, where I teach with more wonderful colleagaues. PhD and Masters degree program information can be obtained from STH Admissions Office, 745 Commonwealth Avenue, Boston, MA 02215; (617) 353-3036; sthadmis@bu.edu; or username "sthadmis" on Skype for a live chat when admission officers are online.
Current GDRS PhD Students in Religious Studies
Current STH PhD Students in Theological Studies
Qualifying Examination Archive


Research Projects
I have been or still am involved in a large number of ongoing research efforts, often with my students. Here are some of them.


Miscellaneous
Wesley Wildman's home page
Search this site
Jokes and stories
A sampling of links
About Boston University
Site statistics for the WeirdWildWeb
Visit other sites I maintain:
Institute for the Biocultural Study of Religion
LiberalEvangelical.org
Sites for Wesley's kids when they were little: Sam and Ben



Visitors: Thank you for coming to the Weird Wild Web. If you have feedback, please do not hesitate to contact me. I am always trying to improve the site while keeping it as simple and fast as possible.
Content Updated: Saturday March 29, 2014.


Compatibility: This site is so simple that it works with any browser. It has been checked with Microsoft Internet Explorer v3.01 and above, and Netscape Navigator v3.0 and above.