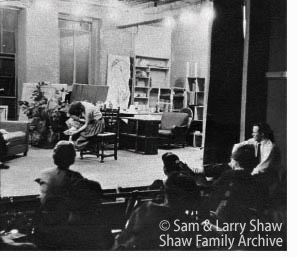 Cassavetes milked the "shot on the streets of New York" rubric for all it was worth in the film's press coverage, giving the impression that filming was a cat-and-mouse game between his merry gang of pranksters and the police. However, the facts were that he avoided shooting on the streets as much as he possibly could.
The main set for the film was built on the Variety Arts stage by McEndree and a few of the actors. The stage (which can be recognised by its large columns, exposed pipes, high back windows, and brick back wall with peeling paint) was used for all of the scenes in the livingroom and dining room of the Carruthers' apartment as well as for the scene in which Lelia dances with Davey Jones. Several other sets for scenes which did not make it into the final edit were also built on the Variety Arts stage: another livingroom set; a bedroom set; a set made to look like a corner table in a coffee shop.
Dave Simon, who had been an electrician before he decided to become an actor, ingeniously rigged rudimentary lighting over the workshop stage by covering the ceiling with aluminum foil and stringing 150-watt bulbs every few feet. The lighting scheme unfortunately backfired, proving to be too bright, flat and "filled," and creating a washed-out look in many of the shots in the siblings' apartment. It was too overexposed for even Paoloni to correct. It didn't help that Kollmar's light meter was left in a bar early in the filmmaking process, so that he had to eyeball his exposures after that.
The "rock-and-roll party" that appears under the credits was created in one of the small rooms off to one side of main stage space. As an indication of how Cassavetes employed psychology to motivate his actors and crews, he deliberately included as many people from the workshop as possible in the scene to build morale. The entire acting group crammed themselves into a 7 x 10-ft. storage room, Cassavetes positioned the cameraman on a ladder against one wall, and simply told Ben to "find a way to get to the back corner."
Many other scenes were shot in cordoned-off indoor locations. The rehearsal hall sequence was shot in an actual rehearsal hall on 8th Avenue near 48th Street. The nightclub scene was shot in a real basement nightclub, the Bal Tamborin, where Tom Allen worked as a comedian and obtained permission for Cassavetes to use.
Shadows, Published by the British Film Institute (London, England)
Distributed in America by the University of California Press at Berkeley
ISBN: 0-85170-835-8
88 pages; thirty illustrations
This page only contains excerpts and selected passages from Ray Carney's writing about Shadows. To obtain the complete text as well as the complete texts of many pieces about Cassavetes that are not included on the web site, click here.