Cassavetes' Television Acting and Directing
With the assistance of the Museum of Television and Radio and in the collaboration with Jane Klain, Manager of Research Services, Prof. Carney has discovered and revived many unknown or forgotten early television works in which Cassavetes appeared, including his virtuosic one-man performance piece, Flip Side (which was never broadcast in U.S.), his acting and directing work in Johnny Staccato and The Lloyd Bridges Show, and his acting in many other otherwise lost or forgotten television series like Burke's Law, Bob Hope Presents the Chrysler Theater, and Columbo. Prof. Carney organized and presented the first public screenings of many of these works in recent years as well as screenings of other works by Cassavetes that have never been broadcast on television or released in theaters. The revised edition of his Cassavetes on Cassavetes has the most complete discussion of Cassavetes' television work ever assembled. (Click here to find out how to obtain this book.)
Click here to read more about Cassavetes' television and film acting appearances and some of the previous screening events Prof. Carney has personally organized and presented.
The Museum of Television & Radio
Presents
Cassavetes

A Comprehensive Overview Exploring
John Cassavetes's Prolific Career on Television

January 14 to March 13, 2005
Curated by Allen Glover
New York, NY and Los Angeles, CA—The Museum of Television & Radio will present Cassavetes, the first comprehensive overview of John Cassavetes's career as a television actor and director. This multipart screening series will feature more than twenty programs from the 1950s, 1960s, and 1970s, many of which have not been seen since their original broadcast, and feature actors Gena Rowlands, Peter Falk, Ben Gazzara, and Seymour Cassell; directors Don Siegel, John Frankenheimer, and Sidney Lumet; and writers Reginald Rose, Budd Schulberg, and Robert Towne; among others. Cassavetes will screen at the New York and Los Angeles Museums from January 14 to March 13, 2005.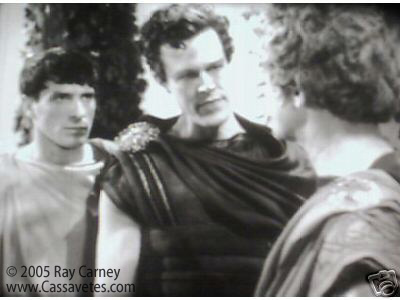 To the general public, John Cassavetes (1929-89) is probably best known for his roles in such Hollywood films as Rosemary's Baby and The Dirty Dozen. To scholars, cineastes, and fledgling filmmakers, he is revered as a pioneering artist—the godfather of the American independent film. There is, however, a third side to the Cassavetes legacy, one that has yet to be fully explored: his prolific career on television.

A full appreciation of Cassavetes's art is incomplete without a survey of his contributions to television, for it was his background as an actor in that medium that honed his aesthetic as a director. The hallmarks of a Cassavetes film—the roving camera, the combustible atmosphere, the improvisatory (but fiercely rehearsed) performances—are all exponents of the live television dramas in which Cassavetes got his start in the 1950s. As a familiar face on the leading anthology programs of the era, he was at the vortex of a dynamic and intensely creative dramatic form that prized character exploration over plot, emotional veracity over narrative gimmickry. This emphasis on personal relationships and the human condition left an indelible impression on Cassavetes, just as the later experience of working in episodic television, with its hurried shooting schedules, meddling studio bureaucracies, and resolved story lines, provided both the grounding and impetus he needed to set out on his own. Television not only shaped the do-it-yourself paradigm Cassavetes brought to fruition with such intensely personal films as Faces and A Woman Under the Influence, but enabled him to explore—as both an actor and a director—themes and ideas that would preoccupy him throughout his life.

Among the highlights of Cassavetes are: Omnibus: "Paso Doble" (his breakthrough role); The Elgin Hour: "Crime in the Streets" (remade as a feature, with Cassavetes reprising the lead role); Johnny Staccato (a noir series in which Cassavetes served as star, director, and occasional writer); Ernest Hemmingway's The Killers (the first made-for-television movie, in which he shares the screen with Lee Marvin, Angie Dickinson, and Ronald Reagan); and, discovered by Ray Carney: Flip Side (a virtuosic one-man play starring Cassavetes); and Bob Hope Presents the Chrysler Theater "In Pursuit of Excellence" (written and directed by Cassavetes).
Media interviews may be arranged with Prof. Carney via email at:
raycarney@usa.net
Prof. Ray Carney
Department of Film and Television
College of Communication
640 Commonwealth Avenue
Boston University
Boston, MA 02215
Tel: 617-353-5976

Cassavetes Screening Schedule
January 11, 2005
Members-Only Preview
Allen Glover, the Curator of Cassavetes, will present highlights of Cassavetes's work on television as an actor, director, and writer, along with selections not included in the retrospective.

January 14 - 16
Johnny Staccato: "The Nature of the Night"; "A Piece of Paradise" (directed by Cassavetes); "A Nice Little Town" (written by Cassavetes); and "The Wild Reed" (1959-60)

January 18 - 23
Omnibus: "Paso Doble" (1954)
Ernest Hemmingway's The Killers (1964)

January 25 - 30
The Elgin Hour: "Crime in the Streets" (1955)
Appointment with Adventure: "All Through the Night" (1956)
Alfred Hitchcock Presents: "You Got to Have Luck" (1956)

February 1 - 6
Armstrong Circle Theatre: "Time for Love" (1955)
Goodyear Playhouse: "The Expendable House" (1955; excerpt)
Kraft Suspense Theater: "Won't It Ever Be Morning?" (1965)

February 8 - 13
20th Century-Fox Hour: "The Last Patriarch" (1956)
Playhouse 90: "Winter Dreams" (1957)

February 15 - 20
Alcoa Theatre: "The First Star" (1958)
Burke's Law: "Who Killed Hamlet?" (1965; excerpt)
Bob Hope Presents the Chrysler Theater: "Free of Charge" (1967)

February 22 - 27
Johnny Staccato: "Murder for Credit" and "Solomon" (1959-60)
The Lloyd Bridges Show: "My Daddy Can Lick Your Daddy" and "A Pair of Boots" (1962-63)

March 1 - 6
The David Frost Show (1969; excerpt)
Columbo: "Etude in Black" (1972)
Flesh and Blood (1979; excerpt)

March 8 - 13
Quest: "Flip Side" (1963)
Bob Hope Presents the Chrysler Theater: "In Pursuit of Excellence" (1966)

Admission to Cassavetes screenings is included with the Museum's suggested contribution: Members free; $10.00 for adults; $8.00 for senior citizens and students; and $5.00 for children under fourteen. Admission is free in Los Angeles. The Museum of Television & Radio in New York, located at 25 West 52 Street in Manhattan, is open Tuesdays through Sundays from noon to 6:00 p.m. and until 8:00 p.m. on Thursdays. The Museum of Television & Radio in California, located at 465 North Beverly Drive in Beverly Hills.
With the assistance of the Museum of Television and Radio and in the collaboration with Jane Klain, Manager of Research Services, Prof. Carney has discovered and revived many unknown or forgotten early television works in which Cassavetes appeared, including his virtuosic one-man performance piece, Flip Side (which was never broadcast in U.S.), his acting and directing work in Johnny Staccato and The Lloyd Bridges Show, and his acting in many other otherwise lost or forgotten television series like Burke's Law, Bob Hope Presents the Chrysler Theater, and Columbo. Prof. Carney organized and presented the first public screenings of many of these works in recent years as well as screenings of other works by Cassavetes that have never been broadcast on television or released in theaters. The revised edition of his Cassavetes on Cassavetes has the most complete discussion of Cassavetes' television work ever assembled. (Click here to find out how to obtain this book.)