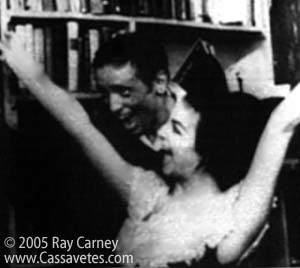 Cassavetes' first film and one of the seminal works of the American independent cinema. Two African-American brothers try to make it as jazz musicians while their light-skinned sister struggles with issues of "passing." An experiment in improvisational filmmaking. This film is included in the National Film Registry. 1959 (87 m. B+W) Stars Ben Carruthers, Lelia Goldoni, and Hugh Hurd.
PAPERS
Selected Programing Notes from the Beat Screening List
by Ray Carney
John Cassavetes's Shadows: Deconstruction or Evolution
by John Shaw
REVIEWS
Shadows. This is a great movie. Like it was made yesterday. Punk, beat in sensibility. About young people struggling on the fringes.
Also the review that follows mine is right. A guy named Ray Carney just wrote an amazing book about the movie that has incredible behind the scenes details that no one ever knew before. Cassavetes revealed them to Carney before he died in a Rosebud conversation. Check out the book. It is titled Shadows and another by Carney titled Cassavetes on Cassavetes along with the film. Also Carney has a web site that you should check out with lots of other Cassavetes material.
I love this movie! And the books about it!!! You owe it to yourself to own them. Carney's writing on film is worth more than a college education. At least the one I got!
---
This intense, hysterical, loud, sweet and sour film was NOT an IMPROVISATION despite the end title! Neither were Cassavetes other films, in the classic sense of IMPROV. Improv was sparringly used in the writing of the scripts, but Cassavetes was a WRITER who knew what he was doing more than people give him credit for. This is a major crime against one of the greatest artists of the last 100 years (wha? no, seriously). To get the real scoop, and an exhaustive, loving take on this important first film by an American original, check out the BFI Film Series edition on SHADOWS, which just came out. It breaks it down and builds it back up, in a way you won't believe.
---
I can not believe this film was made before A Bout de Souffle. An incredible revelation and an amazing influence. - dt.jones
---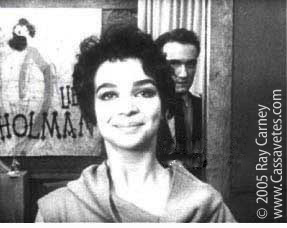 John Cassavetes' Shadows is an improvosational film made in 1959, winner of the xxxxx at the Venice Film Festival, and recently re-released to video. It offers a compelling snapshot of Beat culture in NYC as it itersected with racial tensions and subserviant position of women present even in "hip" society during the early 60's. An African-American jazz singer lives in a small NY flat with his deadbeat brother and lovely 20 year old sister who are both either light-skinned and "passing" or half-siblings to the singer. Their relationship is never clarified. The trio throw desegregated cocktail parties which sometimes lead to explosive social situations. While they do thier part for social justice, the ladies dress nice and shop for husbands. The film was certainly made on a shoestring and jumpy editing and sometimes self-conscious performances show it. Ultimately, however, it is the painfully candid and personal quality of the characters' stories which come through.
- Above review will probably be printed in The Austin Chronicle to mark the video's re-release - K. VanScoy
---
just a note on the improvisational nature of the film. i read from some book of jc and said the film was actually re-made after its premiere. therefore the print we are watching on video is almost totally a different film from the one that was first released. once i have found out the source i'll get back to you. thanks for reading.
p.s. btw, a great site you got here!
---
Shadows is to cinema what On the road is to literature.
---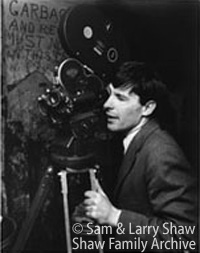 Maravillosa. un soplo de aire fresco para una persona de 23 aņos como yo que vive en el aņo 2000
---
A good film. a little self-conscious, yes, but you can sense the actors enjoying and playing off each other in some scenes. love the look of the film and the streets. the sometimes out-of-kilter camera work doesn't hurt, either.
---
Contrary to popular belief this film only used improvisation during the rehearsal process, the film itself, that is the version we see today was scripted from the work done in rehearsal. Cassavetes left the meesage at the end, that the film was improvised because he wanted the actors influence over the script to be recognized. Furthermore, I would like to add that the treatment of race in shadows is more progreesive than films we see today.
---
It's very rare that an independent film like Shadows dealt with issues portraying African Americans in a non-strerotypical storyline. Cassavetes was ahead of his time by showing this. M.I.P.
---
I recently viewed Shadows and it the first Cassavetes film for me. I found it to be a revelation. John seems to possess a sixth sense in capturing moments from an angle that is fresh and inspiring.
---
Cassevetes remade the film under the title Too Late Blues, this may be what you are referring to when you say that Shadows was remade
---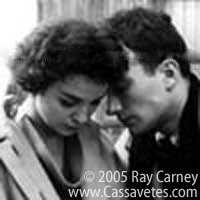 From this his first film, to Love Streams his last, John Cassavettes remains the singularly most important voice in American independent cinema. - Noli.
---
This movie has many powerful scenes. The grounding of the film is very natural. The characters were showed depth in a believable manner.
---
Shadows is a film about crossing borders, that between black and white, between the inside and outside (not only) of society. The loosening connections in itīs narrative and spatial structure as well as the impression of the camera getting "too close" to the actors are, far from being "mistakes", the very means by which Cassavetes accomplishes an intense atmosphere and aesthetic coherence with his theme. Shadows is a poetic jazz film, and the apparent lack of a story in itīs exposition is part of itīs composition. The conflicts inherent in the cool, hanging around scenes in the exposition of the film crystallize like musical motives around a rhythmic centre. Shadows is great. I opened my cinema with this one.
GO BACK                      BIBLIOGRAPHY