The Rules
You have two sides, one out in the field and one in. Each man that's in goes out, and when he's out he comes in and the next man goes in until he is out. When they are all out, the side that's been out comes in and the side that's been in goes out and tries to get those coming in, out. Sometimes you get men still in and not out.
When a man goes out to go in, the men who are out try to get him out, and when he is out, he goes in and the next man in goes out and goes in. There are two men called umpires who are all out all the time, and they decide when the men who are in are out. When both sides have been in and all the men have been out, and both sides have been out twice after all the men have been in, including those who are not out, that is the end of the game.
That's almost as complicated as tennis!
Thanks to the Marlebourne Cricket Club for "The Rules."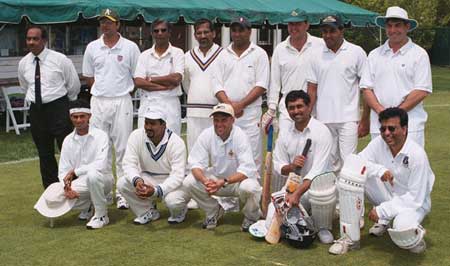 That's Professor Basu kneeling in the front row, second from the right. Third from the right is Gary Kirsten, opening batsman for the South African national team. Such tidy uniforms!
Thirsty for more?
A team comprises 11 men. Two batsmen are "in" play at one time. Their aim is to hit the ball as far as possible, and score points (runs) by running the 22 yards between two sets of upright poles set in the ground (wickets) while the fielding team chase the ball.
If the batsman hits the ball past the boundary of the field, he automatically scores 6 runs. The aim of the fielders is to get the batsmen "out" by: hitting the wickets by bowling the ball past the batsman's guard, by catching the ball after the batsman has hit it or by hitting the wicket with the ball while the batsmen are running between wickets.
After the batting team are all "out" the fielding team come "in." The team that wins is the one with the most runs.
The Laws are enforced by referees known as umpires. The most important players are the batsman, bowlers and "wicket keepers" - the fielders who are positioned behind the wicket.
To find out more about cricket....
Try CricInfo.com