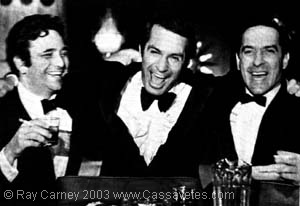 Cassavetes first film after the success of Faces documents the journey of self-discovery undertaken by three middle-aged suburban husbands (Ben Gazarra, Peter Falk, and Cassavetes) after the death of a friend. While filming Husbands , Cassavetes spoke of his committment to the project: "Only one thing makes it exciting. That Peter and Ben and I can express something that's intimate, personal, and clean."


REVIEWS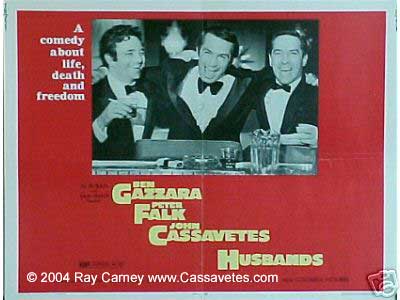 Despite negative reviews, this is an excellent, memorable film that is carried by the distinctive performances by the three leads. One negative review described the film as sexist [Dave Kehr?]; that is a very simplistic and superficial criticism, and in light of his other work, simply untrue. Husbands, simply put, says that all the effort put into acting like a "real man" is all bullshit; it leaves you emotionally stunted, and spiritually poor. A great film. - C.M. Velazquez
---
Complex Comedy (a review of the videotape release of Husbands)
In Ray Carney's new book about Cassavetes he talks about how the director spent a year re-editing this movie because he thought it was too "entertaining" and too "funny" in its first version. Ray Carney's Cassavetes on Cassavetes has hundreds of similar anecdotes by the filmmaker. It's a perfect introduction to Husbands. It's anything but a simple comedy. The characters are as unpredictable as real people and the situations as hard to figure out as stuff in real life. Husbands gets you all mixed up. Are these guys idiots or inspired? Are they jerks or pursuing a dream? Cassavetes doesn't want it to be too clear or too easy to understand. He doesn't want us to laugh off the serious questions. He talks about that in Carney's book, but it's obvious from the film itself. This film should be required viewing for all men, so maybe they can begin to understand themselves, and it should be required viewing for all women so that they can begin to understand the men in their lives. It's not an easy thing to understand, which is why Cassavetes doesn't make the movie easy for us to understand, but the more times you see it, the more you will see. Read the Carney book too, for more of Cassavetes' amazing insights into men and women and what he was trying to do in his films."
---
misogynist, genius? alcoholic, Messiah?
---
I was fortunate to catch this film on Bravo a few years ago when they had a Cassavetes festival one month. It's a very difficult film to watch because of the cruelty to women in the film. But there are some great scenes like the singing in the bar, and a few others. The acting is great, of course.
---
A really wonderful film,I found it to be an emotionally harrowing picture. All of the acting is amazing! The film really defines me. I felt so close to what was going on in this movie. One of the truest films about friendship, marriage and how the death of someone close to a person makes them rethink their whole life. - che
---
One of the best films of all time. Thanks a lot, John.
---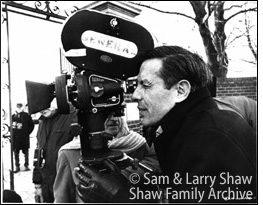 Cassavetes, una vez más, se rodea de amiguetes, Gazzara y Falk, y con ellos se emborracha como un lemur. Y el resultado es espléndido. Las improvisaciones, tan peligrosas, son una exhibición de desparpajo y naturalidad, y el mensaje es tan patético como certero. Tan turbia e inquietante como divertida, aunque a mi gusto peque de una cierta irregularidad. Pese a todo, gracias, Mr.C. -Prepu
---
I am not an authority on John Cassavettes at all. Woody Allen, Hitchcock, Wilder, and Willy Wyler are my specialty to name a few. I've seen Husbands, Gloria, and I think it was Shadows, also. Gloria is film-making at its most beautiful. Why Lumet would remake that film, I would be curious to know. Husbands has so much life in it or life has so much Husbands in it. Cassavettes has so much genius in him, by that I mean he's able take on soul searches that are so vital to understanding one's feelings and actions. Bendy, right on! Loved your comments. Cassavettes' films can be described only by two words John Cassavettes.-Stu
---
laughter, Faces was the same way. I haven't laughed so hard in a long time. Excellent.
---
This film is one of the seminal films that symbolized the independent film movement. The sleek but definitively low-budget camera movement. The dialogue is unlike any I've ever heard, you don't know what's gonna' happen next. This and Mean Streets (Scorsese) are the two greatest Independent films ever made!-5$
---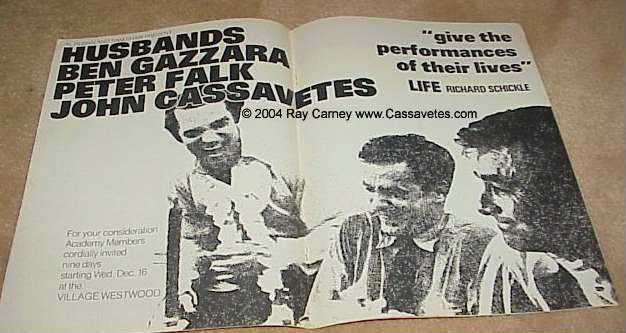 The commaradery which Cassavettes, Falk and Gazzara share in real life comes through on screen.A beautifully honest insight into the lives of these three men as they take a detour from routine in order to relive a memory. Cassavettes seems to treat his characters with no judgement, almost trying to understand them,consequently making them very human ,which allows you to not always agree but at least empathise...
---
Husbands is by far, my favourite piece of Cassavetes cinema. It captures brilliantly the joys and pains of the man child. I found myself laughing hysterically at times, at other times I found myself uncomfortable, or sad, or confused. Now, are there many films, which take you on this sort of emotional rollercoaster? Not many, as far as I'm concearned. Cassavetes myopic direction delves deep into the masculine wounds, loves, insecurities, and joys. Three men going on a regressing journey to their past exploits. Trying to find a tangible scrap to give meaning to their banal existence, only to find that the homes they left were the reasons they exist. The wives and children, have never seemed more poignet in the end. A very beautiful film. The capturing of pure unadulterated masculine emotion, to perfection by Cassavetes, Falk, & Gazzara. Why this film is so underated completely escapes me. I've actually had the displeasure of reading bad reviews. Is the world completely stupid? It's a work of art. -Jarrod (jlabine@mediaplex.com)
---
a film that captures the essense of growing middle-aged, the wily vitality of american ethnic culture, the swaggering but futile effort of american men to perpetually remain boys. a film, which for all its bravura energy and cantankerous humor, beautifully portrays the desperation at the heart of american middle-class experience. at the heart of life itself. a masterpiece among masterpieces.
---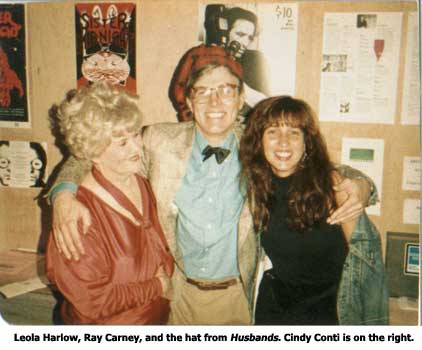 This film was awesome. Great Cinematography by following the improvising actor! This shows true emotion in no way it has ever been seen before! It shows the reactions of three mens lives coming apart at the seams. The sudden breakout of shouts and physical and emotional violence remind me of another great indie, Martin Scorsese's Mean Streets. Hands down, Husbands is one of the greatest indie ever made.
---
In this movie more than any of Cassavetes' others, I had this feeling of being right in the floating of life. Things happen. The characters were there and I was there too with them. Why did i have this feeling? Maybe it's because i'm like those three; I just need to be with my friends when something's wrong. Get drunk and have a little shag. Forget about the time passing through us and be sure that friendship never ends. - litst@multimania.com
---
This movie rocks. It showed at the Paris theatre in New York last year, and the packed house laughed their asses off. It is J.C.'s best work
---
Plus qu'un simple film une évocation de la vie telle que l'on aimerait pouvoir la vivre, surmonté la mort pour arriver au détachement totale de sa vie.A ceux qui voudrait raccourcir le film , je ne leur répondrait meme pas.B.P.
---
I must agree with others that the singing scene is what drew me into the movie. And when she finaly came around to sing the songs lyrics, they made sense for the scene. I love the way John would direct the camera to stay in close up on the actors faces and capture the feelings dead on. My other favorite scene was when Peter Falk's character tried picking up the older woman at the casino.........the desperation she emoted was brilliance, and sad. - Adam G
---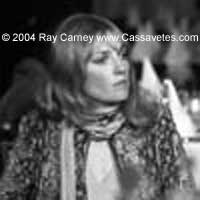 I just recently watched the film The Deerhunter and was struck how much it resembled Husbands. Both great films, of course, but one more accesible than the other for some God ridiculous reason. I was under the impression that Husbands was unavailable to the public to buy on video but I found a copy at Vidiots in L.A. and I wonder if it is now possible to buy a copy somewhere. Please inform me how at yenner27@hotmail.com because I would love a copy.
---
For me, this is the first great Cassavetes film. The work he did before it is important, but this is the first film that completely succeeds in capturing the realism John was after. When this film finally came out on video I rented it, made a copy, and over the last 2 months I've watched it 6 or 7 times. Come on !! Cassavetes, Falk, Gazarra ? What more do you want ?!! Great scenes, dialogue, great characters....probably my favorite Cassavetes film, though I have not seen Minnie and Moskowitz.........that should be out on video soon..... - Jon Holmes
GO BACK                      BIBLIOGRAPHY