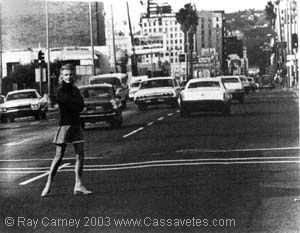 Arguably Cassavetes' finest achievement: A many-sided domestic drama with housewife and mother Mabel Longhetti, longing to please her loved ones, at the center. Cassavetes and Rowlands received Oscar nominations for directing and acting respectively. This film is included in the National Film Registry. 1974 (155 m. Color) Stars Peter Falk and Gena Rowlands.

REVIEWS
An absolutely fabulous treatment of a household traumatized by untreated manic depression. The movie not only allows you to feel the helplessness that her family experiences as well as the embarrassment, but it takes you into Mabels psychosis as well. A very finely done piece indeed and one that is sure to remain with you for years to come. - Kristina and Paul
---
This film is amazing! Also something not mentioned by other reviewers the Pioneer DVD of Woman has very smart liner notes by Ray Carney. Carney knew Cassavetes and has written many books about him. I also recommend his Cassavetes on Cassavetes for more behind the scene insights.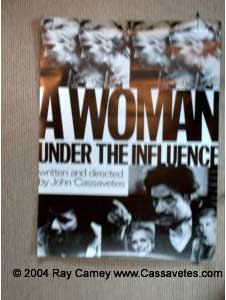 Carney also has a terrific web site with sections devoted to this film. Highly recommended all round for background information about indie film in general and viewing tips.
---
That is an amazing, fabulous movie, my prefered after Husbands. Do you know that the house where the movie was shot is on a street perpendicular to Hollywood boulevard? - Denis Carbonne
---
4 years ago I have seen this film. After 2 years I have seen Mr.John's other films-Faces, Shadows, Love Streams, Chinese Bookie, Gloria,...and 4 more [Woman under the influence] I thought again GREAT! Cos. So More Mr. John's Films Iwanna see. But I Continued to see these films now and then.
---
I love this film. Although I am neither a woman, an American, or even an adult, I feel it communicates a greater sense of "what it is like to be alive" than any other film I have seen. - Tim Wilson
---
A film that will awake all kind of feelings inside you. It is what I call a real life drama which captures you all the way. Simply great.
AIdoia
---
Not to tivialize a film which truly attains a measure of the sublime in the cinematic arts, but wasn't the scene around the dining room table more of a celebration of the wonderously electric dynamics that can occur when people eat than so many of the films that ostensibly make this their primary theme?
---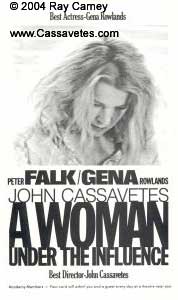 Long before newmagazines and talk shows started spouting off about "co-dependency" and "enabling", this film showed the truth about dysfunction as a function of American families and society. Always, one person bears the brunt of the judgment of others. Oh what the hell - with this film, I think Cassavetes gave us a really good "bah bah."
---
Toda la pelicula es fabulosa, pero la ·ltima parte, desde el momento en que la mujer llega de vuelta del hospital, es absolutamente genial. El grado de implicacion del espectador es intensisimo. Se comtemplan esas ultimas imagenes con los pelos de punta.
---
Since 1992 i'm a really great fan of Cassavetes films. A woman under the influence (Eine Frau unter Einfluß - I only knoe the german version) is my favourite. Gena is acting exceedingly brilliant. Also Peter Falk is great (I love Columbo), but the way the whole "family" acts should be an exsample how films should be shot. (Also watch Husbands, whitch is more directly-humenous, a view into souls; total geil...gruesse an alle Cassavetes-Fans. TJB)
---
I agree with Suede - Screw the tea. What this movie proved to me is that sadly, some of us don't get it. Gena's performance was raw and uncut - and to my knowledge all Cassavetes films were scripted (w/excpetion of the orginal Shadows before it was edited.) Anyway, all of us are a little crazy and I really felt that Nick's coworkers felt sympathetic towards Mabel and did not care for some of Nick's treatment of her. Cassavetes is so good at digging into life's psychosis - proving to hollywood that you don't know what you are going to do next. Gena's portrial of Mabel - No one could have done this better and still not been seen as Mabel. Gena is just too vibrant for color TV. - KEM
---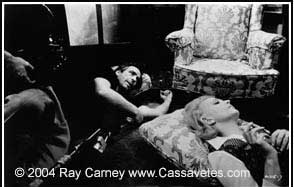 Plus beau impossible, film qui reste et restera, film d'un grand qui nous manque. Quel bonheur de revoir ces images qui ne respirent que le besoin de partager, jusque dans la souffrance, celui de sentir un coeur qui bat, qui bat plein sans demander de reste, que celui d'être là présent sur terre, profiter de tout instant. Perte, refus, boucle dans le miroir de la vie, beauté du rimel sur les joues et force dans les yeux, dans les traits, dans le ressenti, dans l'espoir de vouloir demain, voir la vie devant soit, quoi qu'elle coute, par besoin de danser la tête pleine d'une energie trouvée dans la beauté de la vie.
---
This movie is so great to me for the obvious reasons. It defines so many people that I know and so much stuff that I see or think about every day of my life.That one scene where Falk takes his kids to the beach is the truest father & kids outing ever put on film.I also love the scene where Gena comes home for the hospital and falk throws that surprise party for her.Man , that is pure Cassavetes!!! -che
---
Gena, Gena, Gena, They will probably only recognize your greatnes when gone. I have only see Gloria, Tempest, Opening Night, Another Woman, the movies from the 90's and Faces. This is the best. Everytime you watch it you discover something new. JC's focus on the small things, the details, is kind of exsatentialist (hope I spelled that right) in that his directing makes you look at your self and is such a representation of life. Dreamy.
---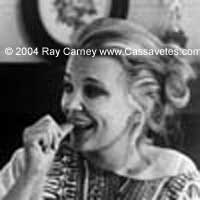 A woman under the influence is a cinematic masterpiece; disturbing, complex, intense and true. The ending is beautiful, even touching and Gena Rowlands performance is fantastic. - Rune Christiansen (Poet and novelist, Norway)
---
Una pelicula necesaria, en la que no cesan de ocurrir cosas reveladoras de la esencia del ser humano. La Rowlands está como siempre, perfecta, y Peter Falk impecable, como todos los que aparecen en pantalla. Es jodida, terrible, y por eso mismo absolutamente veraz y real. Chapó, Cassavetes- Rafa V.
---
Gena I love you
---
Gena Rowlands - absolutely great !!!!! John Cassavetes films too !!!!
---
Sin duda, es una de los mas excitantes paseos por la mente humana que jamas se han filmado. Nadie puede ver el film sin enamorarse inmediatamente de Gena
---
We haven'nt seen it yet, but we think it will be great! It's hard to see his films here in Baltics,so we wait & hope for the better future...With great love to Your "familie", tiiu&karl -Tallinn
---
It's the most brilliant movie about trouble in the mind I've ever seen w/ the world's best actress: her finest work. She moves me beyond words in this film.
---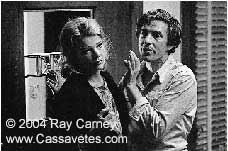 Gena Rowland's and Cassavettes are the most perfect husband and wife team or most talented of any onscreen partnership I've ever seen. Woman Under the Influence was fantastic, but Opening Night is my all time favorite. I even have seen the two of them on an old Alfred Hitchcock episode. They always bring intelligence and a reality to acting that most actors and directors never touch.
---
The Academy Awards prove how completely stupid and political they are when they bypass probably the single greatest female acting performance in film. Not only should she have won, they shouldn't have even bothered to nominate anyone else. Those awards are a joke. Thank god for independent awards to recognize true greatness. KC
---
I love Mr. C's way of depicting female characters, most of whom were played by his wife, Gena Rowlands. Mabel Longhetti is one of my favourites. Her presence perplexed me in an amusing way which one is mentally disorderd, her or her husband? or myself? - Yumiko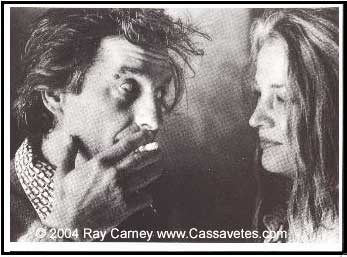 ---
i will never forget the scene where rowlands asks her father to stand up for her at the dinner table - and he stands up.
---
A Woman Under the Influence is one of the truest films I've ever seen. One of the most honest films you will ever find anywhere. Perhaps what makes it so special is that John Cassavetes cuts right to the heart of these characters. And he has the courage to explore his characters for what they really are, in every aspect. The acting in this movie is just superb. I can't say enough about it. I may only be 17 years old, but to appreciate this movie, to understand it, and to be taken in by its elemental passion is one of the most rewarding pleasures of the cinema. And I think that is saying an awfully lot.... - Michael LaRosa
---
This movie has such an honest heart to it. How maybelle loves her children soo much..When she tucks her kids in bed the the dialogue is so tearjerky I loved it.. - Albert
---
Mon film préféré
GO BACK                      BIBLIOGRAPHY