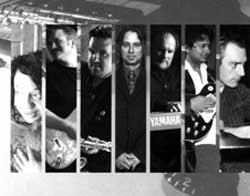 The Rooster Blues Band had its origins in Calgary in 2000, and since then has developed into a dynamic live show that has resulted in engagements at major festivals, universities, and the premier blues clubs in Canada and the USA. For ten years the band toured regularly with the late Chicago blues and R&B singer Lou Pride (d.2012), winner of the "Most Outstanding Blues Recording Artist" award given by Living Blues magazine. The Rooster Band's stylish mixture of Blues and Urban influences, R&B, acoustic and electric styles, and fusion—all backed by a strong reverence for the stylistic roots of popular music—can be heard on their début album Come on in My Kitchen (UCM 0101) and Bluestoons (UCM 0104).
---
A collection of superb musicians…
-Calgary Magazine
This superb disc features the band schooling the audience on the history of the blues…
-Calgary Sun
Listening to joyous organ, delicious licks and sweet guitar, the players'
love of music is the album's theme.
-Fast Forward
---
VICTOR COELHO, guitar, is Professor of Music at Boston University and tours and records throughout North America and Europe as a lutenist and guitarist. He has been featured on the Fox Network, Much Music, the CBC, and PBS as a specialist on popular music and is the author of several books, including The Cambridge Companion to the Guitar (2002) and the forthcoming Cambridge Companion to the Rolling Stones. His recordings appear on the Stradivarius, UCM, and Toccata Classics labels.
PAUL WOODROW, keyboards, is a musician and artist, and Professor of Art at the U of C specializing in art theory and multi-media. He has performed with numerous blues, jazz, and fusion bands, and toured England in the early 'sixties during the British blues revival.
PAT BELLIVEAU, sax, is a graduate of the U of C Dept. of Music, and has established himself as one of the premier jazz saxophonists and recording artists in Canada. Pat is much in demand as a performer and teacher. For a full bio and samples, check out Pat's website at www.patbelliveau.com
TOM KNOWLES bass, is one of the most sought-after bassists on the blues circuit in Canada and was a longtime member of the Long John Baldry band.
LARRY FINN drums, is Associate Professor at the Berklee School of Music in Boston and has performed with Susan Tedeschi, Paula Cole, Al Kooper, and Peter Wolf, among many others. His book, Beyond the Back Beat, is a best-selling drum book <www.larryfinn.com>
DAVID MORTON, vocals, guitar, is a dynamic singer in all styles, and an award-winning arranger, composer, and director.