Timeline: Paul Tillich's Life and Times
Compiled by JP, BT, JL. Formatted by JL.
Download the Tillich Timeline as a pdf file. To view pdf files, download Acrobat Reader.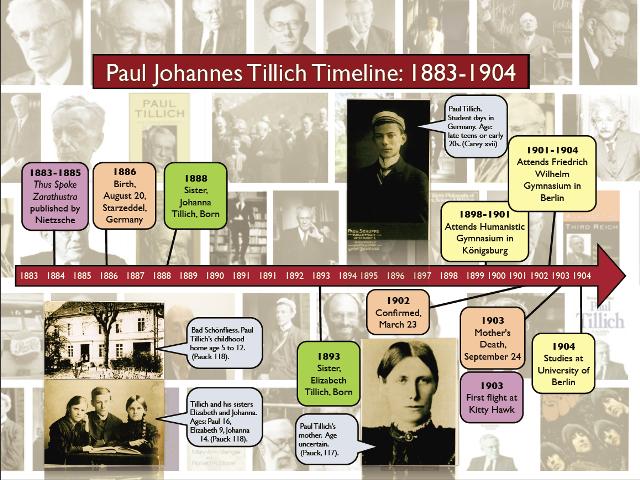 Sources
Pauck, Wilhelm & Marion. Paul Tillich: His Life and Thought, volume 1: Life. London: Collins, 1977.
Rosenberg, Jennifer. "History Timeline of the 20th Century: A Decade-by-decade Timeline." About.com (accessed November 2, 2010).
"Paul Tillich: Biography and Systematic Theology I," from The Boston Collaborative Encyclopedia of Modern Western Theology (accessed November 2, 2010).

The information on this page is copyright ©1994 onwards, Wesley Wildman (basic information here), unless otherwise noted. If you want to use text or ideas that you find here, please be careful to acknowledge this site as your source, and remember also to credit the original author of what you use, where that is applicable. If you have corrections or want to make comments, please contact me at the feedback address for permission.