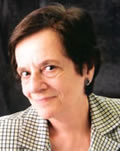 A member of the Boston University School of Law faculty since 1968, Tamar Frankel is a leading expert in the areas of financial system regulation, fiduciary law, and corporate governance. She is the author of The Regulation of Money Managers (with Ann Taylor Schwing) and Securitization, and Investment Management Regulation (with Clifford E. Kirsch). She has published more than 40 articles and book chapters, most recently "Regulation and Investors' Trust in the Securities Market" in the Brooklyn Law Review .
"What's most interesting to me is simply the process of discovering -- finding puzzles, pondering explanations, and critically examining the views of others," she says. "I enjoy continually expanding into new subject areas."
Professor Frankel's recent fascination with the issue of trust in relationships and the role of law in that dynamic led her last year to co-chair a multi-disciplinary conference at Boston University School of Law on "Trust Relationships in Law, Economics, Business, Psychology, Technology, and Political Science." Her growing interest in legal changes brought about by the Internet have spurred her involvement as chairperson in 1998 of the International Forum on the White Paper in Washington, Geneva and Singapore, and her participation in open meetings on ICANN in Argentina and Los Angeles.
A native of Israel , Professor Frankel has been an attorney in the legal department of the Israeli Air Force, an assistant attorney general for Israel 's Ministry of Justice, and the legal advisor of the State of Israel Bonds Organization in Europe . She has also been in private practice in Israel , Boston , and Washington , D.C. , and has been a visiting professor at numerous international law and graduate schools. In her private moments, she spends time with her husband, children, and grandchildren and is involved in writing her family history.