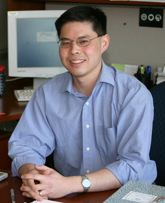 Enoch S. Huang, PhD
Adjunct Assistant Professor, Bioinformatics
Head of Computational Sciences, Pfizer PharmaTherapeutics R&D
---
I have been Adjunct Assistant Professor of Bioinformatics at Boston University since June 2001.
I also lead a global Computational Sciences group while based at Pfizer's research lab in Cambridge, MA.
We are proud to have released Pfaat, a Java-based tool for multiple sequence alignment visualization, editing, annotation and interaction with phylograms and 3-D structure. We invite all to download the application and source code, which is an open-source project under the GNU General Public License. A manuscript describing Pfaat was published in the March 2003 issue of Bioinformatics. In October 2004 we completed a significant update to Pfaat. The current version (and all future updates) are now made available using Java Web Start technology. The updated functionality in PFAAT was covered in BMC Bioinformatics in 2007. We use Pfaat extensively in our research to analyze functional regions of proteins, such as protein-protein interfaces and residues involved in ligand recognition.
In January 2007, the group published a paper on a physical model to predict the druggability of protein targets by small molecules in Nature Biotechnology.
We have recently been developing methods to interpret data generated from large-scale 'omics platforms such as microarrays. One such technique, which we call "Causal Reasoning" was published in 2012 in Bioinformatics.
Selected publications:
Thoughts on drug discovery
A panel discussion at Harvard in which my unscripted remarks were captured by BioIT World (unbeknownst to me at the time). My fifteen minutes of fame hit its zenith when this was picked up by Derek Lowe, a well-known industry blogger.
We later wrote a perspectives piece in Drug Discovery Today which reflected many of the challenges I spoke about, and suggested how we might address them with a knowledge engineering implementation.
---
Enoch S. Huang / August 2011