Religious Naturalism Resources - Homepage
Religious Naturalism is a diffuse movement with an ancient heritage in all philosophical cultures and a growing self-consciousness at the current time. The Boston University Religious Naturalism Seminar is gathering resources to help others interested in studying and understanding religious naturalism get access to relevant material efficiently. The following kinds of resources are available here.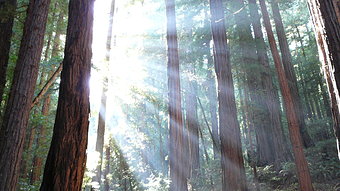 Light and Trees
from here.
Reviews of Books and Articles
These are brief reviews of an extremely diverse array of books and articles related to the theme of religious naturalism. The reviews have been produced by Boston University graduate students.
Web Links
This is self-explanatory for people used to the World Wide Web. Thus, we furnish reviews of sites from all over the World Wide Web related (more or sometimes less) to religious naturalism.
Bibliographies
Use these bibliographies to get oriented to the complex literature surrounding religious naturalism.
Response Pieces
Thoughtful, and at times moving or entertaining, student-written responses to excerpts from Robert Gottlieb's This Sacred Earth.
Course Syllabi
This is a collection of syllabi on religious naturalism that may be helpful for teachers planning courses related to this topic. Syllabi are welcome; please email the contact address.
Interpretative Research Essays
These are research papers aiming to make a contribution to the scholarly community's attempts to construct a comprehensive interpretation of religious naturalism that is attentive to material from the many contributing disciplines. The research essays have been produced by Boston University graduate students.
Popular Culture
This is a collection of reviews of novels, movies, and other popular-culture items that centrally feature religious naturalism.