Religious Experience Resources - Reviews
Index of Topics | Reviews by Topic | Key to Authors
Introduction
These are brief reviews of an extremely diverse array of books and articles related to religious and spiritual experiences. The reviews have been produced by Boston University graduate students interested in the topic.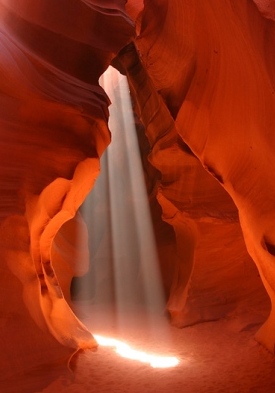 Photo by Unknown; from here.

.

It is difficult to classify works related to religious and spiritual experiences. One of the biggest problems is the term "religious experience" itself. In what follows, I boldly solve this problem by designating "religious experience" to refer to whatever sorts of experience are discussed somewhere, explicitly or indirectly, in the books and articles under each heading. It is an arbitrary solution, to be sure, but it is better than pretending that a precise definition of "religious experience" can be proposed and defended. The same goes for "spiritual experiences."
The abbreviations of the review authors appear after each title in the index below, and the key to the abbreviations is at the end of the page. Here is the list of categories. Some books have been listed in more than one category but I have tried to avoid double listing.
Descriptions of Religious Experiences
Evolutionary or Biological Approaches to Religious Experience
Fictional Treatments of Religious Experience
Investigative Approaches to Religious Experience
Neurological and Cognitive Approaches to Religious Experiences
Pharmacological Approaches to Religious Experiences
Phenomenological Approaches to Religious Experience
Philosophical Approaches to Religious Experience
Practical Guides to Religious Experience
Psychological Approaches to Religious Experience
Sociological Approaches to Religious Experience
Theological Approaches to Religious Experience
Key to Abbreviations of Review Authors

Al-Ghazálí. The Deliverance From Error [TDC]
Augustine. Confessions, Book 7 [KHK]
Bonaventure, The Soul's Journey to God [HJW]
Cohen, Leonard. Beautiful Losers. [SLP]
Johnson, Clifton H., ed. God Struck Me Dead [CD]
Kierkegaard, Søren. Fear and Trembling. [SST]
Kierkegaard, Søren. The Sickness Unto Death. [NB]
Merton, Thomas. The Seven Storey Mountain [JCM]
Soloveitchik, Joseph B. Halakhic Man [BJS]
Strieber, Whitley; Strieber, Anne; eds. The Communion Letters [TDC]
Teresa of Avila. The Interior Castle [GGL]
Tillich, Paul. The Courage to Be [VHG]
Twiss, Sumner B.; Conser, Walter H, Jr. Experience of the Sacred: Reading in the Phenomenology of Religion [TW]
Van der Leeuw, Gerardus. Religion in Essence and Manifestation, vol. 1 [LAW]

Dawkins, Richard. The God Delusion [BJS]
Jaynes, Julian. The Origin of Consciousness in the Breakdown of the
Bicameral Mind [NB]
Krishna, Gopi. The Biological Basis of Religion and Genius [CD]
Murphy, Michael. The Future of the Body: Explorations Into the Further Evolution of Human Nature [VHG]

Kazantzakis, Nikos. Saint Francis [MAS]
Percy, Walker. The Second Coming [CD]

Harrison, Ted. Stigmata: A Medieval Mystery in a Modern Age [MAS]
Schwarz, Berthold E. "K: A Presumed Case of Telekinesis" [JCM]

Alper, Matthew. The God Part of the Brain—A Scientific Interpretation of Human Spirituality and God [MS]
Austin, James H. Zen and the Brain: Toward and Understanding of Meditation and Consciousness [GGL]
Ashbrook, James B.; Albright, Carol Rausch. The Humanizing Brain: Where Religion and Neuroscience Meet [CD]
Beauregard, Mario; O'Leary, Denyse. The Spiritual Brain: A Neuroscientist's Case for the Existence of the Soul [RLS]
Cacioppo, John T.; Patrick, William. Loneliness—Human Nature and the Need for Social Connection [JC]
d'Aquili, Eugene; Newberg, Andrew B. The Mystical Mind: Probing the Biology of Religious Experience [TK]
d'Aquili, Eugene; Newberg, Andrew B. "The Neuropsychological Basis of Religions, or Why God Won't Go Away" [SST]
Granqvist, Pehr; Fredrikson, M.; Unge, P.; Hagenfeldt, A.; Valind, S.; Larhammar, D.; et al. "Sensed presence and mystical experiences are predicted by suggestibility, not by the application of transcranial weak complex magnetic fields" [SLP]
Granqvist, Pehr. "Reply to 'A response to Granqvist et al. "Sensed presence and mystical experiences are predicted by suggestibility, not by the application of transcranial weak magnetic fields"'" [SLP]
McNamara, Patrick. "The Motivational Origins of Religious Practices" [BJS]
Newberg, Andrew; d'Aquili, Eugene; Rause, Vince. Why God Won't Go Away: Brain Science and the Biology of Belief [TK]
Newberg, A. B.; Iversen, J. "The neural basis of the complex mental task of meditation: neurotransmitter and neurochemical considerations" [HJW]
Persinger, Michael A.; Koren, S.A. "A Response to Granqvist et al. 'Sensed presence and mystical experiences are predicted by suggestibility, not by the application of transcranial weak magnetic fields'" [SLP]
Sosis, Richard. "Why aren't we all Hutterites? Costly signaling theory and religious behavior" [LAW]
Sosis, Richard. "The adaptive value of religious ritual" [LAW]
Sosis, Richard; Candace Alcorta. "Signaling, solidarity and the sacred: The evolution of religious behavior" [LAW]
Sosis, Richard; Bradley Ruffle. "Religious ritual and cooperation: Testing for a relationship on Israeli religious and secular Kibbutzim" [LAW]
Sosis, Richard; Bradley Ruffle. "Ideology, religion, and the evolution of cooperation: Field experiments on Israeli Kibbutzim" [LAW]
Strassman, Rick, M.D. DMT: The Spirit Molecule [GGL]
Varela, Francisco J.; Thompson, Evan; Rosch, Eleanor. The Embodied Mind: Cognitive Science and Human Experience [TW]

Griffiths, R.R. et al. "Mystical-type experiences occasioned by psilocybin mediate the attribution of personal meaning and spiritual significance 14 months later." [SLP]
Krishna, Gopi. The Biological Basis of Religion and Genius [CD]
Leary, Timothy. Jail Notes [CD]
Porush, David. 1993. "Finding God" [JAC]

Fischer, Roland. "A Cartography of Ecstatic and Meditative States" [TK]
Hardy, Sir Alister. The Spiritual Nature of Man: A Study of Contemporary Religious Experience [TK]
Häring, Hermann; Metz, Johann Baptist; (eds.). The Many Faces of the Divine [KYJ]
James, William. The Varieties of Religious Experience [TK]
Smart, Ninian. Dimensions of the Sacred: An Anatomy of the World's Beliefs [TK]
Stace, W.T. Mysticism and Philosophy [TK]
Tymieniecka, Anna-Teresa, ed. From the Sacred to the Divine: A New Phenomenological Approach [TDC]
Wildman, Wesley J. "Consciousness expanded" [JC]

Bagger, Matthew C. Religious Experience, Justification, and History [VHG]
Bucke, Richard Maurice, M.D. Cosmic Consciousness [TK]
Confucius, Confucius: The Analects [RLS]
Eliade, Mircea. The Sacred and the Profane [TDC]
Katz, Steven T. "Language, Epistemology and Mysticism" [TK]
Katz, Steven T. "The 'Conservative' Character of Mysticism" [TK]
Katz, Steven T. 1992. "Mystical Speech and Mystical Meaning" [TK]
Katz, Steven T. 2000. "Mysticism and the Interpretation of Sacred Scripture" [TK]
Petroff, Elizabeth. Body and Soul [MAS]
Wilbur, Ken. The Atman Project [JCM]

Chopra, Deepak. How to Know God [JCM]
Feuerstein, Georg. The Yoga-Sutra of Patanjali: A New Translation and Commentary [JCM]
Hanh, Thich Nhat. Going Home: Jesus and Buddha as Brothers [JCM]
Shiloh, Ailon. Faith Healing: The Religious Experience as a Therapeutic Process [KYJ]
Tao Teh Ching [RLS]
Taylor, Barbara Brown. When God is Silent [KYJ]

Cardena, Etzel; Lynn, Steven Jay; Krippner, Stanley; eds. Varieties of Anomalous Experience: Examining the Scientific Evidence [TK]
Batson, C. Daniel; Schoenrade, Patricia; Ventis; W. Larry. Religion and the Individual: A Social-Psychological Perspective [TW]
Callahan, Sideney. Women Who Hear Voices: The Challenge of Religious Experience [SST]
Deikman, Arthur J. "De-automatization and the Mystic Experience" [TK]
Deikman, Arthur J. "Experimental Meditation" [TK]
Fowler, James W. Stages of Faith; The Psychology of Human Development and the Quest for Meaning [SST]
Freud, Sigmund. Moses and Monotheism [SLP]
Freud, Sigmund. Civilization and Its Discontents [HJW]
Sigmund Freud, The Future of an Illusion [MS]
Fromm, Erich. Psychoanalysis and Religion [KHK]
Greeley, Andrew, "Hallucinations Among the Widowed." [CD]
Hood, Ralph W., Jr. "The Construction and Preliminary Validation of a Measure of Reported Mystical Experience" [TK]
Hood, Ralph W., Jr., ed. 1995. Handbook of Religious Experiences. Religious Education Press [TK]
Hood, Ralph W., Jr. "Religious Orientation and the Report of Religious Experience" [TK]
Hunt, Harry T. "A Cognitive Psychology of Mystical and Altered-State Experience." [TK]
Hunt, Harry T. "Relations between the Phenomena of Religious Mysticism (Altered States of Consciousness) and the Psychology of Thought: A Cognitive Psychology of States of Consciousness and the Necessity of Subjective States for Cognitive Theory." [TK]
MacDonald, William L., "Idionecrophanies: The Social Construction of Perceived Contact with the Dead." [CD]
Maslow, Abraham H. Religions, Values and Peak Experiences [TK]
Maslow, Abraham H. Toward a Psychology of Being [TK]
Maslow, Abraham H. The Farther Reaches of Human Nature [GGL]
Neumann, Erich. "Mystical Man" [TK]
Schachter, S.; Singer, J. E. "Cognitive, Social, and Psychological Determinants of Emotional States" [TK]
Thalbourne, Michael A; Delin, Peter S. "A Common Thread Underlying Belief in the Paranormal, Creative Personality, Mystical Experience and Psychopathology" [TK]
Thalbourne, Michael A; Delin, Peter S. "Transliminality: Its Relation to Dream Life, Religiosity, and Mystical Experience" [TK]
Wahl, William H. "Pathologies of Desire and Duty: Freud, Ricoeur, and Castoriadis on Transforming Religious Culture" [JC]
Wilson, Stephen R.; Spencer, Robert C. "Intense Personal Experiences: Subjective Interpretations, and After-effects" [TK]

Berger, Peter. The Sacred Canopy: Elements of a Sociological Theory of Religion [TK]
Bloch, Maurice. Prey into Hunter: The Politics of Religious Experience [VHG]
Finney, John. Finding Faith Today: How Does It Happen? [JG]
Gilkes, Cheryl Townsend. If it wasn't for the Women: Black Women's Experience and Womanist Culture in Church and Community [JG]
Greeley, Andrew M. The Sociology of the Paranormal [TK]
Irons, William. "Morality, Religion, and Human Evolution" [NB]
Weber, Max. The Protestant Ethic and the Spirit of Capitalism [LAW]

Berger, Peter L. The Heretical Imperative: Contemporary Possibilities of Religious Affirmation [TK]
Ford, David F. Theology: A Very Short Introduction [JG]
Fiddes, Paul S. Freedom and Limit: A Dialogue between Literature and Christian Doctrine [JG]
Huxley, Alduos. The Perennial Philosophy: An Interpretation of the Great Mystics, East and West [NB]
Merton, Thomas. Thoughts on the East [JCM]
Murphy, Nancey. Bodies and Souls, or Spirited Bodies? [BJS]
Quinn, Philip L.; Meeker, Kevin; eds. The Philosophical Challenge of Religious Diversity [JCM]
Santideva, Bodhicaryavatara [RLS]
Schleiermacher, Friedrich D. E. The Christian Faith [LAW]
Schleiermacher, Friedrich D. E. The Christian Faith (Introduction) [MS]
Schuon, Frithjof. The Transcendental Unity of Religions [HJW]
Smith, Huston. Forgotten Truth: The Primordial Tradition [TK]
Swinburne, Richard. The Existence of God [TW]

[BJS] Benjamin Samuels, member of the 2008 Religious Experience Research Seminar at Boston University
[CD] Charles Demm
[GGL] Georgia Leiner, member of the 2008 Religious Experience Research Seminar at Boston University
[HJW] Hong Jongwook, member of the 2008 Religious Experience Research Seminar at Boston University
[JC] Jennifer Coleman, member of the 2008 Religious Experience Research Seminar at Boston University
[JCM] Justin C. Maaia
[JG] Julian Gotobed
[KCH] Kim ChanHong, member of the 2008 Religious Experience Research Seminar at Boston University
[KHK] Kim Han-Kyung
[KYJ] Kim YoungJu, member of the 2002 Religious Experience Research Seminar at Boston University
[LAW] Lawrence A. Whitney, member of the 2008 Religious Experience Research Seminar at Boston University
[MAS] Maria Smilios
[MS] Mark Shan, member of the 2008 Religious Experience Research Seminar at Boston University
[NB] Nathan Bieniek, member of the 2008 Religious Experience Research Seminar at Boston University
[RLS] Roy Smith, member of the 2008 Religious Experience Research Seminar at Boston University
[SLP] Sally Paddock, member of the 2008 Religious Experience Research Seminar at Boston University
[SST] Susan Scully Troy, member of the 2008 Religious Experience Research Seminar at Boston University
[TDC] Thomas D. Carroll
[TK] Tim Knepper, teaching assistant for the 2002 Religious Experience Research Seminar at Boston University
[TW] Todd Willison, member of the 2008 Religious Experience Research Seminar at Boston University
[VHG] Victoria Gaskell, member of the 2008 Religious Experience Research Seminar at Boston University