Atheisms & Theologies - Response Pieces
Index of Original Excerpts | Responses | Key to Authors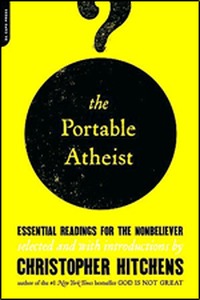 Christopher Hitchens, ed., The Portable Atheist
(from here).
Introduction
This is a collection of colorful and thoughtful responses to literary excerpts bearing on atheism. Unless otherwise mentioned, excerpts are compiled in Christopher Hitchens, ed., The Portable Atheist: Essential Readings for the Nonbeliever (Da Capo Press, 2007), and page numbers refer to that book.

Ayaan Hirsi Ali, How (and Why) I became an Infidel
Elizabeth Anderson, "If God is Dead, is Everything Permitted?"
Alfred Jules Ayer, "That Undiscovered Country"
John Betjeman, "In Westminster Abbey"
Chapman Cohen, "Monism and Religion"
Joseph Conrad, "Author's Note" from The Shadow Line
Richard Dawkins, "Atheists for Jesus"
Richard Dawkins, "Why There Almost Certainly is no God"
Daniel C. Dennett, "A Working Definition of Religion" from "Breaking Which Spell?"
Daniel C. Dennett, "Thank Goodness!"
Albert Einstein, "Selected Writings on Religion"
George Eliot, Evangelical Teaching
Anatole France, The Garden of Epicurus
Sigmund Freud, The Future of an Illusion
Martin Gardner, The Wandering Jew and the Second Coming
Emma Goldman, The Philosophy of Atheism
A. C. Grayling, Can an Atheist Be a Fundamentalist?
Sam Harris, "In the Shadow of God"
Thomas Hobbes, "Of Religion" from Leviathan
David Hume, excerpts from The Natural History of Religion and Of Miracles
Penn Jilette, "There is No God"
H. P. Lovecraft, "A Letter on Religion"
Karl Marx, Contribution to the Critique of Hegel's Philosophy of Right
Ian McEwan, "End of the World Blues"
H. L. Menken, "Memorial Service"
John Stuart Mill, "Moral Influences in Early Youth: My Father's Character and Opinions"
George Orwell, excerpt from A Clergyman's Daughter
Bertrand Russell, "An Outline of Intellectual Rubbish"
Salman Rushdie, "Imagine There's No Heaven: A Letter to the Six Billionth World Citizen"
Carl Sagan, The Demon-Haunted World
Carl Sagan, The God Hypothesis
Percy Bysse Shelley, "A Refutation of Deism"
Michael Shermer, "Genesis Revisited: A Scientific Creation Story"
Benedict de Spinoza, Excerpt from Theological-Political Treatise
Victor Stenger, "Cosmic Evidence," from God: The Failed Hypothesis
Victor Stenger, Why Is There Something Rather Than Nothing?
Charles Templeton, "A Personal Word" from A Farewell to God
Charles Templeton, "Questions to Ask Yourself" from A Farewell to God
Mark Twain, "Bible Teaching and Religious Practice" from Europe & Elsewhere and A Pen Warmed Up In Hell
Mark Twain, "Thoughts of God" from Fables of Man
Carl Van Doren, "Why I am an Unbeliever"
Steven Weinberg, "What about God?"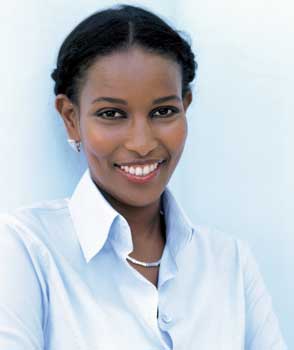 Ayaan Hirsi Ali
(from here).
Response by DR:
Ali's essay is a very courageous and vulnerable personal narrative of her transition from Islam to atheism. From her earliest memories she resented having to submit to her brother, but that resentment was tinged with guilt for questioning Allah. As she grew older, she was disturbed that family honor codes "seemed principally to reside in the control, sale, and transfer of girls' virginity" (478) but still she kept her silence. It was only when her father arranged for her to marry a stranger that she finally rebelled by immigrating to Holland. There she studied political science, trying to understand "why Muslim societies – Allah's societies – were poor and violent, while the countries of the despised infidels were wealthy and peaceful" (ibid.). After September 11th, Ali's growing religious crisis finally came to a head. She picked up a book about atheism and "Before I'd read four pages, I realized that I had left Allah behind years ago. I was an atheist" (479). This dramatic change led to an exhilarating process of deciding for herself what morality she would embrace. Ultimately, choosing to be a good person seemed significantly more moral than being good because one feared hell. For Ayaan Hirsi Ali, abandoning the fear of hell and the hope of heaven only increased the intensity and beauty of her life on Earth.
Growing up in Evangelical Christian circles, I was often told that nothing convinced people to believe more than a good personal testimony. Apparently, that principle holds for disbelief as well. How can one argue against such a vulnerable and perfectly sincere confession? You cannot fake years of painful religious guilt, and nothing can replace the genuine evangelist's essential conviction: I believe so strongly in the validity of my experience that I will honor it by sharing even the uncomfortable details. Did Ali need to mention that sexual cravings led her to finally abandon her family and country? Of course not. Will that confession be used against her by those who want to condemn her and tarnish her name? Of course. It is precisely in the lack of such calculations that one senses the properly motivated testimony. All her words ring true, including those concerning her commitment to realizing religious ideals of moral excellence and generosity "without suppressing my will and forcing it to obey an intricate and inhumanly detailed web of rules" (479). I resonated with her struggle throughout, but nothing moved me more than her closing words, which I will echo as part of my own creed: "Death is certain, replacing both the siren-song of Paradise and the dread of Hell. Life on this earth, with all its mystery and beauty and pain, is then to be lived far more intensely: we stumble and get up, we are sad, confident, insecure, feel loneliness and joy and love. There is nothing more; but I want nothing more" (480).
Response by FA:
This article is the touching story of Ayaan Hirsi Ali, her journey from a believer to an atheist. In the article the author makes the argument that belief systems use fear tactics to exercise control over human beings. The author argues that once she came out of the clutches of believing in a God she was able to think freely and stand on her own reason with self respect. She did not have to accept contradictions any more or hide any thing. The author argues that morality comes not from the pages of a sacred book but from oneself because of one's need to function within a society. In short, the author through her personal story argues like any other atheist: life in this world is what is real only that life matters, not any superstitious beliefs about that life.
This article was very real to me because the arguments were backed with real-life experiences. In many ways I could relate to the writer considering the fundamentalist Christian upbringing that I had as a child. The Christian religion was seen only in the perspective of heaven and hell and being a Christian in my life was all about somehow escaping hell and securing heaven. So the story of the author resonates with me in a very big way. I agree with the author on the point that religion often does not give a person the freedom to think the way he or she wants to think. But I believe that any religion can be seen in many perspectives. I believe that if Christianity is seen only in the perspective of escaping hell, then it has failed in its purpose. But if the same religion is seen in the perspective of love it gives me a ray of hope (even if it is a belief) for counteracting the confusions and contradictions of this world.
Response by AMK:
As a child she was shameful and obedient. As a teenager she was afraid and as an adult she was free. In How (and Why) I Became an Infidel, Hirsi Ali traces her escape from the cognitive dissonance of the Muslim faith of her youth to her adult atheism. Having been exposed to Western philosophies in college, Hirsi Ali began to find secular life fulfilling and not damning. The 9/11 attacks are posed as the pivotal moment when Hirsi Ali was forced to choose sides. Through her choice, Hirsi Ali discovered a life with more meaning and intensity. Seeing herself in others allowed her to accept her own atheism and to realize the potential of a truly mortal life.
The sincerity of Hirsi Ali's youthful experiences and her conversion to atheism are unquestionably sincere. Her testimony, however, is hardly compelling. It reads as a story written time and time again. Employing rhetorical vocabulary throughout, Hirsi Ali describes having Islam "drilled" into her during her youth and preachers "hammering" ideologies into her head. I do not mean to diminish the validity of her life experience, but to suggest that the inclusion of this piece (particularly as the final chapter of Hitchens' collection) lacks a certain depth of dialogue. Religion restricts, atheism frees. No doubt this is true for many non-believers, but the level of discussion must be pushed and expanded, not simplified.
Response by KGL:
In "How (and Why) I Became an Infidel," Ayaan Hirsi Ali outlines the steps in her rejection of the anthropomorphized view of Allah that her Somalian fundamentalist upbringing foisted upon her to her realization that no god is required for her to author the meaning of her own life. The first step in her journey is the inability to resolve the problem of theodicy and the threat of a loveless arranged marriage sends her packing to The Netherlands. There the clash between her inherited Islamic worldview and her university education plus the encounter with personal freedom leads her to bargain with Allah—surely he values education and the sins she is committing are small. The events of September 11, 2001 push her away from Islam and what she sees as its inherent violence while reading Philipse's The Atheist Manifesto leads her to realize that Allah is a human invention designed by the powerful to control the weak. By "firing" her god, her parents, and her culture, Ali takes up the challenge to think for herself, develop an internal moral compass, and take on responsibility for her decisions (477, 478, 479). When asked why she does not convert to a more humane religion, such as Christianity, she responds that any religion that attempts to control behavior or paper over the certainty of death is one that does not accept life as it really is with its "mystery and beauty and pain" alongside its sadness, insecurities, and loneliness (480).
Ali's essay raises the question of whether her flight to atheism is a well-thought-through decision or an example of the all-or-nothing thinking that characterizes fundamentalism. Is the drastic swing of the pendulum a step in her recovery that will ultimately lead to a middle ground between fundamentalism and atheism or her final landing spot? Studies of former Christian fundamentalists reveal that few if any ever return to the fundamentalist fold, but those who seek mental health care experience anger, hurt, guilt, and loneliness along with anxiety and depression about the meaning of life and lingering fears of punishment (see Darren E. Sherkat and John Wilson, "Preferences, Constraints, and Choices in Religious Markets: An Examination of Religious Switching and Apostasy," Social Forces 73 (1995): 1014-1016; James C. Moyers, "Religious Issues in the Psychotherapy of Former Fundamentalists," Psychotherapy 27 (1990): 42-43; Gary W. Hartz and Henry C. Everett, "Fundamentalist Religion and Its Effect on Mental Health," Journal of Religion and Health 28 (1989): 209-210, 214-215). While Ali's essay points to her resolution of the anger over sexism, the hurt of parental betrayal, the guilt over sin, and the fear of hellfire, her comment that Christianity's "heavenly gardens" aggravate her hayfever may indicate a cynicism that suggests her journey is far from finished (480).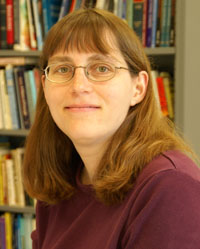 Elizabeth Anderson
(from here)
Response by KC:
Elizabeth Anderson's "If God Is Dead, Is Everything Permitted?" articulately addresses that the fundamentalist rejection of evolution is based on what they perceive as the moral repercussions of the argument rather than the science of evolution. She identifies the discomfort theists have toward atheists as the fear that without God, there can be no morality. Anderson argues that theism causes more grounds for immorality than atheism, then goes on to define what she means by theism and makes her case with strong arguments supported by scripture. She agrees with Kant's categorical imperatives, but leaps from a rejection of Biblical literalism to a rejection of the Bible as a whole. She critiques religion's truth claims because they are not upheld by the scientific method. Anderson concludes by stating that we as individuals have the authority to create moral rules through reciprocal claim making (346-347).
I really enjoyed Anderson's argument. It was delivered well and maintained a cool rational quality despite the fact that she was clearly offended by the charge of immorality given to atheists. While I believe it was necessary for her to turn the tables on her accusers, I didn't buy her entire argument. There is a need for believers to keep their religion from being co-opted for injustice, just as all citizens have the responsibility to keep their secular government from power corruption and immorality. Theists and atheists both have the responsibility to keep power from corrupting their morals. Although I agreed with Anderson's logical assessment of morality as reciprocal claim making, I do not believe it has to be so reductionist as to only work on a secular basis. Believers believe for a reason, many because of their personal religious experience, but Anderson never addresses why believers might want to believe in addition to the morality they perceive their religion brings. Her argument would be strengthened if she gave theists a way to check the morality of their own religion.
Response by JM:
Elizabeth Anderson seeks to answer, and deny, the claim that without God we would descend into rampant immorality. Anderson flips the argument on its head by showing that theism leads to the belief that heinous acts are moral. To build this argument she cites a variety of passages from the bible that describe God as committing and condoning acts that are universally considered immoral. Since Anderson equates theism with following scripture she concludes that belief in God commits one to an ambiguous morality at best. If theism doesn't give a morality it is absurd to think that abandoning atheism would lead to immorality.
It is a shame that such an elegant argument hinges on such a shallow understanding of religion. On one hand she seems to say that morality exists independent from theism, yet at the same time she is painting a picture of immorality bound to theism. You can't have both; and of the two the former is more productive. Sure, you lose the great chance to call religion immoral but you gain the opportunity to explore the actual nature of morality. I can't really blame Anderson though for just wanting to point out hypocrisy, it's a great sport.
Response by TK:
Elizabeth Anderson presents a convincing argument concerning atheism and morality. She reflects on the question raised by Dostoyevsky, "If God is dead, then everything is permitted." Her argument is that this cannot be the case because morality comes before religion from the communal experience of humanity living together. Where theism, specifically monotheist and excluding deism, argues that a moral authority is necessary to preserve order, atheism asserts that communal experience provides proper understanding apart from a sovereign "authority." A review of biblical texts clearly presents a God that is unjust and immoral. Between the vengeful God of the old testament and the harsh words of Jesus in the new testament, religion has no logical grounds to say that God is completely moral. First this would affirm that morality is something set apart from God; God is not necessarily moral in scripture. Even though some extreme fundamentalist might "bit the bullet" here, they still cannot logically claim that morality exists only with God. For more moderate religious individuals Anderson makes the clever argument hat a contemplation of morality should actually lead believers away from God rather than toward one. Since the stories in scripture of God acting immorally must be seen as such, one comes to realize that morality must exist apart from a theistic God. And if God is not necessary for morality, what is the point in belief anyway?
I really appreciate Anderson's argument here. It is a clever way to justify why morality matters even outside of the context of religion. It seems to me though that she didn't explore the idea of morality growing out of human proximity though. I understood her argument for morality through the view of an atheist to be primarily enforced and established by the government and a common sense mentality. Of course I should not harm another person because I don't want them to harm me, seems to be the grounding of the morality she presents. Her argument focuses primarily on turning the burden of sin back to the theist. At the point where we lose an authority completely removed from human experience, we can really appreciate the value of morals. Still, I would question as humanity becomes more autonomous and individual if attacking theist is really the best use of argument. Morality springs from communal interaction. At the point where atheism gives not president or grounding for community, I wonder if theism still has something deep to offer in the community it provides that Anderson overlooks. For the majority of theists, religion seems to provide a point of holding human experience in common. I get the feeling from Anderson that she thinks the world might be more moral without theism. If the world became completely atheistic, I wonder what might bind humanity to the other? Religion gives a framework to see morality in a global sense and a system that confronts many individuals on a frequent basis. If this argument was presented to every child from birth to death, I can imagine the world have a majority of atheists, though I can't imagine that it would be any more moral than it is today. At the point where an atheistic argument of this sort does not present a more advantages alternative, I wonder why the author really thinks it is important. If it's for the purpose of attacking those who are immoral in their religion I completely support it, but would imagine it constructed in a different way.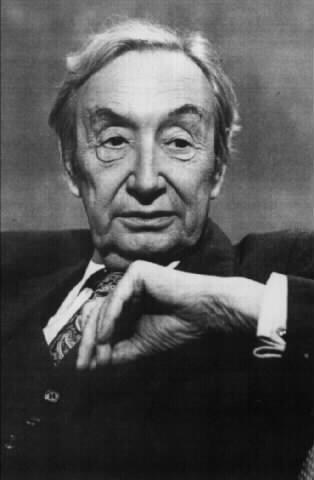 Alfred Jules Ayer
(from here)
Response by JNH:
The essay is A.J. Ayer's retelling of and reflection upon a four-minute arrest of his heart. Ayer describes his vision, while apparently unconscious, of an intense light accompanied by several entities that he mysteriously knew were associated with space and time. Supposing these experiences were not firings of an oxygen-deprived brain—which he later argued was a likely explanation—Ayer reflects on problems that arise with the notion of body-less identities such as an immortal soul. However, Ayer notes that even if there were another world beyond this one, it would, from our point of view, have no more of a necessary relationship with a god than this one and would bring us no closer to revealing anything about God's existence.
By clearing room (however small) for other worlds, Ayer's experience could profoundly affect the way we describe our world. If another world or worlds exist radically unlike this world, what happens to our epistemology of possibilities? If our data from this world do not correspond to the truths of other existing worlds, most propositions about our world would be rendered questionable. This would be doubly true if these worlds were linked by the migration of identities from one to another. The small allowance Ayer makes is an admittedly honest turn given an uncanny experience, however its ambiguity later warranted a weakening of his initial statements Ayer doubts that he saw something from another world, but the possibility haunts his readers. Unsettled by how the dark chasm of the possible could spit, spew, or send anything conceivable in our direction, we find ourselves in deep doubt. The night where all cows are black may produce aberrations of probability. Other worlds may be—it is as if Ayer gives permission to possibility as it peers at us through the smallest fissures within our world. In that moment when the possible invades, justification and rationality only do what they can do.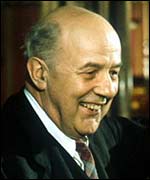 John Betjeman
(from here)
Response by SRG:
The quick, personal, self-centered prayer of a churchwoman is portrayed tongue-in-cheek in rhyming verse by Betjeman. First she prays for God to bomb the Germans but to spare their women if possible; if God cannot do this, she says she can forgive Him. Then she shows racial bigotry in asking protection for allied troops, especially white ones. She lauds her country and asks for "special care" for her home address. She smoothes over her own sins, and seems to offer her service to God if God will grant her petitions. She takes a moment to look toward heavenly reward for her service in the warless "Eternal Safety Zone," before she decides she needs to get on with her life and make it to a luncheon. She leaves feeling a little better, feeling she has heard God's word in her time at Westminster Abbey, when she has only heard herself.
Theists and atheists alike can be amused by Betjeman's clever humor. Taking personal prayer to an extreme, he truly indicts many a Christian or supposed Christian whose faith or prayer-life is more ego- than theo-centric. Certainly this parody would have been equally fitting for many American churches in the wake of the September 11th attacks, when it was so easy for American theists to presume that the God of America was on their side, reducing (or rallying?) this God to a tribal God rather than a universal creator. Christians ought not be blindsided by the inappropriateness of this attempt to use or manipulate God. The Catholic Church emphasizes the transnational (and trans-temporal) community of saints such that personal prayer ought to be addressed to Our Father. Protestant psychologist Larry Crabb reminds Christians not to pray simply out of their needs, felt or real, because prayer "is not about making our life on earth as comfortable as possible, nor praying for everything to go right; it is about us coming to God as we are and relating to Him" (see A. Mozombite, "Larry Crabb: The Papa Prayer"). Betjeman succeeds in showing a form of personal prayer which is inappropriate and ridiculous.

Response by ERD:
Chapman Cohen was a man of his era, an age awash in scientific and evolutionary thinking. His worldview reflected the new paradigm in that it criticized theism in the face of monism, which disallows both the differentiation of fundamental parts of reality and the necessity for some sort of interfering or guiding divine principle. Cohen argues that monism, as well as beliefs such as Spinoza's pantheism, ultimately qualifies as atheism due to its denial of personal theism. With these ideas as his foundation, Cohen's piece focuses on the nature of the individual and society through Christian and monistic lenses. Facing theological criticism of monism as dooming the individual, Cohen writes that the individual is not and cannot be lost because it is an integral part of the greater societal system. He states, "We do not annihilate the earth by showing its place in the solar system..." (173). It is impossible to discuss the individual outside the context of his or her history, social situation, etc. just as it is impossible to discuss a society without knowing the individuals that make it up. He expresses this quality with the term "sociological atomism" (173), which roughly translates to the modern integral philosophers' phrase, "transcend and include." Cohen refutes the Christian belief that morality is grafted onto the individual by pointing out the many moral flaws of the Christian church throughout its history. Instead, he writes that morality is defined by societal forces which work themselves into the individual. Essentially, the good of the group will equal the good of the individual. These societal forces, though, are not some "mysterious social ego" (174) suggested by religion, but are in fact just as much of a product of individuals as an individual is a product of his or her organs. Finally, Cohen ties it all together by stating that the individual is not the product of some supernatural origination, but a "necessary result and expression of social forces always in operation" (176).
As far as Cohen's ideas on the individual and society go, I find little to disagree with. To believe that a society is simply the sum of individual, all-wondrous human beings is silly. Cohen is absolutely correct in removing humanity from its peak upon the universal scale of importance, though I highly doubt his argument would have any traction on those of faith who hold humanity's divinely ordained centrality as their core principle. On the other hand, I find significant fault with the underlying nature of Cohen's arguments. His place in history contributes to both his fervor and his blindness. Coming up in the age of evolution and scientific discovery has created in him a worldview that accepts everything as a causal process that can be, in time, scientifically studied and analyzed. Thus his presentation of the individual and society has taken evolution and its tangential implications as complete and unalterable facts, quite the danger for a truly inquiring scientific mind. Even more dangerous, though, are the applications of this worldview to the monistic reality Cohen attempts to promote. He writes, "If there are any gaps they are in our knowledge, not in things themselves" (170). Now, certainly there are truths to this claim and it is a very potent critique of those who wish to establish a "God of the gaps" theory. However, as more sober reflections on the theory of evolution and modern discoveries about the nature of fundamental reality have emerged, his argument has the stains of scientism. In sum, this essay shows Cohen as both a brilliant sociologist and a short-sighted scientist.
Response by RLS:
Cohen discusses the ubiquity of narratives of gods intervening in births. In light of this, Jesus' birth is highly unoriginal. Cohen asks: "What is the meaning of it all? Why were all these gods and demi-gods born in this manner?" "Commonplace" trivialities mixed with superstition, he answers (178). But what about scientific discoveries? He feels these should eradicate our superstitions. Death and birth, for example, were once conceived through superstition. Then came biology and we understood the reality of procreation in a purely physical way. Regardless, people still want to hold to the virginal conception of Jesus. Thus "all religion, no matter how refined," has "its roots in the delusions that have their sway over the mind of mankind in its most primitive stages." We want to believe in the supernatural births of a few special people. Hence Christianity's 'virginal conception.' But Cohen reminds his readers that the "savage" mentality is the foundation for such beliefs. Thus we should consider the "psychology of religion" and focus on how people "came to believe" in these kinds of superstitions (180). In this way we may overcome our superstitions.
Cohen's point is certainly worthy of consideration. No doubt the narrative of Jesus' virginal birth is not unique to Christianity. In fact, I've recently read varying accounts of the birth of the Buddha Siddhartha Guatama. Lots of parallels. The only point of criticism I offer is that Cohen doesn't explain why beliefs about gods intervening in births is problematic. He only shows that people from time immemorial have held such beliefs. But why does this fact negate the beliefs? Simply by appeal to lack of Enlightenment-Rationalist-Empiricism? This does not convince me to shed my "superstitions."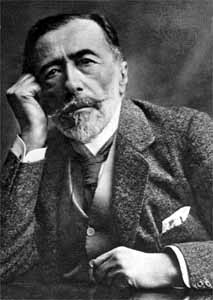 Joseph Conrad
(from here)
Response by TK:
Joseph Conrad answers critics who find the supernatural in his short novel The Shadow Line by writing a preface. In the preface, Conrad states that, for him, the depths of imagination coupled with human experience and thought are more than enough to encompass what many might speak about as the divine or supernatural. Conrad argues that he would never entertain these ideas of the supernatural, being convinced that "whatever falls under the dominion of our senses must be in nature." He continues to wonder if the title itself, "The Shadow-Line" might have something to do with the interpretation of the work dealing with the supernatural. His first thought for a title, "First Command" might have not lent the novel so easily to misunderstanding. Conrad concludes by saying the story is deep with a tone of dedication. The memory he has from the story is the undying regard of men for a captain who they served.
Not having read the novel The Shadow Line it is difficult to know what sense of the supernatural or divine that critics had attributed to the book. Nonetheless, his defense of his text makes for interesting reading. It seems that he rejects the "supernatural" because it would devalue human experience in some way. The question that arises for me is: does a belief in the divine necessarily cause the value of human experience to be less? I'm not sure that Conrad and myself differ much in the way that we think, though it is clear he is an atheist and I am not. The way he talks about the supernatural, as if the only way one can talk about the divine is by forgetting human experience, is quite curious. I wonder what he fears is lost in a belief in the supernatural, and if it is something more than a loss of human complexity.
Response by SR:
Readers have accused Joseph Conrad of supernaturalism. In Conrad's eyes, supernaturalism is a crime against human dignity. He could never sink to such a level, so he explains here that using supernatural characters in his book does not indicate he thinks supernaturally himself. Conrad is a naturalist, and he believes that descent to supernatural thinking limits the imagination, binds the heart, and handicaps one's ability to experience life fully and honestly.
The first reaction to Conrad's assertion should be to ask: why is there a problem with supernaturalism? Conrad claims that the "manufactured article" of supernaturalism warps understanding of "intimate delicacies of relationships with the dead" and desecrates memories of the living. But how might theistic thinking do such a thing? Many theists would assert exactly the opposite: in their view, a God-animated view of the world enriches relationships with the dead and the living. Conrad does not address this point. For this reason, poetic as his writing is, Conrad's polemic has nothing against which to stand.
Response by AMK:
In the author's note to his story The Shadow Line, Joseph Conrad addresses the unpredictable element readers bring to works of fiction: interpretation. The note is a response to critical analyses declaring the supernatural a central motif of his work. Conrad is compelled to address these critiques because he claims they contradict his "invincible conviction" that all human experience is encapsulated within the natural world. In fact, the "marvels" of nature are too grand for Conrad to even consider the supernatural. Conrad then reveals the biographical nature of The Shadow Line, fondly remembering his experience on the ship. He is awed by the way that life unfolded itself before him, but attributes his joy to the combination of luck and hard work, rather than to any divine intervention.
In the court of interpretation, Joseph Conrad is judge. Conrad responds to his literary critics as though they have critiqued his very essence, rather than his story. Clearly, interpreting the supernatural into his work of fiction is an incorrect interpretation at one level. Yet the truth is that his critics may not have been far off at another level. Even in Conrad's own defense of his convinced naturalism, there is a supernatural undercurrent. The interpretative problem occurs because most of Conrad's readership imagines mystery and wonder as otherworldly and supernatural. The readers' critique may be apt, but their cosmologies may be muddled.
Response by ERD:
Joseph Conrad defends his novel The Shadow Line from the false assumption of critics that it deals with the supernatural, telling the reader that in fact it deals purely with the natural. In his concise note, Conrad takes the opportunity to expand on the issue of natural and supernatural by arguing against any need for the supernatural at all, instead choosing to appreciate what the natural world has to offer. Conrad is under the conviction that anything experienced by the senses is natural, and the sheer volume of natural experiences is far more marvelous and mysterious than anything in the "mere supernatural" (123). From this notion he extrapolates the idea that reliance on the supernatural can only result in sadness upon realization of its ultimate unreality. Tying his ideas back into the novel, Conrad explains that the story is about human identity and how the profundity and magnitude of our lives emerge. Though never specifically stating so, Conrad dismisses the idea of a theological God by rejecting the supernatural. Instead, he makes the case that natural wonders and mysteries are perfectly suitable on their own.
Conrad comes across as a naturalist in this piece, verging on Thoreau territory with his exaltation of the inherent mysteries of the natural world. He offers more than just a materialistic view of reality, though. His words describe a yogic awareness of the world. I admire his celebration of nature and his commonsense approach to the futility of devoting one's life to that which one cannot experience. The phrase "mere superstition" brilliantly encapsulates the limitations of the human ego and its defensive tendency to create a reality outside of itself. In this way Conrad manages to elevate the human person to a level of prominence without boasting or placing the individual on a pedestal of righteousness. His appeals to universal mystery and individual human dignity in nature strengthen his argument since these qualities are a common ground with many religious worldviews. However, Conrad's explanation is too critical for any efficacious attempt at conversion. His direct cuts at any superstitious belief are still fully visible and rather condescending toward those who have not seen reality for what it is. Thus, even though his underlying reasoning is strong, Conrad has difficulty merging the mystery and awe of reality with the absence of the supernatural, two concepts seen by the larger audience as mutually exclusive. Individual awareness of natural wonder is indeed a difficult thing to package.
Response by JCD:
In 1917 Joseph Conrad published a short novel, loosely based on his own experiences, titled "The Shadow Line," about the young captain and crew of a ship stalled in the ocean (unable to pass "the shadow line"). In the course of the author's note quoted in the Hitchens compendium, Conrad answers critics who have accused him of (or praised him for?) "touch[ing] on the supernatural" in the course of the novel. The author's note is dedicated to forcefully rebutting that claim. The "mere" supernatural is ordinary, "a manufactured article," a subject that, in light of the "marvels and mysteries" of the natural world, is "an outrage on our dignity." The real world of men and women is plenty complicated and marvelous enough to produce awe and receive artistic treatment, without need of recourse to superstition. Quite without the supernatural, the natural world is full of "mystery and terror."
It would be understandable if, for Conrad, the "terror" itself was the "mystery." The background of the composition and publication of The Shadow Line is the First World War, specifically the end of 1916. These were the depths of the war. Between July and November of that year the British Army had lost between 400,000 to 500,000 men in combat in the Battle of the Somme, 57,000 on the first day of the campaign. Trench warfare, poison gas, and the armed tank had been developed recently, and unprecedented human inhumanity was on display. It is somewhat unfair to project a psychological motivation onto an author who explicitly rejects it. At the same time, Conrad is aware, and discloses, that "before the supreme trial of a whole generation I had an acute consciousness of the minute and insignificant character of my own obscure experience" (124). Though of course his own "obscure experience" was not limited to his time on a ship; his son, Borys, had joined the Army in 1915, and Conrad dedicates The Shadow Line to him and "All Others Who, Like Himself, Have Crossed In Early Youth The Shadow-Line Of Their Generation." (The author's note apologizes even for this, viewing it as "a most disproportionate thing – as but another instance of the overwhelming greatness of our own emotion to ourselves" (124).) It is in this context that Conrad wrote both the novel and its preface, and it is because of this context that one can view his preface as an expression of integrity, an admirable one, and sympathize with his view that an escape into the supernatural is morally reprehensible. In the face of 1916, one can imagine Conrad asking, of what use is the supernatural? When 57,000 men and boys lose their lives in one day? When the blood-soaked fields of France greedily swallow up fathers and husbands, sons and brothers? How could it not be a "desecration of our tenderest memories; an outrage on our dignity" to write of anything else? (123) The natural world, then, is of highest importance, and ultimate significance. For Conrad, the supernatural will have to take care of itself.
Response by KGL:
In his "Autobiography," Charles Darwin recounts how his work on natural selection convinced him that a supernatural, intelligent creator was not necessary to explain the phenomena of nature. He believes that the Old Testament was discredited by the need for the new revelation of Jesus, but the discrepancies between the Gospels and the presence of supernatural miracles discredit an intelligent designer as well. While he admits that he does not know how creation began, he argues that natural selection casts doubt on teleological and cosmological proofs of God's existence. Moreover, the fact that not all humans believe tends to point away from inner convictions and religious feeling as evidence of God. Finally, he tackles the question of suffering by illustrating how hunger, thirst, fear, and pain rouse animals, including humans, to attend to their basic needs and to defend themselves against harm so that they "may compete successfully with other beings, and thus increase in number" (95).
While the position of some of Darwin's contemporaries that suffering improves morals is itself morally reprehensible, at what point does suffering stop protecting creatures and become excessive misery? Darwin's comment that suffering teaches creatures to be on the watch for potentially painful situations can justify some aspects of extreme pain as can the recognition that much of what humans call suffering can be attributed to human causes. While death can be viewed as necessary for natural selection to function and perhaps pain can motivate dying humans to accept death, the purpose of disease-related excruciating pain at the end of life seems to go beyond what natural selection requires for propagating the species. Darwin's attempt to explain the problem of suffering through survival of the fittest falls flat because excessive suffering is not necessary to render any species "as successful as possible in the battle for life with other species" (95). Ultimately, when viewed through the eyes of evolutionary biology, excessive suffering may simply be an unfortunate by-product of the randomness of natural selection. The ultimate meaning of undue suffering may be as elusive to students of evolution as it was to those who advocated a First Cause or a personal God.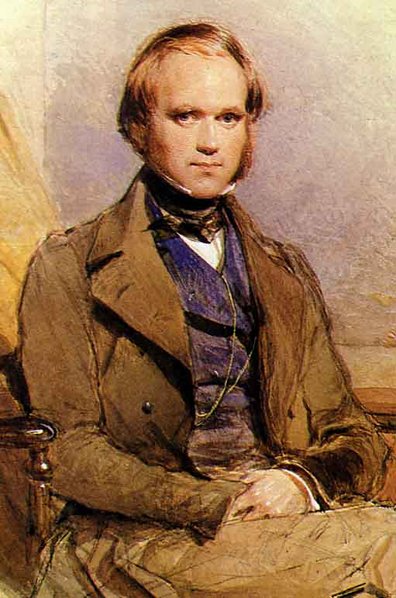 Charles Darwin
(from here)
Response by KC:
The excerpt from Darwin's autobiography details the evolution of his religious beliefs in relation to his scientific endeavors. Darwin defined his beliefs as orthodox while he sailed on the Beagle, a belief he held to in the face of laughing criticism. His transformation was slow but, after the theory of natural selection, Darwin no longer found Paley's intelligent design theory adequate. Viewing the world from the lens of natural selection, Darwin offers an explanation for the suffering of man as an evolutionary trait (i.e. one suffers thirst in order to find water for survival). He is hopeful, however, that the survival instincts that draw on pleasure rather than pain will increase and create a happier society. Although Darwin fell far from his previous orthodox belief and adherence to intelligent design, Darwin does not lose all faith, but bows to the mystery of the universe and proclaims himself an Agnostic.
Darwin, unlike many other voices in The Portable Atheist, is sympathetic to religion despite his turn from orthodoxy. I find this admirable. He does not rail against believers, but describes his own personal transformation. As someone who once believed, he understands religious experience and the emotions that accompany that experience. His voice is honest as he records his slow de-conversion from Christian orthodoxy. Darwin does not turn from orthodox Christian to fundamentalist atheist, but lives in the tension of Agnosticism, believing in natural selection as the force that creates the present.
Response by RBB:
In Autobiography, an essay written by the founder of modern biology, Charles Darwin, the author details his journey from Orthodoxy to Agnosticism. Darwin began his journey away from Christian Orthodoxy with the discovery of world religions, and "gradually came to disbelieve in Christianity as a divine revelation." (94) He eventually gave up on the premise that he would one day discover proof of what was written in the gospels, and slowly abandoned Christianity altogether. Darwin says that the rate was so slow, in fact, that he "felt no distress." (94) Later in life, he gave up on the existence of a personal God based on his scientific discoveries. Darwin even scientifically takes on the subject of suffering and happiness, and posits evolutionary reasons for human beings' capacity for beneficence. He suggests that the argument for the existence of God comes from "deep inward conviction and feelings which are experienced by most persons" (95), but that this argument holds no weight since human beings don't all have "the same conviction of the existence of one God." He concludes the article by saying that he sometimes feels compelled to look at a First Cause when attempting to explain the conception of this "immense and wonderful universe", but concludes in the end that he is "content to remain an Agnostic." (96)
This article by Charles Darwin is a fascinating account of a journey from Christian Orthodoxy to Agnosticism based on scientific discovery. In the introduction to the article, Hitchens tells us that Darwin considered the priesthood as a child, and had a very pietistic wife. He feared that his Origin of the Species would be like "confessing a murder" because of its implications. (93) I find it really interesting, therefore, that Darwin was so nonchalant in this article about the gradual loss of his own faith. I don't know what it is like to discover one's way into atheism since I was born atheist and am trying to discover my way into theism, but I would imagine that such a slow descent into agnosticism was troubling at points to Darwin's worldview, as well. I was particularly annoyed with his scientific explanation for beneficence because I want there to be a theological explanation instead. Darwin suggests that it makes sense that the universe tends toward happiness because if we suffered to a ridiculous extreme, we wouldn't be able to make more babies and our species would die out. Every time I look for a theological reason for the fact that the universe tends to be oriented toward love and cooperation despite an overwhelming cultural pull toward suffering and competition, something from science smacks me down. Damn you, Charles Darwin.
Response by APL:
In this excerpt from his Autobiography Darwin recounts the gradual disintegration of his once fervent Christian faith. Darwin recalls that as a young man he was "quite orthodox" and often referred to the Bible as an "unanswerable authority" in regards to questions of morality. However, over time he found his faith waning as his knowledge of natural science grew. Darwin relates that his faith did not go easily, and he found himself desperately attempting to make the pieces fit in spite of cognitive dissonance. However, as time went on he found it harder and harder to preserve the faith of his childhood. Darwin writes, "I found it more and more difficult, with free scope given to my imagination, to invent evidence which would suffice to convince me. Thus disbelief crept over me at a very slow rate, but was at last complete." Darwin goes on to say that even in spite of his inability to accept the Christianity of his childhood he nevertheless still maintained a strong belief in a First Cause, or Intelligence behind the cosmos. However, over time even this last remnant of his one-time theistic belief faded as well. Darwin concludes by writing, "the mystery of the beginning of all things is insoluble by us; and I for one must be content to remain an Agnostic."
I found this piece to be truly interesting, well written, and poignant. Darwin adroitly communicates the fervor of his early belief in Christianity, and even more so, the pain of the gradual dissolution of this belief. And yet, one does not get the sense that Darwin lived the rest of his life in spiritual bereavement over this religious loss. Rather, it seems that Darwin, in his naturalist's awe at the grandeur of the world, was able to maintain a positive and healthy outlook on his life and that of the world.
Response by BJT:
In this autobiographical excerpt Charles Darwin recollects his journey from Protestant orthodoxy to agnosticism. Darwin opens the narrative by describing the erosion of his belief in divine revelation. In light of expanding scientific knowledge, encounters with foreign religions, and contradictions within the gospels divine revelation appeared as an incredible assertion. The remainder of the discourse primarily revolves around Darwin's examination of the question, "Does a personal and intelligent God who is the First Cause of the universe exist?" Darwin is reluctant to attribute the origination of the universe to "blind chance or necessity"; however, the evidence does not favor an intelligent designer either (96). The "beneficent arrangement" that humans see in nature no longer needs to be attributed to an intelligent designer due to the discovery of "the law of natural selection" (94). Darwin theorizes that pleasure, happiness, and suffering all accord with natural selection. Suffering, the bane of benevolent theism, is expected because "Natural Selection … is not perfect in its action," and pleasure, since it stimulates the activity of species, is more prevalent, otherwise, species would fail to propagate (95). "Mind" also falls from the province of God since it is a tool formed by adaptation that facilitates the survival and multiplication of the species possessing it. With the disintegration of natural evidence for God's existence, Darwin notes that the arguments are now bolstered by the inward, emotional evidence of individuals. Darwin doubts the worth of such evidence due to the lack of cohesiveness and conformity between individual experiences. When discussing the immortality of the soul a tenor of tragedy enters his narrative. Darwin perceives that human beings and all forms of life are forever progressing, albeit slowly, but the consensus among physicists indicates that the sun will eventually cool thereby terminating all life on earth. For those believing in immortality "the destruction of our world will not appear so dreadful," Darwin sardonically writes, but the eradication of such diverse and complex life strikes him as "an intolerable thought," an absurdity that cannot be ameliorated (96).
Darwin indicates that his journey has been painless since it transpired "at a very slow rate." But, upon reading the narrative, one senses a measure of emotional distress even amidst intellectual conviction (94). For those traversing a similar road such emotional struggles may be familiar and may also be accompanied by a sense of loss even when intellectual gains have been made. Given Darwin's position as an intrepid scientific pioneer, he serves as a model and symbol for those following the trail he blazed. Readers who tend to focus on the ubiquity of suffering may also benefit from the change of perspective offered by Darwin. The role pleasure plays in human survival is worth considering, and Darwin credits happiness without viewing suffering flippantly. One may appreciate his agnosticism since it reminds the metaphysically inclined that their subject matter is elusive. Darwin's agnosticism does not derive from weary skepticism, but from a serious consideration of the organic history of human cognition. Although the human mind is magnificent and dexterous, it is incapable of penetrating "the mystery of the beginning of all things" (96). Therefore, one should cultivate suspicion when delineating metaphysical themes.
Response by BLT:
In this selected piece from his Autobiography, Darwin set out to describe his own personal evolution from a Christian to an Agnostic. He began by recounting his voyage to the Galapagos Islands, aboard the Beagle, on which he apparently had developed a reputation for having strong moral character. He recounted instances during which he used the Bible as the fulcrum to leverage arguments concerning moral affairs. Yet, he also recalled how other various arguments, such as the implausibility of miracles in a causally closed universe and inconsistencies throughout Scripture, eventually eroded his faith in Christianity as a special revelation from God. Throughout this gradual surrender of his faith and creed to the dictates of reason and the discovery of natural selection, Darwin grew opposed to the prevalent arguments for a purposeful design, which is manifest in creation. He said, "There seems to be no more design in the variability of organic beings, and in the action of natural selection, than in the course which the wind blows." Yet, he did not intend to argue that the useful adaptations exhibited by organisms are merely the product of chance causes. Instead, he saw these as a rather expected outcome, according to the principles of natural selection. He also confronted the argument for the existence of an intelligent Creator based on the subjective experiences and personal convictions of individuals. However, he eventually rejected such arguments on the grounds that the variability among such experiences and convictions eventually proved too inconsistent as to be the foundation of any meaningful explanation. He stated, "It may be truly said that I am like a man who has become colour-blind, and the universal belief by men of the existence of redness makes my present loss of perception of not the least value as evidence." Eventually, he also comes to reject the further conclusion that chance can't have had a causal-explanatory role in our creation, as our complexities seem to attest against this notion, on the grounds that the mind of man, having "been developed from a mind as low as that possessed by the lowest animals," can doubtfully be trusted in arriving at "such grand conclusions." It is on this final point that I wish to respond.
In their song Freewill, the Canadian rock band, Rush, aptly wrote that, "If you chose not to decide, you still have made a choice." I believe that this line really gets at the heart of why I find Darwin's premises, which led him to conclude that Agnosticism was the best possible answer to the questions he faced, problematic. Ultimately, he suspended his belief in God on the grounds that, given our evolutionary heritage, our minds cannot be trusted in arriving at the God conclusion. Yet, he is apparently relatively at ease in arriving at this conclusion about our conclusions. To paraphrase Rush, then, 'If you chose not to conclude, you still have made a conclusion.' I do not intend to argue that Darwin should have been a Theist or an Atheist, for that matter, but rather, that he should have found stronger reasons for deciding to be an Agnostic.
Response by HJW:
Darwin explains how he abandoned his religious belief in a personal God. After the discovery of natural selection, Darwin became more skeptical about "Christianity as a divine revelation" (94). Christianity became less credible for him because the law of natural selection is supported by clear and rational evidence. The authority of Christianity is supported by implausible miracles written by irrational men (94). Moreover, the existence of suffering convinced him because it is compatible with his discovery of natural selection. He remained an agnostic since he could not conclude the issue with complete conviction.
Charles Darwin shows his struggles over the discoloration of his religious belief because of his scientific discovery. He was loyal enough to try to keep his religious belief, yet humble enough to accept his erroneous past. He is pious before nature and accepts that human beings are parts of nature. In one sense, he seems to be religious in that he maintains religious virtues within himself.
Response by JCD:
In this selection from Darwin's Autobiography, the eminent scientist, who had once considered the Anglican priesthood, writes of how he has gradually lost his faith. The challenges to his faith that he recounts sound completely modern: a world of religious pluralism; the existence of suffering; the loss of a sense of religious feeling in light of what he knew about the development and constitution of the planet. Difficult though it may be, he follows the evidence as he finds it, and for him the process of natural selection, which itself, not a designer, has provided for the diversity of life on Earth, seems to require that he puts away those religious beliefs as an older child puts away once-beloved toys that belonged to his younger self, however sentimental he may feel about them. At the conclusion of the selected text, he also proffers a note of humility: definitive answers about such grand questions elude the grasp of a human mind that has "developed from a mind as low as that possessed by the lowest animals." It is his knowledge of the origin of our species, in other words, that leads him to say, "I for one must be content to remain an agnostic."
Darwin's prose is candid and thoughtful; I find myself quite sympathetic to his plight. More than anything, he seems to be a victim of his age – an age that he himself had more to do with creating than anyone else. How does one reconcile evolution and Christianity? Answers 150 years later, with various degrees of persuasion, come much more easily than they possibly could have for him. While he was clearly well-versed in his religion, theology wasn't the focus of his training, nor did he have a community of scholars with which to explore these questions. (The situation would be different as early as a few decades later, with the writings of theologians such as Charles Gore and, later, Archbishop of Canterbury William Temple.) He lacked the resources – intellectual, cultural, social – to study the implications of his discovery, natural selection, in a rigorous way, and one must respect the personal integrity that led him to decide that he must "be content to remain an agnostic." Though contentment seems far off: Hitchens writes that Darwin "did not abandon his religious views with a light heart," and that certainly comes through in the tone of the writing. He sounds almost plaintive, as if in mourning over the passing of what had once given him so much pleasure, the "deep inward conviction and feelings which are experienced by most persons." He would have to do without. He knew, more than most, that evolution is not a painless process.
Response by MG:
In Charles Darwin's Autobiography the scientist examines his gradual falling away from religion and the mixed emotions that accompanied this transition. He writes that over time he had come to see the reliance of the New Testament on the Old as problematic as he found the latter to be an unreliable religious source. He also could not reconcile miracle narratives in either book, given that such events stood in direct contradiction to the "fixed laws of nature" (94). The prevalence of "false" religions throughout the world weakened the hold of Christianity on Darwin as well (94). He recounts how initially he would wish for the discovery of a definitive historical document that would wrest his religious beliefs from this growing doubt. He writes: "But I found it more and more difficult, with free scope given to my imagination, to invent evidence which would suffice to convince me. Thus disbelief crept over me at a very slow rate, but was at last complete" (94). Against the necessity of a Divine designer, Darwin argues that the law of natural selection can now account for the complexity found in the natural world. Addressing the nature of the world and the prevalence of suffering extant, he argues that this speaks more to the development of life through natural selection than to having originated from an intelligent First Cause. The excerpt from Darwin's Autobiography ends with an analyses of the popular argument for the veracity of religion based upon individual convictions and feelings. He acknowledges that, though he may have had such an experience previously when surrounded by the "grandeur" of the Brazilian forest, this feeling of the Divine had long since left him and that in fact such natural experiences are often confused with a sense of sublimity (95-96).
Though Darwin makes the claim that his renouncement of religious belief was such a gradual process that it did not lead to any feelings of "distress," he writes as individual who has lost rather than gained something of value (94). One of Darwin's primary arguments against a Christian Divine creator is that the presence of suffering in the world is compatible with how living creatures have evolved by means of natural selection—a process that his scientific study affirmed empirically, whereas, conversely, the existence of suffering in the world is theologically problematic. Though this hypothesis is based on scientific and historical analyses and Darwin asserts that his findings have not caused him any undue duress, three points of tension stand out for me: 1) he questions the quality of knowledge that human beings can really possess provided that our present intellectual capacities arose from "a mind as low as that possessed by the lowest animals," 2) he compares his new Agnosticism to being color-blind rather than being liberated into seeing a full new spectrum of colors, and finally, 3) the future of the human race becomes a source of tension, in that regarding the eventual dying of our sun he writes: "Believing as I do that man in the distant future will be a far more perfect creature than he now is, it is an intolerable thought that he and all other sentient beings are doomed to complete annihilation after such long-continued slow progress" (96).
Response by TTW:
Darwin gives here an account of how he was converted from being an "orthodox" believer in Christianity, who was prone to "quote the Bible as an unanswerable authority" (93) on points of morality, to being convinced that the theory of natural selection has greater explanatory power than the notion of a personal God. Darwin gives the following reasons for his loss of belief in a personal God. First, the argument from design in Nature is not actually conclusive since there "seems to be no more design in the variability of organic beings, and in the action of natural selection, than in the course which the wind blows (94)". Second, natural selection is all that is needed to account for the "beneficent arrangement of the world," since natural selection promotes pleasure and happiness over pain and suffering. (Also, natural selection gives a better account for why suffering exists in the first place, making theodicy a more flexible enterprise.) Third, the "deep inward conviction and feelings" associated with belief in God do not prove God's existence since they do "not essentially differ from that which is often called the sense of sublimity (96)". But despite these reasons, Darwin does not fully affirm atheism. Rather, he remains "agnostic" due to his mental inability to conceive "the immense and wonderful universe…as the result of blind chance or necessity (96)".
Darwin is refreshingly honest in this short excerpt. It is a treat to be able to hear Darwin explain, in his own terms, the existential questions he wrestled with and the conclusions he reached in his research of the theory of natural selection. It is particularly illuminating to see that Darwin struggled with a mental block of "extreme difficulty" when it came to conceiving the universe as a result of blind chance. In this era of new atheism, where scholars tend to rejoice in nature's randomness and gleefully mock those who would seek for a First Cause to the universe, it is helpful to remember that Darwin himself shared the existential sensitivities of those who identify with religiosity. He may have abandoned some of religion's more dogmatic tenets, but he always soberly recognized what was at stake for humans and for the meaning of the universe as a whole if his theory was true.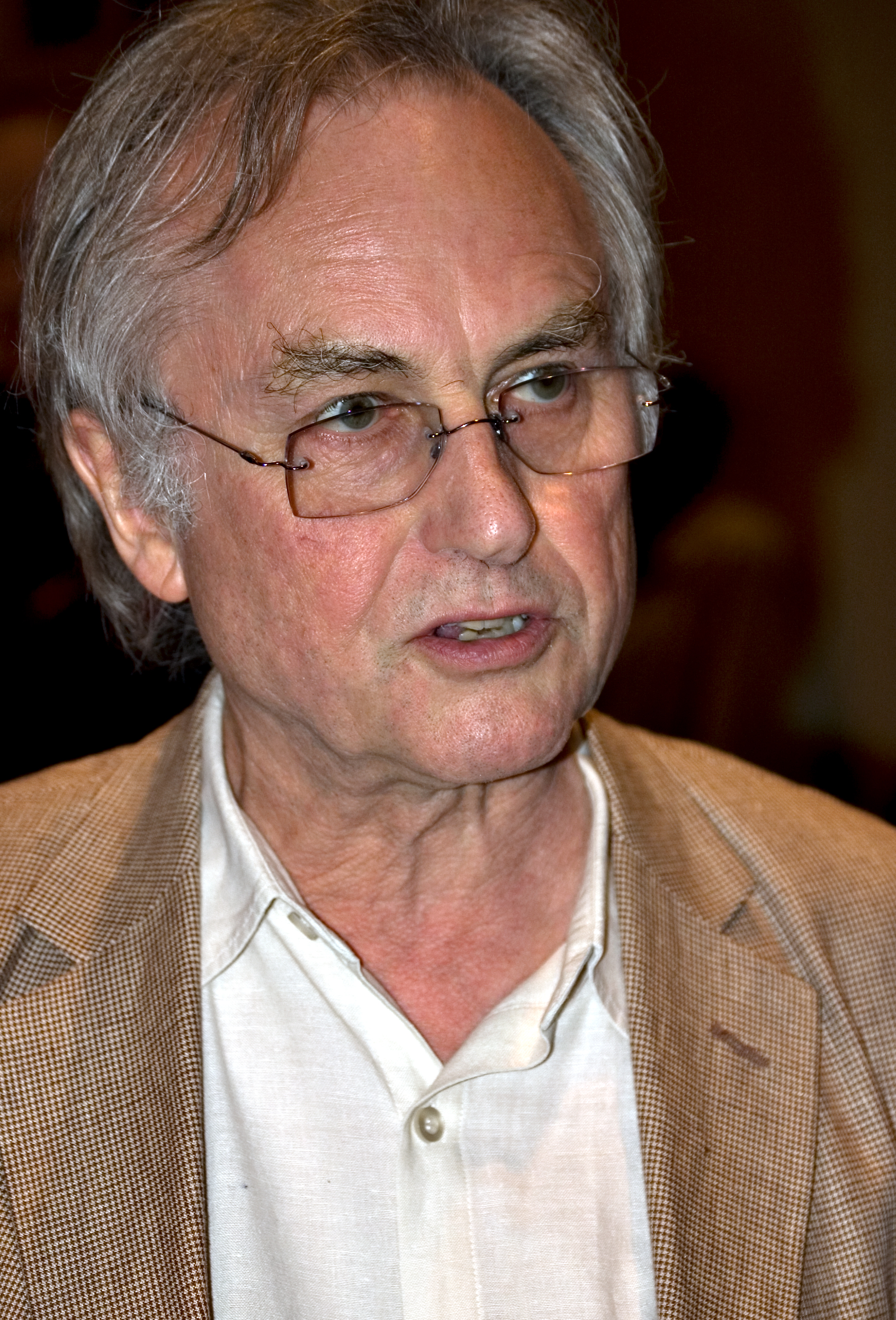 Richard Dawkins
(from here)
Response by JM:
Initially this essay appears to be Dawkins' attempt at claiming Jesus for the Atheists. But it becomes an ode to human kindness and a plea to spread that kindness. From Dawkins' evolutionary perspective, kindness is an anomaly. Not just an anomaly, kindness is an absurdity that defies the Darwinism typified by Dawkins' selfish gene. Yet Dawkins sees this anomaly as a wonderful mistake that we should work to spread. His suggestion for spreading it: to make Jesus the super nice role model.
If Dawkins is intent on spreading niceness, why is he so mean in this article? Like a one-trick pony, even when he sets out to do something new, like speculate about the oddity and wonder of kindness, he can't help but to fall back into bashing religion. Calling religion "super dumb" is not just juvenile, it's poor philosophy with shifting definitions. Kindness is dumb because it's not evolutionarily advantageous; religion is dumb because… well because Dawkins doesn't like it. Well I don't like shifting standards: so calling a intentional divinity ridiculous while attributing intention to genes is just plain dumb.
Response by SR:
In Atheists for Jesus, Richard Dawkins articulates wonder and support for Jesus from a unique perspective. Jesus is often considered a great figure because of his revolutionary ideas about love, but Dawkins takes this a step further: Jesus, he says, was great because of love, but he was even greater because he represents an evolutionary oddity. He beat the odds of selfish programming by natural selection, and that is an amazing and rare occurrence towards which all of humanity should continually strive.
Being such a hard-lined, vicious polemicist against religion, Richard Dawkins is easy to call a villain. Indeed, in this article, he calls faith "stupid" more than once. But from this article we can discern that Dawkins' primary enemy is faith in a personal God. He is not interested in dismissing something he considers moral, no matter the source. Dawkins is no stranger to kindness, and this article demonstrates just how fiercely he can support parts of a religion that are associated with morality rather than belief. It is a shame that debaters have had so little success convincing Dawkins of the nuances of theism. If that had ever happened, they could have joined forces in promoting the beautiful selflessness Dawkins finds so unique to the human species.
Response by JH:
Richard Dawkins's "Atheist for Jesus" is a sprightly essay about a peculiar human behavior: what Dawkins calls "super niceness." Super niceness is a "saintly" capacity for compassion, mercy, or forgiveness. It is sufficiently rare among human beings that we note and marvel at it among ourselves. Dawkins attempts expand our perspective on super niceness in order to bring to light its evolutionary noteworthiness. Along with things like long-term foresight, contraception, and artistic expression, super niceness is a counter-intuitive evolutionary development, Dawkins argues. It has a certain kind of irrationality, at least in the evolutionary context. The genetic selfishness that sets the constraints for evolutionary biological unfolding seems to have developed its opposite in super niceness. Dawkins celebrates super niceness, and suggests that if it can be coupled to a further characteristically human behavior, what he calls epidemics of mimesis, then it can and ought to be spread through the species as much as possible. How, then, to do that? Dawkins cites Jesus as someone who, by the biblical accounts, preached and enacted super niceness. If we can excise the superstitious theism that science has outgrown, but keep the fine model of super niceness that Jesus (or Ghandi, he suggests) instantiates, then perhaps Atheists for Jesus can inspire more of it in the species.
Dawkins's brief and colloquial argument achieves something remarkable: it makes Jesus' theistic beliefs accidental and not essential to his identity. Moreover, Dawkins does this not to discredit Jesus, but to reinforce his moral importance. This is a genial, clever, and staggering attack on traditional Christianity. While many moderate and liberal Christians are dumping oppressive attitudes to towards women because such Christians view the gender inequalities expressed in the Bible and the tradition as historical and cultural accidents, Dawkins is issuing a further and analogous challenge: why not dump the theism too? What is more, Dawkins suggests (though he doesn't argue for it much) that the answer to "What Would Jesus Do?" is that Jesus would convert from a super nice first-century adherent of Judaism to a super nice 21st-century atheist. What Dawkins does not acknowledge, however, is the role that symbolically significant beliefs and practices play in the mimetic epidemiology of super niceness. If super niceness is a kind of two-fold singularity, in both societal and evolutionary terms, then the mediating symbolisms, myths, and practices that communicate (with all of the epidemiological connotation that carries) will presumably bear the same discontinuity, peculiarity, and perhaps seeming irrationality that characterizes the behavior it hopes to inspire.
Response by KC:
Dawkins uses the seemingly oxymoronic title "Atheists for Jesus" to expound on the need for there to be more "super nice" people in this world. Dawkins is in awe that "super nice" people exist in the world, since it seems to go against the selfish evolutionary tendencies of "survival of the fittest." If society were still "wild," Dawkins asserts that "super nice" people would not survive. Nevertheless, these "super nice" people can do good for the civilized world and Dawkins hopes to spread this goodness by co-opting religious fervor through the movement "Atheists for Jesus." In the article, Dawkins praises Jesus' message of niceness and hopes to strip Jesus' message of the supernatural theistic language, arguing that this language was simply a product of his times and is not essential to Jesus' message of goodness.
I found Dawkins's article amusingly biased. Dawkins picks and chooses what he likes about Jesus, citing only his message for the social good and never the passage where Jesus claims that he came with a sword to divide families. Perhaps Dawkins deemed this passage supernatural and threw it out. Dawkins is appropriating Jesus and not providing adequate reasoning for doing so. His methodology is a personal bias. I laughed that Dawkins quoted from the King James Version of the bible; the KJV always sounds so foreign to me. I also found it interesting that Dawkins goes against the Darwinian principles and claims that selfishness is not the answer in a global society. I found it brave of him to admit that society has changed, and so should the traits that get passed on in the evolutionary process.
Response by FA:
In this article Dawkins is making the argument that there is no one good in this world and no one can be called "nice." The author's main purpose for this article is to quash the idea that Jesus was the most nicest or the good person in this world and that is the reason one should follow him. Dawkins makes his argument with the help of Darwin's idea of natural selection that no one can be nice and kind because all "niceness" and "kindness" comes from self interest. Dawkins argues that according to natural selection if there were a minority of super nice people they would have been removed by now. Dawkins believes that it is human nature to imitate others and that is also for a personal gains. Dawkins concludes his article by arguing that at the maximum what we can do with Jesus is to see Jesus in the same way we see Gandhi or Mother Teresa who were nice people but had flaws and can not be worshipped for being nice.
On the outset I should say that I agree with Dawkins. This is an issue I am having personally as I believe in Jesus (human/God) as God. I think Dawkins has shown in a scientific way with the help of Darwin's hypothesis that no one can be good. I also think at the maximum what one can do is to say that Jesus was probably a good moral teacher; and that does not make him (Jesus) worthy of being worshipped or prayed to as a God. But, here is where I make the distinction between faith and reason. I think it is a belief or faith to say that Jesus is God. It can not have proofs and evidences. I do not believe that miracles or even resurrection is the one thing that makes Jesus divine. Miracles can happen and still happens and that does not make a person divine. I think the one thing that makes Jesus divine or different for me is the fact that he can forgive sins. Now, this can not be proved it has to be accepted as a belief or by faith. This can not be defended or proved. So, I think that as far as reason and evidence can go I am a follower of Jesus because he seemed to be a nice person like Gandhi or Mother Teresa. But my belief of him being God is based on faith. In this article I liked what Dawkins had to say about a person being nice and with logical reasoning I think he does a good job of proving his point that no one in this world can be "super good."
Response by DR:
(see "Response by DR" under Richard Dawkins, "Why There Almost Certainly is no God")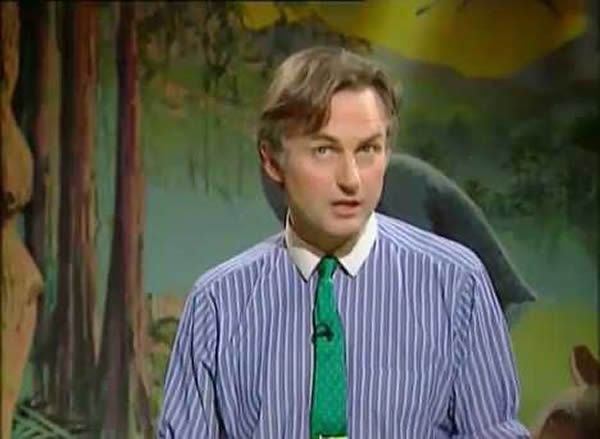 Richard Dawkins
(from here)
Response by FA:
In this article Richard Dawkins is portraying the issues religion brings into a society. The author is making his argument by comparing religion with a dangerous drug which he calls as "Grein Oil." Dawkins builds his argument on the presumption that the idea of a God and religion is based on superstitions and these superstitions does not do any good to society it damages society slowly but subtly like how drugs damages a human being. Dawkins argues that religion damages society as well as individuals, it makes people run away from the reality of life and hide behind beliefs to satisfy their ego and unfulfilled ambitions. Dawkins argues that the most dangerous power of this drug is that secular governments turn a blind eye on them and children are exposed to this drug (religion) in a very easy way. Dawkins concludes that religion should not be injected to a child so that the bigger problems that religion brings to a society can be avoided.
In this article I think Dawkins shows the demerits of religion. I do accept that religion can be misused and bring a lot of hurt to people. I personally know many people who have got hurt from church and decided not to believe in God because of the abuse of religion. So, I accept Dawkins argument that religion is being misused and can be misused. But, I think religion can be used in a better way and be made as a help for the society as well. I agree with Dawkins because he shows the demerits of religion I also think that the idea of religion can have some merits, and that should be appreciated. I agree with Dawkins that all religions are myths and superstitions because no one can define and show real evidence to prove things. But, I think the irony of the matter is that the idea of God can only be understood with the fallen weak stories and myth's that we see in this world. Dawkins has written this article by only seeing one side of the issue. I think religion can bring social change, peace and harmony among people. If a person wish to hide against a superstition to satisfy his ego and unfulfilled dreams and if that works for him then why should any one have a problem with it? If religion or the myth works for a person to be a normal human being just like Richard Dawkins then why should he complain against his believes or superstition. I think Richard Dawkins is committing the same mistake theist are committing; which is to say that what they are believing is the only right belief and rest of the world are fools! As an atheist I think Richard Dawkins has the space to encourage others to have the freedom to believe or not believe; and thus look things in an unbiased way. But, from this article it seems that Dawkins is very biased by only showing one side of the argument.
Response by BJT:
"Gerin Oil" is a tightly organized, trenchant essay in which Richard Dawkins describes the effects of the fictional narcotic, Gerin Oil. Gerin Oil is the thinly veiled stand-in for "religion" in this humorous, yet tragic piece. The humor results from Dawkins' keen irony, and the tragedy flows from the dark contemporary and historical events that serve as his evidence. Dawkins directly satirizes the Western religions of Judaism, Christianity, and Islam, but by extension takes aim at all religious forms. The breadth of issues raised is equally vast and is achieved by using "low," medium," and "strong" "dosages" as a literary device. Dawkins discusses the somatic and psychological effects of Gerin Oil, and he places particular emphasis on the tremendous vulnerability of children. Cultic membership and sexual prohibitions are found to be byproducts of the habitual use of Gerin Oil. By means of the "low dosage" category, Dawkins calls attention to social forms of religious expression that appear to be innocuous, e.g., "marriages, funerals, and state ceremonies," but may in fact be avenues to more aggressive forms of religiosity. (305) Ritual behaviors are targeted through the "medium dosage" category. Prayers that seek "private wishes" receive a lashing since their fulfillment comes "at the cost of other people's welfare and mild violations of the laws of physics." (305) The "strong dosage" category encompasses those who experience visions and hear voices, and, not surprisingly, religious innovators are found to be amongst the heaviest users of Gerin Oil. Concern over, and conceptualizations of, afterlife torment are transformed into 'bad trips' experienced by those chronically abusing Gerin Oil. Ratcheting up his satirical critique, Dawkins casts religious institutions and religious leaders as mafia type cartels that relentlessly and audaciously push the addictive narcotic. Unlike the situation with actual drug cartels, governments operate as subsidizing accomplices in the distribution of Gerin Oil. The topic of martyrdom dramatically closes the satire as Dawkins delineates the Catch-22 of persecuting a religious zealot.
Irony flows from Dawkins' pen with a swiftness rivaling that of Muhammad Ali's jabs. Like Ali's rhymes, Dawkins' work is also provocative. Yet, his evidence represents an oversimplification since he fails to account for the use of Gerin Oil, or "religion," as a tool for attaining political and economic ends. There is no doubt that religion played a role in the European conquest of the Americas, the Salem witch trials, and the World Trade Center attacks, but it is untenable to claim religion as their sole cause. On another front, the framing of the piece subtly discloses Dawkins' theory of the origin of religion. Dawkins perceives that religion is created by the few and distributed to the masses. From this point of view, religion is used to drug and manipulate the populace in order to satisfy the avarice of the elite. However, this may not be the origin of religion. Religion may be a democratic impulse felt by the majority that then undergoes institutionalization. With a shift in theory, the internal structure of Dawkins' satire would collapse; although, his deft employment of the art of satire would remain unscathed.
Response by DR:
(see "Response by DR" under Richard Dawkins, "Why There Almost Certainly is no God")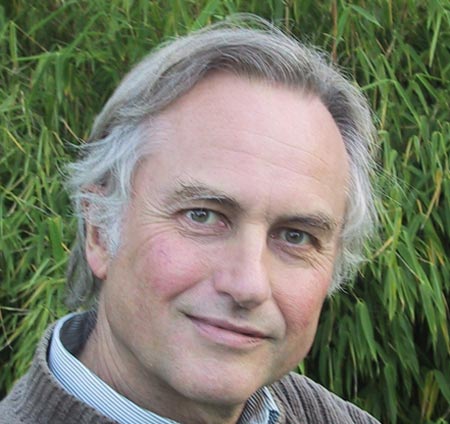 Richard Dawkins
(from here)
Response by DR:
In the first and largest of these excerpts Dawkins is mostly responding to intelligent design arguments concerning irreducible complexity. He makes two basic points about the ID position. First, it confuses the accumulation of incremental change via natural selection with the exceedingly improbable chance of randomly assembling a complex organ or organism all at once. The basic ID argument — "this biological feature is so complex that it could not have evolved by chance" — reflects a fundamental misunderstanding of evolutionary theory. Dawkins compares this confusion to a mountain with an insurmountable sheer cliff on one side and a long, gentle incline which one can easily walk up on the other. Creationists stand before the sheer cliff admiring its impossible heights while biologists study the abundant evidence of life's long ascent up the opposite side. Dawkins' second objection is that ID, like all god-of-the-gaps arguments, represents a failure of imagination and an arbitrary cessation of inquiry. Whereas ignorance inspires scientists to seek greater knowledge, ID pseudo-scientists celebrate and cultivate ignorance because it opens up a space in which to hide God. In the second and third selections, Dawkins abandons the reflective style of the first selection in favor of more inflammatory and generally less interesting rhetoric. After reducing all religious phenomena to the activity of a fictional drug in the second piece, he chatters about evolutionary selfishness, super niceness, and "Atheists for Jesus" T-shirts for a few pages in the third.
Dawkins is an enigma to me. How can the same person speak so insightfully and enjoyably in one breath and transform into a belligerent and irritating clown with his next breath? The first essay, though a bit dull for Dawkins, is a firm and responsible rebuttal of creationist nonsense which I am happy to applaud. The second excerpt is mind-numbingly oversimplified and has more in common with the attention-seeking misbehavior of adolescents than with an adult conversation about religiously motivated terrorism. Dawkins reveals his simplistic understanding of religion by equating complex religious phenomena as diverse as terrorists hijacking planes, daily prayer, sexual asceticism, and the celebration of major life transitions at weddings and funerals. Rather than actually thinking about the differences between these religious activities, Dawkins is content to dismiss them all by comparing them to a dangerous chemical substance. It is exactly this reckless and lazy approach to religion that prevents the legitimate concerns of the New Atheists from being heard by contemporary religious people. Though slightly less offensive, the third article reveals an equally unsophisticated grasp of the relationship between biological heritage and the influence of culture. Dawkins seems perplexed by how wasteful activities like art and the religious cultivation of compassion were produced by biological evolution. Nonetheless, from the depths of his muddled musings a conclusion surfaces: "super-niceness is good!" Thanks, Richard. Really, that's helpful.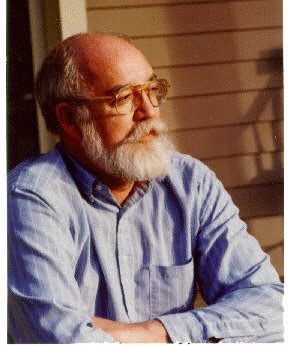 Daniel Dennett
(from here)
Response by SR:
Daniel Dennett proposes a reconceptualization. Like thousands of thinkers before him, he is baffled by the vast array of components that may or may not be called religious, the different contexts in which the term "religion" is used, and what "religion" actually means. What do not baffle him, however, are the consequences of this confusion: unkind practices and unfair laws. Dennett proposes a clear and easy solution. A religion is organized belief in a personal god or gods, and anything else should otherwise be called "spiritual."
Dennett's reasoning is powerful and effective. There are many aspects of organized pursuit of approval from a deity that make it distinct. First, it comes saddled with doctrine and ritual and then, more importantly, it encourages in-group out-group behavior that actively works against universal community and love. Someone who practices spirituality alone, on the other hand, or who organizes with others but not in doctrinal pursuit of approval, poses less of a threat to societal cohesion. Dennett may want to consider less of a binary approach to these definitions. Instead of "religious" versus "spiritual" Dennett could probably come up with a dozen separate categories. But as a whole, the distinction he draws is an important one, and in the pursuit of universal humanity, Dennett is right to address the origins and sociological implications of in-group out-group behavior.
Response by KC:
This Dennett excerpt uses the analogy of the biological category for vertebrates to aid his personal definition of religion. While cephalopods are not technically vertebrates, they were deemed "honorary vertebrates" in an animal cruelty law due to their complex nervous system. Much like cephalopods, Dennett argues that, in contrast to his definition of religion, many can be deemed "honorary religions" for having some but not all qualities of a religion. Dennett settles on his definition of religion as "social systems whose participants avow belief in a supernatural agent or agents whose approval is to be sought" (330). His excerpt highlights the stakes of defining religion, since there are many benefits and consequences in the United States for whether or not a particular institution is deemed a religion.
I enjoyed Dennett's exploration in defining religion. Defining religion is a difficult task, one I attempted in my undergraduate studies, though I was not particularly satisfied with the result. Dennett's exploration of various perceptions of prayer and its efficacy highlight the immense variety of perspectives on the many aspects of religion. I believe that each individual creates his or her own definition of religion, just as each congregant listening to a Sunday sermon will have a different definition of God. Although religion is a communal endeavor, each individual carries it out on his or her own. Religion doesn't fit well in a box.
Response by TTW:
With a healthy dose of sarcasm and wit, Daniel Dennett attempts to set the parameters for a "working definition of religion." Dennett sees this as an important enterprise since a "great deal hinges on how we define religion" including "legal protection, honor, prestige, and traditional exemption from certain sorts of analysis and criticism (329)". Dennett settles on the definition that religions are "social systems whose participants avow belief in a supernatural agent or agents whose approval is to be sought (330)". Dennett believes that this definition rules out those who would pray with no hope of being answered (such as those who pray to achieve psychological stability), those who are thoroughly individualistic (such as the religious person in "solitude" imagined by William James), and those who seek only to manipulate supernatural agents for selfish ends (such as satanic cultists). Of course, Dennett's definition is not rigid and must allow for many cases that might blur the lines, but Dennett is ok with giving certain unique cases special consideration. Dennett gives the analogy of cephalopods that were made "honorary vertebrates" in the United Kingdom so that they could receive legal protection, and he suggests that some people who are not strictly religious according to his definition might still be considered "spiritual," which for Dennett is an honorary religious category.
Dennett's definition of religion is nothing short of presumptuous and he gives almost no substantial support for this definition other than a few scattered references to the beliefs of Christians, Jews, and Muslims. Dennett's reduction of religion to a belief in a "supernatural agent or agents" automatically ostracizes many followers of Eastern religion who emphasize harmony with nature rather than "approval" from a supernatural agent. His definition also rules out philosophical naturalists who still believe that religious practice orients one to ultimate truth. Despite the fact that Dennett calls his definition a working definition and "subject to revision," his definition is still an unsatisfactory place to start since it doesn't adequately take into account what many world religions offer in place of a "supernatural approval" narrative. I laughed at Dennett's humorous foray into the definitions of cephalopods, but I think it is unfortunate that Dennett's sense of humor is the most successful element in this piece. His attempt to give a working definition of religion that actually works falls quite flat.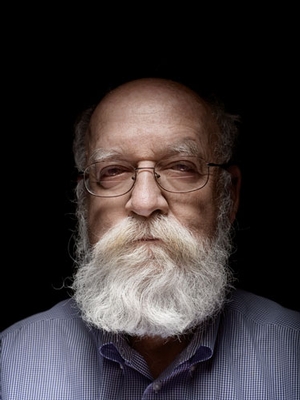 Daniel Dennett
(from here)
Response by JM:
"Thank Goodness!" is Dennett's response to the imagined hope that he would renounce his atheism after a near-death experience. Instead of recanting, Dennett explains why he remains an atheist. The essay is an elaboration on what he means when he says "thank goodness." Goodness, for Dennett, is what saved his life: it is the rationality and hard work of scientists who constantly scrutinize themselves and seek to improve. This attitude stands in stark contrast to religious belief, which Dennett describes as exempting itself from critical scrutiny. He goes further by implying that those who do not follow his gratitude towards rational goodness are in fact doing harm by wasting their energy praying in ways guided by irrational beliefs.
Get off your high horse Dennett! Hitchens' introduction to this piece is grossly sycophantic: thanks to "the great Daniel Dennett … we have a fighting chance of destroying the whole perverted myth of the unbeliever's last minute wonderment" (277). The tone of the piece is so arrogant that it is nearly impossible not to respond in kind. I agree with his applause for human goodness and I echo his affirmation of the necessity of rational self-critique. But his tone makes me want to oppose him, which makes the possibility of advancing any discussion all the more unlikely.
Response by KC:
Many unbelievers have undergo conversions following near-death experiences. Daniel Dennett is not one of them, and he wants everyone to know it. He briefly recounts his harrowing experience and then proceeds to deliver a sermon on thanking reason and rationality instead of wasting time on thanking God. He honors those who work hard in the medicinal field and maintain high standards to ensure no mistakes are made when the life of another person is at stake, and compares this to the standard by which the religious measure the success of a sinner. Even if one fails to be perfect, the agent can find solace in knowing that actions were performed with good intentions. In the medical world, Dennett says that intentions count for nothing if you do the wrong thing and a life is lost. Religion seems to be letting people off easy, especially with actions of gratitude. Dennett scoffs at the idea of thanking God through prayer when one could be doing actions to help the world to show their thanks to goodness instead.
I'm not sure I agree with Dennett that intentions count for nothing in the medical world, or that he is drawing an accurate parallel between morality and scientific precision. I'd rather have a doctor genuinely concerned with saving my life than a doctor whose main intention is to finish my surgery as quickly as possible so that she may win a bet with a friend. A nurse who intends to give a patient too much medicine certainly seems more morally responsible than a nurse who accidentally gives a patient an overdose. The effects may be the same, but there's a difference between intending to do harm and neglecting to be precise, so Dennett's discussion on that was unmoving. His need to forgive his friends who pray for him was irksome. I realize it's like someone painting a really nice picture for a blind guy, but Dennett could try just thanking the goodness that they intended. Of course, since intentions count for nothing, it would make no difference to Dennett whether they were praying for his health or for a long, slow, painful recovery.
Response by TK:
Dennett provides an account of a recent surgery where he was put under anesthetic and technically died as his heart stopped beating. His account of a "near death experience" calls into question the reactions of other philosophers such as A.J. Ayer who, after having a near-death experience, questioned his atheism and his life-after-death beliefs. Dennett wants to "thank goodness," the goodness of humanity that is. He thinks through all the groups of people who went into making his life possible after major surgery. Still, he does not worship medicine or treat science as a religion. He continues to argue that religion might make one feel better about themselves, but it does not hold them up to the same difficult and trying standards that science does. In response to those who pray for him, Dennett remarks that they would be better served putting their mind to a productive task. He concludes by offering that religious individuals should be held to the same ethics of science and medicine while they continually ask themselves the question "what if I'm wrong?"
I struggle with Dennett's writing here. I would want to throw back many of the questions to him that he has thrown at the religious. Just as he argues that prayer is something to be scoffed at, a waste of time, I must wonder how helpful his writing here is. I'm sure he knows this though. It seems that his audience must be the atheist community. More frustrating is his argument that science and medicine have a "higher" morality than religion. I struggle deeply with this statement, especially in the context of the United States. Not to say that science has not provided many great advances in way of creating life, but it has also shown itself to be a dangerous, wasteful, and expensive regime. I am thinking specifically about the context of palliative care. In the United States, our obsession with never dying and the ludicrous belief that someone can live forever has lead to a huge problem of health care. Many elderly are kept alive with thousands of dollars worth of treatment, by contrast with medical treatment of the elderly in France and other European communities. I would challenge Dennett to rethink his position. The obsession for perfection that he praises in science might actually turn out, with the distance of history, to be a most unhealthy and unethical quest.
Response by DR:
Rather than positing abstract arguments about theism, Dennett begins with the very concrete and personal experience of nearly dying from a torn aorta. Having passed through this harrowing experience, Dennett is proud to have, unlike A. J. Ayer, emerged firmly committed to his atheism. Rather than thanking God, Dennett expresses gratitude to the incredible expertise of the doctors and technicians who kept him alive through a complicated nine hour surgery. He also praises the work of scientists like Allan Cormack whose invention of the C-T scanner was essential to saving Dennett's life. In contrast to religion where good intentions are acceptable, the medical community holds itself to far higher standards and, consequently, never stops improving. Although Dennett appreciates the sympathy he has received, he is offended by those friends and family who said they were praying for him. In his words, "I feel about this the same way I would feel if one of them said 'I just paid a voodoo doctor to cast a spell for your health'" (280). Because such people have not abandoned their superstitious supplications in spite of research demonstrating the ineffectiveness of intercessory prayer, they are "subtly undermining respect for the very goodness I am thanking" (280). Overall, Dennett argues that wasting time praying when one can do tangible good is "morally problematic at best" (280).
Though I find Dennett's rhetoric a bit extreme and generally unkind, he offers two criticisms of religion that should be taken very seriously. First, by thanking the many people whose commitment to improving this world saved his life, Dennett implies that religious people's efforts and gratitude are squandered on imagined worlds rather than invested in the real world. Of course, religious people are often very thankful to those people who help them and they quite often make real, lasting contributions to this world. Still, when religious faith becomes a way of escaping the difficulty and responsibility of this life, I believe it warrants Nietzsche's charge of nihilism, which Dennett echoes. Secondly, there is no doubt that the efficacy of modern science and medicine is largely a result of unceasing self-criticism. While scientists, doctors, and nurses must constantly ask "What if I'm wrong?", religious communities are notorious for discouraging critical thought. Of course, this is not always the case. Religion can also inspire courageous resistance to social injustice and even outspoken criticism of one's own tradition. Although Dennett's protest assumes a simplistic opposition between medical goodness and objectivity, on the one hand, and religious otherworldliness and defensiveness, on the other, he also offers helpful criticisms that religious people should take seriously. Reframed by his critique, the question becomes whether or not participation in a religious community and engagement with religious rituals, symbols, and practices can help people make real-world contributions and continually improve themselves.
Response by AMK:
When his heart began to pump anew and his brain warmed to its normal temperature, Daniel Dennett had a second chance on life. After enduring a nine-hour surgery to repair a "dissection of the aorta," Dennett was left affirmed in the goodness found in humanity. Though he appreciates the good intentions of friends and family who prayed for his quick recovery and safety, Dennett believes he owes his life to a chain of humanity. From doctors to technicians, the reason and open inquiry employed by medical professionals led to his resurrection. Good intentions, Dennett claims, do not save lives, but rational action does. By putting motive aside and working diligently to make the right decisions to save him, medical professionals show themselves to be morally superior to the devout who held him in prayer.
Daniel Dennett is right to thank the line of doctors, nurses, technicians, and inventers who cared for him and treated his condition. Without modern medicine, he would not have lived to write this piece. The men and women in the medical profession are held to a gargantuan standard: sustaining human life. They have sacrificed a great many things that most take for granted and have worked stunningly hard in classrooms and labs to acquire the skill and knowledge it takes to carry out their professional obligations. To suggest, however, that these men and women are more moral or more deserving of thanks than those that extend their love and compassion, is misplaced. Dennett writes that he appreciates the good intentions of those who cared enough to pray for his recovery, but that good intentions are not enough. Whether or not Dennett believes in the power of prayer, it is unfair to depreciate what these individuals know as their most potent healing power. The lack of knowledge or opportunity to provide medical care to Dennett, does not diminish the fact that they attempted to use what resources they had at their disposal to love and restore him.
Response by BLT:
In this essay, Daniel Dennett reaffirms his atheism, in spite of his recent brush with death, and thus addresses the adage that "there are no atheists in foxholes." He speaks rather candidly of his 'salvation,' but says that he owes his thanks, not to divine providence or intervention, but rather to science, medicine, and the good will of other human beings. Dennett presents nothing in the way of a novel argument against Theism or intelligent design in this essay. Instead, he addresses the impotence of religion and religious belief or practices in actually accomplishing anything worthy of thanksgiving.
I found this essay especially interesting, as it is concerned with the relationship of causality to goodness. In a conversation I had with an atheist friend of mine, some years ago, he mentioned to me that he had a great deal to feel thankful for, but that he often had to resist the temptation to give thanks to God. Instead, if I remember correctly, he seemed to prefer to give thanks to chance or to a certain serendipity, which he had chanced to encounter. I find such a conception useful in contrast to Dennett's more human explanation of goodness ("fantastic human-made fabric of excellence"). For instance, Dennett might not have found himself so thankful a few hundred years ago or even in our present age, but in a third-world country. Yet, in his particular case, he was thankful precisely because he found himself in the right place at the right time, or, in other words, in a good place at a good time. Good, in this way, is ascribed to a person, place, or thing according to its function, and this is subject to interpretation and circumstance. In Dennett's case, the goodness for which he is so thankful refers to the doctors' skill and expertise, and while they did, in fact, prove to be good for Dennett, they may well have not been for other patients. It is true that an excellent surgeon greatly improves the odds of receiving an excellent surgery, and so, one can conclude that the surgeon may, after all, have a lot to do with the outcome of things. In other words, he or she is the good cause of good effects. On the other hand, correlation does not prove causation, and this makes giving thanks a little more difficult than Dennett would have his reader believe. He says, "The best thing about saying thank goodness in place of thank God is that there really are lots of ways of repaying your debt to goodness—by setting out to create more of it, for the benefit of those to come." Although I generally like Dennett's work, this claim, to me, seems to be little more than empty rhetoric. I believe that goodness is created, not because it is already present and a debt of gratitude is owed to it, but rather, because it is absent in one respect or another.
Response by JNH:
In this essay on responsibility Dennett recalls his annoyance at friends who prayed for him during a major surgery and subsequently thanked God for his recovery. Dennett ironically references some famous cases of atheists converting to theism following a near-death experience and expresses his own renewed sense of atheism by contrast. He reflects on repaying debt where it is due: to the doctors who saved his life and the millions of researchers and inventors whose creativity and risk culminate in modern medicine. Religious people, he suggests, are as responsible to the object of their gratitude as anyone else.
Dennett manages to carry several sincere points on lightly ironic legs in this essay. That we ought to clean up our language and reorder common thought to include our responsibility and gratitude to mortals is not the least of them. However, it is important to acknowledge that we often face uncertainty about who or what to thank or blame for both good and ill. The wheel of fortune and the vicissitudes of chance do not reciprocate our thanks or curses in the same way as those gestures are meant—so they are left hanging in the void with no object at all. This is Dennett's major concern. Even so, our thankfulness tends to be more often expressed in symbolic responses and attitudes than by active repayment, but they are still the responses of the responsible. On the other hand, Dennett adds that he, "prefer[s] a real good to a symbolic good" (281). If thankfulness entails taking responsibility for both good and ill then it is vital that we adjust our language to reflect those debts. Life in the wake of deus absconditus is dim. Because we are alone both our responsibilities and responses need to land somewhere tangible. We answer to other, responsible faces, whether they are God's instruments or not.
Response by KGL:
In "Thank Goodness!" Daniel Dennett states that science holds its members to higher standards of moral responsibility than religions do. As evidence, he cites the contrast between right intentions in religion and right outcomes in science along with religious celebration of leaps of faith versus the scientific condemnation of anything but the methodical application of reason. While he found the intercessory prayers of his religious friends and the good wishes of his fellow brights boosted his morale, he wished they had invested their resources in a more effective and therefore more morally responsible fashion. Likewise, thanking goodness for the success of his open heart surgery by perpetuating goodness is far more useful than thanking God, which is merely symbolic. For Dennett, those who practice religion have much to account for in the moral realm, not the least of which is their stubborn adherence to a tradition that may be wrong (281, 279, 280, 281).
While Dennett sets up intercessory prayer and worship of God as straw men by assuming that all who pray are requesting a supernatural event and that worship of God does not lead to meaningful action in the world outside the worship space, his most serious assumption is that science contains moral standards (281). Through the "unlimited application of reason and empirical inquiry," science interrogates nature, but science has no means of deciding which aspects of nature to tackle (279). As a method of inquiry, science has no inherent capability to determine whether to improve treatment of aortic aneurysms, a problem primarily of the developed world, or to find a cure for AIDs, a terminal illness suffered mostly by those in the undeveloped world. If science does contain moral standards, then it also has a lot of suffering to account for as well. The development of the machinery of war must count among its sins of commission, and its failure to stop the deaths of millions of people who die from diseases that are neglected by the pharmaceutical industry is surely not something for which to thank goodness. The methodological tools of science are morally neutral, but the humans who make the choices of how to employ the tools are not, and whether they are scientists and/or religious people, they need to ask the question, "What if I'm wrong?" (282).
Response by ZTR:
In this essay, Dennett discusses his recent near-death experience and its affect on his stance as an atheist. Though he does not change his atheist perspective, he describes a new appreciation for the phrase "thank goodness." He is thankful for the goodness of the team of doctors, the technology, and the discipline of science. All contributed to his successful surgery and recovery. He admits that, though he is grateful for the goodness of modern science, he does not worship it in a religious sense. He still holds science to the same standards of careful investigation that he holds religion. In fact, he believes that science and medicine hold "higher standards of moral responsibility" than any religion. He then discusses his feeling toward friends and family prayed he would not die during his operation and recovery. He appreciated this support and readily forgave what he took to be the gullibility and foolishness involved in such prayers. Rather than resorting to prayer, he would prefer that caring people dedicate their energy towards situations they can really change. Dennett is sure that we should not focus on thanking God, or repaying God, for it is an irrational response if God is truly omniscient and omnipotent, but it does make sense to thank goodness, or to repay it. In repaying goodness, at least one would be contributing some physical good to this world.
Dennett's opinion of the believer's use of prayer and its imprudence has created an interesting critique of Christian faith that could be useful in deepening the believer's meaning of prayer. He uses the example of the believer's prayer of thanking God. As a believer, when a prayer is answered in a positive manner, it is expected that one thanks God for this response. The idea of thanking a God who is both omniscient and omnipotent and thinking it is actually doing some good is absurd. In thanking God, the more rational approach for the believer would be to couple this prayer with an action. Dennett's use of sarcasm can make the believer irritated, but he is offering a way for the believer to deepen their definition of thanking God. The problem being addressed is in the contentment to not physically repay the goodness that God has provided. How can the believer do this? One approach is to be more open to our modern context. Looking at science and medicine, Dennett touches on holding religion to the same moral standards as these disciplines. Instead of considering science the enemy, the believer should be using its empiricist perspective, the careful questioning and reflection, to understand what it means to be religious, progressing into a deeper sense of faith. Dennett is a self-proclaimed atheist. To become upset with his insensitivity is of no use for the believer. Sometimes, an over-simplistic view of religion is a way to realize some weaknesses in the believer's faith. This critique provides the believer with an opportunity to justify the prayer of thankfulness. Being concerned with physically doing some good and being humble to criticism, the believer can combine the pragmatism of science and the humility of religion; enabling them to more usefully contribute to goodness in our modern world.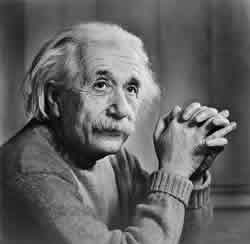 Albert Einstein
(from here)
Response by SR:
"God does not play dice with the universe." Every time I hear this sentence I roll my eyes. How many people have uttered this quote with different purposes? How many entirely out of context? How many arguing that Einstein believed in a determinate God? This collection of quotes by Albert Einstein does a great service: it helps clear the air around Einstein's beliefs. He did not believe in a personal God. He did not believe in an omnipotent, just, and omnibenevolent God. He did not believe in an afterlife. Instead, Einstein believed in a grand harmony and beauty in the universe. This worldview has enabled naturalism to rise to a nearly divine conception of reality.
Since Einstein, many scientists such as Richard Dawkins have talked of and promoted "Einstein's God." Presumably, by this view, the natural world as apprehended by Western science is an acceptable mode by which to practice spirituality. Yet this set of Einstein quotations reveals an important and under-emphasized difference between Einstein's view and that represented by Dawkins. To Dawkins, knowing the universe makes it beautiful, and mystery is an enemy to be vanquished. To the contrary, in Einstein's view, the greatest part of all of his scientific endeavors was the fact that the universe was beyond complete human understanding. This was a defining characteristic of Einstein's cosmic religiosity. Contemporary scientists would do well to read these quotes carefully before using them. Otherwise they might find their Einsteinian appropriations deflating their own balloons.
Response by RBB:
"Selected Writings on Religion" by Albert Einstein is a compilation of quotes by Einstein from various sources on God and the nature of the universe. According to Hitchens, Einstein's opinion on religion was often asked for since his intelligence in and of itself was considered "almost godlike" (155). In his writings, Einstein does not advocate a pure atheism, rather, he rejects that notion of a personal God, one who takes an interest in human affairs. He suggests that this kind of theism is naive at best, childish and primitive at worst (155-156). Yet, Einstein does write in deep appreciation of the "mysterious", saying "he who can…no longer wonder, no longer feel amazement, is as good as dead, a snuffed-out candle" (156).
Einstein's spirituality is inspirational to me, particularly in my Unitarian Universalist context. He claims to be a "deeply religious nonbeliever", which is how I always fashioned myself since I was a small child (157). I also agree with the claim that a personal God is a concept that is hard to take seriously. However, I do understand the human tendency to want to create God in one's own image in order to feel held and loved. It is, after all, the only way many of us can conceptualize God in a way that brings us comfort. I would never want to take away this way of conceptualizing God, regardless of how idolatrous it seems. I recognize my own need to create God in my image in order not just to honor the mystery and amazement of the unknowable, but to feel as though I matter to this God—that I am bound up in an inescapable web of mutuality that won't let me go. Yes, I know that this is irrational. But sometimes we all need it.
Response by DR:
Though not a sustained argument, this collection of quotations supplies some of Einstein's basic objections to anthropomorphic theism and it suggests the contours of his cosmic mysticism. The power of science to explain events in terms of efficient causation leaves little need for God as an explanation of this-worldly events. For Einstein, the sweep of material causation also encompassed the traditional notion of soul: "Since our inner experiences consist of reproductions, and combinations of sensory impressions, the concept of a soul without a body seems to me to be empty and devoid of meaning" (162). Though there is little elaboration here, the problem of theodicy clearly troubled Einstein: "only His non-existence could excuse Him" (158). Einstein also firmly resisted the traditional belief that God is necessary for morality, suggesting that action based upon fear of punishment or hope of reward is less than moral. Instead of supernatural hopes and fears, the basis of morality ought to be "sympathy, education, and social ties and needs" (159). Despite this firm resistance to personal theism, Einstein experienced the power, order, and beauty of the natural world in a transcendent and even mystical way. In his words, "The fairest thing we can experience is the mysterious. It is the fundamental emotion which stands at the cradle of true art and true science. . . It was the experience of mystery — even if mixed with fear — that engendered religion. A knowledge of the existence of something we cannot penetrate, of the manifestations of the profoundest reason and the most radiant beauty, which are only accessible to our reason in their most elementary forms – it is this knowledge and this emotion that constitute the truly religious attitude; in this sense, and in this alone, I am a deeply religious man" (156-7). Einstein's cosmic mysticism, though opposed to most popular conceptions of God, resonates well with apophatic traditions, modern radical theology, and religious naturalism.
Like his brain, Albert Einstein's thoughts have been fought over since his death. The space inside his cranium is something of a holy site for modern people, and understandably so. Both his miracle year of 1905 and his subsequent formulation of the general theory of relativity are easily mythologized as moments of divine revelation. Beyond his work in physics, Einstein's beliefs about religion are also highly contested with both traditional religious people and atheists claiming him as a champion. This collection of excerpts, though overall a bit redundant, reveals the ambiguous nature of that dispute. On one hand, Einstein spoke frequently of experiencing a profound awe before the universe's grandeur, and he characterized this deep feeling as religious. He was also a committed humanitarian and strongly believed that, "The most important human endeavor is the striving for morality in our actions" (159). Here, Einstein walks well-trodden religious ground and is easily embraced by the faithful. On the other hand, Einstein clearly believed that most of the conventional content of the word "God" reflected little more than thoughtless anthropomorphism and pitiable self-delusion. These critical comments receive the enthusiastic approval of Hitchens, but it is far from certain that Einstein would approve of Hitchens' flatly anti-religious agenda. In the end, Einstein's thoughts on religion remain significant because they point to a vast and mostly unexplored territory between discredited anthropomorphic theology and the complete suppression of human religious impulses advocated by the New Atheists.
Response by APL:
This piece consists of a variety of writings and quotations from Albert Einstein, all of which centered on his understanding of God, religion and science. Some are pithy epigrams, such as the now famous "God does not play dice with the Universe." Others include significant portions of his correspondences with friends on issues relating to religious belief. As Hitchens notes in his introduction, Einstein's sometimes enigmatic references to God and the natural order have made him a figure often claimed by both Atheistic and Theistic camps. What comes across in this collection of quotations and writings is that Einstein belongs to neither camp. His references to God are always symbolic, pointing to the magnificent, incomprehensible yet nevertheless intelligible structures of the natural order. In several passages Einstein rather bluntly asserts that the idea of a personal God is for him nothing more than a childish belief. Thus he writes, "I cannot prove to you that there is no personal God, but if I were to speak of him I would be a liar." And yet, upon being asked whether or not he believed in God by a Rabbi, Einstein resists a clear-cut Atheistic response. Instead he writes, "I believe in Spinoza's God who reveals himself in the orderly harmony of what exists, not in a God who concerns himself with the fates and actions of human beings." It seems abundantly clear that Einstein cannot be pegged down as either a Theist or Atheist; instead, he intimates a deep, even mystical reverence for the profound structures of the natural order.
I found this piece to be both enjoyable and insightful. The short excerpts offer a window into one of the greatest minds of the 20th century, on a topic that is not often associated with this eminent scientific figure. Einstein's criticisms of certain types of religion are perhaps more pertinent today than ever, especially amidst the ongoing controversy surrounding the "intelligent design" debate. Einstein puts his finger on what may be the crux of this debate, stating, "The main source of the present-day conflict between the spheres of religion and of science lies in this concept of a personal God." However, regardless of his critiques of anthropomorphic religiosity, what comes across most clearly in this piece is Einstein's own deep-seated spirituality, which would probably best be categorized under the genre of "religious naturalism." While I find Einstein's iconoclastic naturalism to be in many ways compelling, I nevertheless question the social suppositions and implications of such a view. It seems safe to say that this type of religious outlook is not capable of sustaining the existential and spiritual needs of most ordinary people. Thus the question is, to what extent are anti-anthropomorphic religious views such as Einstein's inherently elitist?
Response by TBM:
This chapter provides a collection of quotes that outline the spiritual views of Albert Einstein. These show that Einstein did not believe in a personal God, an afterlife, or an eternal soul. But he also stated clearly that he does not see himself as an atheist. In a number of statements he describes a spiritual sense in which both the knowledge and the emotion – of "the profoundest reason and most radiant beauty" and "the orderly harmony of what exists" – led him to describe himself as "a deeply religious nonbeliever" (157).
Einstein's discoveries in physics were possible because he thought outside of the box, and not merely in response to how others looked at things in the past. He approached religion in a similar way. As he took a fresh look at unanswerable questions (Why is there something, rather than nothing? What causes natural laws to be as they are?), he identified a realm of mystery and wonder that "theists" and "atheists" can both share. Just as his theory of relativity gave a new perspective from which to understand the physical world, Einstein's views on religion offer a distinctive framework for interpreting human spirituality and religion.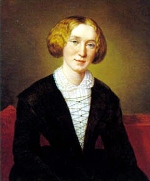 George Eliot
(from here)
Response by KC:
Eliot's/Evans' piece is an eloquent diatribe against Evangelical preachers centered on the detailed criticism of the popular Evangelical preacher Dr. Cumming. Her pointed critique of the position of Evangelical preacher and the preacher's devoted adherents does not pull any punches. She deems Dr. Cumming a hypocritical man addicted to power who only acts to elevate himself in society. After exposing Dr. Cumming's intentions as contradictory to his outward presentation, she concludes that what makes humankind good is a force more powerful than the creeds and dogmas of religion.
I found the beginning of Eliot's/Evans' amusing. There's a necessity for exposing religious hypocrisy, but the scathing critique of Evangelical Teaching goes too far. The piece becomes exactly what it is trying to denounce, dogmatic. Speaking in absolutes, Eliot/Evans does not leave room for good intentions among Evangelical preachers, even if she gives no credence to their beliefs. Can't a mis-informed/wrong-believing person still be well intentioned? Despite her claims to the contrary, Eliot/Evans makes the mistake of dehumanizing her enemy and categorically demeaning all Evangelical preachers.
Response by CSA:
Mary Ann Evans (1819-1890), writing under the nom de plume of George Eliot, composed an attack against the publications of the evangelical teacher and apologist Dr. Cumming. She criticized his work because he molded Christian scriptures to say what he needed them to say, even if they contradicted other scriptures. Evans selected lengthy excerpts from Cumming's writings on the unbelieving infidel, the inerrancy of the Bible, and the traits in the Christian character. Her commentary on these selections showed Dr. Cumming's hypocritical hatred in his writings—while purporting to write about a God of love.
If a church body does not judge its leaders and point out the hypocrisy in their speech, then I believe that a critique from someone outside the church is necessary. I would consider Mary Ann Evans' writing as a prophetic word—bringing an appropriate corrective to insincere talk of God's love. I believe that Evans' explicit acknowledgement that she does not personally know Dr. Cumming makes her argument beneficially more universal. Her writing should be seen less as a personal vendetta and more as a timeless critique against anyone in the Church who preaches love and hate with the same lips.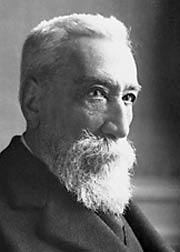 Anatole France
(from here)
Response by SR:
This short except from Anatole France's The Garden of Epicurus behooves philosophers to abandon miracles. A miracle, says France, is a striking event. Certainly it merits awe and wonder. How could that coma patient have healed so quickly? Why did a new star appear in the sky? How do tornadoes take perfect leaps over homesteads? But apparent aberration from natural law does not merit classifying it as such. A miracle should be treated as any other unknown phenomenon in the natural world: it should be an event to be investigated. An event-to-be-explained-later-by-science. An event of wonderful, but definitely natural, origins.
Ever since humanity began thinking systematically about the cosmos, says France, it has continually brought more and more puzzling phenomena under the web of natural law. This pattern in history has demonstrated that all of experience belongs to the realm of natural law, even if humans do not yet have the tools for understanding. To a naturalist thinker, this argument is ad oscuros. Basic. Obvious. But that is the exact problem with France's argument. He dismisses the miraculous because it is outside of nature: nothing could possibly be outside of nature! But it can, and in the minds of many, it is. In his wholesale dismissal of supernaturalism, France fails to engage worldviews in which God exists remotely. In such an instance, God might set specific laws by which the world operates, and only very occasionally act in direct contradiction of them, in such a way that miracles could be spotted as true aberrations. France calls this reasoning "infancy of the mind." I would call it instead "metaphysically and epistemologically distinct from naturalistic interpretations of the cosmos."
Response by FA:
In this article the author approaches the meaning of miracle from a different perspective. The author argues that no one should say that there are no miracles because no miracle can be stated as an established fact. The author believes that noting happens out side the limits of nature so nothing is a surprise to nature thus there is nothing that can be called as a miracle. The author questions the definition of miracle because human beings do not know the law of the nature and can not understand what does it mean to breach the law of the nature. The author believes that we should not mix a question of fact with one of principle because as a matter of principle the man of science is ill qualified to verify supernatural occurrences. This is the reason the author believes that there is no miracle.
In this article the author gives his understanding of the meaning of the word miracle so as to prove that there is nothing called as a miracle. I think the author was not able to make a good argument against the traditional understanding of the word miracle because he believes that human beings are not qualified to understand what does it mean to breach the law of the nature. The author was not able to give a decisive answer for why does a miracle occur? The author through the article educates his readers how should we approach a miracle but, does not answer why does a miracle occur. I think even if human beings put miracles in perspective and try and attribute it towards some thing that can happen in the ambit of nature, they should still answer the question why does some thing which is unnatural happen. I think miracle is a fact because it is some thing that can be proved, but the source of the miracle and the reason for it is unclear and debatable.
Response by MG:
Anatole France examines the nature of miracles in his book The Garden of Epicurus. The excerpt from this text opens with France stating that no event occurs outside the bounds of natural laws, and that to label an inexplicable occurrence as a miracle is to preemptively assign meaning before adequate knowledge has been reached. France notes that the working definition of a miracle involves an occurrence that cannot be explained by natural law, which then allows clergy to speak of a higher knowledge to which human beings are not fully privy. France reiterates however, that such 'unnatural' occurrences merely represent an incomplete understanding of natural laws and that in fact, many famous miracles within the Christian faith have now been shown to have scientific explanations.
In his analyses Anatole France fails to account for the predictive nature of certain miracles. For instance, while the appearance of the star that guided the three wise men can be explained according to natural laws, it was not so much the physical manifestation of the star that was miraculous but rather the timing of this manifestation.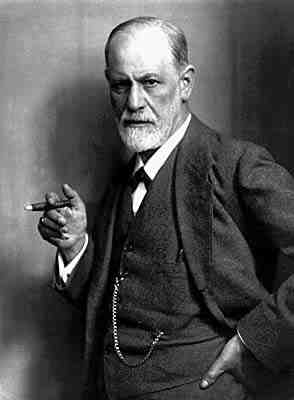 Sigmund Freud
(from here)
Response by JM:
In this piece, Freud holds religious belief under the lens of psychoanalysis. He classifies these beliefs as illusions, created to fulfill the wish for protection and love. Illusions are distinct from delusions, which are essentially in contradiction with reality. At first glance this may seem to give illusions more credibility since they are not necessarily false. Instead, illusions completely disregard any relation to reality. The rest of this critique comprises Freud's response to possible objections or rebuttals, the majority of which he dismisses by asserting the rationality of his view.
The quickest way to earn the friendship of a bully is to beat up another kid. Freud's baby, psycho-analysis, has a tenuous relationship with science. Throughout this article we see him allying himself, and psycho-analysis, with science against religion. Is this partially motivated by wanting to earn the friendship of the science bully? This is a far from a perfect analogy. I don't think science is a bully. I do think psychology is a legitimate science. But I also think this insecurity made Freud's analysis less sympathetic to the healthy functions of religious belief.
Response by RLS:
In The Future of an Illusion Freud explores the relation between religious ideas and civilizations. Freud's key point is that ideas of gods, and religions, are "illusions, fulfillments of the oldest, strongest, and most urgent wishes of mankind" (147). In childhood, Freud argues, we feel helpless. This helplessness is overcome by our reliance on our father. Beyond childhood that same helplessness remains—and we seek a "more powerful" father—resulting in the notion of God as Father. This is a "father-complex" (ibid). In this way "the benevolent rule of a divine Providence allays our fear of the dangers of life; the establishment of a moral world-order ensures the fulfillment of the demands of justice…" (ibid). For Freud the term illusion denotes beliefs that are driven by wish-fulfillment and can be neither proven nor refuted. Thus the psychological factor of fear is the "psychological foundation" upon which our illusions of God and religion rest (151). Religious beliefs cannot yield knowledge of reality. Only science can. Freud hopes that in the future religious illusions will yield to scientific knowledge. Only by science can we "learn something about external reality" (150). Last, he wants to encourage civilization to fear "educated people and brain-workers" no more. These are "vehicles of civilization" that can facilitate a "fundamental revision" in society for the better (153-54).
In response, I find Freud's points valid and insightful. However—aside from appealing to empirical investigation of reality—he never explains why religious ideas are illusory. Why are they illusions? Because they cannot be scientifically verified, he says. But so what? I reply. That people erect ideas to satisfy psychological needs does not negate the possibility of their tenability. Everything hinges on the standard of measurement one employs. Freud's standard is "observation and reasoning in scientific work" (150). Surely Freud wouldn't deny that the spin one puts on scientific data may skew its tenability every bit as much as the spin a religious extremist may put on religious claims. That psychological motives drive ideas does not necessarily nullify ideas. Freud complains that civilization needs the idea of God but shouldn't because God is illusion. But what if civilization needs the idea of God because God is real? Thus the chicken-egg argument seems to undermine the strength of Freud's claim. However, I must add one important caveat. Freud was a genius and I am not. So he may have understood the human psyche to such a degree that he is able to posit this claim. I wonder, though, how one could know which is contingent on which—the idea or the psychical need.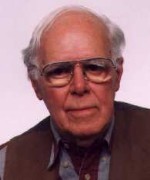 Martin Gardner
(from here)
Response by DR:
Gardner begins his essay discussing the failure of Jesus' predictions about his second coming and the ways that Christians have rationalized that false prophecy. According to Matthew's account, Jesus says unambiguously, "Truly I tell you, there are some standing here who will not taste death before they see the Son of Man coming in his kingdom" (NRSV). Hermeneutic justifications vary, but the most common responses are to associate the kingdom's dawn with the transfiguration or to assume that phrases like "some standing here" or "this generation" (see Matt. 24:34) actually refer to a future generation. The latter interpretation never fails to produce some bold souls who actually set a date. This approach is thrilling — until the day after, when battered faith is tended through recalculation. After this overview, Gardner turns to a third rationale: the Wandering Jew. According to the dominant form of this legend, a Jewish shopkeeper saw Jesus struggling past his door, burdened by the cross. Without an ounce of compassion, the man struck Jesus and told him to hurry to his death. Jesus responded by cursing the man to live until the second coming. Thus, the Wandering Jew is a cultural legend used to cover Jesus' error with venomous anti-Judaism. After presenting multiple versions of the tale, Gardner ends abruptly with an account in which the Wandering Jew continually tries to kill himself "but arrows spears, clubs, swords, bullets, mines, and trampling elephants have no effect on him" (217). Gardner's essay is wrapped around a silent center, which is the source of its haunting power. Is it necessary to identify the hateful Christian logic behind this tale? Does anyone need to be reminded of its consequences?
Although not really an argument against theism, Gardner's essay is quite damning for dominant forms of Christianity. To begin with, the spirit of modern criticism has resurfaced the long-suppressed trauma caused by the parousia's delay. Jesus promised to return within a generation and belief in his coming was central for many of the earliest Christian communities (throughout the New Testament, but see especially 1 Thessalonians). Faced honestly, the failure of Jesus' prophecy is good reason to doubt both the perfect inspiration of scripture and aggressive claims about his full divinity. That said, the deepest problems Gardner raises are not concerned with the rationality of traditional Christian faith, but its moral adequacy. To feel the full weight of the charge, one must see beyond Hitchens' relatively superficial assessment that "stupid ideas have stupid consequences — and nasty consequences as well" (211). The horrors of Christian anti-Judaism are not rooted in the legend of the Wandering Jew; that hateful tale was produced quite naturally by a cultural already steeped in poison. Tracing the evil waters to their source leads to the often bitterly supersessionist collection known as the New Testament. It was texts like Matthew 27:25 and John 8:44 that inspired pogroms throughout the history of Christendom. I find little consolation from the fact that Matthew and John are two of the most deeply Jewish texts in the NT and the books' authors would probably be horrified by the disaster their writings inspired. For me, there can be no reclamation of such texts. After the Shoah, nothing but an unqualified rejection is adequate.
Response by FA:
In this article Gardner shows the progress of the myth of the "wandering Jew" from the time of Jesus up until now. In the first part of the article the author discuses the second coming of Jesus. Over the 2000 years since Jesus' birth and death, the Christian community has believed in the second coming of Jesus and some predicted the date of Jesus' second coming. In the later part of the article the author shows how the interpretation of the second coming of Jesus mentioned in Matthew 24 led to a string of different myth's about the wandering Jew. For example, some people thought that the Apostle John could have been the wandering Jew because he supposedly never died. The wandering Jew became a favorite topic for plays, poems and novels. In his conclusion the author quotes from Shelley's poem which describes the efforts of the wanderer to kill himself in wars, but arrows, spears, clubs, and mines have no effect on him.
I think the article by Gardner was an attempt to unpack myths about the wandering Jew, who is usually linked to the person of Jesus Christ. While not associating Jesus with the wandering Jew directly, the author uncovers the chain of myth that has been prevalent in the Christian community of faith for the past 2000 years. I liked the article because I was able to see that the author did not take any sides on the issue but faithfully presented the understanding of the wandering Jew over the centuries. This article helped me to understand that we usually create our own form of "wandering Jew" in the way it suits us. I appreciated the author's note that the wandering Jew tried to kill himself because none of the things of the world has any effect on him.
Response by AMK:
In his essay "The Wandering Jew and the Second Coming," Martin Gardner elucidates the theological implications of biblical inconsistencies. Gardner is concerned with Matthew 16: 27-28 in which Jesus implies that the Second Coming would occur within the generation of his ministry on earth. With the passing of first-century Christians, a series of biblical reinterpretations attempted to make sense of Jesus' prophecy. As generational interpretations proved fruitless over time, new interpretations were adopted to make room for a Second Coming not bound by specific time restrictions. Moving from this example, Gardner recounts a diverse collection of exegesis and literature on the myth of the Wandering Jew. Gardner subtly reveals the absurdity of expanding ambiguous biblical references into allegorical stories. The metaphors become stretched so thin that the stories no longer reflect the true nature of their scriptural beginning.
The opening section of Martin Gardner's essay is a tight, tidy study of Christian responses to troublesome New Testament passages. Gardner's primary implication that fundamentalist and literal interpretations of the bible are often ignorant and sometimes dangerous is one that both atheists and liberal theists can affirm. This type of common ground is critical to deepening the dialogue between theists and atheists. The second portion of his essay, however, reads as though it were simply tacked on at the close of Gardner's study of Matthew. Gardner's point becomes lost as he describes various literary approaches to the myth of the Wandering Jew. Gardner lacks a concise attitude toward these stories and their implications. The examples of how far writers expanded the myth are entertaining and sometimes confounding, but Gardner's lack of a coherent thesis is evident.
Response by ZTR:
The tale of the Wandering Jew is, for some, an example of how religion will create fantastic and absurd stories in order to defend the infallibility of their sacred text. The fable the Wandering Jew is such an example. This legend originates from Christian believers trying to explain the discrepancy of a comment that Jesus made in Matthew 16:27-28. In this verse, Jesus makes a comment about a person, whose identity is unknown, that will "…not taste of death till they see the Son of man coming in his kingdom." Similar comments appear in both, Mark 8:30, 9:1 and Luke 9:26.27. Christian communities interpreted Jesus' comments in the Gospels to be an allusion to the imminence of the Second Coming, meaning the person or people that are mentioned in the passage are a reference to the present generation of Christians. However, this concept was discarded after generations passed and the Second Coming didn't "come." Other scholars and believers regarded this text as actually referencing to a specific individual. Who is this person that is destined to walk the earth until the day of the Second Coming? Different explanations were created from being a reference to the Transfiguration of Christ to an undocumented incident where a man hit Jesus as he was carrying his cross, where upon Jesus told him that he would remain on earth until His return. This story has generated hundreds of poems, plays, and novels that dramatize this event. These dramatizations range on a wide spectrum of holy to more hilarious and ridiculous. With this history, Gardner provides people with an interesting example of how far a believer will go in order to protect the sanctity of their scripture.
The legend of the Wander Jew is an interesting phenomenon. How does such an absurd story continue through a faith tradition as a factual event? Thinking about an old, confused man walking around the Earth for two millennia is a bizarre idea. For some believers, with a more literal approach to the sacred text, they find no problem understanding this story to be factual because of a deep belief in the infallibility of the Biblical text. It is a way for believers to "fill in the gaps" of the texts. However, more secular writers, poets, and playwrights have taken a different perspective when understanding the significance of the fable of the Wandering Jew. From a secular perspective, this story about a man/woman who cannot die and is cursed to wander the Earth has to do with the concept of immortality and the necessity of death. With many stories depicting this character watching the ones they love die around them, while trying futilely to end their life, the reader gains insight into how much meaning our lives have in death. Without death, what would be the significance of any moment, possession, or relationship in this world? There would be no reason for attaching meaning or our personal feelings to any place or person. It is embracing the inevitability of death that people are enlightened to the risks in life, the moments that we stand back in gratitude of life's mysteries and splendor. Though the reasoning behind the creation of this myth may be rather unjustified or foolish, in another perspective, this story provides the reader with an appreciation for the world and the people around them.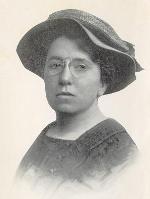 Emma Goldman
(from here)
Response by JH:
Emma Goldman's essay, "The Philosophy of Atheism," identifies a pernicious essence in the theisms of the world and of history. That essence has its origin in "fear and curiosity" and grows in influence in direct proportion to human ignorance and weakness. The philosophy of atheism is, for Goldman, an attack on the parasitic ideology of theism, but also a positive promotion of human intelligence, liberty, and strength. At the turn of the 20th century, Goldman identified in theism a vague coalescing of theistic beliefs under the banner of "tolerance." She writes, "It is characteristic of theistic 'tolerance' that no one cares what the people believe in, just so they believe or pretend to believe." In this tolerance, Goldman identifies a new version of the age old strategy (whether conscious or unconscious, she admits) of social elites to use religious adherence to effect social control. This leads to all kinds of suffering and evil that, in the patent falseness of theistic belief, God neglects to interrupt, despite God's supposed omnibenevolence. Goldman insists that no rescue will come for human beings until Man, not God, will "rise in his mighty wrath" and set things right through rationality, liberty, and strength.
Goldman is an impressive writer and one is hard pressed not to be stirred by her evocation of the achievement and unfolding potential of human beings. Those familiar with the prophetic tradition in biblical monotheism will recognize the feeling at once. Hitchens mentions Goldman's disdain for "the Soviet 'experiment'" and it would have been nice to find in an excerpt of her work some sense of the applicability of these critiques to ostensibly atheistic absolutisms. As it stands, the religious person is likely to read Goldman's essay and think, "My goodness, what prophetic zeal this woman had! And what eschatological hope she had for human beings, albeit naturalistic. What faith in and charity for any society that embraces the good news that there is no god under which we must bow and scrape and be enslaved." Goldman powerfully promotes her vision and hope for a post-theistic humanity, and does so with the form and force of religiosity. As a brief aside, it is worth noting that Goldman (like others in this collection) seems essentially to link atheism and materialism, which on this reader's view is a repetition of the short-sighted baptizing of particular metaphysical systems by making them essential to doctrine that one finds in the Christian tradition.
Response by AS:
Emma Goldman's philosophy of atheism is rooted in the promotion of human liberty and intelligence. She describes the philosophy of theism as a theory of speculation that makes claims about an unreal world in which figures such as gods or spirits can limit the actions and aspirations of humans. Meanwhile, the philosophy of atheism, or "the science of demonstration," offers a concept of an actual world in which the actions of humans are open to possibilities. Morality isn't figured by the demands of the god-head but rather by humans deciding for themselves what is best, as individuals and as communities. Goldman asserts that atheism is a growing movement, as evidenced by the God-idea becoming progressively less defined, and she implies that it will eventually fade away completely. She credits the emergence of the God-idea to ignorance and fear, and suggests that as humans continue to learn more about the actual world, their anxieties will lessen until they have no need to make claims about a spiritual world.
Goldman's matter-of-fact tone describing the emergence of the God-idea made me cringe. It's a historical certainty that people create myths to meet their psychological needs, but it's also possible that there really is a theistic God that chooses to relate to creation in the way best fitting for the creation's time or needs. Religion, or God, could be found even while it is created. She seems just as close-minded about every last possible religious persuasion as the unforgiving god-heads or religious leaders she indicts as being unjust or limiting to religious followers. If she had offered her history of theism with just a little less certainty she would have been giving the many theisms a more charitable reading, but as it is, she straw-mans their creeds from the start.
Response by TK:
Goldman argues that the origin of religion can be found in the primitive questions of man who weakly attributed the name God to those things that were unexplainable or terrifyingly powerful. A tolerance of other religions is expressed as weakness in current religious denominations. As the world becomes more aware of the truth of a demonstrable atheism, Goldman argues, they rush to save dying mystical institutions. She paints of picture of religion close to that of Marx and Nietzsche; a herd of weak people beat into submission. The human mind though is not built for the static truth of religion. We are finally realizing as a race that the world is composed of chaotic forces rather than static consistency, she continues. Atheism fights against the absolutism of theism. Being a negation of gods, atheism becomes the ultimate affirmation of life and humanity.
I found Goldman's argument quite difficult. Though some of her points can be found in Anderson as well, her presentation is more hostile to religion. I want to press Goldman on the idea that religion is static and always supports an absolutism that denies life. I would first question how science and atheism a like don't assert absolutism in the same way that religion does. If atheism was so fluid and smart, wouldn't it realize that it is just another way of belief rather than 'the' way of belief? To say that theism necessitates absolutism makes me wonder how science doesn't do the same. Goldman argues that we are finding the "truth" that life is chaotic forces rather than static deity, but this being the case how can we know anything about the world? And what purpose would any belief have if one thought it would be inevitable proved to be a mere "chaotic" happenstance. I struggle to see how Goldman doesn't fall into complete atheistic relativism as she tries to attack religion with the most vicious argument possible: god is dead primarily because there is no meaning in creation to begin with.
Response by FA:
In this essay the author talks about the philosophy of atheism by looking into the history of belief in a deity. Goldman argues that religious belief in God has been forced on people as an idea of absolutism without freedom. Goldman believes that ignorance and fear is the root cause of the idea of God. The author makes the distinction between theism and atheism by arguing that theism is the theory of speculation where as atheism is the science of of demonstration. The author argues that the philosophy of atheism is the emancipation of people from ideas of God, which are created by human beings, and the elimination of which would help to create a world in which can imagine and think freely.
The writing style of the author helped me understand the main idea of the essay, which is the philosophy of atheism. The author kept repeating the phrase "philosophy of atheism" through out the essay and contrasted it constantly with the opposite viewpoint. I agree with the author's contention that theism is a theory of speculation, because it is a matter of faith. But the irony is that there is no other way but through theism to come closer to the idea of God. I think the author raises a valid question on the notion of love and goodness in God in the essay. Most of the religions, including Christianity, preach that God is love but do not understand the justice of God through the concept of love. I believe that God's radical love can forgive anyone and God's radical forgiveness and justice may not be understandable by human beings. I believe that God's love and forgiveness has the power to change anything that we might think that can never be changed. This essay also helped me to understand that most atheisms are not against the idea of God but they aim to deconstruct the myths created by human beings and thereby provide a space to think freely about the idea of God.
Response by AMK:
According to Emma Goldman, humankind's overwhelming adherence to theism is linked to two correlated developments in history. When humankind was ignorant and undeveloped, theism flourished. As the human mind became edified and utilized, scientific inquiry and discovery has slowly replaced the need for theistic belief. Theism represents a projected and hyperbolized human image that binds humankind to fear, oppression, and ignorance. Atheism, however, presents a hopeful alternative. By removing oppressive deities and projections, atheism allows the liberating power of the human mind to heal a world withered by theism.
Emma Goldman could have saved herself (and me) time by whittling down her essay to the few sentences it encapsulates. The paper could have easily been replaced by the sentence: "Theism is an ignorant projection of humankind that enslaves the world, while atheism does not." Goldman paints with a broad brush in her critiques of theism (all of theism!) going as far as to ask, "do not all theists insist there can be no morality [in atheism]?" No, they emphatically do not. The title of her paper is "The Philosophy of Atheism," yet Goldman never gives any substance to any philosophical school of atheism beyond that it is not theism. Theists empathic toward philosophy could write more compelling treatises than Goldman.
Response by BJT:
Emma Goldman's penetrating essay "The Philosophy of Atheism" is a veritable State of the Union Address, but instead of outlining the state of the American union, she details the state of atheism and theism (religion) in modern society. From Goldman's vantage point, atheism is steadily becoming the philosophy of the populace and is threatening the ancient rule of theism. What is fueling the revolution? Human courage—courage engendered by "the restless march towards knowledge and life" (132). Goldman theorizes that religious ideas were originally created by human beings in response to their felt fear and curiosity toward nature and that throughout history religious vitality has correspondingly increased or decreased with the growth or decay of human knowledge. In the modern period, human beings are gaining extensive knowledge of the physical world and are coming to understand that they control social states and, ultimately, human destiny. Religion is facing extinction because knowledge is dispelling fear. Religious elites are aware of the swelling rebellion and are preparing a defense because they, who run "the largest, the most corrupt and pernicious, the most powerful and lucrative industry in the world," do not want to lose their standing (130). But for Goldman, these defense tactics disclose weakness not strength. Declarations of religious 'tolerance' and the concomitant recession of exclusivist doctrines indicate the enervation of religious institutions that can no longer enforce their ideologies of fear and submission. Theism is also hemorrhaging theologically. The gods who are supposedly loving, just, and merciful are deafeningly silent and indifferent to human suffering. The philosophy of atheism responds to this void with a resounding call for "MAN" to "rise in his mighty wrath" and establish justice and forge relationships of love without the aid of the gods (132). Driven by a spirit of liberation, Goldman pronounces the goal of atheism: "the emancipation of the human race from all God-heads" (133). Once the immorality, injustice, and mental oppression promulgated by religion is eradicated, "freedom and beauty will be realized" for the human race (133).
Goldman's energy is contagious. She presupposes a philosophical anthropology that affirms the capacity of the common person to reason soundly, to act justly, and to revolt against trained docility. Goldman keenly and tersely points out the complicity of religion, business, and politics in fostering the docility of the populace for exploitive ends. Her robust voice being finely tuned to the needs of the laboring oppressed has the power to penetrate this acquiescence and generate courage. Having an historical advantage, one can now see that her conviction of atheism's progress was overstated, but this does not diminish the two-fold critique (behavior and theology) she levels at religious institutions. The theory of origins that Goldman propounds may be problematic since it overlooks the potential for compound influences to launch religious speculation, e.g., admixtures of biology, society, individual fear and awe, but her treatment of religion as a tool that has gone awry opens a fruitful field of investigation. As a tool for explaining the unknown, has religion outlived its usefulness? Are the current religious configurations suited to the mysteries faced by contemporary life? Has the tool suffered such corruption that it has become too hazardous to use? Is it irreparable and should it be discarded and replaced by a new tool? Is atheism a more suitable tool? Answers are rare jewels mined by strenuous labor, but Goldman is an exemplar of boldness and courage because she demands that humans take responsibility for the tools they create.
Response by JCD:
Emma Goldman was a great proponent of justice, a defender of the poor, a prophet shouting down the excesses of a capitalist system that exploited those without power. In this selection, she identifies religion as a tool of that system, a way for bankers and heads of state to profit, literally, "from the subdued, tamed, and dull masses" oppressed by theism and its claim of theistic omnipotence and exclusive source of meaning. Religion is, happily, on its way out, "growing more impersonal and nebulous in proportion as the human mind is learning to understand natural phenomena and in the degree that science progressively correlates human and social events" (129). Its continuing marginalization can be seen in the "anxiety of the theists" who see themselves losing their power, once so absolute. Gods, which have so long served to "lash the people into obedience, meekness, and contentment," are fading into oblivion, opening up the grand possibilities of atheism's "liberating, expanding and beautifying possibilities." Where theism "has kept humanity in helpless degradation," atheism is "the eternal yea to life, purpose, and beauty," so that, finally, "freedom and beauty [will] be realized" (132, 133).
In my earlier days, my anarcho-punk brethren and I celebrated Goldman for her whole-hearted dedication to the cause; she was a hero, and deservedly so. In an age where industrial capitalism reigned supreme, and the exploitation of workers was brutal and so visibly apparent, hers was one of the few voices that spoke up courageously for justice. And hers was one of the voices that participated in a vigorous debate between anarchists, socialists, and communists, the combined efforts of which resulted in the federal labor protections now taken for granted by many. But I think that, distasteful as it may have been to her, Goldman would have done well to spend a little time dwelling on the doctrine of original sin. This need not require her to believe in the Garden of Eden, Adam and Eve, or the Fall. In fact, it need not imply any religious conviction at all: the history of evolution shows that in our genetic past cooperation was limited to the members of one's group; the ability to be directed beyond one's own context to help members outside the group, as Goldman certainly was, is a relatively recent, and laudable, phenomenon. I believe this means, however, that, even if religion is the "largest, the most corrupt and pernicious, the most powerful and lucrative industry in the world," it is still doubtful that with or without it any of us will be ultimately successful in "usher[ing] in justice upon the earth" (130, 132). On the contrary, the various attempts to do so, to do so in absolute ways, have generally resulted in tyranny and oppression, as she saw herself as she grew disillusioned with Soviet communism. God bless Emma Goldman; we're a better country because of her. In her effort to throw out the bathwater of injustice, however, she might have lost the baby of wisdom, too.
Response by JNH:
An anarchist and political activist, Goldman's essay consists primarily of a critique of religious oppression and an apology for human freedom. As the argument goes, the human spirit possesses untold potential, yet religion's restraining fear and violence fetters the human spirit to the pre-Promethean dark. Despite humanity's evolutionary development beyond the religious impulse organized religion, she suggests, still manages to claim power over the huddled masses. The philosophy of atheism Goldman proffers is one of liberation from the threats of dubious gods and their human prophets. Prometheus, she argues, should be unbound.
To be sure, religions have profited immensely from the fears and anxieties of their adherents. However, in her haste to make sweeping historical generalizations, Goldman oversimplifies the human experience of the religious while elevating human power to an extreme. In particular, by saying that, "beauty as a gift from heaven has thus proved useless" (133), she suggests a radically anthropocentric relation to the world. One first wonders if human beings should ever use beauty. One could also argue that there is a category of beauty that comes from nowhere else but heaven, even if by heaven we must mean some religious space in the human imagination. After all, what else could produce the Psalms and the Gita? Did some evil shape the ecstasy of St. Teresa and Bernini's marble response to her account? I would not be the first to suggest that a certain interpretations of the Prometheus myth betray basic assumptions about the human condition. Whatever one's evaluation of human potential, Prometheus' fire must always come from some Olympian other: either from the gifts of evolution or the strange offerings of the anonymous, it comes from without.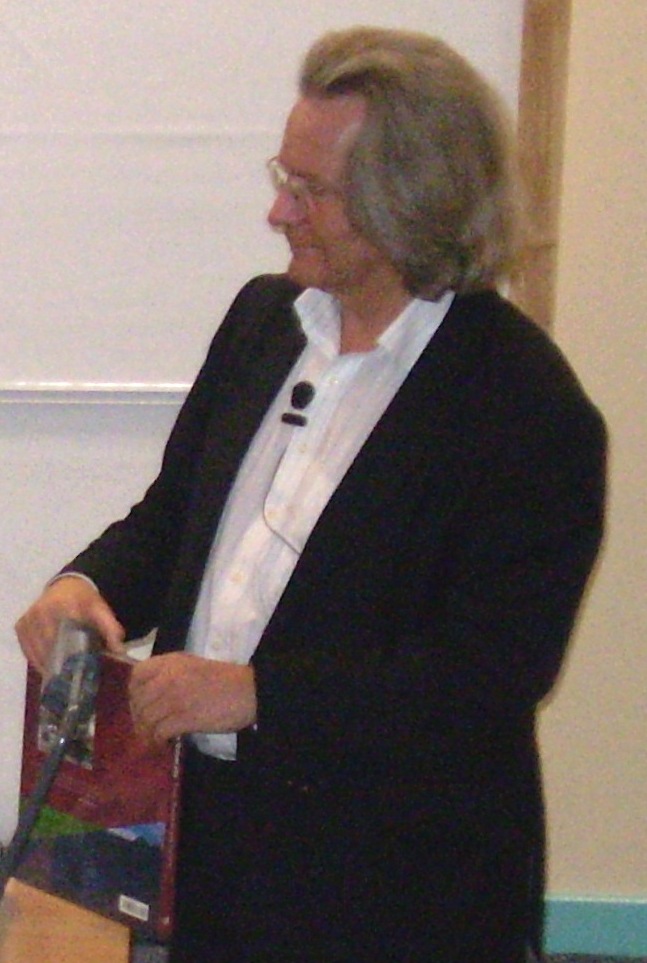 AC Grayling
(from here)
Response by KC:
Grayling argues that the Christian accusation that atheists are also fundamentalists is an impossibility that only serves to belittle their own intelligence. In the brief excerpt "Can an Atheist Be a Fundamentalist?" from Against All Gods, Grayling purports that Christianity has always been oppressive and as a result there is no need to allow Christians the "comforts of faith" (473). His argument rests on the basis that atheists are more appropriately titled "naturalists," and theists should call themselves "supernaturalists." This redefinition allows Grayling to shift the grounds of the argument to give him the upper hand, but does not adequately address the charge.
I didn't appreciate the tone of this article nor did I agree with the argument. Rather than "the coldest and purist water of reason" that Hitchens promised, I found Grayling's words of to be bitter and somewhat arrogant. He never seriously addresses the charge, but mocks his accusers and skirts the question. By my perception, Grayling's rant serves to prove the accusation more than disprove it. Grayling asserts he is correct, just as Fundamentalists believe they are correct. Moreover, Grayling is attempting to create converts for the good of the world just as Fundamentalists try to convert people to save their souls.
Response by JH:
This piece takes up a fairly common objection of theistic religious adherents to contemporary atheism, namely that some atheists are "fundamentalist atheists." Grayling quickly sets out to show that "moderate atheism" would already be a kind of concession to the theist position, and so would denature atheism per se. In turn, Grayling argues that "moderate theism" is an evasive form of religious hypocrisy, seeking to maintain fanciful beliefs in the masses by distancing itself from the facts of the traditions from which contemporary religion was birthed. Hatred for otherness, the suppression of women, and the violent punishment of heresy are all undeniably associated with Christianity for Grayling, and to try to pretend otherwise in attempts to be "moderate" are outright deceptive. The deception is bolstered, on Grayling's account, by the continued practice of providing very young children with "religious education." Rather, he suggests, let children grow up with no mention of religion, and when they are adults, present the relevant religious ideas and see who takes them up. He wagers none will, because they have not been manipulatively held in an "intellectual infancy." Lastly, Grayling proposes that atheism really ought to be better named "naturalism" and opposed to "supernaturalism," by which he characterizes religion as the belief in supernatural entities. Naturalism is not a religion, by these terms, and cannot thus be a form of fundamentalism.
While Grayling is probably quite correct that philosophical naturalism cannot be fundamentalist, he seems quite wrong about atheism, including his own. If one finds in fundamentalisms the refusal to acknowledge or integrate phenomena, information, or even questions beyond a narrow band of "fundamental" truths, then it seems materialist atheism that takes religion to consist only in unparsimonious belief in supernatural agency is (in this restricted sense) fundamentalist. However, even noting that Grayling's arguments hang on a rather narrow definition of religion, the phenomenon described by that definition is staggeringly widespread. In this respect, Grayling's attacks must be taken quite seriously. Certainly there is a good deal more to religion than belief in supernatural agents and literalistic approaches to religious practices. However, a great deal of religious adherence is characterized by such "intellectual infancy." This may imply that religious belief is inherently intellectually infantile. On the other hand, it might merely imply that religions are failing to develop the intellectual lives of their adherence, thereby inhibiting many religious people from achieving religious maturity. Furthermore, such maturity need not be subject to the criticisms Grayling levels against religious "moderates" because its difference from stupid, irrational, and immoral forms of religious living would not be a hypocritical strategy of cultural appeasement, but the very marker of its authenticity.
Response by TK:
Grayling entertains the notion that an atheist might be called a "fundamentalist." He argues that there is no reason to speak about atheism as if it has different "sects" or followings such as religion. Through his argument against an atheist having a title other than just that, he attacks the merits of religion, claiming that the only reason it survives is because it attaches to the young. He continues to show that since one can not be a moderate atheist, neither could one be a fundamental atheist. Atheism in necessarily only the disbelief in the supernatural and therefore cannot be spoken of as if that disbelief ties people together. Atheists are tied together only because of their intellect, not because of their actions towards or against the religious. He finally moves to call atheism "naturalism"—this being a philosophy or theory rather than a common ground upon which people would gather.
Grayling's argument rings true to my hear. I hear where he is coming from, arguing that an atheist cannot be classified into a group in the way required by the name "fundamentalist atheist." Still it is an interesting question to wonder what binds an atheist to any part of humanity. If Grayling is right, I wonder where atheist might find commonality with other people. Even though his argument is rational on an intellectual level, I can't believe that some atheists aren't attracted to other atheists who think in a similar way. I wonder then, if atheism was a large enough movement, like Christianity, if it might not produce different categories or subgroups. Conversely, I would think it reasonable to make the same argument that Grayling has presented concerning Christianity. It seems that it would be just as easy to claim that Christianity involves belief in the divine, and all Christians have that in common regardless of subgroups. At this level I wonder what real impact Grayling's argument does have, or from where it gains its authority.
Response by FA:
This essay considers the question whether atheism is an extreme position of an idea that can be called fundamentalism. The author's answer is "no." The author argues that some theists are moderate and others take an extreme position. For example, some Christian theists believe that there is an everlasting hell for those who do not believe (the extreme view), but there are also Christians, including Bible-believing Christians, who do not believe in the concept of an everlasting hell. By contrast, for an atheist there is no moderate position because everything that they believe is backed with reason and is not speculation. The author describes the atheist as a naturalist because atheist believes in a nature that is governed by natural laws whereas the theist is a supernaturalist who believes in supernatural entities such as angels and demons and gods and goddesses.
I think the essay basically has only one central argument, namely, that an atheist is not a fundamentalist because the atheist position is not based on a supernatural idea. I liked the author's conclusion that religion is centered on a belief in supernatural entities and, since atheism rejects supernatural entities, it cannot be called a religion, and cannot be fundamentalist either. I agree with what the author argues because, since an atheist only believes in what reason can measure or prove, there cannot be variations of atheism from the moderate to the extreme. At the same time, since scientifically we cannot disprove the existence of God, I think taking a position on the basis of hypothesis and not actual evidence is an extreme position and can be called a form of fundamentalism. So, while I agree with the argument of the author in respect of the differences between atheism and theistic fundamentalism, I still think that atheism can be an extreme form of ideology that can properly be termed fundamentalism in respect of its attachment to an unprovable hypothesis (the non-existence of God).
Response by SR:
A. C. Grayling's article, supposedly about atheism, is in reality a poor conflation of theism with fundamentalism. In a deluge of vitriol that consumes several paragraphs, Grayling claims that theism is responsible for centuries of mass-murder, that theists hold "profoundly false and primitive beliefs," and that re-inventions of Christianity are "breath-takingly hypocritical." It is only on the last of four pages that Grayling finally addresses atheism. Atheism should be called "naturalism," says Grayling. This is because "the term fundamentalism already sells a pass to theists."
I was hoping that Grayling's answer to the question "Can an Atheist Be a Fundamentalist?" would be yes. His answer instead is "not even close." Grayling arrives at this conclusion through faults in elementary logic and definitions. What he asserts is this: 1) a theist is a supernaturalist (not necessarily true), and 2) an atheist is a naturalist. It follows then that, since 3) supernaturalism is the definition of fundamentalism (definitely not true), atheism is anti-fundamentalism. Grayling at no point indicates that he understands fundamentalism as separate from theism. Fundamentalism cannot possible exist in philosophy, in politics, or in any realm outside of the question: "does God exist?" A dictionary would have done Grayling wonders. Indeed, this article so blatantly fails to address its own question and premises that fortunately no one but the most blind atheist could take it seriously.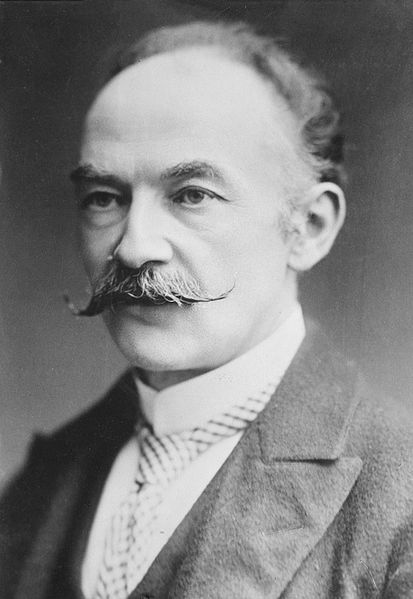 Thomas Hardy
(from here)
Response by TK:
In Thomas Hardy's poem "God's Funeral" we are presented with an account of a funeral service for the divine. At this funeral the thoughts of three groups are represented. The first group is that of the atheists. Stanzas VI through XII lament the creation of God. They present an overview of the ways and reasons that God has served humanity. The atheist perspective concludes by questioning what humanity might turn to in the absence of God. In Stanza XIII we find a second group of mourners in denial of God's death. Hardy sympathizes with the group and their inability to accept the death. A final group who "stood aloof" are able to see a light in the distance that the other mourners do not. In the end, being confused by these "sick thoughts," the narrator follows the majority.
The poetic account of God's Funeral is both brief and perplexing. Upon a first reading, the funeral of God seems quite hopeless. God is dead and even though there are those who deny the present reality, the truth is God was created by us, and now, even for the educated man, the only thing to do is fall in line with the other mourners. Still, the complexity of the account is quite surprising. I wonder as well "who or what shall fill his place?" (XII). The "pale and positive gleam" (XV) is seen first by the narrator and then also by "a certain few who stood aloof" (XVI). It might be then that those who are at a distance from the funeral itself have a better perspective. These distant few are markedly different from the other two groups whose thoughts are expressed in the poem. It seems that there might be something important to be said for those who do not participate in the funeral to begin with. Perhaps distance from divine death provides a point of view that is neither lament or denial.
Response by JH:
Hardy's poem, "God's Funeral," takes on the voice of the prophet, specifically the prophet as a witness to a vision. Like Ezekiel or Amos, Hardy tells us what he's seen. Except that Hardy describes, not a theophany encountered in solitude, but his emergence from solitude to join a party bearing the paradoxically enormous and amorphous corpse of God. The thoughts of God's pall-bearers are heard as a chorus, expressing the all-too-human admixture of memory and anxiety that characterizes grief in the face of loss. They narrate the myriad ways that God had been known to them and they marvel now at knowing too that God is gone. A few voices shout their denials, but Hardy's narrator can no longer join their party, though he sympathizes with them. Instead, he joins the number of the funeral parade, noting with a few others (though the many fail to note it) a dull but growing morning light on the horizon.
Expressions of atheism such as this are, I think, at once the easiest for the traditionally religious person to hear and also the most existentially challenging. The indignant, ironic, sneering atheist is just an opponent to be, perhaps argued with, but ultimately not taken too seriously. The reluctant atheist, on the other hand, has a desire (and maybe even love) for God with which the traditionally religious person can sympathize, only it is metaphysically unrequited. So they might put their arm around Hardy and offer consoling words about patience. They might even confide their own doubts. However, the person who mourns the loss of God's reality in their life can thus be a kind of Trojan horse for the faith of the traditionally religious person. Someone who endures a painful loss of God, when they might just as well grit their teeth and pretend to believe in hopes they someday might again, is someone whose very presence challenges the stifling of doubt. They incarnate a moral fortitude and integrity that argues for the seriousness of atheism just by being. Hardy's poem seems among the gentler expressions of atheism in this collection, but it presents one of the most thunderous challenges to those who cling to God.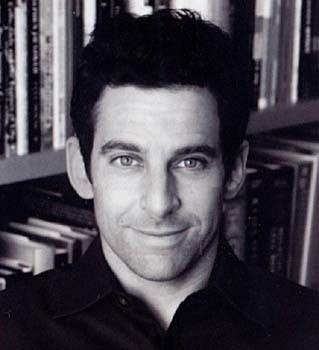 Sam Harris
(from here)
Response by TW:
Harris' "In the Shadow of God" is a meditation on human atrocities that have resulted from the presence of religion, particularly the Christian religion, throughout the history of the world. Harris does not hold back from delivering graphic descriptions of acts of torture (such as those during the Spanish Inquisition when the "Spanish Chair" was used for the roasting of feet and the boring of mice into bare abdomens) or from reporting on some of the worst injustices that one can find in any annal of history (such as an account of a fevered old woman on her deathbed accused of heresy and burned at the stake). Harris focuses on three primary targets of religious prejudice and torture in his essay: heretics, witches, and Jews. In the accounts that he records, he paints as ugly a picture as one could imagine for how these three groups have fared at the hands of murderous Christians. Interestingly, Harris argues that acts of violence depicted in his essay "have arisen, logically and inevitably, out of Christian faith." (472)
It would be wrong to turn a blind eye to the sheer horror of Harris' accounts, and one needs to be cautious about being too dismissive of the argument he tries to make concerning the consequences of Christian faith. He presents what is simply too serious a subject matter and too perverse a history for one to be callous toward his attempt to highlight Christianity's worst stains. Nevertheless, Harris is biased in the material he chooses and seems to pick out of history only the most grotesque episodes he can conjure in order to be exceedingly provocative. He is also relentlessly hostile toward Christianity as a religion and gives it far too much singular credit as the propagator of human suffering and cruelty throughout history. Still, Harris' essay has punch to it, and forcefully reminds its readers to be sober about the dark side of religious faith. For that, it deserves credit.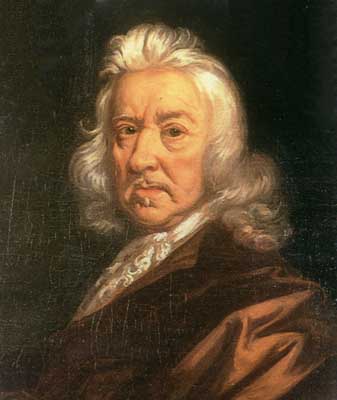 Thomas Hobbes
(from here)
Response by HJW:
By employing the phrase "not fruit of religion, but a man only," Thomas Hobbes criticizes, not religion per se, but politically corrupted religion. Curiosity about causes of the world and of things in the world results in anxiety and fear, which eventually leads to religion. Fear and ignorance conjure superstition, with its invisible ghosts and gods, all with the power to overshadow people's rational ability. These superstitious powers of religion function within human societies and cultures to keep people in obedience, and maintaining peace and law. Truth in religion is nothing but the manipulation of individuals for the sake of corporate political interests.
"Perpetual fear" and "ignorance of causes" expresses Hobbes' idea of religion. He disagrees with the idea of Church–state unity and severely criticizes it. He points out the unfair advantage enjoyed by people in religious institutions when religion merges with politics. Hobbes' argument was valid at that time, when the Church had power over politics. His rational way of looking at religion could have helped people resist both corrupted religious and political systems, and also resist superstitious ideas and faith. We can still appreciate Hobbes' point on religion, especially when we witness religion overpowering politics and manipulating the dignity of human being. However, a question rises: if religion is completely separated from state and reinforces the value of human existence and life, would religion be still the object of criticizing?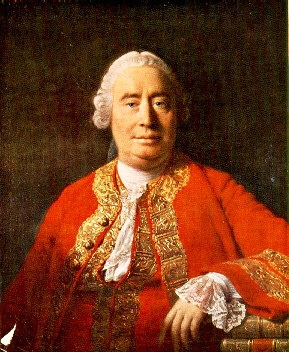 David Hume
(from here)
Response by AS:
David Hume asserts that religion rises from the human fear of the unknown. Humans create gods with power and knowledge, with whom they must find favor in order to lead more pleasant lives. While they may worship a god out of fear, the god doesn't deserve their praise unless that god is also good, so many religions, especially those that are monotheistic, attribute benevolence to the deity. Hume points out that believers seek the favor of the divine not only by being good, because any decent person can be good whether they wish to be favored by the deity or not, but by adding on rituals that often result in wasted time, unnecessary pain, or the adoption of a view for no other reason than perhaps the deity prefers for the believer to adopt that view. Why would a benevolent deity demand such trivial and/or harmful practices? Hume's conclusion is that religion can meet the call for human decency, but the need for believers to set themselves apart as worshippers of a deity often means a call for behavior or attitudes that are pernicious.
This excerpt from The Natural History of Religion highlights Hume's concern for morality and responsibility, of both humans and a possible God. I appreciate that Hume, and most others who are (at the mildest) weary of religion, refuse to let God off the hook for the presence of both moral and natural evil. Many religious believers appeal to limited human understanding in comparison with a God's-eye-view of the world, but that's a really unsatisfactory response for when bad things happen to good people. Anyone can look at the state of affairs in the world today and wonder how it can be that the God of theism, the "God of the omni's" (omnipotence, omniscience, omni-benevolence), can co-exist with such a state. Hume's points draw out the unlikelihood of such a god existing, but they don't rule out the possibility of a more unattached, deistic god.
Response by BLT:
Hume begins by observing that anxious fear of future events most often leads to religion in human beings. He then goes on to note that, "Our natural terrors present the notion of a devilish and malicious deity: Our propensity to adulation leads us to acknowledge an excellent and divine." Thus, Hume provides his assessment of the internal factors giving rise to human religiosity, and, in so doing, also observes the peculiar ways in which "superior beings" seem not to be subject to the dictums, which govern human morality. He also observes, for that matter, that favor with the divinity of a given religion is not necessarily attained through living up to a moral code, but by performing otherwise arbitrary rituals and ceremonies. Yet, in Hume's evaluation, the greatest religion would be that which was founded upon acting rightly, rather than superstitiously. He says, "In short, all virtue, when men are reconciled to it by ever so little practice, is agreeable: All superstition is forever odious and burthensome." (30) Finally, he notes, these superstitions give rise to even greater fears, which are usually exploited by religious authorities: "The more tremendous the divinity is represented, the more tame and submissive do men become his ministers: And the more unaccountable the measures of acceptance required by him, the more necessary does it become to abandon our natural reason, and yield to their ghostly guidance and direction." In conclusion, Hume's account of the natural history of religion is an interesting interpretation of the various dynamics at work in the causes and effects of religious behavior.
I think Hume is entirely correct in his analysis of the natural history of religion. I particularly enjoyed his examination of some of the "bad influences of popular religions on morality." By treating the tension between religion and morality in such a manner, Hume raises serious questions concerning the role of religious injunctions among the governing principles of the commonwealth. This piece, therefore, has illuminated for me what I have so often heard atheists saying—that governances based on the religious presuppositions of a particular interest group is a fundamental violation of the rights of those persons not sharing their views. It is not altogether clear to me, however, that this excerpt somehow evidences Hume's atheism. If anything, it seemed to me that Hume was arguing for religious beliefs and moral practice to be predicated upon right reasons, rather than against belief in God.
Response by HJW:
An anxious fear towards an unknown future is the origin of religion, according to Hume. Moreover, popular religions set a bad model for human morality, while blinding human minds with superstitions. These superstitions are like crimes. Superstitious and devotional faith increases blind religious passion, and eventually leads to questionable actions. Belief in miracles is a good example. Miracles do not make sense since they are against the laws of nature and human reason.
Hume does not seem to despise religion, but criticizes superstition that evolves from blind faith. Blind faith and stunted reason result in all sorts of ridiculous and absurd events. Miracles cannot be proofs of any sort because miracles themselves cannot be proven. This shows the sense in which Hume wants to speak of faith that can be questioned by reason. Faith must be questioned for its validity regarding the value of human life. The foundation of religion should not be miracles or any other kind of event that would promote blind faith, but should be reason that can lead religion to sound belief and action.
Response by TW:
Hume's main aim in "On Miracles" is to pit supernatural accounts of miracles in the Scriptures against a "species of reasoning" that he describes as the most "common," "useful," and "necessary " type of reasoning known to man, that which is "derived from the testimony of men." (33) Hume gives as much weight as he does to the human testimony of experience because, according to him, all discoverable connections between objects are "founded merely on our experience of their constant and regular conjunction." (33) Thus, experience, for Hume, is primary in epistemology, and the best tool for assessing experience is one's own testimony or report of that experience. It follows that the "proof" or "probability" that a report of a certain experience, such as a miracle, is true depends upon how many other reported experiences can corroborate the first report. Since the corroboration of testimony for miracles is incredibly weak, one must conclude that miracles lack any evidentiary force and thus should not be considered to be credible.
I would respond to Hume by pointing out that humans absorb a huge amount of human testimony in their lifetime that is never tested for its corroboration against other reports but is rather inherently trusted. This does not mean Hume isn't correct to demand a high standard for testimonial corroboration when it comes down to brass tacks and one has to decide whether a report is credible or not. Nevertheless, we must take responsibility for the fact that our ability to deploy our reasoning powers in practice is overwhelmingly dependent upon information that has been absorbed into human thought without ever being corroborated according to Hume's high standards. We take much for granted in our use of language, our understanding of history, and our assumptions about natural processes. This does not mean that we should therefore be willing to take miracles for granted and consider them credible, but we should at least recognize the implicit limitations in a methodology that relies so heavily upon testimonial corroboration in order to establish credulity. We rely on many other activities (including a good amount of uncorroborated trust) in order to interpret our experiences (and to establish our interpretations as credulous) and this is something to be recognized and taken into account. As to the question of whether miracles actually occur or not, I sympathize with Hume. The credulity of miracles has not been sufficiently established by empirical methods. But Hume limits his methodology too much by reducing his case against miracles to a case about testimonial corroboration. Hume fails to appreciate just how complex the establishment of credulity is when one takes into account humanity's reliance on non-sufficiently corroborated but correct epistemological beliefs.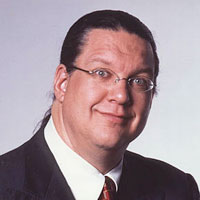 Penn Jilette
(from here)
Response by AS:
Penn Jillette declares his position on the atheist-theist spectrum as being "beyond atheist." This means that not only does he not believe in God, he believes there is no God. Jillette claims everyone should start out in the atheist position and then move either beyond atheism or towards agnosticism and theism based on the evidence that people encounter. Jillette then goes on to recount how his step beyond atheism has impacted his life, and says that he is fulfilled through the love of his family and the wonder of the natural world. He points out that he can only be forgiven by people's "kindness and faulty memories" (349), and that this makes him more thoughtful. He says believing there is no God has left him more open-minded, because his dialogue with others doesn't halt when the other says something contradictory to his faith (or lack thereof). Jillette concludes with commentary on how his belief that there is no God has calmed his anxiety about the problem of evil.
Jillette's essay struck a major chord within me. One of my frustrations with people who contain high levels of religiosity is that they are so put off by hearing another's opinion or idea reflecting different assumptions. Elie Wiesel once discussed how answers end dialogue, but questions keep the dialogue going. Jillette is able to brag about his ability to maintain dialogue, but there are open-minded religious believers who are able to carry on conversations without their faith providing an answer that ends the discussion. There just needs to be more of them.
Response by FA:
Penn Jillette in this essay takes on a conventional atheistic point of proof to argue that there is no God. Jillette believes in the truth of "real things" so that he can believe and not speculate. The author argues that there is no need for the idea of God in this world because with out the help of God human beings can love, care and be moral and enjoy the realities of this world. The author argues that human beings should not wait for an external power to come and clean the evil in our society, rather human beings should work together against the greed and violence of this world to make it a better place. If we believe that there is no God then it means that human beings will put an effort to make the system right and less possibilities of evil acts will happen in the future. So, the author urges his reader to believe in all the things that one can prove so that the world would be a better place to live.
I think Jillette's essay contradicted on his fundamental argument that to believe in some thing it should be real. Jillette in the essay is doing the opposite by taking a leap of faith (which it self is an action of believing in some thing which can not be proved or seen) to make his point and believe that there is no God. He says that he is going one step further from other atheist who are still in the realm of searching for the proof. I think this contradicts his claims because if one can take a leap in faith to believe there is no God then why should a person be stopped of taking a leap of faith in believing that there is a God? I think Jillette's essay was poorly thought and is incoherent. I agree that human beings should be aware about the things of this world and involve in making in a change rather than waiting for God to come and change the system. But I do not believe that evil is prevailing in the world because people are waiting for God to come and change the system. If morals was for survival how can a superstition about God stop a natural man from fighting for his survival? How can people get stuck on God and wait for God to come and make the change? So, after reading almost 10 articles in three weeks on atheism and why one should believe in it I think, Jillette's arguments was not articulated as well as others who write about atheism.
Response by AMK:
Penn Jillette is "beyond atheism." Jillette expresses a firm belief that God does not exist, rather than being content to not believe in God. Atheism, Jillette claims, is easy. Most truth-seeking individuals assume no belief in God as a starting point and are still searching for evidence of a supreme being. Jillette's belief that God does not exist, however, informs his life and worldview in positive ways. Without God, the joys and hopes of his mortal life become more fruitful and significant.
Jillette's exposition on the nonexistence of God may be brief, but its compelling value is equivalent to a dissertation on the subject. Jillette makes a positive case for an atheistic worldview because he describes how his disbelief enriches his life. Rather than making an appeal for atheism in opposition to theism or religion, Jillette allows atheism to stand on its own merit. Not believing in God makes life more vivid and substantial for Jillette. For many theists, the strict rationality of atheism is unappealing and restrictive. It becomes difficult to see the underlying intellectual merit of atheistic philosophy. By painting a more human and emotive picture of atheism, positions like Jillette's may allow theists to "come to the table" in an open and constructive dialogue that removes stereotypical biases.
Response by BJT:
In the terse, yet touching essay, "There is No God," Penn Jillette articulates the positive reasons for his "beyond atheism" position. Jillette proposes that holding a negatively supported atheism is "easy," but eventually insufficient. Fulfillment and direction in life derive from affirmations, and in this piece Jillette expounds the declaration: 'This I believe: I believe there is no God.' (349) Jillette begins by embracing the world as he experiences it. This bear hug of life's abundant treasures is found to be satisfying and there is no need to look to an afterlife for greater joys. Turning to morality, Jillette excises the need for God's forgiveness by means of an appreciation for the "kindness and faulty memories" of others who forgive his missteps and inspire him "to be more thoughtful … the first time around." (349) In the realm of learning, Jillette finds life to be more eventful and adventurous without the presence of a God who provides certain answers. All the people of the world engage a common, accessible reality that is constantly being discovered and debated, which is much more fluid and exciting than self-enclosed, inaccessible, and unassailable views. Next, Jillette's manifesto addresses the problem of suffering. If one eliminates the classical conceptions of God, suffering is a quantity that may be diminished through human endeavor since it is no longer viewed as a tool of divine instruction. In conclusion, Jillette recapitulates his bear hug of life. He writes, "Believing there is no God gives me more room for belief in family, people, love, truth, beauty, sex, Jell-O, and all the other things I can prove and that make this life the best life I will ever have." (350)
Jillette's essay is clearly life-affirming and seeks to avoid a saccharine tenor that could be imbibed by a person with such celebrity status. But is he successful in this attempt? For those robbed of justice, robbed of physical security, robbed of personal development, robbed of political voice, is it enough to hope that someday suffering will be lessened in the world through the labors of the humane? For those whose one life has been decimated by the deeds of others, is Jillette's closing exclamation an effective antitoxin against the darts of despair? Transitioning swiftly to another point, Jillette's advocacy of open-minded learning coupled with his attack on fundamentalist thinking is appreciated; however, given that the majority of the world's population is religiously oriented and that atheism is a statistical minority globally, the numerical composition of his atheistic learning community is comparatively sparse. For Jillette, this means that active dialogue with the populations of the world entails communicating with those who have religious perspectives that are radically different from his affirmative position thereby making "agree[ment] on reality" more complicated than he envisions. (349)
Response by TW:
Penn Jillette, in "There is No God," recognizes that there is a big difference between simply not believing in God (which is a type of atheism that Jillette calls "easy")(349) and the actual act of confessing an atheist creed, confessing a positive belief that "There is No God." Jillette goes on to argue that this positive belief is truly a "leap of faith" that provides the believer certain "rules to live by." (349) Jillette seems to see his positive atheist creed as a pragmatic guide to his life, teaching him to be content with "love, blue skies, rainbows, and Hallmark cards" and providing more room in his life for "belief in family, people, love, truth, beauty, sex," and "Jell-O." (349-350) What Jillette can't stand is the believer who absolutely refuses to be corrected or changed. Jillette sees atheist faith as a faith, contrary to dogmatism, that allows one "to be proven wrong," which in Jillette's opinion "is always fun." (350)
Jillette's piece is a short, fun read and it treats serious subjects such as human suffering and the temporality of human life with a nice comedic flair. I appreciate his acknowledgment of the "faith" component involved in an atheism that positively affirms that "There is No God," and I respect his willingness to take responsibility for his faith. Jillette's core belief in human fallibility is refreshing and something to embrace. I also like Jillette's love of Jello-O, something that is certainly a cause of joy in this world no matter how transitory it might be.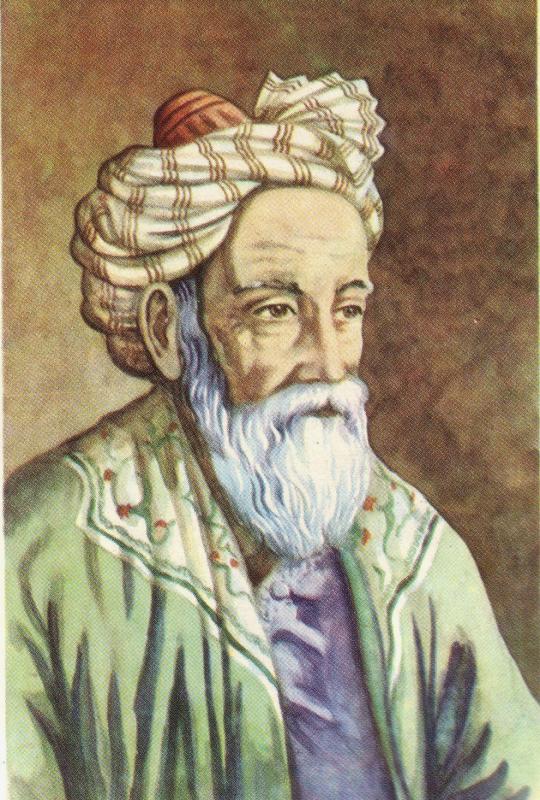 Omar Khayyam
(from here)
Response by RBB:
Omar Khayyam, in his long poem from eleventh-century Persia, illustrates the doubt that God "had revealed himself to some men and not to others" in humorous prose (7). He also expresses satirical disgust with those who use this so-called revelation to exploit other people (7). Khayyam writes about the improbability of an afterlife saying "men talk of heaven—there is no heaven but here; men talk of hell—there is no hell but here."
This poem is long and conceptually dense, so I choose to focus on the stanzas in which Khayyam claims that there is no afterlife. I come from a religious tradition that has long concerned itself with this earth as the final destination, claiming that religion is to be lived for the purposes of this lifetime. It is a radical concept, especially in eleventh-century Persia, to claim that heaven should be "made here". If there is no other life but here, as Khayyam claims, we must make heaven here—building the kingdom of God here on earth. If all church leaders and theologians made this claim, I believe that rather than social disorder and chaos, we would have a large group of human beings trying to make this lifetime as just and equitable, as sweet and good as heaven should be.
Response by JM:
The selections from Omar Khayyam's Rubaiyat provide a lyrical and witty criticism of religion in eleventh-century Persia. Written in verse, the tone of this piece is largely personal as Khayyam ranges from his own insights to critiques of other assumptions about God. His main critique is against those who assume exclusive ownership of God's secret, and he is not light in his critique:
Do you think that unto such as you,
A maggot-minded, starved, fanatic crew
God gave the Secret, and denied it me?
But Khayyam does not merely name-call. Instead he highlights the absurdity of assuming that God made pleasure only to be avoided. This Epicurean philosophy gives this piece a colorful, joyful air.
Rather than a dreary, logical attack on religion, Khayyam's words act like a jester: dancing around religion poking fun at its absurdity and stuffiness. This style effectively asserts a positive philosophy focused on the plentiful delights of this world. Indeed: "O love, there is no other life – but here." Hitchens' inclusion of this piece begs the question: is hedonism atheism? While Khayyam clearly critiques religion and certain assumptions about God, this critique arises out of an infatuation with a God who is abundantly present in the here and now. This is the danger of poetry, absent from dry logic: one can easily see what they want to see within verse.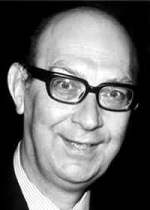 Philip Larkin
(from here)
Response by JH:
In Philip Larkin's "Church Going," the narrator has entered an empty church mid-week and tentatively engages its solemnity. We are told that this is his common practice, and yet each visit leaves him disappointed. Moreover, he is not even sure what he was looking for with which he is now disappointed. It also leaves him wondering what it will be like when churches not only fall out of use, but completely out of the collective imagination. First he imagines they might be avoided out of superstition and then that they might be pursued for similar reasons. He settles, it seems, on indifference and neglect; that only a dusty and shrubbed patch will remain unrecognizable and unremembered by those who stumble upon it. And yet, he identifies in those very people doing the avoiding or pursuing or forgetting an impulse towards reverence, even if there is no place in which to be so reverent. That, he suspects, will endure when churches have not.
Larkin's poem follows the imagined forgetting of churches by someone who can't seem to forget (or even resist) such buildings himself, despite his unbelief. There is a recognition in the poem that being left to superstition is a kind of debasement of the achievement in "seriousness" that the church embodies. It is, however, a version of the virtue of seriousness the narrator has left behind and can not seem to recover. It is a poem that brings to light faithful piety's faithless, but no less pious, cousin. In fact, it makes me think of an inverse case that may be just as worthy of committing to verse. What of the person who is haunted by their deep and serious belief in God, and for just that reason cannot bear to go near churches? Might we narrate a parallel fellow who, when passing a church, crosses to the far side of the street, not out of superstition, but because he can't bear the lack of seriousness so many churches embody. Or would both Larkin's narrator and the God-haunted soul prefer their churches empty?
Response by RBB:
According to Hitchens, "Aubade" by English poet Philip Larkin is a poem about lovers parting at dawn, in this case the lover being life itself (207). Larkin's poem speaks to his belief that there is no life beyond the grave, and his horrific fear of death. He references religion's failure to try to dispel the fear of death with the delusion of eternal life, asserting that religion was "created to pretend we never die" (208). He similarly denounces the specious "stuff" that claims we shouldn't fear nothingness. "Courage is no good" he writes. "Being brave lets no one off the grave." He concludes that the only certainty in life is the nothingness of death, and that while we can't escape death, we also can't accept it (208).
This is a gorgeous poem in its profound and real treatment of the human condition—the haunting truth that we are alive and have to die. Larkin speaks to a larger audience than just atheists in this poem, given that most of the world's human population has feared death at one point or another, regardless of religious or scientific explanations of why one shouldn't. His content is empathic and haunting in the way it cuts through the rational, irrational, and simplistic ways in which all human beings try to ignore, gloss over, or justify the finitude of our existence in an attempt at quelling our horror. "Being brave lets no one off the grave. Death is no different whined at than withstood" (208). Death is our only guarantee, and there is no sense deluding ourselves into thinking we can be other than dead one day. That Larkin gives chilling and frank voice to this fact feels like a public service in its honesty.
Response by ZTR:
An aubade is a poem that refers to lovers parting one another at dawn. In an aubade by Philip Larkin, the lovers parting one another are less of a personal nature, but more of a separation of Larkin from all of life. The setting is in the early morning of the day, just as the sun is rising. Reading and entertaining the questions of how and when death will happen as the curtains slowly turn yellow to orange; the reader begins to feel that same fear and anxiety of the unknown. No courage or bravery will stop this inevitability. Larkin sadly describes the futility of religion in trying to comfort or strengthen believers in understanding this inevitability. Trying to rationalize the concept of not having a sense of sight, taste, and hearing is a failed "trick" by religion to help people cope with death. Now, the light in the room is giving shape to objects and a shadow to others, life is filling the room. Larkin makes his point that life continues even with the fear that one day, it will all be gone. One's intention should be avoiding an obsession with fear and the use of religion to limit how we live our life. It is better to rationally accept, not control, this fear and continue to experience our lives.
The imminence or certainty of death is an uncontrollable part of life. People try to escape this certainty using prescription drugs, cosmetic makeup, self-help books, and even religion. Religion is used, at times, as a way for people to cope with death. It is a comfort for some to believe that one day they will see their loved ones again, or that something lies beyond this world. However, this is a very crude perception of religion. Larkin's poem points this out to the reader. Religion is more that just a crutch or safety net used to escape reality. It is a belief system or construct that provides the believer with the ability to relate and understand a community. It gives direction to how the believer should live. The use of religion as a "cure" for death is limiting the potentiality of religion. Death is but one aspect of life, just as it is only one aspect of religion. The fear and anxiety of death is natural, for it is part of the human condition to fears or express apprehension for the unknown and mysterious. This poem is expressing a clear idea to the reader or believer: focus on life. It is graspable and unfixed, something people have some control over and the ability to change.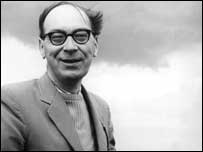 Philip Larkin
(from here)
Response by RBB:
"Church Going" by former Anglican turned atheist poet Philip Larkin is a poem that imagines the death of the local church. In the poem, he places himself in an empty church, looking around in "awkward reverence" at the relics, pews, icons, and organs. He describes the musty smell and the echo, and pronounces "'here endeth'" more loudly than he intends to, both nostalgic and grateful that churches are no longer in use (209). He muses that superstitions and beliefs "must die" and wonders what will remain once disbelief has similarly gone (210). He concludes with a stanza that admits that the need for church will always be present as long as there are people who wish "to be more serious" and are pulled to hallowed buildings in order to make meaning of their lives, or to "grow wise in, if only that so many dead lie round" (210).
This poem is respectful and even reverent of the role of the church in the lives of the human species as vaunted places people frequent to make meaning of their lives and deaths. However, the author seems to suggest at the end that as long as the "dead lie round" it is impossible for the church to help people grow wise. This is fair if we are only talking about churches who seek to give people a solution to their mortality. What about churches who seek primarily to help people make sense of their mortal lives? Who seek not to comfort people with answers about immortality, but instead to help people live this one life they have been given meaningfully? I belong to a church that concerns itself with this life and not the next. I agree heartily with the author that there will always be a need for a communal place to go in which one attempts to become more wise. This is a good and worthy reason for church, and not all churches attempt simply to anesthetize people with promises of life everlasting.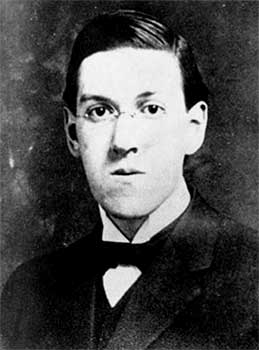 H. P. Lovecraft
(from here)
Response by SR:
HP Lovecraft's letter makes a broad case against religion's monopoly on morality. Since the piece is a letter, inevitably it wanders in thought and approaches stream-of-consciousness at times, but holistically it presents a cogent, lyrical and compelling case: morality is a human construction. Humans evolved needing to understand and navigate the world, and as such developed norms of productive interaction. Religion, according to Lovecraft, co-opts this process. It arbitrarily chooses the moral, and it demands that people follow it. Lovecraft does not like this phenomenon one bit.
Lovecraft's letter, as one of several dozen essays on atheism collected by Christopher Hitchens in 2007, is perhaps the best reasoned and the most fair of them all. Instead of conflating religion with evil or demonizing actions of entire sects, Lovecraft attacks only one specific action of religion: the dogmatization of morals. Lovecraft argues that humans have an equal chance at good morality and good works without religion, and contemporary atheists deserve more of this support. It is only with increased acceptance and decreased fear between both camps that America can move forward. Lovecraft, in granting credit to both theists and atheists, gives the future a fighting chance.
Response by KC:
Responding to a letter in which his friend Maurice W. Moe asked what he had against religion, H.P. Lovecraft criticizes agnosticism, a certain kind of pragmatism, and religious morality. Lovecraft's charge against Moe's "agnostic" is that it leaves out Lovecraft's assertion that the Judeo-Christian theism is not true, meaning that the problem isn't that Moe's agnostic doesn't know whether or not theism is true, the problem is that Moe's agnostic must know that it is not true but is claiming ignorance instead. Lovecraft criticizes Moe's pragmatic uses of religion, in which Moe claims that religion can foster altruism and combat self-gratification, because pragmatism ignores the burning desire many humans have to know the truth about the way things really are. Lovecraft isn't concerned with the uses and effects of religion, whether they be good or bad, so much as he is with the truth of religion, and he isn't convinced that religions boast truths. Lovecraft's criticism of morality is closely linked with his criticism of pragmatism, because not only does Lovecraft find the morality can stand completely independently of religion, but even if religion always led to good or right action, the ontological claims of religion may still not be true.
I sympathize with Lovecraft's frustration about wanting to know how things really are, but I don't share his snub of the usefulness of religion. Human knowledge has limits, and theology may be outside of those limits, but that doesn't mean that religion has no usefulness. Humans don't need to know how the eye works in order to see, they just need to know that they are seeing. Lovecraft seems very certain that the Judeo-Christian theism is not true, and I would have liked for him to elaborate more on why he believes that to be the way things really are, because it may have helped me to understand more of why he has such an intolerance for the pragmatic uses of religion despite its epistemological uncertainties. For that matter, it would have been helpful to learn why Lovecraft thinks we can know for certain that a religion is spouting falsehoods about ontology or metaphysics (not history or natural science) instead of statements whose truth values we don't know at all.
Response by ERD:
In a letter to H. P. Lovecraft, his friend Maurice W. Moe asked simply what Lovecraft had against religion. Lovecraft's expanded response answers Moe's question in addition to providing a personal commentary on the nature of knowing, morality and religion. In short, what Lovecraft has against religion is its childishness, and what he has against those who support religion in the face of knowledge is their firm grasp on morality as the linchpin of their belief system. Lovecraft criticizes Moe for a recent article in which he characterizes the agnostic human being as a person seeking balance between the two poles of self-love and altruism, leaving out what Lovecraft believes to be the central feature of humanity: the desire to know. The human being desires to know its place, its relationships to others, its potential, its extent, and its limits. Lovecraft admits these desires may sound foolish, but he prefers them to the alternative of intoxicatingly slumbering through life in "a happy, swinish, contented little world – the gutter,"(135) a not so subtle smothering of organized religious belief. Once a person knows the situation around themselves, only then can morality emerge. Lovecraft characterizes morality as the relationship of matter to its environment, having nothing to do with religion except the occasional human deification of a natural element. He firmly believes that this view of morality stands on its own on purely scientific and aesthetic grounds. One ought to be moral because of one's direct relationships with other aspects of the world and because of one's duty to maintain harmony and decency. Thus, Lovecraft sees the main issue at stake between atheists and theists not as a debate over the usefulness of religion, but over the application of the innate human desire for knowledge. In his view, the agnostic thinker wishes to know, which has nothing to do with conduct or morality. Lovecraft concludes that one can easily admire and support the philanthropic works of religion while at the same time being true to oneself as a thinking human being.
The informality and well-placed humor of Lovecraft's letter provides levity to an otherwise scathing critique of both his colleague and the religious community. His opening tone certainly charms the hearts of the "new atheists" as he eloquently and verbosely dismantles Moe's article, slighting his intelligence with lines such as, "I can see that in your philosophy truth per se has so small a place...,"(134) and belittling his ideas by taunting them in all capital letters. The mockery continues on a more general level after Lovecraft expresses all his "foolish" questions abut existence, reducing religious people to swine who cannot think for themselves, and culminates with the crude straw man summary of Christian cosmology, complete with a final "Bah!" Amid all his bluster and dry humor, though, resides a rather insightful and moderate argument for an agnostic, if not atheistic, worldview. Entity does indeed precede morality, and morality is indeed the desirable interaction of the individual parts of the grand human system. Thinking this way, one can easily begin to separate morality from religion without having to cast out religion entirely, as Lovecraft points out with his defense of the many humanitarian activities of the Church. The problem with his argument, though, is its narrow focus on the highly reasoned human worldview, something that cannot be said to have existed at his time nor even fully at the present en masse. It is a personal letter that should be taken as such; it is intellectual incest between two members of the reasoned population. (I merely assume Moe is of the same class because Lovecraft's tone suggests he would not waste his time with someone who wasn't.) While Lovecraft's presentation would make for fine entertainment, his bravado undermines the legitimate points of his argument.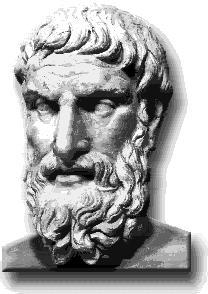 Lucretius
(from here)
The excerpts from Lucretius' De Rerum Natura highlight a two-fold criticism of religious belief. First, Lucretius argues that supernatural explanations for things and events in the world are really non-explanations. Second, he argues that, in addition to its irrelevance to understanding nature, religion serves to debase the morality of a culture, not edify it. Opposed to superstitious accounts of natural phenomena Lucretius offers a materialist atomism. The order and continuity displayed in the unfolding of things and events owe their explanation to the arrangement and rearrangement of infinitesimal bits of matter. Human beings are no exception, being thoroughly mortal in mind as much as body. Morality, then, is not to be grounded in obedience to the interests of god or gods, nor in eternal rewards or punishments, but rather in nobly staring down the religious impulse and investigating the laws of material nature. The last section, from Book V, section 39, implies that the move to cooperative civilization and culture is what has inculcated in us a weakness that lends us to religiosity. One might infer that the exhortation to stare down religion offered earlier in the text would constitute a return to our natural vitality and strength.
Though the readings in this collection are presented in more or less chronological order, it is fitting that this excerpt leads off The Portable Atheist. It seems a microcosm of the New Atheist's position. Not only is religion morally suspect (or outright reprehensible as Hitchens has it in the Introduction), but it is superfluous for explaining anything in the world of Nature, including ourselves. That Lucretius appeals to materialism as well sweetens the deal for Hitchens. I wonder, though, about the translation of the word "supernatural" in this excerpt. The western conception of the supernatural was developed in medieval theologies precisely to resolve the conflict between God's agency and human freedom, but could apply to the "natural" explanation of any phenomenon as well. Nonetheless, it is common enough in contemporary parlance to refer to a kind of invisible, paranormal agency in nature as "supernatural." In that respect, Lucretius's meaning is not obscured, but it may serve to conceal the existence of more nuanced theologies of the supernatural. As far as Lucretius' exhortation to seek proportionate explanations for natural things and events, it ought to be praised, even if such praise ought to be succeeded by a review of Aristotle's criticism of atomism as an approach to biology in De Anima, Book I.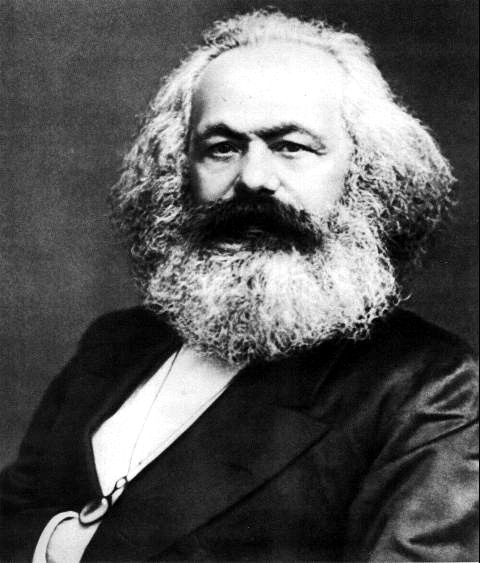 Karl Marx
(from here)
Response by JCD:
Popular perception aside, Karl Marx is sympathetic to religious believers. Diagnosing a "reversed world" where the few have control over the many, Marx observes that Germany is a country that has never lived in a state of freedom, and identifies that the promises of its philosophy, which could bring that freedom about, have never been fulfilled, never been brought to a liberating fruition. When people are "mastered, ruled, [and] possessed" it is no wonder that they find consolation in religion; they have little else. (All italics are in the original.) In one of the more beautifully articulated critiques of religion, Marx writes, "Religion is the sigh of the oppressed creature, the heart of a heartless world, just as it is the spirit of a spiritless situation. It is the opium of the people." His criticism of religion, therefore, is not intended for the ultimate purpose of abolishing religion; religion will abolish itself when the "reversed world" is set right, and that will be accomplished when the organization of the state is corrected. "Thus the criticism of heaven turns into the criticism of the earth, the criticism of religion into the criticism of right, and the criticism of theology into the criticism of politics." It is, he writes a "positive abolition of religion."
While the majority of the selection deals mostly with the role of philosophy in Germany, the critiques of religion it includes are fairly mild, and do come across as quite sympathetic. Condescending, perhaps, but in a paternalistic, not vitriolic, way. Besides, is he not in some sense correct? Are not the consolations of religion some of the only consolations available to many people: people who struggle to put food on the table; people who are politically marginalized; people suffering from sorrows both minor and significant? Weren't the religious practices of African-American slaves in the American South a source of comfort to them in a culture that did not respect their humanity? Was that religion not precisely "the spirit of a spiritless situation," as Marx wrote? Do we not hear any number of people who have come out the other side of a tragedy claiming that it was only their faith that kept them going? Just so, I think, and thank God for it; consolation is consolation, in my book, and philosophical and theological speculation is a luxury unavailable in the midst of disaster. (It would be a particularly cruel 19th-century theologian who would go to a plantation and inform the slaves that, on the contrary, God isn't concerned with them personally.) And, in fact, it appears that Marx's prediction has come true: in many parts of the world a lack of religious affiliation seems to correlate with higher standards of living, and vice versa. Perhaps Marx was right, and religion will abolish itself after all. I doubt it, though; even Sweden hasn't been able to completely expel the lacrimae rerum from its shores, cleverly-designed and well-insured though they may be.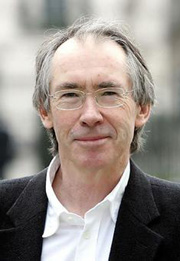 Ian McEwan
(from here)
Response by JH:
Taking up a similar theme to Hardy's "God's Funeral," H. L. Mencken's "Memorial Service" might also be called "A Eulogy for Forgotten Gods." Mencken selects and highlights the formerly dominant gods of defunct cultures. Ironically, he asks after their burial places, begging the question: where will our God(s) be buried when our civilization forgets them? "The hell of dead gods," Mencken writes, "is as crowded as the Presbyterian hell for babies." Such lines mock the certainty of our religious formulations and the deeds performed in their light. More than just the lost names of gods, Mencken lists human labors, large and small, conjured for the sake of these gods, and many of those are as forgotten as the gods themselves. The great weight of this selection, however, is meant to be carried by the list of names, like those found on memorial monuments to give one the sense of loss, even though those who bear the names listed are forgotten. The lists hammer home the contingency and variety of the gods we make, serve, and forget.
Of course, one wonders why the same could not be done with the names of nations. Mencken might have just as well listed theories of matter and change, from Heraclitus to Einstein. Perhaps he would have preferred to proffer a grand historical list of biological theories, from humours to synapses. Why not offer us a survey of architectural forms from little known and long forgotten cities? The contingencies of human understandings are wild, whether they be of the sacred or the profane. Ideas emerge, gain dominance, flounder, re-emerge, are forgotten, are rediscovered, are catalogued and studied. Some are marvelous and advanced, whether right or wrong. Some are primitive, though fruitful for further understanding. Some are merely stupid. Why should the ideas about God and religious life be any different? Mencken succeeds at proving a point about humility, though at first blush it seemed he was speaking of God.
Response by JH:
Ian McEwan's "End of the World Blues" is, despite its informal title, an elegant and nuanced meditation on the tradition(s) of apocalyptic social movements and their cultural resources, specifically the vision of John of Patmos recounted in the biblical Book of Revelation. McEwan notes in particular the recurrent strategies for managing the built-in obsolescence of any particular (often murderously) apocalyptic movement, including the secular versions manifest in the 20th century. Among them, he recounts the birth of the Seventh Day Adventist movement, both as an illustration of failed prophecy's resilience, but also to give some history to America's own characteristic apocalypticism. The Seventh Day Adventist brand will rear its head again at the end of the essay, as McEwan reminds us of the family resemblance the Branch Davidian sect bears with the whole history of apocalyptic movements: "...the strong emphasis on the Book of Revelation, the looming proximity of the end, the strict division between the faithful remnant who keep the Sabbath, and those who join the ranks of the 'fallen.'" McEwan hearkens to such contemporary instances, however, only after noting that we do stare into the possibility of our civilization's demise, only that we have the historical clarity to know and every experiential reason to believe that the God-who-is-likely-not-there will not intervene. As much as we are our own greatest danger, so too are we our own highest hope for salvation.
McEwan's essay insists the reader acknowledge the difference between the exigencies of fiction and the exigencies of fact. Just because projecting a reconciling and purifying end makes good narrative sense does not mean that conjuring and being faithful to such a fiction makes good sense in fact. It is frustrating, though, that he does not note the entanglement of fictive projections about the future and the forces for shaping how humans respond to the facts. He does note that science needs "its poet, its Milton," but he fails to expand on the necessity of such poetic mediation in moving human beings into the future. Certainly, he is right to fear and condemn apocalyptic hopes that flatten the difference between death and life, success and failure. Such thinly masked nihilisms are terribly dangerous. This essay gestures, perhaps most of all, to the empty space where more deeply moral stories could be told to move us into our future. On the other hand, perhaps Mr. McEwan believes that, when one traverses to that empty space, one will find his novels.
Response by JNH:
In this printed address novelist Ian McEwan critiques an apocalyptic fascination in the major theistic religions. By apocalyptic McEwan means either the destruction of the world or the violent purification of the world for the benefit of an elect group. To debunk the apocalyptic obsession, McEwan presents the history of doomsday prediction as an embarrassing series of failures. Because the impulse to rationalize or even decode apocalyptic literature has always accompanied efforts to help history reach its end, McEwan sees significant danger in allowing such trends to develop unchecked. Because Judaism, Islam, and Christianity all contain apocalyptic claims, McEwan worries that their interactions, particularly their universal claims and shared emphasis on Middle Eastern geography, could be volatile and their violent prophecies self-fulfilling. Ultimately, McEwan suggests that a lack of curiosity, especially scientific curiosity, is largely responsible for apocalyptic religion's impulse to resign itself to or encourage a violent end to humanity.
Conspiracy has the double effect of thrilling and giving coherence to an otherwise chaotic story. Apocalyptic number games and predictions similarly feed our yearning for plot, no matter how confused the story may be. But is the lust for coherent narrative so surprising when one's view of history is as linear as a single human life with its beginning, middle, and end? McEwan acknowledges that the human species feels its mortality as intensely as its individual members, and the future—the end—is the one thing in which we may have some authorial say. McEwan rightly identifies the all-too-frequent toppling from the knife-edge of eschatology into the apocalyptic. That is, when predictions and hopes calcify into unjustified determinacy. But this toppling is the freakish edge of authentic hope. Embedded in the apocalyptic mindset also lies a secret hope that comes with tentative messianism or cautious eschatology—or, as Jacques Derrida was fond of suggesting, the messiah is always coming, but never arriving. After all, even progressivist hopes predict a future utopia or at least hope for the coming of peace. Such a peace would be, in some sense, the end of history. If conflict is an essential ingredient of plot, then the advent of universal peace signals an end of both conflict and narrative. Perhaps this is why only narrative can accurately express the human longing for its own story; the hope that, as John Donne quietly prophesies; that death shall be no more; death, thou shalt die (Sonnet 72).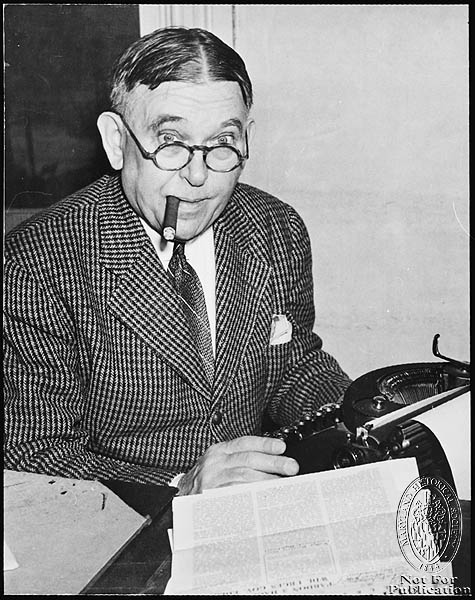 H. L. Menken
(from here)
Response by RBB:
"Memorial Service" by H. L. Menken is a remembrance of all of the gods who have died over the centuries—from Jupiter to Huitzilopochtli. Menken humorously remembers the ways in which these gods were worshipped with virgin sacrifices and the like as the one true God, worthy of praise. He mockingly says "lead me to the tomb" and the graves of these dead gods, pointing out that they do not exist, so forgotten are they. He asserts that dead gods have "company in oblivion: the hell of dead gods is as crowded as the Presbyterian hell for babies" (144). Menken points out that all of these gods once had their hey day of sorts; that human beings attempted for generations to figure out what they wanted, and worshiped them heartily, and yet they died anyway. He goes on to list over a hundred gods who once enjoyed prominence, and have disappeared into obscurity.
Menken seems to suggest mockingly in "Memorial Service" that the death of gods throughout the centuries is indicative of the fact that one day the Abrahamic God of the Christian, Jewish, and Islamic traditions will also go the way of Huitzilopochtli, joining the other gods of obscurity in hell for gods. I agree with the author that this may be the case, but that doesn't shake my own faith, personally, despite having aligned myself within the Protestant tradition. I think this piece of writing does nothing more than support the notion that human beings through all space and time have had the need to make meaning and order of their world through the creation of god-concepts. This enduring tendency of human beings to make meaning of their lives through some sort of theological lens, in my view, underscores the deep need for religious traditions rather than rendering them silly and irrelevant.
Response by JNH:
Mencken's essay is a litany for dead, forgotten, or now derided gods. He offers only one myth in any detail: Huitzilopochtli, a now obscure and apparently bloody Mexican deity who claimed the lives of thousands through human sacrifice. Mencken then lists dozens of gods once considered omnipotent and worshipped with as much devotion and fervor as the gods of contemporary religion.
At first blush the timbre of Mencken's brief essay falls somewhere between melodrama and slight sarcasm. However, he manages to convey revulsion toward each anthropomorphized deity as it dies or evolves into the next. Mencken is compelling because, with dark wit, he exposes the mortality of immortals by laying their names, like corpses, on the altar of contemporary religions: once-robust faiths that frayed beyond recognition and fragments of bloodthirsty gods that no one cares about anymore. That our gods have their origins in faded memory of Odin or Osiris rings like the death of legitimacy in the ears of believers. That our god could die is a dramatic myth, but that he could fade into obscurity, indifferently discarded like potsherds to be found by future generations, is horrifying. That our myths like their myths are mortal: this is madness. If origins of myth always return to the evolutionary processes of human beings, then all things religious are at stake.
Response by KGL:
In "Memorial Service" H.L. Mencken makes the points that gods are cultural inventions and that, when a culture dies, the gods die with it. The evidence for this is that either no one remembers past gods' names or the gods have become the butt of jokes. According to Mencken, gods enslave humans through their "demands and impositions" and religious activities are at best a waste of time and at worst the cause of needless suffering, sometimes on a massive scale (144).
While no one can deny the human suffering that has been caused by those espousing religious causes, Mencken's view of all religious practitioners as laboring unceasingly to satisfy whimsical gods ignores not only the benefits that religion has brought to societies and individuals, but also the fact that human abuse of religion is responsible for the suffering done in the name of a god. The image of the early church caring for victims of plague in Rome is much closer to the ideal of the Gospel of John's Jesus who came to bring abundant life than are photographs of Hitler's soldiers marching into a Berlin church bearing swastikas. Weighing the acts of compassion motivated by religious impulses on a scale against the atrocities committed in the name of religion is difficult and ultimately not useful. Humans cannot demand that gods and religions be abandoned while they hold their fingers onto one side of the scale; instead, humans must take responsibility for their choices.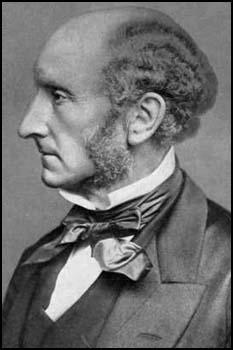 John Stuart Mill
(from here)
Response by BLT:
In this piece, John Stuart Mill begins by observing the essential, though complex, import moral education has for all of us. He shares with the reader the case of his father's evolution to religious disbelief on moral grounds, that is, on the grounds of theodicy, and says that, "[His father] looked upon it [religion] as the greatest enemy of morality . . ." (58). Thus, he goes on to detail his father's argument, from moral premises, against maintaining any belief in a God or gods. Furthermore, he notes that his father made it a priority to verse him, even as a boy, in ecclesiastical history, especially the Reformation, and the various views concerning the question of creation. Mill states that he was one of the rare cases of individuals who had not grown up religiously, and so never experienced religion as personally relevant. Yet, he notes that, although his father had instilled beliefs that were contrary to public opinion, he also encouraged the bad habit of keeping his thoughts to himself. He goes on to recount the moral convictions, which his father maintained apart from religion, much in the same vein as the Greek philosophers. Hence he observed that his father's life exhibited the qualities of the Stoic and the Cynic, and that he valued temperance and devalued pleasure a great deal. Mill concludes by briefly appraising his father's character: "All this is merely saying that he, in a degree once common, but now very unusual, threw his feelings in his opinions; which is truly difficult to understand how any one, who possesses much of both, can fail to do." (62-63)
Because this piece was more-or-less a look at his father's worldview, and not his own, I do not suppose that there is much in the way of a philosophical response to Mill that I can offer here. What can I say? Although there is probably little use in disputing the formative role Mill's father played in his overall development, I think Mill's childhood probably sucked, as it appears to have been absent of any imaginative indulgences. Moreover, I would guess that his father's atheism probably had much less to do with that development than did his moral austerity and indoctrination. Whatever the case, I have come to believe (though I may change my mind further on down the road) that the real pedagogical aim of a parent should not be to teach his or her children what to think, as Mill's father clearly had taken pains to do, but rather, to teach them how to think, which may or may not result in atheistic beliefs.
Response by CSA:
In this selection J. S. Mill described how his father impacted him through conversations and education. His father selected certain books for his son's intellectual and moral formation, but John Stuart claimed that apart from these readings, the biggest influence on his character development came indirectly from the way that his father lived. Mill described his religious belief as being 'neutral' all his life, as opposed to rejecting religious belief. He claimed that his father raised him to see the inconsistencies of a good God creating a universe with so much bad in it.
Mill does not claim any of his own morality to have come from religious teachings; however, he does leave open the possibility that moral teachings come from traditions and other ancient writings. Because he uses these other ancient sources, would he not also be open to the moral teachings that come from religious writings? He does reject belief in a God, but even so, I do not believe that is reason enough to discredit the moral teachings of all people who believe in supernatural beings.
Response by HJW:
Mill grew up with no religious affirmation because his father rejected religious belief based on logic, evidence, and morality and this influenced on Mill. Mill's father was a philosopher, who regarded religion as immoral. For Mill's father religions propagandize their creeds and beliefs, which cause disregard for genuine virtues. Religions exploit people's feelings of good and evil, which prevent people from thinking logically and rationally. Feeling does not decide good and evil, but right and proper actions.
It is unfortunate that Mill had no experience of religious belief. From religious belief, one can learn how to be sincere and honest. Mill's father was quite correct that religious belief could become a fanatical madness. This is why we need to raise theological concerns about the validity of belief and religious systems in every situation. In doing so, religion can keep the virtue of openness and tolerance. Moreover, Mill's father was right that feeling itself is neither good nor evil. However, action itself may be neither good nor evil as well, but the result of action can be good or evil. Furthermore, Mill's father mistakenly disregards feeling when it is actually an integral part of achieving a good result. Without desire to do good deeds, how can one achieve good results when there is a sweet temptation? Without willingness, how can one act right in a difficult situation? Willingness and desire are the passion of life and can be learned from religious belief as well. Proper religious affections will sincerely wake and stimulates human being's ultimate concern.
Response by KGL:
In "Moral Influences in Early Youth: My Father's Character and Opinions," John Stuart Mill puts out the call to other atheists to join him in dispelling public misconceptions that atheists are less moral than Christians by using the example of his atheistic father's life. In the process of describing his father's teachings, Mill argues that morality is not connected to belief in God for three reasons. Using the problem of evil, which drove his father to atheism, Mill unlinks God from the ideal of the good by illustrating how ignoring the reality of evil in a world created by a perfectly wise and good God forces God to become an enemy of morality. Secondly, Mill points out that the morals which society attributes to Christianity are not limited to Christianity, as evidenced by Socrates' writing (60, 61, 58, 61). Lastly, Mill argues that if "graces of character" are the marks of genuine religiosity, then atheists are as religious as believers (61). For Mill's father, actions have consequences which can be good or evil; therefore, motives have little significance while outcomes are of paramount importance. More importantly, Mill's father advocated and role modeled the virtues that promote human flourishing, particularly temperance and tolerance (62). However, the greatest lesson Mill learned from his father was the "equal freedom of all opinions," an opinion which unfortunately both Mill and his father dared not express publicly until after both their deaths (63, 57).
Just as Mill thought that many of his fellow religious skeptics were afraid to speak openly because of fear of weakening public morals, many church members who hold nontraditional theological viewpoints bite their tongues because of fear of shattering another's faith or of being thought less than faithful (60). They would rather be kind than right, but often the result is that they are nice rather than kind or right and open-minded discussion is avoided. As an example, I led an adult Christian education forum at my church which dealt with theodicy. One woman's response to the problem of balancing God's mercy and justice was that she simply did not want to discuss it because it would damage her faith. A man said he used times of trouble as lessons from God. When I pointed out that this viewpoint makes God a rather harsh teacher during times of excessive suffering, I was met with blank stares. When I suggested replacing anthropomorphic projections onto God with gratitude for the gift of creation, no one agreed or disagreed. While I learned many lessons from this experience, my biggest lesson was one that Mill's father also taught him: kindness is not avoiding discussion, but expressing opinions without intellectual errors and in a nonjudgmental way that affirms the individual (63).
Response by MG:
In John Stuart Mill's Autobiography the philosopher describes the influence his father, James Mill, had on his intellectual and moral development during his formative years. The excerpt from Mill's Autobiography opens with him recounting how from the very beginning, he was instilled with no religious belief. His father had renounced his belief in religion at a young age, and so though he had Mill read ecclesiastical history and study the Reformation, he did so to ensure that Mill reach an informed understanding of the conceptual dangers found in religion and the violences perpetuated by religion. A seminal text in James Mill's renouncement of Christianity was Butler's Analogy, which argues that the nature of this world cannot be reconciled with the Christian God. Concerning this, Mill writes of his father: "He found it impossible to believe that a world so full of evil was the work of an Author combining infinite power with perfect goodness and righteousness. His intellect spurned the subtleties by which men attempt to blind themselves to this open contradiction" (58). Mill writes that his father's moral centering bore great resemblance to the virtues as espoused by the Greek philosophers, and that the import of these beliefs was expressed all the more poignantly through his father's conscientious practice of them. This faithful adherence to moral principles leads to a point of contention with 'religion in practice' for both Mill and his father. Regarding the unreligious, Mill argues that oftentimes they are more religious in the true sense of the term than are religionists, and that in fact: "The world would be astonished if it knew how great a proportion of its brightest ornaments—of those most distinguished even in popular estimation for wisdom and virtue—are complete skeptics in religion…" (60).
John Mill's argument against religion rests heavily on the proposition that the true nature of an ideology can be judged by the success or failure of its practitioners to enact their espoused beliefs. Though, he also makes the move of reclaiming the word religion from the religious—taking the moral and ethical imperatives from religion and discarding the Divine (60). Mill's reasoning appears to be that there are better, more productive ideologies and ways of living in the world, and religion has not been one of them. To an extent this argument is sound. If there is no Divine creator, however, then all ideologies are creations of the human intellect, including religion. The failure of religion then does not rest with religious belief, but rather with its creators, its "unfaithful" adherents. Though Mill does acknowledge a human tendency to create ever more intolerant forms of the Divine, he fails to follow what such an assertion can say about human nature and instead chooses to focus on the effects of these failed human constructs.
Response by RLS:
Mill sets out to discuss problems with religious beliefs and to encourage people towards tolerance and acceptance of persons with varying beliefs. Much of this excerpt recapitulates his father's views on Christian creeds. Mill's upbringing did not involve "any religious belief" (57). His father had rejected "all that is called religious belief" by appealing to the theodicy problem and the logical contradictions of Christian dogma: How could a "good and wise being" be the "Maker of the universe"? How is the notion that a "world so full of evil" can be attributed to "an Author combining infinite power with perfect goodness and righteousness" tenable? Mill's and his father reject these beliefs via morality. Religion is a "mental delusion" and "the greatest enemy of morality," he notes. Christianity perverts morality into "doing the will of a being" that is "eminently hateful." Mill recalls his father asking him to consider "a being who would make a Hell—who would create the human race with the infallible foreknowledge, and therefore with the intention, that the great majority of them were to be consigned to horrible and everlasting torment" (58). Mill opposes Christianity because it ignores the contradictions and consequences of its creeds and fosters "blind tradition" (59). In light of this point he encourages a change in attitude. He hopes for religious persons to embrace liberality in discussions with those outside their camp. He encourages tolerance, equality, and the "equal freedom of all opinions" (63).
While reading this excerpt I found myself smiling. I know all too well what Mills is getting at: the resistance many religious people exude towards considering problems inherent in their claims. That the God of Christianity is believed to have created Hell and predetermined humans to dwell there for eternity is indeed a widespread tenet of Christianity. However, many Christians—those who think well—would not assert such nonsense. I like Mills candor and agree with his observations. However, he is not talking about atheism or God. He is talking about what people do with those ideas. He is exposing religious hogwash and he is correct. But I think it important to distinguish between the ideas and the way the ideas are employed; and he doesn't.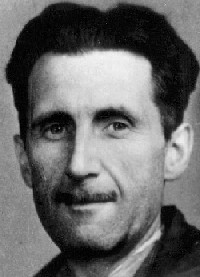 George Orwell
(from here)
Response by TK:
The clergyman's daughter, Dorthy, had come to the altar to take holy communion. She was focused on her environment, the carpet, smells, and other people, rather than the blood and body of Christ, the place where she strongly believed her focus should have been. Her father had the wafer for her to take, but she hesitated in fear of not being authentic. Dorthy's father did not notice because he was focused not on her, but on another woman, Miss Mayfill, who ensured that everyone saw her piety by her extreme movements and gestures of the cross. Dorthy just happened to see a green light come in through the doorway, as she was hesitating to take the sacrament. She saw something in the light and regained the ability to pray and took the sacrament with thanks.
This story seems interesting because Dorthy's original intent to find forgiveness before she takes communion is substituted by her prayer of thanksgiving. Her father holds the wafer for her to take as if it is a medicine, meant to cure her sins. Dorthy must know this, that her father feels communion is forgiveness, as she is herself trying to find a prayer of atonement. Her ability to transform in a way, and partake of the sacrament out of thanksgiving rather than atonement is intriguing. Reflecting on the apparent insincerity of Miss Mayfill, this story seems to draw out the question of necessity and creation that religion often forces upon individuals. If Dorthy wouldn't have been searching for a prayer, she probably wouldn't have ever noticed the green light in the way that she did. This story raises a few questions. First, does religion always draw something out of the individual that would have not been there otherwise? Second, is religions ability to demand a creation of both feelings and ideas ethical, harmful, or somewhere in between?
Response by RBB:
This excerpt from George Orwell's A Clergyman's Daughter tells a brief story about a flash of doubt that descends upon a clergy man's daughter in the midst of taking communion. She finds that her disbelief renders her unable to pray, or take the communion wafer into her mouth for a moment due to the "chaos in her heart". (166) Her ability to pray is quickly restored after she sees a flash of green light, that brings her back to a "process deeper than reason" (167). She takes the wafer, offering praise to the Lord.
I guess I'm not sure why this excerpt is in Hitchens' book. Every person of faith experiences similar doubt at one (or many) points in their religious life. The clergyman's daughter's faith is restored within moments of her doubting by a "process deeper than reason", which I suppose is a dig against all of those who trust in that process, and seems to suggest that the more doubtful moments this girl experiences, the more atheistic she will become. I beg to differ. I trust that all religious people experience moments of doubt; that these moments are signs of mature faith, not future atheism.
Response by KC:
This excerpt describes the crisis of faith when one does not feel connected to the divine presence. The piece follows the thoughts of the clergyman's daughter as she attempts to pray for forgiveness before receiving the Eucharist. She attempts to pray, but the words are empty. She feels the social pressure to follow the ritual and take the wafer, but is morally conflicted since her receiving of the Eucharist would not line up with her inner spiritual state. The crisis is resolved when the protagonist sees the beauty of the verdant leaves and bright light of nature returns her ability to commune with the divine. She finds peace where there was turbulence in her soul, and happily receives the wafer.
I'm skeptical that this is a piece of atheist literature. Although I've only read a page out of the entire work, what I read was a crisis of faith that was quickly overcome. Reading through my own lens, I read the story as a girl who felt disconnected from God. She was tormented by this disconnect and did not want to take the Eucharist, because taking it would be dishonest as her actions would not line up with her faith. For the girl, rituals are important because of the meaning behind them, and are worthless without that meaning. She was saved from this dilemma as she reconnected with God through the beauty of nature. As a result, she accepted the Eucharist and did not have to live with the hypocrisy of acting in opposition to one's beliefs or the social stigma of refusing the Eucharist. How is this read through an Atheist lens? I can't help but see this as a beautiful description of the relationship between doubt and faith. I personally view doubt as an important component of faith.
Response by FA:
In this novel, George Orwell is portraying the need of a God who can be more than just a dictator of morality. In the novel the author shows how the protagonist starts responding to God in a much clearer way when she encountered God with out the baggage of any myths, or perceptions. In the novel the author clearly shows how people respond to the idea of God when it is understood only through a single perspective. The author summarizes his writing by showing that the true way of responding to the idea of God is to make it free from any myth's or perceptions. For the author the only way to encounter God and respond to God is through the nature which is pure and not adulterated with any human thoughts or perceptions.
Through the novel the author is raising questions on the belief that God is the giver of morality and he punishes those who are immoral. I think the author would argue that the image of God as a moral giver is a myth and people should unpack this myth and evolve to a better understanding of the basis of morality. The author has touched the nerve of one of the issues that encounter all those who believe in God; which is the guilt of wrong doing and the shame and fear which is involved in punishment. I think the story was even more personal to me because being a Pastor's son I could relate exactly with what the author was trying to portray with his protagonist. I think one of the reason that most people believe in God is because of the belief that God can forgive sins and restore a person who has committed a sin. While I agree with the author's contention that we should evolve to a post- theistic basis for morality, I wonder how can we understand morality with out a moral giver. If morality is just for the survival in a community; why people are immoral and why would people want to take the risk of destroying the peace of a community if it is for his/her own survival? The question then boils down to the problem of evil. As a response to the author's argument, I believe that the idea of God should be understood in many different perspectives and not just one. I think in the novel the author only looked at God in the perspective of a moral giver. The author does not negate the idea of God but, argues that the idea of God should not be adulterated with the myth's of God being a moral giver. The question that this novel raises to my mind is how can we understand God with out the short comings that we have and we see in this world?
Response by APL:
In this short excerpt from his novel A Clergyman's Daughter George Orwell paints a beautiful picture of the dialectical relationship between faith and doubt that pervades even the most earnest of believers. This story gives us access into the inner spiritual life of Dorothy, a young priest's daughter, while she prepares to receive the Eucharist. While waiting to receive the elements, she tries to focus her heart and soul on God, but instead finds herself overcome by a state of doubtful impassivity: "A deadly blankness had descended upon her mind. It seemed to her that actually she could not pray. She struggled, collected her thoughts, uttered mechanically the opening phrases of a prayer, but they were useless…nothing but the dead shells of words…" (166). While Dorothy appears to be tottering on the precipice of doubt and disbelief, she nevertheless experiences a saving grace. Glancing out the side door of the church, she beholds a brilliant sphere of sunlight penetrating through the clouds and illuminating leaves upon the doorway. This magnificent sight fills her with a sudden rush of hope and joy, and she finds herself able to pray once again. The story ends with Dorothy praying with joy and thanksgiving as the communion wafer "melts upon her tongue."
I found myself intrigued by Hitchens' preface to this piece. He interprets this vignette as pointing to the "diminishing returns" of faith in the face of doubt. However, as a Christian I found this piece to be spiritually edifying and uplifting. Whereas Hitchens seems to interpret this story as describing the initial tottering of an edifice bound to crumble, one might just as easily interpret it as pointing to the often painful, though far from futile tension between faith and doubt. Christians have traditionally understood the sacraments to be conduits of divine grace. Some traditions even go as far as to claim that the divine is supernaturally present within the elements of bread and wine. Thus believers often find themselves in a state of spiritual vertigo prior to partaking of this ritual. The great Christian theologian Paul Tillich understood grace to consist of accepting divine acceptance, in spite of feeling oneself to be unacceptable. In my mind, this piece illustrated the possibility of accepting divine grace, even in the face of profound doubt.
Response by BJT:
In this excerpt from George Orwell's first novel, A Clergyman's Daughter, the "nonbelieving" reader experiences Dorothy's participation in the Eucharist from a privileged point of view—Dorothy's psyche. Immediately swept up into Dorothy's inner observations, the reader finds her kneeling at the altar anxiously attempting to offer a prayer imploring forgiveness before the approaching clergyman, her father, stands over her with proffered host in hand. But, alas, her attempts fail. Dorothy's attempts at prayer are mechanical and abundantly hollow. It is not a lack of awareness that brings Dorothy to this impasse for she makes numerous sensory observations, but it is a dearth of desire that generates the stillborn prayer. With the host hovering before her, yet with prayer unspoken, Dorothy contemplates fleeing the altar instead of incurring the condemnation that attends an impenitent reception of the sacrament. Fortuitously, Dorothy is spared embarrassment and condemnation by a "sidelong" glance that spies the radiating beauty of sunlight through verdant leaves. This "flash of living colour" breaks the spell of lethargy, and "by a process deeper than reason" restores "her peace of mind, her love of God, her power of worship" sending a prayer of praise crashing through her mind as "the wafer melted upon her tongue." (167).
Orwell's point is poignantly made by means of masterful contrast. In the first paradigm, Dorothy is reluctant to swallow the medicine of immortality due to her inability to generate a meaningful prayer of forgiveness. No matter how she tries to stimulate the prayer, her findings are drab and her efforts are futile. Boots "shuffle," voices "murmur," and she kneels on worn red carpet and smells "mothballs." (166) The regal "Body and Blood of Christ" accompanied by an intimated penal atonement theory is even an innocuous stimulant in her case. (166) In stark contrast, the second paradigm, which arises serendipitously, is overflowing with magnificent freshness. A "spray of leaves" is struck by a "spear of sunlight" making the doorway "gleam" a "matchless green," a green "greener than jade or emerald or Atlantic waters." (167) It is the vitality of nature that has the power to enrapture Dorothy not the staleness of human construction, theory, or fear. In its original setting, the depth of this pericope may be rushed over, but in the isolated setting of Hitchens' collection, Orwell's imagery is as potent as carbon monoxide to a canary.
Response by RLS:
Opening this excerpt, Orwell's main character, Dorothy, is praying. She is asking forgiveness before taking the Lord's Supper. Suddenly "the current of her thoughts" is interrupted with the immediacy of the Eucharist. She is nervous about partaking of the "Body and Blood of Christ." Still more, her father is the priest administering the sacrament. As the elements near her "a deadly blankness" overtakes her mind and interrupts her prayer. She tries to say the words of her prayer, but she fears the words are merely "mechanical." Her father approaches her. He extends his hand towards her with "the wafer," as though holding a "spoon of medicine." She cannot accept the sacrament because of the "chaos in her heart" (166). She gazes towards an open door. She looks outside. She is struck with the beauty of nature. The sublimity of sunlight, the greenness of leaves, and the appreciation for God's aesthetic sensibilities—"by a process deeper than reason"—, overpowers her fears. Forgetting her fears she feels free to take the Eucharist. Christ's body "melt[s] upon her tongue" (167).
Orwell does a good job of pointing out the importance of psychological factors involved in religion. Do we worry too much about sacraments and prayer and judgment from a 'God' we hardly comprehend? Perhaps. It is relevant that he shows how fleeting these religious states of mind can be, while also poignantly capturing their power over us. I too recall moments of intense distress while considering myself before Eucharist. If you believe you are in some way ingesting the body of Christ it is no small thing for your psyche to bear. But for me there is something about aesthetics more powerful than these moments. I was immediately caught up in the existential angst Orwell's protagonist experienced. I also cheered when aesthetics set her free!
Response by SRG:
Dorothy agonizes within herself before partaking in the Eucharist in this short passage. Orwell describes a moment within her unfolding crisis of faith in which she seems desperate to properly partake of the Eucharist but finds herself seemingly devoid of the capacity for prayer and bereft of conviction or passion. This hinders her appropriately taking the elements and drives her to ask forgiveness of a God to whom she does not seem to be able to pray. She glances to the side and sees an unconvincing, even pitiable, display of devotion by a genuflecting geriatric woman. Just as she begins to leave the communion rail rather than take the elements inappropriately and thereby incur divine judgment, she sees this marvelous ray of light, resplendent in spring's green. Somehow, she takes this to be a sign from the Lord, and finds it possible to pray and praise again. So she stays and takes communion.
Orwell skillfully fleshes out the woman's inner turmoil, to which many believers may be able to relate. Then as he describes the devout, decrepit old woman his subtle satirization of believers begins to unfold. His portrayal of a woman bound not only by an aging body but by fool-hearted belief is followed by one who desperately wants to believe but honestly finds it difficult. The ray of light may have had some deeper significance within Dorothy's experience, but in this passage it seems merely the aesthetic rapture that saves the heroine from her distress. Orwell masterfully depicts either projection and self-deception or a moment of mystical faith. Because he does not present an argument to be accepted or rejected but tells a story demanding interpretation, the literary format is a useful tool for talking about atheism.
Response by TTW:
Orwell gives an eloquent description of a clergyman's daughter, Dorothy, wrestling with "chaos in her heart (166)" over whether or not to take a sacramental wafer. She finds herself frozen before the altar, unable to pray, and distracted by the brute mechanics of her surroundings. She hears the shuffling of boots and the "clear low voice" of her father the minister commanding her to "Take and eat," she sees the "worn strip of carpet between her knees," and she smells "dust and eau-de-Cologne and mothballs (166)". These sights and sounds and smells overwhelm her and she is prevented from uttering an authentic prayer for forgiveness. But suddenly, a ray of light comes into the room carrying a green tint from the outside leaves it has passed through. Dorothy is miraculously renewed "by a process deeper than reason" and she finds it possible, "somehow, because of the greenness of the leaves (167)", to pray and to take the sacrament once again.
It is difficult to discern here just how Orwell wants his readers to interpret the ray of light that transforms Dorothy's heart at the end of the passage. Some readers might take it to be a true indicator of nature's mysterious and transcendent qualities that really do provoke faith within the human heart. Others might interpret Orwell as doing something a bit more cynical by suggesting that such a profound conversion could occur through such trivial means. I suspect the latter, that Orwell means to show that our hearts are easily captivated and swiftly changed when we are desperate for existential respite. I think that Orwell's description of Dorothy's journey, understood in this latter sense, is an accurate and stunningly realistic portrait of how the human heart quickly grapples and comes to term with its own chaos within.
Response by ZTR:
The excerpt from Orwell's novel finds the protagonist, Dorothy, about to be share in the sacrament of communion. As the moment of ingesting the "body of Christ" approaches, Dorothy is having an internal struggle with justifying her participation. She cannot find reason to partake; there is no meaning in her action. She desperately tries to think of something as her father approaches with the communion wafer. She panics, almost to the point of breaking her routine and not taking the wafer. If she did partake, she would be participating in a lie only to please her father and follow routine. As she looks through an open door, however, she glimpses a beautiful ray of sunlight peering through the clouds, giving color and life to nature outside the church. While beholding this scene, she is reminded of her love for God and of this sacrament. She is able to take the "body of Christ" with joy and thankfulness, praying with all of her heart.
In the introduction to this excerpt, Hitchens alludes to Kierkegaard's concept of a "leap" of reason. This concept has to do with accepting the existence and understanding of God and how one must have faith to believe in something irrational. Orwell illustrates this concept with Dorothy's struggle to find something that reminds her that the world is inspired by a higher power. I tend to have Dorothy's problem in times of misery and depression. How can a good God put trouble and pain in my life? Why does God not show God's self in my everyday life? How can I be sure that God exists and is good? I then realize the selfishness in these thoughts and recognize the way they attempt to tame and confine God in a convenient way that suits my needs. I have reduced God to a god of my desired success or a god my preferred answers. The journey and the mystery of life are dismissed, and along with them the present moment in which the most deeply satisfying answers arise spontaneously. Dorothy recovers awareness of the present moment in the beauty of nature and its colors. She panics over the loss of routine, familiarity but it is the sudden break of clouds that fills her soul with understanding. It is being aware of the "now" that provides her with strength.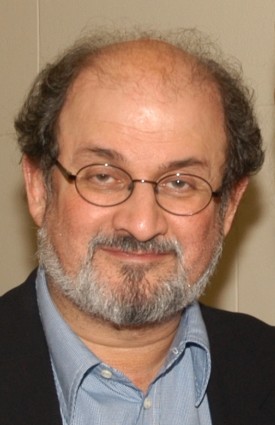 Salman Rushdie
(Photo by Kyle_Kassidy,
from here)
Response by JM:
In 1997 the UN sponsored an anthology of letters to the six-billionth person, projected to be born that year. In Salman Rushdie's letter he describes the pitfalls tied to belief in God. God is an alluring answer to the question: why are we here? But, taking this answer sacrifices your intellectual and ethical self, leading to a dangerously fearful view of others. Instead, Salman urges the newest citizen to be comfortable with the fuzzy and contradictory space of freedom.
Of all the things that you could tell the six-billionth child warning them about the close-mindedness that often accompanies religion is a worthwhile message. Salman especially has seen the damage that those mindsets can wreck. But he talks about "battling" such dogmatism. Is this the kernal of dogmatism within his own mindset? If I was just born I wouldn't want to be recruited on either side of the fight. But in Salman's world there is no third way, sorry six-billionth baby.
Response by JH:
In his letter to the sixth billionth living member of the human race, "Imagine There's No Heaven," Salman Rushdie raises two questions and offers one warning. The questions, which he views as universal responses to human life, ask, "why we are here?" and, now that we are, "how shall we live?" The warning offered is to beware the numerous failed answers proffered by religions. On bare factual terms, Mr. Rushdie notes, every religion has been just plain wrong about the answer to the first question. While he might go on to warn against the impending conflict from all these competing wrong answers, Rushdie instead warns against the violence (merely cultural and otherwise) that the purveyors of these wrong, religious answers effect against their own. This, to him, is the great "war of religion," and it is waged, not against the apostate (though surely them too), but against the faithful. As to the second question, he insists that, as H.L. Mencken is said to have quipped, for every complicated question, there is an answer that is simple. And wrong. Instead, Mr. Rushdie encourages the newest citizen of the world (and thereby all of us veterans) to select the more difficult, unsteady, and irregular path towards ethical behaviour constituted by a great secular conversation. This, Rushdie insists, is freedom and without such freedom, no authentic ethics are possible.
I wonder if Mr. Rushdie's inversion of the concept of "religious war" is not a preemptive evasion of the religious response to his warning. After all, such antagonism towards religion, even at its "most sophisticated," as not just factually wrong about where we come from, but morally wrong about where we ought to go, is to step into the fray constituted by the sort of "religious war" Mr. Rushdie wishes to downplay. The secularist has, in fairly short order, come to be haunted by broadly religious character of their commitment to an interpretation of the universe and a vision for the good life. Insofar as Mr. Rushdie finds that interpretation and/or vision is true and good, then he is called into the struggle for directing, in his one six-billionth contribution, to the direction of history. To be committed to participating in human history puts atheists like Rushdie where they least want to be: side-by-side with even the least sophisticated religious nonsense as one option among many. Perhaps Mr. Rushdie's opposition would be better effected by supporting and praising what he finds the humanly authentic impulses internal to religions, letting human accomplishment displace the nonsense on its own.
Response by DR:
To mark the ominous occasion of the human population reaching six billion people, Salman Rushdie wrote a brief, but potent essay addressed to that newborn. Rushdie draws his title from John Lennon's mind-expanding suggestion to "Imagine there's no heaven." The essay is loosely structured around two basic questions that have always plagued human beings, "How did we get here? And, now that we are here, how shall we live?" (380). These are generally worthwhile questions, but they are particularly important in this context because the inability of atheism to provide definitive answers is one reason why many people — including potentially that six billionth person — find atheism unappealing. Rather than trying to satisfy this desire for certainty, Rushdie implies that atheism's ambiguity on these two points is actually a virtue. Religious people dogmatically believe their own creation myths, but it's obvious that these ancient texts are themselves reflections upon a great mystery, not revelations of certain knowledge. Why not simply admit that we don't know and wait for relevant scientific information? Likewise, Rushdie questions whether the black-and-white clarity of religious morals is really a good thing. Morality is always "fuzzy," so the most rational approach is to demand that people think for themselves, participate in cultural discussions on controversial issues, and take responsibility for their actions. Clarity, Rushdie seems to argue, is a false value; better to favor the freedom and intellectual honesty of unbelief.
Rushdie's essay is so beautifully written it makes me wish I was the six billionth world citizen! His deep empathy is tangible and, combined with unmistakable sincerity, it persuades without argument. Of course, it doesn't hurt that the piece is a rhetorical gem. By replacing the conventional phrase "God-forsaken land" with "God-ridden land," Rushdie encapsulates into three simple words his thoughts about the perilous connections between religious authority and social health. Many of his comments reflect the pain of someone who has moved from religious insider to outside. For instance, there is no doubt that the following statement reflects personal experience: "[Your stories] will be called the heart of your culture, even of your individual identity. It is possible that they may, at some point, come to feel inescapable, not in the way that the truth is inescapable, but in the way that a jail is" (381). Rushdie's heartfelt pleading compels us to "Live in your own time" (383) and his courageous voice helps us to feel just how beautiful "the world undogmatized and plain" (ibid.) can be. In that sense, his essay pays a worthy tribute to Lennon who also helped people imagine that life could be full of hope and goodness even with God and his paradise.
Response by TK:
In "Imagine There's no Heaven," Rushdie writes a letter to the six billionth person born in the world. The letter begins with a caution in respect to religion. First, Rushdie warns that living religions require a dangerous degree of participation and imprison life. Then Rushdie explains that current human knowledge has shown these religions to be false. Next Rushdie blames religion not only for overpopulation but also for the spread of sexually transmitted disease. Religion is and will continue to be the cause of war and death. Rushdie goes on to talk about morality. He explains that religion might make ethics an easier task, but it also turns morality into a markedly dangerous black and white game. Freedom, Rushdie argues, requires a conversation about the ethical rather than a clear answer. He concludes by saying that, without an idea of heaven, the world is more free.
This is an interesting letter to read. My first impression is that it is quite pessimistic. Rushdie seems to think this six billionth person born in the world would be better off not knowing any religion at all. I find this a difficult conclusion to reach. Rushdie has made some clear assumptions about religion and the main goal of the institution, which, according to the letter, seems to be heaven. It seems to me that this letter might be more effective if, rather than attack religion and then encourage one to forget the idea of a heaven, it made a positive attempt to explain a brief history of religion and then encourage one to re-imagine heaven as something present. The negative nature of the letter was quite a turn off for me at least. Even though I could resonate with many of Rushdie's critiques of religion and don't disagree with his conclusion, I find myself wanting to argue against the attacks he aims at religion because of the way he frames them rather than their merit. Even though I disagree with the nature of the letter, the idea behind the letter does seem like a message we should hear more often, even in the religious context.
Response by FA:
In his letter to the six billionth world citizen, Salman Rushdie describes how human beings have made blind faith central to determining their existence in this world. Rushdie claims that religion is seductive and can claim the heart of one's culture and individual identity. Rushdie argues that the sacred texts of different religions often claims to solve the great mystery of human existence and uses those text to take control over people. Rushdie believes the real war that religion has unleashed is the "sphere of influence," the sheer control that religion enjoys over the lives of people. Religion unleashes war against the minority – the unbelievers and those who disagree with its ideals and practices. So, the author's advice to the sixth billionth world citizen is that he or she should not look into religion for the answer of existence because human understanding about truth is imperfect and cannot lead to the ultimate truth.
This excerpt is a creative piece of work that expresses a thoughtful critique of religion and the way it has been perceived. I agree with Rushdie that religion can be misused to take advantage of people by the sheer control over people that it permits. I think it is important to note that Rushdie does not question the authority or the power that has enabled human existence but he does question the myths about the existence of human beings that have been developed through blind faith. I think Rushdie does a good job of unpacking those myths. But my critique of Rushdie is that he stops with unpacking myths and with critiquing the blind religious faith that produces such myths. He has not gone forward in seeking wisdom or truth about the meaning of human existence. I agree with what Rushdie argues about imperfect human knowledge. Rushdie says "Imperfect human knowledge may be a bumpy, pot-holed street" but then in the next sentence he seems to contradict himself when he admits that "it is the only road to wisdom that is worth taking." I think it is ironic that the only way to find or even come close to the truth is to go through all the imperfections of this world. Thus, after reading this article I do not agree with Rushdie's conclusion that the answer to the question of human existence is not to imagine that there is no heaven; rather, we should unpack the myths of heaven and search for the truth about the meaning of human existence through the imperfections of this world.
Response by CSA:
In a letter to the soon-to-be six billionth child, Salman Rushdie wrote to express his fears about the world into which the child would soon be born: a world filled with wars and problems caused by religious belief. Rushdie does not explain the reasons for his atheism, but he encourages the child to not even consider an alternative. His main points of contention with religion are its tendencies to cause war, its officials who claim authority and try to monopolize morality, and its overall oppressiveness.
Rushdie writes with a lot of anger. The way in which he dismisses all forms of religion is so abrupt that it leaves no room for any sort of exception. I find that it is harder for me to listen to and meditate on the ideas of an author when he or she seems entirely shut off to any sort of dialogue—and that is what I experience when I read Rushdie. His matter-of-fact writing makes claims, leaves no room for discussion, and insults anyone who doesn't agree with him. I suppose that in a longer article he might possibly have room to be gracious.
Response by ERD:
Salman Rushdie begins his letter to the six billionth world citizen with two questions he or she will be faced with: How did we get here? And how shall we live? Framing his letter around these two questions, Rushdie takes the first question as an opportunity to introduce and dismantle the concept of religion and the second question as an inquiry into the nature of morality. He tells the new citizen that one of the first things they will face in this world is the presentation of some grand Being that exists beyond their perception and comprehension. This ineffable part of reality carries with it certain stories about how this world and those of us in it came to be. They will be elaborate and exciting stories, but Rushdie warns that one cannot respond to them as literature since only stories belonging to "dead" religions can be literary. These stories will come to define the new citizen culturally and individually, and over time they may feel restrictive and limiting. Rushdie then identifies these stories as the basis for religion, a source of great evil (and some good) in human history. Despite these stories being completely disproved, religion carries on under the blind faith of its followers, leading to overpopulation, premature deaths, and the wars that will define our world for the next several decades. Specifically, Rushdie notes that the wars of religion are not massive clashes of civilization, but more often the violent oppression of another religious group within the dominant group's realm. To go against these tendencies, though, would be to choose mind over dogma, and human knowledge over religious stories, a task Rushdie believes is easier than one thinks. When it comes to matters of morality, the second question for concern, Rushdie puts it in perspective; one can chose to listen to oneself decide or one can listen to a law-giving entity outside of oneself. He questions whether self-morality inevitably leads to the sort of cultural relativism that has lead to inexcusable acceptance of terrible human rights violations. He answers by saying that even though freedom is fuzzier than hard-line ideology, it at least allows for a realm in which such matters are open for discussion, thereby allowing the innate morality of humanity to step in. Rushdie ends by telling the new citizen to imagine no heaven, to put away the stories, and to grow up and govern ourselves.
I am disappointed by Rushdie's article and believe his personal history and relations with religious extremists have tainted his view, causing him to mislead the six billionth world citizen on the nature of religion. As a brilliant and well-read writer, Rushdie should know better than to limit religion to the cartoonish caricature he portrays in this letter and in doing so he comes across as elitist and somewhat ignorant. Rushdie's strong craft in writing has allowed him to deliver this letter in a subtle tone that may seem innocuous on the connotative level, but his dismissal and prejudice of religious people comes across as mocking. It's as if every time he chooses to mention that religion has done some iota of good in this world, his sentence ends with an understood condescending, "bless them." On the content level, his over-simplification of religious stories and their foundational structures for belief is not only disingenuous but dangerous. Disbelief in a religious system does not permit ignorance thereof, and blatant misrepresentation of a belief system's stories elicits scorn and ridicule on the same level that Rushdie is criticizing religious believers. Rushdie's inverted perennialism encourages the reader to brush aside all religions as the same damaging forces that once every few hundred years pull off a good deed but otherwise act as prisons for our minds. I am confident that much of Rushdie's bile toward religion stems from his own dealings with extremists and it only serves to weaken his argument for a post-religious society. In the end, even his final solution of just listening to the song, putting religion away, and "be[ing] the policemen of our liberties and behavior" (383) sounds glib and distantly idealistic. I believe Rushdie's promotion of atheism fails under the same analytic and critical thinking his article espouses.
Response by JNH:
In his letter to the six-billionth child in the living global population, Salman Rushdie presents a plea to a new generation to advance beyond religion and commitment based on blind faith. Rushdie, himself a target of religious violence, cites religion's history of begetting war and injustice in the name of gods who, in all probability, are not there. With other like-minded thinkers Rushdie highlights dead gods and their cults as case subjects in a religious history strewn with discarded deities. He ends his essay with a call for honest, peaceful engagement with one another as we float in a lonely cosmos.
Rushdie's polemic is effective but contains a serious flaw. To paraphrase a single line, he admits that we may appreciate past religions for their beauty without much danger. Contemporary religion, on the other hand, requires more of its supplicants than it can justify with the aesthetic. I do not think that an argument should so easily sunder the aesthetic and the ethical. Certainly, religion persistently bewitches our species. Yet it is not enough simply to admit that its lure is vaguely connected with evolutionary processes: the question remains far too beautiful and terrible to ignore its meaning. Rushdie and others fall into the trap of reducing religion to a dynamic of fear and power rather than understanding it as a response, quite appropriately, to the sublime. In its most neutral interpretation religion is a structure of meaning referring to something that appears unnamable. Still, Rushdie is far too quick to dismiss its ambiguity as childishness. Rather than seek meaning in a compelling system of beauty and ugliness he abandons the question altogether by severing it from morality. This is all well and good if one is willing to abandon the call of the aesthetic in favor of a truly ascetic ethic. But an artist should know better.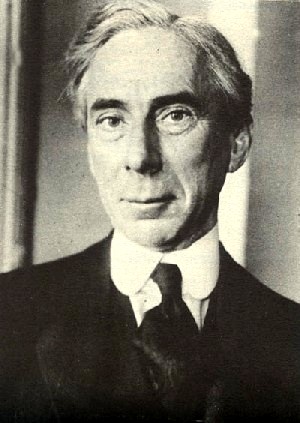 Bertrand Russell
(from here)
Response by MS:
Bertrand Russell's "An Outline of Intellectual Rubbish" is exactly that-- a history of man's failure to be rational. The history mostly centers on people in power effectively convincing large populations to continue degrading a minority, whether that minority be based on religion, ethnicity, or gender. Russell paints these unfortunately true episodes against the backdrop of religious or political leaders and philosophers who insisted that the minority group be punished for some sin that occurred long ago, such as Jews being persecuted for the death of Christ, or women being denied rights because of Eve's unfortunate penchant for apples. He recognizes that not all absurdity comes from religious belief, but that much of religious thinking is driven by opinions that contradict one another.
Russell's article is a delightful read, as he wrote with a gentle sense of humor. I think his piece would be soothing for unbelievers, as he moves quite quickly through sometimes humorous, sometimes sad episodes where religion has led to logical fallacy. For the believer, Russell seems to be issuing a challenge of sorts. He seems to be asking if theologians realize that their metaphysical claims can't be empirically proven, or if they realize that their sets of claims have internal contradictions. While Russell seemed content to chuckle fondly at the ridiculousness of human reasoning in general, he certainly had a bone to pick with the effects of faith on reasoning, but he never quite reached a level of hostility.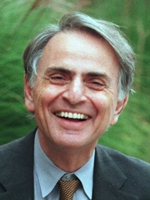 Carl Sagan
(from here)
Response by KC:
Carl Sagan's The Demon-Haunted World traces the belief in demons from Socrates' writings in antiquity through the late medieval period. Sagan also discusses the witch-hunt obsession as a way for the Church to permit mass murder and profit from it. He uses this history lesson to argue that although we do not believe these things today, we are not truly separated from such superstitions. Sagan highlights the fact that religions will still charge their opponents with "sorcery" and the mentally ill are still referred to as "demonic" (225). In the last paragraph, he relates these demonic beliefs to the UFO stories today in order to claim that the only way we can hold onto religion in modernity is if we still believe in the reality of demons.
I was left wondering, how does this fit in today? What exactly is the critique? Sagan seems to set up the critique that the religious created a God of the gaps with the entire supernatural world and God is the only entity left. He seems to want to say: "look, you've believed silly things for ages, why are you hanging onto God?" He assumes that the religious are deluded, and the only way they could be so deluded is if they still believe in demons and thus need the saving grace of religion (namely, Christianity). I found Sagan's argument and point to be vague and difficult to follow.
Response by JM:
This piece is a brief history of the belief in demons. The history opens and ends with allusions to the idea that belief in aliens is the modern manifestation of this ancient belief in demons. But if this is the thesis that Sagan is trying to argue, it is not adequately developed. Instead the piece is a litany of horrendous actions caused by the belief in demons. The piece culminates with a description of the "Hammer of Witches," a defense of and tutorial for the torture of witches. After reading this piece one is left with a feeling of disgust at the horrors caused by superstitious beliefs and fears.
I wish I had not read this piece. My childhood memories of Sagan walking with me among the stars have been replaced by this tour through the wretchedness of humanity. Sagan does not make a direct link between the belief in demons and religious belief. Nor does he take a specific stand as an atheist. But is obvious why Hitchens would include this selection: it is impossible to not have a visceral repulsion to the violence people have condoned with religion.
Response by ERD:
In "The Demon-Haunted World" astronomer Carl Sagan takes on the wild superstitions of religious, specifically Christian, belief by establishing a parallel between religious belief in supernatural demons and belief in aliens. To do this, Sagan lays out a condensed history of demons in the Western worldview. Originally demons were neither supernatural nor evil at all, merely intermediaries between humanity and the gods. Demons were not given the qualities of good or evil until the later Platonists formulated the idea, an idea that was absorbed by the early Christians and taken to the next level. Augustine fully vilified demons, presenting them as animalistic creatures who prey on the weaknesses of humanity, spawning witches with unknowing human victims. Pope Innocent VIII later embraced these notions and set the wheels in motion for extensive witch hunts that epitomized the brutality and harsh consequences of superstitious belief. Sagan describes an entire civilization turned upside down over the fear of demons and their spawn. The fear never fully ceased, merely giving way to a more restrained and localized fear of that which is beyond our perception. Sagan specifically points out the similarities between demon possession stories and modern alien abduction stories, culminating in a rather opaque conclusion. In the end, he wonders, do we have an alternative to these sorts of belief or are we programmed that way?
For all the significant, important, and intellectually stunning contributions Carl Sagan made to scientific literacy, his role as the soft-spoken bulldog of scientism has always confused and bewildered me. In this particular piece, his thinly-veiled attack against religion, specifically Christianity, is not only weak, but incomplete. He attempts to force a comparison between demons and aliens, engages in tired and ineffective historical critiques of religion, and ends with questions that exempt him from committing to the attack he just levied. Right from the start Sagan's premise of correlating religious beliefs and aliens through the tool of demons has too little weight. Since Sagan helped set up and promote SETI, it's difficult to swallow his insinuation that superstitious beliefs aren't real because aliens aren't real. Also, the comparison fails on his own historical grounds because, to my knowledge, alien abduction stories have not led to anything remotely resembling an inquisition. This brings me to my second criticism. Playing the "Christianity has a rough history and popes are immoral" card takes all freshness and creativity out of his presentation. I understand his attempt, but the history of science isn't so rosy, either, and thus at best the result is a null argument. Finally, Sagan ends this piece rather inconsistently and incompletely. He suggests that in order even to understand the nature of religious belief, we ourselves must believe in these demons, embracing the worldview he has just spent the last few pages belittling. Again, I do understand his attempt to throw in the uncommitted soft-spoken voice at the end, asking us to consider such a "strange" worldview from the outside, but it seems to throw off his whole argument. Instead of a strong conclusion or confident suggestion for progress, Sagan's questions create a defeatist and overly passive tone to the piece. It is a weak argument from a brilliant man.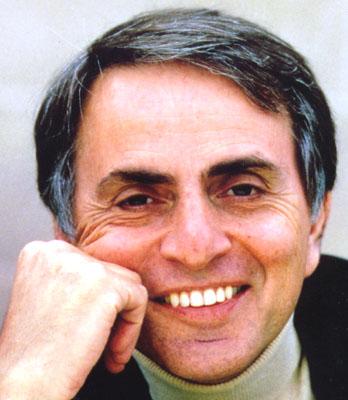 Carl Sagan
(from here)
Response by DR:
Sagan begins his discussion of "The God Hypothesis" by noting that "God" is a very ambiguous word. When most Jews, Christians, and Muslims speak of "God" they refer to "some being who is omnipotent, omniscient, compassionate, who created the universe, is responsive to prayer, intervenes in human affairs, and so on" (227). However, Aristotle thought "God" was entirely unconcerned about human affairs and the famous 20th century theologian Paul Tillich denied that God was a supernatural being. In addition, people from other cultures around the world think of God in radically contradictory ways. Many in India imagine God — and believe they experience God — as a blue being with an elephant head. In Sagan's words, "the subject seems to me to be somewhat confused" (227). After this introduction, Sagan offers mostly routine rebuttals to arguments for God's existence (230-5). Particularly well-stated is his rejoinder to Kant's moral argument. Like crocodiles that guard rather than eating their eggs, human morality is based upon naturally selected instincts that powerfully motivate social cooperation (233). Arguments from religious experience also fail because of the diversity of beings encountered in such experiences and the fact that ingesting drugs can often produce religious experiences (235). After mentioning the problem of evil, Sagan concludes by pointing out how easily God could have confirmed his existence. From dictating scientific knowledge to the authors of diverse religious texts, to writing the Ten Commandments on the moon, to placing "a hundred-kilometer crucifix in Earth orbit" (238) — if God wanted to communicate his existence to us, it would have been incredibly simple.
For some reason I always associated Carl Sagan with the type of scientific reductionism that is needlessly hostile to and hopelessly ignorant about religion. I happily repent of my presumption! What most impressed me about this essay was Sagan's understanding of religion.
With so many atheist scientists speaking about religion as if Evangelical Christianity was the only game in town, Sagan's basic sophistication was quite refreshing. Not only did he acknowledge that many theologians like Tillich do not think of God as a supernatural entity, he was also clever enough to think that other religious traditions like Hinduism might have something relevant to say about God — a revolutionary idea that has still not occurred to some professional theologians. Sagan also scores points for presenting clear and strong arguments against theism without lashing out against religious people as if they are his mortal enemies. Instead, he remains convivial throughout, even displaying a good-natured sense of humor. Especially in the concluding section where Sagan lists ways God could have proved his existence, Sagan demonstrates that he is not an atheist who hates the idea of God, simply one who doesn't think there are any good reasons to believe God exists.
Response by TBM:
In "The God Hypothesis", Carl Sagan introduces the perspective of natural theology, which he defines as knowledge established by reason, and not by authority or revelation. He looks from this perspective at arguments for the existence of God. He examines the cosmological and ontological arguments, and arguments from consciousness, experience, and design. He finds these unconvincing and says "It is very much as if we are seeking a rational justification for something that we otherwise hope will be true" (pp. 235). He sees the problem of evil and the need to struggle to believe as further evidence that puts the existence of God in doubt, and he gives several examples of how easy it could have been for God to give clear evidence of God's existence.
Along with examining traditional "proofs" of God's existence, Sagan discusses the range of ways in which God is envisioned. He makes that point that, with Albert Einstein's view of God as similar to natural laws, virtually everyone could be seen as a believer. And, with a view of atheists as "anybody who doesn't believe exactly as I do" (pp. 226), the pool of atheists might be equally as large. Apart from the small number actively opposed to traditional Western (mostly Christian) religion, the term "atheist" has little value. It implies an accept/reject position, with respect to a concept (God) that is inadequately defined. Richard Dawkins made the point that, as we admit disbelief in Vishnu and Zeus, most Americans are atheists. The only question remains "which god(s) do you not believe in?" A mirror question should also be asked. When Gallup polls and other surveys claim that more than 90% of Americans believe in God, they include those with such fundamentally different views as a God who is active in the world (including literal actions described in the Bible), to a non-involved deist god, to a vaguely defined "higher power." To give a more accurate sense of what people really believe, they should not ask "Do you believe in God?" Instead, they should ask, "Which God do you believe in?"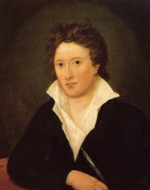 Percy Bysse Shelley
(from here)
Response by HJW:
The presupposition that the universe is designed implies that there should be a Creator. However, this is a false presupposition because the creation of the universe cannot be properly proved according to Shelly. For Shelley, one should rather assume that the universe is eternal because the power and effects of the universe are incomprehensibly unlimited. Moreover, there are different kinds of energy and effects, and they are too diverse to think that they have the same source. In fact, there are certain orders and laws in nature to which these energy and effects are subject. The universe is harmoniously running based on those orders and laws of nature. Some are good and some are bad in relation to human beings. The universe is neither good nor evil in itself since good and evil only make sense in relation to human beings. In the same way, the term God has been invented and certain qualities are attributed to the imagined object. Hence, God means nothing, but is a word of abstraction.
Shelley was brilliant to draw these inferences in the late eighteenth century, when scientific technology was not yet good enough to come up with contemporary theories like a big bang theory. There are several theories that attempt to explain the beginning of the universe such as the big bang theory or multiverse theory. Shelly was correct to place the category of good and evil in relation to human beings. Moreover, it is true that the term God expresses certain qualities by virtue of how human linguistic systems work. We invent a word, and we attribute certain qualities to that which we take the word to refer. This does not mean, however, that the qualities do not exist. Shelley refers existence to a form of material only, but we may say that 'love exists!'
Response by MG:
In Percy Bysshe Shelley's text A Refutation of Deism the writer works to expose the fallacies and inherent contradictions espoused by religion. In the excerpt provided, Shelley begins by exposing the human tendency to assert the existence of a Divine Creator as simply an uninformed response to the complexities of the natural world. He likewise asserts that the human postulation of an intelligent Designer in response to the systematic harmony of the universe is really a projection of the human intellect onto these empirical observations. From this Shelly argues that, through such reasoning, the same questions regarding the perfection of the Universe in its operations and the question of its origin must then be applied to this postulated Intelligent First Creator, which leads to an infinite series of ever more perfect gods and a complete disregard for empirical knowledge. Presuming the absence of definitive proof for an origin of the Universe, he concludes that it is a far more plausible hypothesis that the Universe has always existed. In addressing causality, Shelley states that it is nonsensical to attribute all the variability of effects in the world to one Divine cause. He writes: "It is vain philosophy that supposes more causes than are exactly adequate to explain the phenomena of things," and "The laws of motion and the properties of matter suffice to account for every phenomenon, or combination of phenomena exhibited in the Universe" (53). Turning to the perceived suffering and evil in the world, Shelley claims that these are simply derivatives from the human tendency to establish biased relational categories, such as a preference for order over disorder. Finally, Shelley argues: "There is no attribute of God which is not either borrowed from the passions and powers of the human mind, or which is not a negation" (55).
Shelley makes three assumptions during the formulation of his argument that I find problematic. The first relates to the necessity of natural laws, the second to the inherent intellectual and moral character of the Atheist, and the third to the implicit limits of human reason. Shelley himself admits to the continued mystery behind the functioning and ordering of natural laws, however he asserts that these principles are fully accounted for by our current understanding of the law of motion and the properties of matter (52-53). In defense of his attacks on religion, Shelly writes: "It is among men of genius and science that Atheism alone is found, but among these alone is cherished an hostility to those errors, with which the illiterate and vulgar are infected" (55). This defense reads as pure rhetoric, and discredits any human experience that does not originate from a privileged education and an elite intellect. Finally, Shelley makes the argument that there can be no evidence of the existence of God as deduced from reason (56). However, he appears to allow for the possibility of reaching some form of understanding of the Divine through personal revelation (55). I would argue that when Shelley allows that some form of revelation of the Divine could be possible, but stipulates that this experience is mutually exclusive from human reason, and then throughout his writing discredits any form of knowledge derived from revelation, he creates an inconsistent picture of both the laws governing the Universe and of the nature of human experience.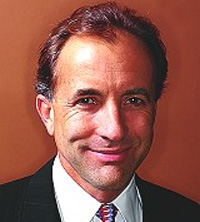 Michael Shermer
(from here)
Response by AS:
In a careful retelling of the Genesis creation story, Michael Shermer spins the delicate formation of the cosmos, earth, animals, and humans into an almost accidental pastime for God. Shermer adds in both the details from a literal reading of Genesis and a scientific account of natural history, which leaves God creating fusion light makers that are timed so that they aren't too old before their light reaches the earth, God planting fossils in the earth that appear to follow Darwin's theory of descent with modification, and God creating professions such as theologians, anthropologists, and mythologists to explain the confusion that God was aware of creating.
Shermer's version of Genesis is an amusing way to point out the commitments a literal reading makes, namely, that science is wrong. If one reads the Bible literally, Earth must be a planet that is too young for the processes biology and geology use to describe the formation of the state of affairs we see today. If Earth is too young, those processes are wrong and must be revised, and the evidence supporting them must be explained, hence the planting of fossils. Shermer's God notices this to be confusing, because it is confusing. I'd rather have a sacred text that I'm not sure how to interpret than a deceptive deity whose supposed word I could never trust at all. An intellectually honest Christian ought to take into account empirical evidence that runs counter to his or her (meta)physical assumptions.
Response by FA:
In this article Shermer creatively narrates the creation story from the perspective of science. He uses his imagination and touches on the creation of human beings, galaxies, animals, and other things that we see in this world.
This article helped me to read the biblical creation story in a different perspective. It is interesting that the author writes the creation story in the perspective of God "creating things." In that perspective I can see evolution as created by God and still be a creationist. It was interesting to imagine that the Big Bang was created by God. I think such a perspective helps us to understand that the biblical creation story is also creative thinking of a person about the divine creation of the world. I enjoyed the humor of the author because it helped me to be more engaged in the article (e.g. the creation of theologians and God becoming tired and creating a weekend).
Response by CSA:
Attempting to emphasize the absurdity of a six-day creation narrative, Michael Shermer describes what the Genesis story would look like if it were consistent with today's scientific understandings of the origins of the universe. He gives scientific explanations of light, galaxies, continents, animals, and people, and also provides cynical answers to questions that are posed by so-called young-earth creationists (people who accept the biblical age of the universe, about 6,000 years, as being literally correct). Shermer claims that the fall in Genesis (the severed relationship between humankind and God) is due to humankind's skepticism, and he scoffs at the absurdity of imagining that God would be angry with people who use their reason and intellect to reach conclusions that contradict literal scriptures.
Shermer's wit must make even the most stubborn young-earth creationist laugh. Although his intention was to jeer those who believe in a creator God, I could see this piece supporting arguments for a cosmos with no creator, or—depending on who is reading it—a cosmos with a great creator. A person who reads the account in Genesis literally could read Shermer's account and say, "yes, the fact that God is able to create everything like this truly does attest to God's greatness." However, that type of reading still requires one to close one's eyes to the glaring inconsistencies that Shermer points out. The intended target of this piece is very limited and detrimentally so. Can a claim that there is no God be based only on a couple chapters of scripture, in the Christian and Hebrew Bible, as understood and interpreted by a small number of believers? Though I do not think this piece does much to refute the idea of a belief in God, or even a creator God, I do believe that it does a good job of pointing out the impossibilities of a literal reading of the creation account.
Response by ZTR:
The story of how the universe was created has been debated over for centuries. Science claims one scenario, religion another. Michael Shermer articulates this argument in his own version of how the world was created. Using a very scientific explanation for the steps of creation and evolution of this planet, there is also an element of a personified God controlling these reactions and steps, as part of a divine plan for the universe. Starting with the big bang and its consequences about six thousand years ago, there is the presence of God carefully creating all of these processes; however, there does not seem to be any reasoning in this story about the purpose of creation. Next creating the galaxies, stars, and their steps of development outside of Earth, and then forming the natural process within our planet, God becomes tired of "creating." It is after all of this that God creates the creatures of the planet with perfect precision. It seems as though God is done, according to Shermer, but then God also creates misleading evidence to confuse human beings about the origin of creation. Finally after the process is completely finished, God decides that everything is good, and creates the weekend to relax. In this cosmic comedy, the concept of an intelligently designed world is being questioned as rational or unreasonable. It is a well formulated and poignant essay that shows the humor in trying to incorporate a scientific worldview into the Genesis creation narrative framework.
It is difficult explain the existence of God from a scientific perspective on how the universe was created. Is it really essential for a creationist to accept a universe that was designed with specific intentions? Does accepting the scientific worldview destroy God? It is a very scary thought for some believers. Michael Shermer shows just how strange the creation story is. It is central in the faith of a strict, fundamentalist Christian to believe in the sacred Biblical scriptures as fact. With this deep belief, for one to admit that the scientific explanation has some validity, would mean that science has finally caused religion to submit or "tap-out" in this interdisciplinary wrestling match. This would not destroy religion; it would only affect some Christians' image of God. This humanly, usually male, personified image would be lost, along with the concept of a more advanced being or creature controlling of our daily lives. With this transformation, the believer takes a step into mystery, deepening their sense of God by defining goodness, love, hope, or ecstasy and creating a more meaningful sense of God. There is room to grow and say God does not directly interfere in our lives, but is the essence behind kindness and hope for what is right and true. Then, the intentions of a believer focus less on defending a story and the book that contains and more about finding reasons to help and be in communion with people. The believer should not be na´ve or obstinate in approaching science. Coming to this realization can be disrupting and upsetting, but beyond that is a sense of liberation; acknowledging reason and helping the believer grow in their faith by more honestly defining what God is.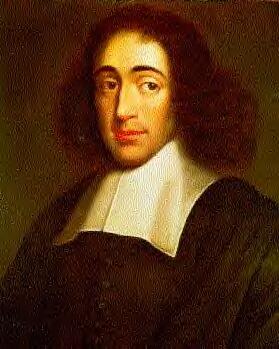 Baruch (Benedict) de Spinoza
(from here)
Response by KC:
The excerpt from Spinoza's Theological-Political Treatise critiques superstition and challenges the special morality of religion. Spinoza argues that superstition is a crutch for the masses deemed necessary due to the inability to control all aspects of life. Fear, Spinoza believes, is the root of humankind's reliance on superstition. The creation of various religions is a result of this fear-driven superstition, and the differences among the religions further divides the people rather than uniting them. Spinoza does not see anything divine their claims of religious and moral superiority. Finding flaws in claims of divine-authorship, Spinoza announces that he has analyzed the texts from a critical perspective, free of prejudice and outside influence.
I enjoyed Spinoza's critique of church leadership: "Verily, but if they had one spark of light from on High, they would not insolently rave, but would learn to worship God more wisely, and would be as marked among their fellows for mercy as they now are for malice; if they were concerned for their opponents' souls, instead of for their own reputations, they would no longer fiercely persecute, but rather be filled with pity and compassion" (24-25). I do not personally come down so hard on the clergy, but do find this critique purposeful for examining one's true intentions in relation to the church. I was interested to read Spinoza, since I know him in relation to his contributions to biblical studies but had never read his work. I found in Spinoza a harsh critique of religion and spirituality, but never did Spinoza renounce God. Hitchens admits this in his introduction to the excerpt, but claims the climate of persecution silenced Spinoza's public renunciation of God. I'm somewhat skeptical of Hitchens' assumption.
Response by JM:
Spinoza's Theological-Political Treatise is a sharp critique against superstition. Spinoza links superstition to fear, both of which stand in sharp contrast to reason. From this perspective religion is often little more than institutionalized superstition. The aim of this piece is to urge the use of reason to dispel the superstition, and oppression, from religion. The danger of not doing so is apparent in the hypocrisy between Christians' professed virtues and lived. Reason has the power to liberate and without this freedom of thought "piety cannot flourish nor the public peace be secure" (24).
By excommunicating Spinoza, his opponents simply gave more credibility to his argument. Spinoza's critique is aimed at methodology more than the content of religion. Throughout his work he tries to reclaim religious terms: for example he associates reason with the Divine Light. Spinoza's description of those who are prone to superstition is far from compassionate. From his, somewhat haughty, perspective the world would seem to be split between imbeciles and wise sages. While his critique of superstition is insightful it is understandable that the religious leaders feared him shining the 'divine light' of reason on their holy scriptures.
Response by ERD:
While living in the 17th century safe haven of The Netherlands, Benedict de Spinoza witnessed a culture whose freedom of speech and worship created a relatively stable state that allowed for a reasoned view of the Divine. This selection begins by establishing the difference between superstition and religion. People under duress and ruled by fear are more likely to fall prey to any belief system that offers a way out, particularly a system outside the realm of reason. Thus, the restless masses tend to find comfort in a superstitious view of God who would rather leave signs in the most ridiculous of places instead of in the human mind. This "dim notion of God" (23) catches on quickly and spreads easily through a society, culminating in the use of such a conception in justifying war and other horrors. Amid the acceptance of these views, the established hierarchy of the Church becomes more of a chain of power than spiritual guidance, causing the ecclesiastics leading the masses to seek attention rather than dispense wisdom. Spinoza remarked that only under this explanation could the Christian religion of love, peace, and joy result in a population immersed in hatred and fear. In personal repose from the outside madness, he claimed that blind acceptance of human commentaries as sacred doctrine misses the essence of the Divine. And, upon further inspection of the Bible, the words of the prophets are useful only on matters of morality. Thus, Spinoza's critique addresses the conflation of religion and superstition into a system that loses sight of a reasoned Divine in favor of the emotional tendencies of humanity.
Spinoza's presence in Hitchens' compilation provides an intriguing alternative to the "new atheism" propounded by Hitchens and his ilk. Spinoza's essay is not a refutation of God in the traditional sense, a fact that even Hitchens seems not to fully grasp in his introduction to the selection. Above all Spinoza's writing offers a social commentary on the use of religion in his time (it works for our time as well). Reason was in the air and therefore he had to reconcile seemingly disparate aspects of his own personal worldview. He accomplished this feat by becoming aware of how religion worked in the population at large. Being one of the flag bearers for a new paradigm, Spinoza's seeming immodesty when labeling the rather ignorant tendencies of the masses was not without warrant, but neither was it direct mockery. He said eloquently what I wish I could say when meeting with people who belong to what Spinoza thought of as the "masses." Yet what separates him from mere blusterers of the atheistic cause is that he understood the nature of the human mind and the social history to which the masses have been subjected. Alongside that insight he also grasped the potential of the human mind for reason and thus believed the more enlightened view of God was assured. Therefore I do not find Spinoza's belief to be atheistic at all. It is simply focused away from the admittedly strained view of God (the "dim notion of God") held by much of the population and toward a more impersonal and truly transcendental God. I find little to disagree with in Spinoza's critique. As someone who is immersed in the potential of reason yet unwilling to go the full atheist route, I find comfort in an argument that remains sound to this day.
Response by HJW:
The lure of hope and the paralysis of fear can easily breed superstition that overshadows human reason. Fear, uncertainty, and lack of control foster superstitions through imagination. Superstition creates and supports religion, and simultaneously curtails the freedom needed to exercise rational judgment. As people fight for freedom under dictatorship, the freedom for human reason should be preserved and fought for. In the latter case, the misconceptions of religion can be disclosed. After the manifestation of religious superstition, people can learn true faith including true religious virtues.
Spinoza points to fear as preventing free exercising of rational mind against religion. The fact that fear is intimately related to safety and power, shows how powerful fear-driven religion can be within politics, particularly by suppressing freedom of the rational mind. However, Spinoza almost seems to argue that religion is finally not powerful enough to completely submerge the human rational mind, and that true religion can be learned precisely through cultivating rational thought. The relationship between religion and rational mind should not be against each other. Rather, religion should be able to support the free exercising of human mind and vulnerable to correction. Therefore, for Sponoza as much as anyone, "you will know the truth, and it will set you free."
Response by JCD:
In the brief space of this selection from Spinoza's Treatise, the author makes three points. First, he identifies the source of religious superstition as fear – a justifiable fear in many cases, he seems to hold, seeing as how life is unpredictable in its combination of comfort and difficulty. During times of comfort, the well-off are without need of recourse to superstition; when challenged, however, superstition raises its ugly head, and the supplicant is "wont with prayers and womanish tears to implore help from God." Second, he criticizes the faithful for the inadequacy of the way they live out of their faith: they should have "pity and compassion" for their fellows, but instead are malicious, self-interested, and vengeful towards one another. Third, in an interesting (and, to this reviewer, unexpected) turn at the conclusion of the piece, Spinoza examines "Holy Writ", approaching it independently and even with ostensible disinterest. He concludes that while the "prophets" have given moral guidance, the "speculative doctrines" they espouse are unimportant and without authority.
Spinoza's keen observation that intense religious piety seems to correlate to moments of crisis still rings true; the hoary adage that prayer will never be banished from schools as long as teachers give pop quizzes has some bearing here. (A more sympathetic version of this same observation appears in the selection from Marx as well.) For all of his criticisms of his superstitious contemporaries, however, he seems to assume a qualitative distinction between "superstition" and "religion." While he dismisses the former, he seems to respect the latter within certain bounds. More than a vociferous atheist, in fact, Spinoza sounds like a proper Englishman annoyed by the religious practices of his more charismatic neighbors: it just isn't how these things are done! His second point, for example, regarding the proper use of religious zeal, is the teaching of a reformer, not an atheist revolutionary; who could argue with a plea for more compassion? Likewise his third point, which assumes the authority of the prophets, even if it circumscribes the sphere of their influence. He could have chosen to disregard the prophets wholesale, or held that they shouldn't have any standing in the community at all. But he didn't reject them; he reinterpreted them. It may be the case that Spinoza's "innermost convictions" are impossible to discern through the distance of history, as Hitchens says in his introduction, but, from this selection, it is hard to see Spinoza as one of Hitchens' fellow evangelists.
Response by MG:
In his Theological-Political Treatise Benedict de Spinoza writes critically of the difference between the practice of religion—which is rarely practiced, versus the practice of superstition—which is widely practiced. Of the latter, which he focuses on more fully, Spinoza writes: "Men would never be superstitious, if they could govern all their circumstances by set rules, or if they were always favoured by fortune," and that it is this combination of insecurity and desire that elicits a turning away from true religion (21). Spinoza states that these fears and hopes, which are fed by emotions rather than reason, have caused both the layperson and the ruling class to treat religion as a device rather than as something holy, and that in this regard religion has been turned into an establishment through which upward mobility may be procured and has been wielded as a tool for political purposes. Spinoza argues that just as true religion has been abused so too has scripture, through the development of Christian doctrine by means of a faulty methodology. Instead of approaching scripture as a study of the Sacred Books in and of themselves, theologians have forced the scripture to conform to Platonic and Aristotelian thought, and instead of grappling with the mysteries—which would speak to an active and discerning faith, theologians simply affirm them (25).
The points at which I have difficulty following Spinoza's argument are where he deals with the necessary primacy of Reason in understanding scripture and in practicing true religion. As he discredits the employment of Platonic and Aristotelian thought for such endeavors, I assume that Reason must not be a direct correlate with logic. My best guess would be that Reason represents an openness to the Divine light, and so it would involve a process of spiritual discernment rather than a system of logical proofs (25).
Response by TBM:
This essay, from the mid-1600s, begins with an examination of superstition. It identifies emotions, notably fear, as a basis for superstition, and it points out that politicians often harness such thought processes for their own ends. The author appreciates living in a free republic, where people can worship and think as they like. He sees this freedom as critical to piety and peace. But he feels that religion, as commonly practiced with a focus on ceremony and authority, despises and stifles reason by treating it as opposed to faith.
While Spinoza's views have been expressed by many in modern times, they were radical in the 1600s. Spinoza was ultimately excommunicated for his views. But, apart from this censure, the Jewish faith has a long history of welcoming inquiry and varied perspectives on holy writings, and it has been more open than Christian traditions in accepting liberal views. For example, the recent US Religions Landscape Survey (Pew Forum, June, 2008: 4, 5, 31) reports the following differences, based on religion:
| | | | |
| --- | --- | --- | --- |
| | Jewish | Protestant | Catholic |
| Views of Scripture… | | | |
| …Holy book is the literal word of God | 10% | 46% | 23% |
| Conception of God… | | | |
| …Personal God | 25% | 72% | 60% |
| …Impersonal force | 50% | 19% | 29% |
| Agree that… | | | |
| …There is more than one way to interpret the teachings of my religion | 89% | 64% | 77% |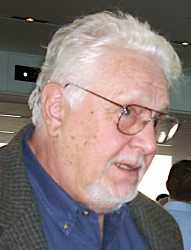 Victor Stenger
(from here)
Response by TBM:
Victor Stenger uses a scientific perspective to argue against the likelihood of a supernatural God as the creator and guiding force of the world. He examines theories and available evidence – on the nature of matter and energy, the origin of the universe, and the order in natural laws – seeking gaps or inconsistencies that might support the view that a supernatural event may have played a role in how these came to be. When he doesn't find this type of evidence (as observations fit with natural theories), he concludes that the universe appears to have a purely natural origin. He says scientists have described several scenarios by which the universe could have come about "from nothing", including his own theory, in which "our universe is described as having 'tunneled' through the chaos at the Planck time from a prior universe that existed for all previous time". (pp. 321) He acknowledges that none of these can be proved, but concludes that "any argument for the existence of God based on this gap in scientific knowledge fails, since plausible natural mechanisms can be given within the framework of existing knowledge." (pp. 321)
As Stenger makes a case for wholly natural understanding of the world, he doesn't acknowledge that some of the theories he uses to support his view are as wild (and potentially false) and hard to understand and accept as the image of a supernatural God. It makes sense for physicists to ponder theoretical possibilities. But, it's important to also recognize that some things are unknown, and some things may forever be unknowable. (For example, why is there something, rather than nothing? And how did natural laws come to be as they are?) Rather than attempting to explain that no one yet is able to understand, we may just accept and appreciate the fact that some things are unknown and that, because of this, they can prompt the type of wonder, appreciation, and awe that, for many, is at the core of a religious sense. Many theists have a similar impulse. On some level, they accept that God is unknowable. But, despite this, they claim to "know" that He is all-powerful, all-knowing, and all-good, and that He hears prayers and may act in the world. Rather than assigning presumed qualities of what they think He might be, they – along with atheists - might adopt a humble mode, and become comfortable saying, "We don't know".
Response by TK:
Even though atheism usually asserts that since no god can be proven it is the burden of theism to prove and defend religion, Stenger takes argument a step further. In seven arguments, Stenger explains how an atheist can account for miracles, created matter, order, beginnings, the expansive cosmos and physics. His final exploration is the question "why is there something rather than nothing?" and was the most intriguing investigation I found. Short and to the point, this final argument proposes that nothing is actually more unstable than something, and the universe moves towards stability. Backed up by the previous six arguments, Stenger can assert that the universe moves toward disorder, but on the same level diffuses energy. Nothing is so unstable though that it would require more energy to remain nothingness than to become something. Becoming more complex, less energy is needed for something to remain. It is then natural for something to exist.
I found this argument from Stenger very provocative. This answer to the question is quite convincing. I cannot personally validate the claim but it does seem reasonable to me. In previous sections he as well deals with the 'god of the gaps' argument that I am tempted to bring back here asking what if God is that force that causes the something? I wonder though how this final argument doesn't actually overturn what Stenger's atheism to begin with. If it is natural in the world for there to be something rather than nothing, it would as well be true that for humanity we naturally need the idea of god to understand the world. Theism, over time, becomes more and more complex, just like the universe around us. If the thought process of humanity follows the laws of the universe that Stenger has provided here, it seems that atheism is spending a ton of energy to move toward the direction of "nothing" in vain. It seems that Nietzsche might have been right after all. Something must occupy the throne of God after humanity tore him from it. It seems then, if atheism understood itself better it might be moving to enthrone a god of diversity and difference that could represent the entirety of the universe rather than atheistic anthropocentric humanism.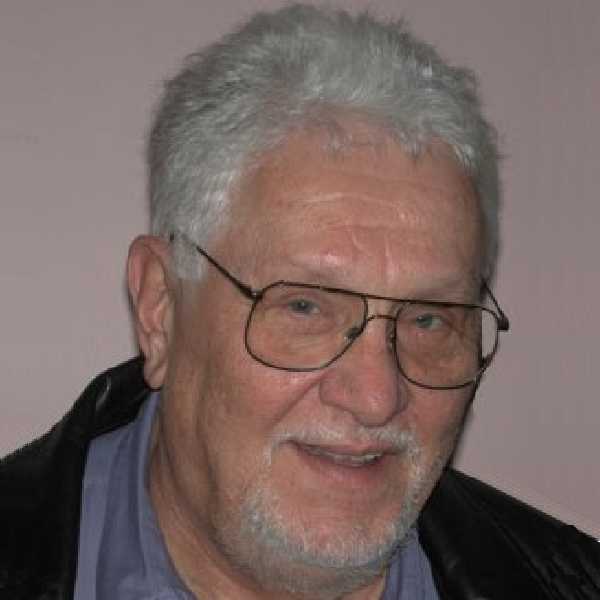 Victor Stenger
(from here)
Response by RLS:
The age old metaphysical question—Why is there something rather than nothing?—is addressed by Stenger. He points to the weakness of the theistic answer and offers an answer through physics. "This question is often the last recourse of the theist who seeks to argue for the existence of God from physics and cosmology and finds that all his other arguments fail," he says (326). He points out that the theist's facile answer does not answer the question. Rather, it only perpetuates the question, because the inevitable reply to the theist is: "why is there God rather than nothing?" (ibid). Stenger argues that the complex structures of nature derive from "processes of self-organization" as evidenced in a snowflake. The snowflake as snowflake on earth limits it to the earth's atmosphere. But the snowflake in "most of the universe" would be an "eternal" snowflake, he argues. Accordingly 'nothing' is more likely the origin of the universe than God: Since "many simple systems of particles are unstable, that is, have limited lifetimes as they undergo spontaneous phase transitions to more complex structures of lower energy," "'nothing'…would likely undergo a spontaneous phase transition to something more complicated, like a universe containing matter," he says (ibid). Therefore "the transition from nothing-to-something is a natural one, not requiring" God (ibid). As a result it seems more likely that "there is no God," he concludes (327).
I am left quite confused. This argument seems absurd to me. I must be missing something. First, Stenger's starting point (at least where Hitchens' citation of Stenger begins) is to complain about the "theist who seeks to argue for the existence of God from physics and cosmology and finds that all his other arguments fail" (326). But then Stenger does exactly the same thing, not with God, but with his concept called "nothing". I agree that theistic answers to this metaphysical question are exceedingly tenuous. But he undermines the strength of this point by appealing to physics. Let not theism answer metaphysical questions, he says. But how does his conjuring of physics in response to meta-physics escape the strength of this rebuttal? Massive contradiction, it seems. Further—and more importantly—Stenger's argument is based on imaginative fantasy: Imagine what would happen to a snowflake in outer space (where you don't find them) and add to that the simplicity of how we imagine 'nothing' (which is not) would 'be'. Here we have proof for atheism, says Stenger. Oh, and this is 60 percent likely, he adds! My reply? Nonsense. 'Nothing' is here analyzed from 'something'—by a 'something' named Stenger—whose brain produces a type of Chimera named 'nothing'. Then he makes 'nothing' a 'something'. Do I have to point out the fact that 'nothing' is not simple or unstable or anything else if 'it' 'is' truly nothing? 'It' could not facilitate future complex structures or become a universe or be or do or progress or evolve or function in any way whatsoever. If 'nothing' is nothing—no-thing—no predicate whatsoever can be attached to 'it'! Need I continue?
Response by BLT:
In this work, Benedict de Spinoza observes some of the absurdities and inconsistencies of superstitious beliefs, which he claims are rooted in humanity's inability to control its circumstances. He notes that instead of using reason in the face of certain obstacles, people tend to look to some rather ridiculous explanations of events when their prosperity is threatened. "Only while under the dominion of fear," writes Spinoza, "do men fall prey to superstition . . ." (22). His appraisal of supernatural and superstitious beliefs is intended to show that they arise from natural causes, and not from any divine or ghostly source. Yet, his purpose for this treatise is not only to shed light on the absurdity of maintaining such beliefs, but also to detail the inhumane effects of doing so. He accuses religious authorities of exploiting the fears of the superstitious masses, "which keeps them down." Next, he observes the disparity between the Christians' faith and deeds, or rather, between what they profess to believe and how they behave. Finally, he brings to light some ways in which Christian doctrine, at that time, was being contrived by religious academics to fit the natural philosophy of the ancient Greeks, and thus to share in its greater capacity to explain the world. His final conclusion has to do with the degree of influence scriptural authors have had and why. In Spinoza's assessment, for example, the greatest contribution of the prophets is in the moral realm.
I like Spinoza, but I was really let down here. For the sake of brevity, I shall attend to only one of the issues that I have with this excerpt. He observes from the outset that, "Men would never be superstitious, if they could govern all their circumstances by set rules, or if they were always favoured by fortune: but being frequently driven into straits where rules are useless, and being often kept fluctuating pitably . . . they are consequently, for the most part, very prone to credulity." (22) My initial reaction to this observation was, "No kidding!" But, my attention was held, nonetheless, upon reading his pseudo-disclaimer, which immediately followed: "This is a general fact I suppose everyone knows . . ." He then goes on to state that, "superstition's chief victims are those persons who greedily covet temporal advantages; they it is, who (especially when they are in danger, and cannot help themselves) are wont with prayers and womanish tears to implore help from God: upbraiding Reason as blind . . . and rejecting human wisdom as vain . . ." I might point out that if one has operated by reason and human wisdom, and encountered peace and prosperity in so doing, then it does not seem altogether unreasonable that these methods should be abandoned in the face of despair and destitution. Of course counter-intuitive explanations will be invoked upon the realization that intuition itself may not be sufficient to provide an account of or solution to various problems. I might add, however, that it is often precisely when those counter-intuitive claims turn out to be correct that things get interesting (see Copernicus).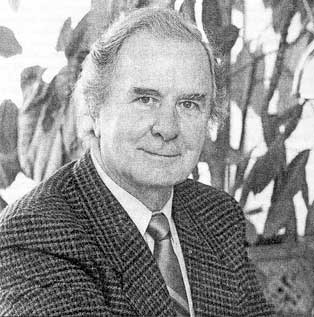 Charles Templeton
(from here)
Response by SR:
Reading Charles Templeton's "A Personal Word" is an exercise in human understanding and empathy. Billy Graham, a prominent American evangelist, was a friend of Templeton's, and this note serves as a eulogy. The two were young friends and preachers together. As Templeton prepared to study theology at Princeton, he invited Graham to join him, but Graham gently refused in order to pursue televangelism. They tried, but failed, to be friends for the rest of their lives.
What is so poignant about this piece is the bittersweet way in which it humanizes Billy Graham. Graham is quoted asserting that Templeton felt sorry for him, and Templeton here confesses that truth. This is because Graham stagnated. Graham preached the same exact ideas and sermons at age 70 as he did at 20, whereas Templeton continually asked new questions in an attempt to deepen his understanding of the world. Templeton did not hate Graham for his fundamentalism. Nor did he dismiss his friendship because of their polar views. Instead, he looked at the moment at which their paths diverged, and he saw one of the greatest tragedies of the human race in Graham: the fear of the unknown. From this moment, Templeton teaches us that validity of belief is not important. What is important is progress, and having the courage to question beliefs is the only way to ever dynamically move forward.
Response by RBB:
Charles Templeton is a de-converted ex-evangelist and friend to evangelist Billy Graham. In "A Personal Word", Templeton gives a sweet account of his friendship with Graham. Templeton tells the story of how he and Graham parted ways with Templeton's decision to go to Princeton. Templeton tries to persuade Graham to soften some of his positions on the inerrancy of Bible, asking Graham, for instance, how he can possibly still believe the creation accounts in the Old Testament, given what we know about evolution. Graham tells him that he doesn't accept evolution, and that there are scholars that support him. Graham earnestly said that he needed to preach the Bible as truth—that there are "results" when he says "God says" or "the Bible says". Templeton then asks Graham to come with him to Princeton, and Graham replies that he couldn't possibly go to an American school since he was the President of a Bible college in the states. Graham suggests that they go to Oxford together as an alternative, and Templeton refuses, musing that he believes the religious landscape in America might be completely different today if he had decided to go to Oxford with Graham. He ends the essay empathically saying that Graham is the only evangelist he would trust, and that he misses him.
This is a sweet, heartwarming and sad story about a failed friendship and a failed opportunity. I found myself identifying strongly with Billy Graham in his desire to remain ignorant in service to God and humanity. Don't we all want to maintain our innocence? I know that Billy Graham caused a lot of harm to the religious climate in America, but I believe Templeton that he was a man of integrity. This story makes me sad, and I enjoy musing along with Templeton about what would have happened had they gone to Oxford together. Perhaps we wouldn't have Christian rock bands.
Response by AS:
In a moving piece, Charles Templeton recounts his fading friendship with Billy Graham. He briefly accounts for his own disillusionment from religion, and then chronicles what that meant for his relationship with the famous evangelist. Templeton wanted Graham to join him at Princeton, to further their education, but Graham insisted that his authority and knowledge could come from the Bible, and at any rate, he couldn't attend a university in the States while being president of a fundamentalist Bible college. Templeton admits to feeling sorry for Graham for giving up a life of intellectual adventure for a life of repetitious preaching. Templeton concludes that he disagrees with Graham but respects his ability to believe with "invincible innocence" (284).
I loved Templeton's piece, though I imagine the circumstances that led him to write it must have been painful. It's not easy to maintain friendships when two people are in different places, much less when they occupy different intellectual and spiritual spaces. His honesty about feeling sorry for Graham reminds me of the sort of pity I often hear from theists toward atheists: theists sometimes feel sorry for atheists because they limit their lives from entering a spiritual level. Templeton seems to understand that everyone has their lives fulfilled, or at least thinks that they have their lives fulfilled, in different ways. He respected Graham for following the path that led to his fulfillment, while remaining authentic in his pity for Graham not achieving the sort of fulfillment that Templeton so valued in his own life. I take that pity to drive not from smugness so much as from genuinely wanting what is best for a friend, and I think this can go both ways in relationships between atheists and theists.
Response by APL:
In this touching piece lapsed Evangelical Charles Templeton recounts the gradual dissolution of his close friendship with Billy Graham. At one time the two worked closely with one another in their now-famous evangelical "crusades." However, Templeton's gnawing doubt eventually led him to reject fundamentalist interpretations of the Bible. Templeton recounts a conversation with Billy Graham in which he attempted to convey the impossibility of accepting the biblical account of creation without a sacrificium intellectus. Graham simply replies that the only thing that affords his preaching any power is precisely his deference to an unquestioned external authority, i.e. the Bible. Templeton then asks Graham to accompany him to Princeton in order to further their theological education. Graham refuses due to the fact that he is currently the president of a fundamentalist college in Minneapolis, but in an act of genuine friendship, promised that if they were accepted to a college overseas he would go. Templeton goes on to tell of their gradual but steady drift apart and ponders what would have happened if he had taken Graham up on his offer. "I am certain of this: he would not be the Billy Graham he has become…" Templeton's piece illustrates one of the great tragedies of fundamentalism: that in demanding a sacrifice of intellect, it often precipitates the sacrifice of any relationship involving difference.
I found Templeton's piece to be profoundly moving. He writes with brutal honesty, refusing to pull any punches when it comes to the ostrich-mentality anti-intellectualism of fundamentalism. Yet his profound love and respect for Billy Graham shines through just as clearly as his critique. Templeton's conclusion seems to say it all: "there's no feigning in Billy Graham: he believes what he believes with an invincible innocence. He is the only mass-evangelist I would trust. And I miss him." As a former conservative Evangelical, I resonated with Templeton's painful realization that leaving fundamentalism often comes at the cost of straining close relationships.
Response by BJT:
An excerpt from Charles Templeton's book, Farewell to God: My Reasons for Rejecting the Christian Faith, "A Personal Word" offers a glimpse into the character of Templeton and his former associate and friend, Billy Graham. The piece opens with a brief description of the vast divergence in background between Graham and himself. Graham, a Southern farm boy who had graduated from fundamentalist Christian colleges, and, Templeton, who had a bachelor's degree in anthropology, managed a friendship despite their dissimilarities. This backstory sets the stage for the narrative's impending crisis and establishes three themes of the excerpt: (1) Graham's earnestness and simplicity that paradoxically slips into self-deception, (2) Templeton's open-mindedness and curiosity, and (3) the genuine sorrow Templeton feels for Graham. The crisis occurs when Templeton and Graham find their intellectual commitments in conflict. Templeton, who is preparing to matriculate at Princeton, challenges Graham's promulgation of biblical creationism in light of the demonstrable veracity of evolution. Graham rebuffs the challenge on three fronts. First, conservative scholars reject evolution. Second, his "preaching has power" and produces "results" when he interprets the Bible literally and employs authoritative phrases like 'God says' or 'the Bible says' (283). And, third, since "wiser men" have exhaustively debated theological issues for ages without resolution, he has "decided, once and for all, to stop questioning and accept the Bible as God's Word" (283). Unable to dissuade Graham from his position, Templeton senses that Graham has committed "intellectual suicide" (283). As evidence for this tremendous claim Templeton writes, "Forty years after our working together he is saying the same things, using the same phrases, following the same pattern. When he gives the invitation to come forward, the sequence, even the words, are the same" (284). Templeton expresses profound sorrow for his lost companion as he observes the consequences flowing from Grahams' abandonment of "unrestricted thought," and he closes the eulogy with these moving, yet, condemning lines, "There is no feigning in Billy Graham: he believes what he believes with an invincible innocence. He is the only mass-evangelist I would trust. And I miss him" (284).
"A Personal Word" is a tale of two perspectives. It consists of two existential monuments and two deaths and is capable of generating two sorrows and two joys. From Templeton's perspective the existential monument and the death is Graham's while the sorrow for his "lost" friend and the joy of having chosen enlightenment is his. From Graham's silent perspective it is Templeton who faces the existential crisis and decides to terminate his "believing" self. It is now Graham who suffers and Graham who rejoices in his steadfastness. From either perspective a not-so-subtle contrast arises. Templeton constructs an "either/or" narrative, knowingly or accidently, that mirrors fundamentalist cognition. How one responds to this piece depends upon one's vantage point, and from where I stand, my sympathies lie with Templeton. I find it ironic that I am moved to "proclaim" my stance, to choose my side, to be identified as "this" and not "that" in this review. I am participating in a striking trait of fundamentalism—stark self-identification.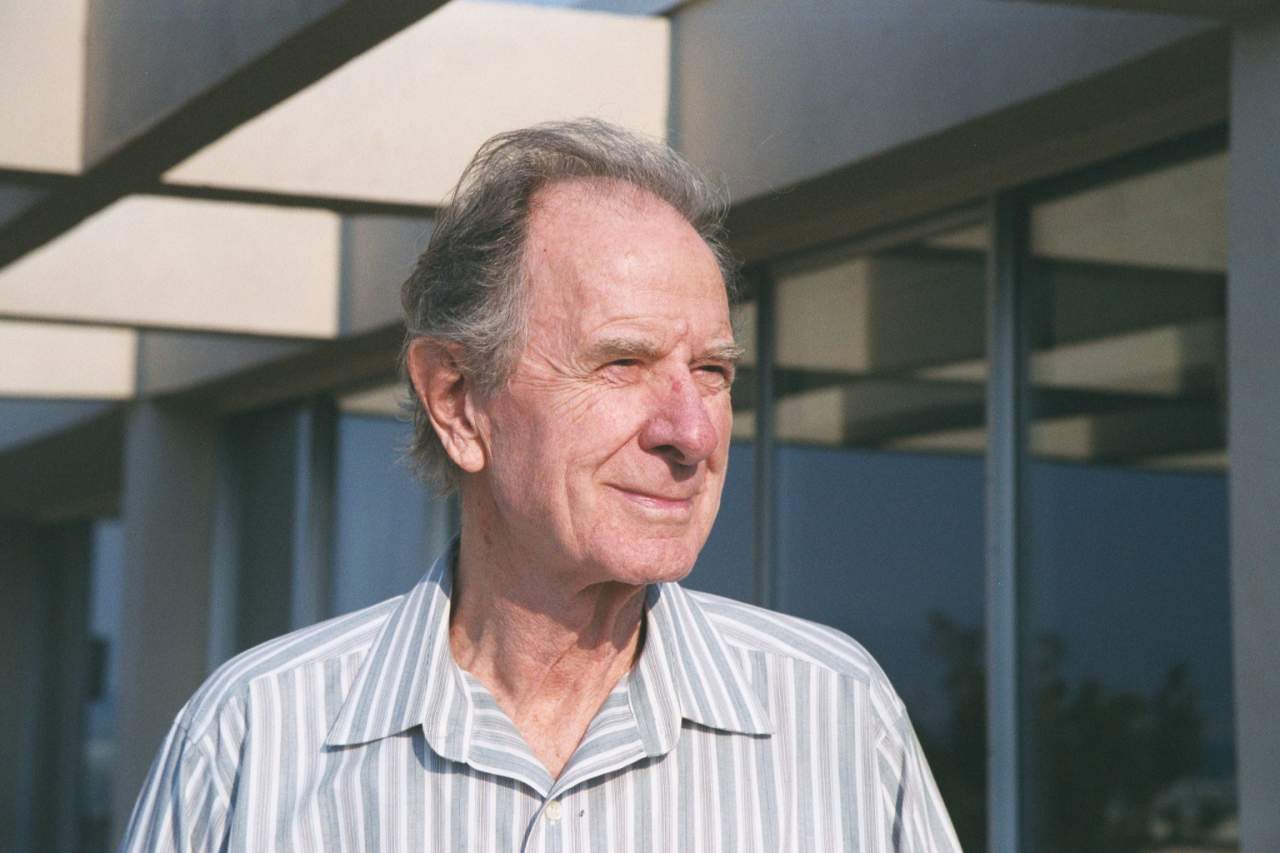 Charles Templeton
(from here)
Response by SR:
Charles Templeton asks important questions in this piece. Questions about denomination, inherited faith, and miracles are all relevant, especially in an age of abundant information and scientific knowledge. Consistently, Templeton's questions push against hard-lined Christian belief. They urge the reader to consider how their religious views hold up in light of contemporary science and post-modern plurality.
Only someone wholly ensconced by dogma can persist through Templeton's battery. It takes a hell of a backbone to defend an all-loving and all-powerful God who gives infants HIV, for example. Unfortunately, Templeton makes a common error. He equates Christianity as a whole with fundamentalism. "Christian belief" entails in his definition belief in consignment to heaven and hell, the Earth was created in six days, and that man was literally created out of a handful of dust. While this may be true for millions of Christians, it is certainly not true of them all. To paint the Christian faith as such is to paint it into a box, and to further polarize the divide between theists and atheists in contemporary America. The world does not need that. Instead, what it needs is education, understanding, and acceptance of the fact that spirituality cannot in any fashion be as black and white as Templeton portrays it.
Response by APL:
In this piece the one-time evangelist and now agnostic Charles Templeton asks his Christian readers to think through a series of questions which, according to Templeton, indicate the implausibility of the Christian faith. Templeton goes on to offer an irreverent list of pointed theological questions that Christians tend to gloss over or evade. Many of the questions concern the age-old problem of theodicy, that is, the problem of how a benevolent, omnipotent God could allow evil. Some of his questions point to the social/historical contingency of religious belief, asking "Is it not likely that had you been born in Cairo you would be a Muslim…" Other questions focus more on the fact of hypocrisy and rapacious consumerism among contemporary Christians. Templeton asks, "If Christians all worship the same God, why can they not put aside their theological differences and co-operate actively with one another?" And more pointedly, "Why, in a world filled with suffering and starvation, do Christians spend millions on cathedrals and sanctuaries and relatively little on aid to the poor and the needy?" Templeton's questions range from ancient theological dilemmas to penetrating analyses of contemporary Christian faith, to rather callow objections that any educated Christian could effectively respond to.
I found Templeton's skeptical catechesis to be enjoyable, and in some cases insightful. For the most part, he is just reformulating the typical gamut of questions that have been posed to Christianity over the ages. However, there are passages where Templeton's experience of having once been an insider within Christianity affords him acute insight into the problems of the contemporary Church. Reading Templeton might not only lead believers to question their faith, but also push them to address the hypocrisy and Culture-Christianity so prevalent in the American Church.
Response by TBM:
Charles Templeton feels that much of Christian faith is impossible to accept as fact. He lists two dozen questions to support his view. These point to many inconsistencies in the alleged qualities versus the apparent actions (or inactions) of God, and also to the fact that coincidence of birth seems to be the largest factor in determining faith identity.
The author's points are all logically sound. However, like many who criticize religious belief, Templeton offers nothing as an alternative. Given the range of needs that prompt religion (and with emotion often more prominent than rational thought), it seems likely that improbable beliefs and inconsistent views will continue to prevail until something more compelling takes their place.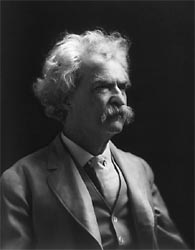 Mark Twain
aka Samuel Longhorn Clemens
(from here)
Response by DR:
Mark Twain's objections to traditional theism are twofold: God is not good and the Christian religion is oppressive. Concerning the first point, Twain argues that only a malevolent creator would design flies. From his perspective, flies serve no positive purpose. Instead, they appear to be engineered for both maximal annoyance and dreadful efficiency in spreading disease. These hellions swarm on an earth as filled with suffering as it is devoid of divine intervention. Why is it, Twain asks, that we condemn people who refuse to aid the poor and starving, yet we never accuse God of all-powerful neglect? Not only is this idea of God unthinkable for Twain, but overall Christianity has done more to oppress than to liberate the human spirit. The threat of hell and damnation, which almost necessarily precedes the joy of salvation, is nothing less than poison and those who administer it are cruel and false physicians. Far from being a beacon of justice and peace, the Church has happily accommodated the most ruthless of human schemes. For centuries the Church never thought to challenge the vicious institution of slavery. It was only after the world began to reform itself that the Church adjusted its position and then took credit for humanity's moral progress. For Twain, if there is any hope of a genuinely comforting and beneficent religion, it depends upon the world's relentless criticism and purification of existing ecclesial institutions.
Initially, I thought Twain intended the fly to be a humorous example, but as his rhetoric grew deadly serious, I realized that this was no occasion for jest. "Harry and persecute the forlorn and forsaken wretch who is perishing of the plague, and in his terror and despair praying; bite, sting, feed upon his ulcers, dabble your feet in his rotten blood, gum them thick with plague-germs – feet cunningly designed and perfected for this function ages ago in the beginning . . ." For Mark Twain, the fly is not merely a nuisance, but the incarnation of all that is wrong in the world. One could easily respond by arguing that flies aren't really that bad or by pointing out that, according to evolutionary theory, God didn't actually design the fly, but such responses are superficial. Evolved or not, the fly testifies that the universe does not revolve around human wants and needs. But even this point misses the heart of the matter. Ultimately, the anatomy and habits of the fly are tangential to the larger problem raised by where the fly lands: a dying child, an exhausted mother, a mangled soldier, and animals born to bear the weight of human aspirations and to die unthanked. For Twain, the fly is not merely an insect but a symbol of the decay and death which it harvests to live — the same death and decay we all live by. Though he apparently still lived in a divinely designed world, Twain surveyed all that had been made and had the courage to utter, "it is not good."
Response by CSA:
In Thoughts of God, Mark Twain denies the idea that God is merciful. He recognizes that the Christian scriptures make claims of God's mercy and preachers preach of God's mercy, but in lived experiences there are actually "no instances of it." Twain's main example of God's mercilessness is seen in the creation of a fly. Twain asks the reader to imagine what sort of a man would create a fly, which torments the "unoffending as well as the offending". In conclusion, he says that it could only be a man "destitute of feeling". In Bible Teaching and Religious Practice, Twain claims that the Church declares itself the leader in advancing morality and justice, but instead, it is actually guilty of advancing injustice. Twain uses the example of England's role in the slave trade from Africa. He asserts that John Hawkins' work as a slave hunter was the "invention of Christians" and he claims that Christianity had a monopoly on the slave trade for a quarter of a millennium. Twain is insistent that the Church was not at the forefront of ending the slave trade; rather, it was at the tail end.
In Thoughts of God, Twain's claim that God has never been merciful is contingent upon on his understanding that God's interactions with the world must be directly observable. Twain insists that a "concrete example" of God's grace is unobservable because he is only looking for Red Sea crossing type experiences. I believe that God's grace is observable in that community of people who follow after and call Jesus their Lord—those who indirectly enact God's grace by their attention to relieving the suffering in the world. Twain's biggest complaint raised in Bible Teaching and Religious Practice is that the Church continues to use the same texts that embraced slavery and other abhorrent practices. What Twain sees as hypocrisy, I see as a hermeneutical issue. I cannot deny that the Christian scriptures have been used (wrongly) in many times and places to suppress people and cause all types of evil. Time has brought with it a continual shifting in interpretation of Christian texts, and Twain insists that this hermeneutical change discredits the morality claimed by religious traditions. However, I view this hermeneutical shift as a sort of self-correction—attesting to the living nature of the Christian scriptures—and it affirms the message of scripture, rather than discredits it.
Response by SRG:
Apothecary poisons and "curative" terrors evolved into humane or relatively benign treatments as a result of the advancement of medicinal knowledge. This progression is analogous to the civilizing of religious practice over time, according to Twain, who returns to this analogy throughout his essay. Twain says that while many of the same chemicals and tools are available to doctors in his day as were available in the past, medical professionals have now moved away from use of injurious substances or practices toward relatively therapeutic ones. In essence, the pharmacy has the same resources but the physicians employ them differently, more appropriately. Likewise, he asserts that while Biblical texts have not changed over time, the interpretation and practical outworking of those texts have gradually become less damaging. Moreover, he credits the influence of "the world" or the laity for pressuring the clergy into changing interpretations of, and the corresponding prescriptions of acts of obedience to, the scriptures. Among the more dreadful episodes in the history of Christianity, he lists atrocities of slavery and slaying of witches and heretics, and he disparages Christians' roles in abolishing those acts. Twain concludes by offering hope for the improvement of religious actions as a result of the maturation of the enlightenment.
While Twain offers a useful word picture and fair criticism regarding the changing practices of the Christian church over time, he seems to rely more on rhetoric than fact in his assignment of blame to Christians for various evils. Never mind that slaves had existed in various cultures for thousands of years – Twain singles out Christian England as propagators of slavery who were merely fortunate to wake to the error of their ways via the smelling salts of the enlightened world. Twain does admit that, after the help of the enlightened ones, there was a Christian who championed the cause of abolishing slavery, but Twain says the man was not part of mainstream Christianity. Admittedly, defining "Christian" is problematic. Yet Twain has no trouble pointing out that someone doing "good" is actually an unorthodox Christian, nor does he call the label into question if an ambitious potentate (or someone else) is committing harmful acts while claiming to be Christian, no matter how their actions may call that name into question. Twain selects his definition of Christian to be as negative as possible. Likewise, Twain has scathing reviews of Christian roles in witch trials. But the catalyst for one group of them was a young girl who, according to the physician, might have been "bewitched." The doctor was a man of the world or laity with no particular connection to Christian priests and officials. Furthermore, the trials did not wane until a tract published by Rev. Increase Mather convinced Judge Phips to dismiss "spectral evidence." Both are reasons to reassess the role of Christianity in witch trials. While Twain has great facility with word pictures and he does point out some odious parts of Christian history, this particular excerpt is a less than satisfying indictment of Christian theists.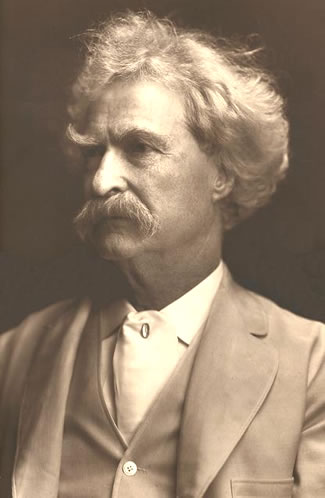 Mark Twain
aka Samuel Longhorn Clemens
(from here)
Response by RBB:
"Thoughts of God" by Mark Twain is a humorous maligning of intelligent design. Twain posits that a loving God who planfully orders creation would not invent the fly. Not only do flies serve little purpose, they also breed on the festering bodies of dead animals and humans. Twain points out that any human being inventing this squalid and malevolent creature would never be forgiven by others; shamed into hiding (117). Instead, human beings worship the creator of the fly. Twain condemns the Christology of sacrificial atonement, saying "we hear much about His patience and forbearance and long-suffering; we hear nothing about our own, which much exceeds it" (117). He goes on to discuss the fact that we hear much about the goodness and mercy of Christ, despite having little credible evidence save for the Bible to prove it, and points out that in countries where people worship God, people suffer miserably and die. He asserts that "the proper place to hunt for the facts of His mercy, is not where man does the mercies and He collects the praise, but in those regions where He has the field to Himself" (118). Finally, Twain posits that God must be a sinner because God violates His own laws, inflicting suffering on God's people.
This is a very effective piece of writing by Mark Twain. Not only does it grab the attention by pointing out the impossibility that a loving, merciful God would create something as useless and disgusting as a fly, he laughs at the irony of worshipping such a God, as well. Not only is Twain insulting God as a terrible Creator, therefore, but he is also disrespecting those of us who choose to spend our time attempting to please a creator who mocks us with the invention of a fly. Lest one doubt the seriousness of Twain's critique, the second part of this essay is particularly scathing in that it criticizes Jesus as no better than any other human being capable of altruism. Further, Twain suggests that God is a sinner given the fact that he inflicts suffering on human beings—breaking God's own laws. It is hard to argue with this kind of rhetoric when one believes in an anthropomorphic God who intervenes in human life. Twain picks apart theodicy in this essay by challenging the notion that God is loving and that God is all powerful. How can that be so if God is capable of creating a fly, torturing human beings, and breaking God's own laws? If God is all powerful, why do good people, as well as hapless animals not capable of sinning, suffer? And, if there "was never a case of suffering or sorrow which God could not relieve" (118), then God cannot possibly be loving.
Response by JM:
The witty diatribe against the fly cloaks a strong critique of God's morality. Twain leads us to imagine how we would regard any man who created something as bothersome and useless as a fly. It is easy to admit that we would condemn such a man. Yet we forgive God? The fly serves as a small example for the larger problem of evil. If we see suffering which we could relieve but do not, then we sin greatly. Yet as Twain points out: "There was never yet a case of suffering or sorrow which God could not relieve" (118). While this piece is essentially an expression of the problem of theodicy, this old problem is presented in a novel and convicting way.
I pity anyone who becomes the target of Mark Twain's anger. His insights are lucid and given in the vernacular, which inspires trust. God is painted by this argument as the cause of suffering and indifferent to that suffering. Twain seems exasperated with this callous God, but his fury blazes against "the trained parrot in the pulpit" that still attests to God's goodness and mercy. Twain will have none of it. Is it possible to face the ubiquitous suffering in the world and still call God good? How dramatically does that require changing our idea of God?
Response by APL:
In this witty, comical, and penetrating piece, Mark Twain examines the question of how the common conception of God as creator can stand up to our most everyday experience of the created order. Twain cites the traditional Christian conception of God as being intricately involved in creating and crafting the natural world in order that human beings might know his glory and benevolence. Playing on this grandiose notion of a magnificent, benevolent, Creator God, Twain calls it into question by citing the existence of the creature known as the fly. Given the aforementioned conception of God as the one who calls things into existence in order to dazzle mankind, Twain insists that we must assume some divine purpose, some "long-felt want" which the creation of the fly fulfills. The simplest of believers need only reflect for a moment upon their experience of this vexing creature to see Twain's comical but insightful point. As Twain notes, "…we cannot understand the moral lapse that was able to render possible the conceiving and the consummation of this squalid and malevolent creature." The irony of Twain's short piece does more than any philosophical argument against God. Arguments of theodicy threaten to force the believer into self-contradiction, or heretical denial of the essential attributes of God. Twain's short piece threatens the believer with the absolute ridiculousness of arguing that God did in fact have some magnificent, divine purpose in creating the fly. Kierkegaard once quipped that the best response to Hegelian metaphysics was laughter. Twain seems to suggest the same response in regards to traditional Christian doctrine.
I found this piece to be insightful, beautifully written, and hilarious in its wit and irreverence. Twain demonstrates that you don't need to delve into the intricacies of Darwinian theory in order to perceive the problems inherent within the traditional notion of God as creator. Instead Twain appeals to our common sense: If God created in order that man might participate and glory in God's goodness, then what's the deal with all these flies? Surely an omniscient and omnipotent God could have come up with a creature less baneful to we image-bearing human beings. Twain's biting wit may bring readers to laugh out loud, but Christians (especially those who subscribe to so-called intelligent-design theory) should take this piece with absolute seriousness.
Response by BLT:
This excerpt, taken from Twain's Fables of Man, calls into question the moral character of God in light of the design argument defended by so many Theists. Briefly, the argument from design is that creation operates according to the preformed, predetermined design or will of the Creator. On this account, God is often conceived to be both architect and builder, and, therefore, nothing exists or occurs apart from his intention. Twain, however, considers the fly. More precisely, Twain asks us to imagine the Creator of the fly, as if it were a human being, and then to asses to morality of that person, if the fly did, in fact, accomplish everything he intended of and for it—nothing more, nothing less. He said, "In a word, let us try to imagine a man with so singular and so lumbering a code of morals as this: that it is fair and right to send afflictions upon the just—upon the unoffending as well as upon the offending, without discrimination." From this consideration, Twain goes onto consider the double standard that is seldom realized with respect to God not being held to the same moral code that we apparently are. He said, "If men neglected 'God's poor' and 'God's stricken and helpless ones' as He does, what would become of them? . . . It is plain that there is one moral law for heaven and another for the earth."
The issues at stake in this essay are so well put that one hardly realizes that this essay actually does little to refute the existence of God. At best, it calls into question the goodness of God as a being capable of improving the quality of life, as measured by the living. One may, then, be persuaded to get pretty upset with God upon reading this essay, and, therefore, to reject belief in his existence on those grounds, but that makes as much sense as denying the existence of life. "Life" it is said "isn't fair!" It is understood what is meant by this expression, as one comes to understand his or her own existence as being subject to various contingencies and the mutually excluding desires of others. This realization, however, should not lead one to the conclusion that such a thing as fairness doesn't exist. On the contrary, it is the absence of fairness that so often brings itself into being.
Response by CSA:
In Thoughts of God, Mark Twain denies the idea that God is merciful. He recognizes that the Christian scriptures make claims of God's mercy and preachers preach of God's mercy, but in lived experiences there are actually "no instances of it." Twain's main example of God's mercilessness is seen in the creation of a fly. Twain asks the reader to imagine what sort of a man would create a fly, which torments the "unoffending as well as the offending". In conclusion, he says that it could only be a man "destitute of feeling". In Bible Teaching and Religious Practice, Twain claims that the Church declares itself the leader in advancing morality and justice, but instead, it is actually guilty of advancing injustice. Twain uses the example of England's role in the slave trade from Africa. He asserts that John Hawkins' work as a slave hunter was the "invention of Christians" and he claims that Christianity had a monopoly on the slave trade for a quarter of a millennium. Twain is insistent that the Church was not at the forefront of ending the slave trade; rather, it was at the tail end.
In Thoughts of God, Twain's claim that God has never been merciful is contingent upon on his understanding that God's interactions with the world must be directly observable. Twain insists that a "concrete example" of God's grace is unobservable because he is only looking for Red Sea crossing type experiences. I believe that God's grace is observable in that community of people who follow after and call Jesus their Lord—those who indirectly enact God's grace by their attention to relieving the suffering in the world. Twain's biggest complaint raised in Bible Teaching and Religious Practice is that the Church continues to use the same texts that embraced slavery and other abhorrent practices. What Twain sees as hypocrisy, I see as a hermeneutical issue. I cannot deny that the Christian scriptures have been used (wrongly) in many times and places to suppress people and cause all types of evil. Time has brought with it a continual shifting in interpretation of Christian texts, and Twain insists that this hermeneutical change discredits the morality claimed by religious traditions. However, I view this hermeneutical shift as a sort of self-correction—attesting to the living nature of the Christian scriptures—and it affirms the message of scripture, rather than discredits it.
Response by RLS:
Twain here discusses the theistic notion of an intelligent or purposeful or moral or merciful God, as a ludicrous notion. Why do they insist on this notion of God? Consider the fly, he says. What intelligence or purpose or morality does the design of the fly entail? Twain turns these theistic claims on their head by focusing on the fly. Twain shows that the theist must admit the fly entails a malevolent and unmerciful creator who laughs at our prayers. Why did God create the fly? To "wantonly torture and harass and persecute myriads of creatures who had never done him any harm and could not if they wanted to"; to "persecute the sick child…settle upon its eyes, its face, its hands, and gnaw and pester and sting"; to "worry and fret and madden the worn and tired mother who watches by the child, and humbly prays for mercy and relief with the pathetic faith of the deceived and the unteachable"; to "settle upon the soldier's festering wounds in field and hospital and drive him frantic while he also prays…with none to listen but you, Fly"; to torture the person "perishing of the plague, and in his terror and despair praying; bite, sting, feed upon his ulcers, dabble your feet in his rotten blood, gum them thick with plague-germs—feet cunningly designed and perfected for this function ages ago in the beginning" (ibid). Surely, Twain argues, we would not consider the inventor of the fly moral or intelligent or purposeful. So, why do we believe this about God? If we look at the fly we see that theisms God "turns his indifferent back" on poor and suffering humans (118). Twain closes by marveling at the stupidity of theism: "daily the trained parrot in the pulpit gravely delivers himself of these ironies…and neither the speaker nor the hearer laughs at himself" (ibid).
I must admit that Twain has an excellent point here. However, lively and poignant as he is, he is really talking about the age old theodicy problem. Read the book of Job and you find the same enigmatic paradox. I have no complaint, aside from Twain's assertion that prayers are not answered by God and those praying "linger and suffer, and miserably die." Quite a generalization, I think. However, that all too often preachers ignore these issues and congregants naively whistle their way around the theodicy problem, is undeniable. Though I am a theist, I take Twain's point and would not try to argue around it.
Response by TBM:
Mark Twain considers the fly, as a way to prompt reflection on beliefs about God. Why, he asks, should such a torment have been created by a wise and loving God? He says that many, over the ages, have felt that the fly has a purpose, but none have been able to explain what this might be. He subjects God to the type of scrutiny a human would endure for creating such a pest. Then he goes further and asks why, if observing suffering without trying to relieve it is considered to be a sin, God's acceptance of massive suffering is given a pass. As they accept "one moral law for heaven, and another for the earth" (pp. 118), Twain sees the preacher as a trained parrot and the congregation as blindly accepting his words.
Mark Twain's questions raise enough valid points that anyone who really considers them will recognize the inconsistencies he saw. His sharp view of human folly is presented with humor, as in the line from Puddin'head Wilson that "Faith is believing what you know ain't so." Some readers enjoyed his humor, and some felt he made valid points. But the fact that most people largely ignored him supports his view that beliefs are rarely examined. And while questions are sometimes asked, this is often done in ways that leave the answer much the same as it began.
Response by ZTR:
Twain draws the reader's attention to a most perplexing concept, the existence of a fly. It has no real practical or beneficial use in this world except, as he explains, to annoy and disrupt the lives of every other creature. Constantly swinging and swatting, we watch the fly dance around our intentions, irritating us more. Twain asks the reader to imagine a person or God that would be willing to create something so completely useless and at the same time so utterly aggravating. How could a supreme being send pain and annoyance for no apparent reason, Twain asks. The fly not only provides annoyance, but its sting provides a reminder of excruciating pain and death on the wounds it inhabits. With its erratic flight and pestering buzz, its life is a misery to everyone except the One who created it. Twain then asks how this Creator and Maker of moral laws must be judged for this. A Creator cannot say that one action is a sin or abomination and then commit it without repercussions. Bringing his frustration with the divine Judge into a more immediate context, Twain wonders how clergy can stand in front of an obedient congregation and not question what they proclaim, and equally how congregants can not question what they hear. Without the occurrence of such questioning, Twain believes there can be no progression in the life and understanding of someone who professes that there is an almighty God.
Twain's metaphor of the fly is beautiful. Where do the pain, suffering, and injustices of this world come from? Can we attribute them to an almighty Judge and Creator without also reproaching such a deity? In the worldviews supported by fundamentalist Christian churches, entertaining these challenges to God's goodness and wisdom is unheard of. The comfortable routines of clergy and congregation are highly prized so the sharpest challenges are suppressed; after all they would only create trouble and confusion. This social structure, together with the pomposity of ministers and the supposed naivetÚ of believers, perpetuates blind, irrational belief. Rather than conforming to this disastrous pattern, however, religious leaders should respect the intelligence of believers and have confidence that sharp questioning need not destroy faith in God. To discuss Twain's critique in church would not lead to a mighty collapse, with burning churches and public executions of clergy. On the contrary, it would open an avenue to a richer, deepened sense of the word "faith". People would be able to grow in their faith, understanding that there is more to faith than black and white distinctions and comforting predictability. To entertain difficult challenges to faith would give honest believers a glimpse of ultimate reality in the truest sense: reasonable, mysterious, and richly connected to daily life.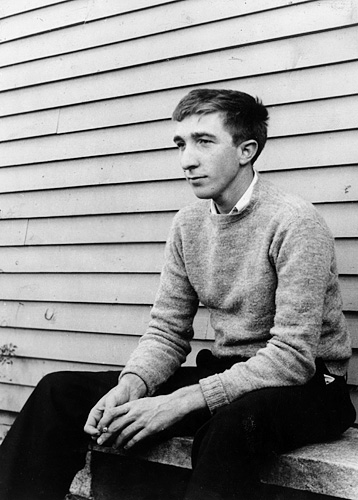 John Updike
(from here)
Response by DR:
This short excerpt from Updike's book Roger's Version centers on a cocktail party argument over the need for God to explain the origin of the universe and of life. For the most part, it's a one-sided argument with the main character Dale cowering before the cocky but brilliant Kriegman. Concerning the origin of life, Kriegman confidently cites the argument that crystalline clay provided 'scaffolding' for early chemical evolution. This eventually led to the RNA world, from which the evolution of life itself was apparently simple. Kriegman's case for the origin of the universe from nothing is even more theoretical, though he presents it with the same confidence. Hidden beneath a barrage of physics terminology, Kriegman's argument seems to be that, if there were absolutely nothing, even nothing contains "potential geometry" (243) capable of spontaneously producing the universe we know. He concludes as boldly as he began, "Nothing to matter, dead matter to live, smooth as silk. God? Forget the old bluffer."
As far as Kriegman's actual arguments are concerned, my only real objection is to his confidence. As I understand it, theories about the origin of the universe and life remain quite speculative and difficult to test. Nevertheless, I have little interest in the form of gap-theism Kriegman argues against. This limited designer is intended to secure religious goods that have already been lost due to more proximate knowledge. Specifically, the undirected and deeply contingent nature of evolution leaves little or no room (or need) for such a creator's intentionality to explain human (and other) life. In addition, the easy sanctification of particular religious values is no longer possible after recognizing how deeply all human knowledge is socially constructed (a lesson learned from various disciplines including comparative religion, sociology, anthropology, and postmodern philosophy). Ultimately, I cannot assess the religious value of Kriegman's arguments without more context. What is most important to understand about such arguments is what actions or non-actions they are intended to justify. As I understand it, the basic religious task is to receive life with sincere gratitude and to respond by living compassionately towards one's fellow creatures. That quest can be fulfilled equally well in frameworks that attribute unlikely contingencies to God and in those that assume such individual events are individually improbable, but ultimately inevitable.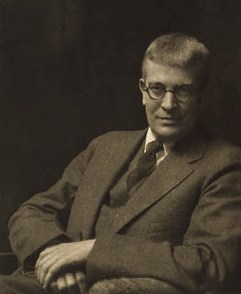 Carl Van Doren
(from here)
Response by AS:
Carl van Doren draws a distinction between the believer and the unbeliever: while the believer denies reason and evidence against the existence of God, the unbeliever adheres to reason informed by evidence against the existence of God. Van Doren then launches into his view of how gods are given anthropomorphic characteristics, gods are dropped when their attributes fail to meet celebrated social norms in changing societies, and gods that seemingly stand the test of time have had their character revised to the point where they might as well be different gods. He thinks people create gods and devise theologies that include a life after death because people are afraid of dying, but desiring such a state of affairs does not make it obtain. He maintains that even if an afterlife were appealing, most unbelievers prefer intellectual honesty over conceding reason for the sake of comfort, and he insists that his outlook is not bleak because it stems from courage instead of fear.
I think van Doren gives a smooth, honest version of the disillusioned atheist standpoint. I think religious truth, and truth in general, can be discovered as they are created, found, and theorized. This is not always the case, but I think it's unfair to say that, just because believers want a God to exist, that God does not exist. Of course, this is not exactly what van Doren is saying, as he only argues that desiring God does not cause God's existence. But then desiring God and seeking comfort can't count as evidence against God's reality.
Response by FA:
In this article the author argues that belief in God is a superstition and there should not be any obligation for him to believe in some thing which is made up of superstition and which is unbelievable. The author believes that enlightenment is the key to unbelief and people who are enlightened choose to believe because they want to be in the safer side. The author is in the view that life after death is a wish and like any other wish it will remain only as a wish for human beings. The crux of the author's argument is that the idea of belief is just a guess work because there is no fact in it and it can not be proven. The author chooses to take his stand to be an unbeliever because belief's are not backed with reason and facts that can be tested or measured.
I think this article contains one of the basic arguments on why a person choose not to believe. The main reason a person to choose not to believe is because belief's can not be backed by reasons or facts, believes are imaginations or wishes. I do not agree with the author's argument that wishes would remain as wishes forever. If the author makes statements that can be verified and has facts I think he should show the evidence of how a wish can not be fulfilled. It is same as asking the question of how can one disprove the existence of a God? I think it is impossible to prove or disprove the existence of God, depending on what one means to prove. The meaning of the word belief itself is to accept that the concept is unbelievable and thus should be believed. I agree with the author that belief is some thing that can be captivated but it should not be insisted. I believe that belief is a choice and people should have the freedom to choose what they believe or disbelieve. But one of the important point that people of belief should learn from unbelievers is that the creation of beliefs and superstitions may take us far away from the real God. One should learn how to unpack these superstitions and find the real God. The author of this article wishes to stand along the side of unbelievers because there is no belief that is authenticate or authoritative that may show the real truth with out fiction. The answer for this is not be an unbeliever and give up but to strive to unpack ones understandings of God and try to find the truth. I think those who choose to be unbelievers are not any better than believers because they give up on their search for the mystery of the idea of God. I think believers should not just stop being believers but should be open to facts of the issue and constantly learn and be changed in their pursuit of knowing God.
Response by CSA:
Carl Van Doren calls himself one "without the gift of faith" (138). He does not argue against belief in a certain Christian or Hindu god, or against a certain dogma or doctrine; rather, he discounts any and all notions of deities existing throughout history. The reason for this disbelief is settled entirely on the lack of "trustworthy evidence as to a god's absolute existence" (139). Van Doren tackles the question of whether morality exists apart from belief in God and he answers affirmatively—although he acknowledges that other atheists' opinions may differ. His historical studies have allowed him to recognize that unbelievers have done less harm to the world than believers and they are also capable of having a more positive life outlook than believers.
In the beginning of this selection, Van Doren points out that his standpoint as an un-believer is automatically assigned an inferior position in debates, because of the negative terms used. He claims that the title of un-believer insinuates denying reason and evidence—both of which he claims to be adhering to closely. I empathize with his frustration of being loaded with the burden of proof, and it is fascinating to see that believers and unbelievers share this lament. Apparently, whoever holds the pen gets to assign the roles. Van Doren's argument that atheists have historically caused less harm than theists is not reliable. Of course, statistically, more theistic people have done harm than atheistic people because the vast majority of people who have lived have been theistic. However, these numbers do not necessitate the conclusion he reaches, and he does not provide any numbers anyway, so his claim is unsubstantiated.
Response by JCD:
Carl Van Doren is an unbeliever. Which is not to say – or not only to say – that he is not of this or that sect, neither Papist nor Protestant, neither Hindu nor Buddhist. He is an equal-opportunity unbeliever, denying the reality and authority of "any god…any doctrine…any scheme of mortality" that has ever held sway over the minds of men (139). Others may believe, of course, but theirs is a faith that is "a survival from an earlier stage of thinking and feeling" from a time less enlightened; it is "a form of superstition" (138). The religious beliefs of adults have all of the credence of children's convictions about Santa Claus: charming in their own way, perhaps, but certainly not worthy of influence. Van Doren, instead, will take the bold route, the honest route, the route of unbelief. It is the path of courage rather than fear.
But it's pretty austere in Van Doren's recounting, austere enough that one almost wonders if he isn't really making the opposite case. While he asserts that unbelievers have filled the world "with knowledge and beauty, with temperance and justice, with manners and laughter," there isn't much laughter in evidence (141). He denies the bleakness of the unbelieving worldview, but his counterexample to the satyrs, sea monsters, and angels that enrich or enriched human life is…physics. ("Each discovery of a new truth brings him a vivid joy" (142).) Of course, if he finds the claims of theism utterly without merit, it is true that it would compromise his moral integrity to believe otherwise on the basis of cathedrals with flying buttresses and hymns with catchy tunes. But it is a flat world he has offered. And nowhere was that more clear than in a stray comment towards the end of the piece. "Breathing myths," "comforting legends," and "consoling hopes," he writes, may be very beautiful, it's true, but "they have, as the unbeliever sees them, no authority beyond that of poetry" (142). But hold on now! Poetry has no authority? He explains: "That is, they [the myths, etc.] may captivate if they can, but they have no right to insist upon conquering." Perhaps. I am not one to lecture an English professor, especially a Van Doren, on the importance of poetry. (Mark Van Doren taught Allen Ginsburg, even.) But it seems that this is a failure of imagination, in more ways than one. Are there not truths to be found in poetry, in music, in myth? Is austerity the only defensible aesthetic? Are we limited to the verifiable, the measurable, the observable? Van Doren (Carl, that is) seems willing to say that we are, though he doesn't sound very happy about it. And no wonder: in "stick[ing] as closely as it can to the evidence," the evidence he has chosen has taken out all of the fun. What happened to the laughter?
Response by MG:
Carl Van Doren addresses the reasons for why he is not inclined towards religious belief. He begins with a defense of the unbeliever in general, stating that they are just as intelligent and virtuous as the believer and that in fact their numbers are greatest among enlightened communities. He then calls attention to the difficulty inherent in such a discussion, as: "Belief, being the first in the field, naturally took a positive term for itself and gave a negative term to unbelief. As an unbeliever, I am therefore obliged to seem merely to dissent from the believers no matter how much more I may do" (138). Doren argues that just as the term belief precedes the term unbelief, so too do the imaginative and wishful aspects of religious faith precede a turning towards, and reliance on, reason. Applying this use of reason to the concept of god/s, he notes the ever-changing landscape of deities; the countless number of deities who are no longer remembered, the transformation of attributes of those who are and his observation that deities appear to be made in the image of the believer rather than vice versa. Doren offers a similar critique of revelation, arguing that though many attest to its veracity and that in some forms it has withstood the test of time, both of these 'proofs' rely upon assumptions (not reason); that a deity has chosen to communicate through a unique human individual and that longevity can act as a test of authenticity. Lastly, Doren examines the belief in the immortality of the soul, which he argues is a form of wish fulfilment and an attempt to imbue justice and meaning into human existence. Doren concludes with the assertion, that on the whole, the unbeliever has afflicted less violence on the world than the believer and that: "They have, instead, done what they could to fill it with knowledge and beauty, with temperance and justice, with manners and laughter. They have numbered among themselves some of the most distinguished specimens of mankind" (141).
There are two instances where Carl Doren's argument becomes problematic. Firstly, Doren argues that the believer cannot cite the shared experience of revelation as proof for its existence, given that not everyone has this experience and so it cannot be a universal truth. He does however appear to have no difficulty arguing for the universality of his own personal experience. Secondly, Doren's argument for the unbeliever rests heavily on the ethical character of the unbeliever, and how the unbeliever has acted with greater dignity and respect for his/her fellow human beings than the believer throughout human history. However, when the unbeliever obtained a majority rule in Russia and China in the 20th century, I would argue their rule was no less oppressive than their believer predecessors.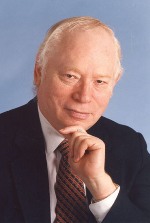 Steven Weinberg
(from here)
Response by KGL:
In "What About God?" Steven Weinberg outlines why the notion of a personal God falls into the realm of wishful thinking. For Weinberg, the evidence of science points to an impersonal God because God's concern for humans is so hidden as to not be found, the fundamental physical principles persistently have little to do with humans, and the universe does not suggest a meaning to life. Weinberg rejects other scientists' attempts to reconcile religion and science. Stephen Jay Gould's concept of religion and science as occupying separate magisteria fails to account for the fact that humans do not mentally separate the two in their day-to-day lives while John Archibald Wheeler's resolution of the quantum mechanical problem of wavefunction collapse by postulating the necessity of some type of intelligent life is positivism taken to an extreme in Weinberg's mind. John Polkinghorne's placing of religion and science within the same framework is problematic because the aggregation of human religious experience does not point to a common understanding of revelation in the same way that all scientific experiments point to the same type of physical reality. While Weinberg admits that science cannot provide motives for human action or console in the same ways religion can, he thinks humans must decide what they believe. If they choose to ignore logical reasoning and invent a personal God, he admires their ability to make that decision in spite of his personal objections, but sitting on the fence of ambiguity as liberal Christians do is worse. For Weinberg, the price of being part of a "grand cosmic drama," is too high, and so he chooses to be intellectually honest with himself, which provides "satisfactions of its own" (378, 379).
While Weinberg's characterization of liberal Christians as theologically befuddled was difficult to hear, his point is valid in the sense that many people, and not just some liberal Christians, want both the solace of a never-ending perfect existence in the hereafter as well as the belief that they are facing the reality of death. Unfortunately, this way of thinking often leads to talk about social justice, for example, with little action or a defeatist attitude toward eliminating injustice in the world. A middle way is to face the inevitability of death, but at the same time recognize that out of suffering can come the motivation for making the world a place that honors the dignity that all humans deserve. The transcendent experience of having one's own awareness touched by another's through empathetically entering into another's pain fuels the desire and hope for alleviating suffering. This is the message of Jesus' death and resurrection—victory can come out of defeat. While these encounters with divinity are all too infrequent in our busy world of commerce and perpetual "doing," they can become the presence of God in our lives and they can become the consolation of an "interested God" (368).

[AMK] Aiden Kelley, member of the 2009 Atheisms and Theologies Seminar at Boston University
[APL] Andrew Linscott, member of the 2009 Atheisms and Theologies Seminar at Boston University
[AS] Amanda Spears, member of the 2012 Atheisms and Theologies Seminar at Boston University
[BJT] Brice Tennant, member of the 2009 Atheisms and Theologies Seminar at Boston University
[BLT] Benjamin Thompson, member of the 2009 Atheisms and Theologies Seminar at Boston University
[CSA] Caleb Acton, member of the 2009 Atheisms and Theologies Seminar at Boston University
[DR] David Rohr, member of the 2012 Atheisms and Theologies Seminar at Boston University
[ERD] Eric Dorman, member of the 2009 Atheisms and Theologies Seminar at Boston University
[FA] Finney Abraham, member of the 2012 Atheisms and Theologies Seminar at Boston University
[HJW] Hong Jongwook, member of the 2009 Atheisms and Theologies Seminar at Boston University
[JCD] Joel Daniels, member of the 2009 Atheisms and Theologies Seminar at Boston University
[JH] Jonathan Heaps, member of the 2012 Atheisms and Theologies Seminar at Boston University
[JM] Jonathan Morgan, member of the 2012 Atheisms and Theologies Seminar at Boston University
[JNH] Josh Hasler, member of the 2009 Atheisms and Theologies Seminar at Boston University
[KC] Kasey Cox, member of the 2012 Atheisms and Theologies Seminar at Boston University
[KGL] Karen Lubic, member of the 2009 Atheisms and Theologies Seminar at Boston University
[MDJ] Moon Doojin, member of the 2009 Atheisms and Theologies Seminar at Boston University
[MG] Melissa Grimm, member of the 2009 Atheisms and Theologies Seminar at Boston University
[MS] Mark Shan, member of the 2009 Atheisms and Theologies Seminar at Boston University
[RBB] Robin Bartlett Barraza, member of the 2012 Atheisms and Theologies Seminar at Boston University
[RLS] Roy Smith, member of the 2009 Atheisms and Theologies Seminar at Boston University
[RZ] Robin Barraza, member of the 2012 Atheisms and Theologies Seminar at Boston University
[SR] Stefani Ruper, member of the 2012 Atheisms and Theologies Seminar at Boston University
[SRG] Sarah Goodloe, member of the 2009 Atheisms and Theologies Seminar at Boston University
[TBM] Todd McAlster, member of the 2009 Atheisms and Theologies Seminar at Boston University
[TK] Tyler Kirk, member of the 2012 Atheisms and Theologies Seminar at Boston University
[TW] Thurman Willison, member of the 2009 Atheisms and Theologies Seminar at Boston University
[ZTR] Zachary Rodriguez, member of the 2009 Atheisms and Theologies Seminar at Boston University