Mountain Biking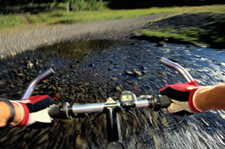 Want to experience fast trails and technical descents? We have just the extreme mountain biking trip for you. You'll spend four days in the most beautiful country with trails that are designed for the experienced biker.

The trails take riders on incredible single track, slick rock, and jeep roads through indescribably beautiful terrain. The tour concludes with a ride at the famed Slick Rock Bike Trail, and a shuttle ride that returns you to Fruita, Colorado.

First time backcountry riders are cautioned that this is a rather technical and physically challenging area including considerable amounts of single track. Beginning riders who want to lay claim to the memories offered by the trail, but hesitate to experience the heart-pounding thrill of a radical downhill single track should consider one of our day rides.