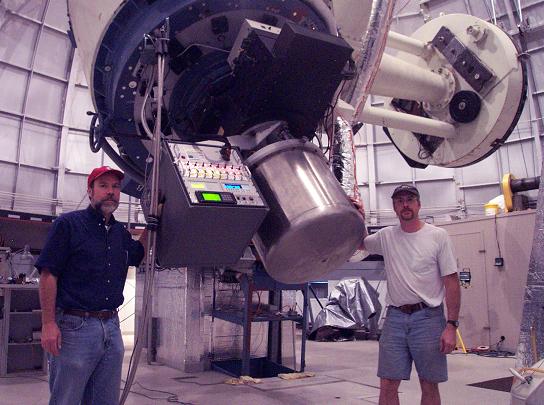 At Left: Dan Clemens and Dr. Marc Buie during 2004 commissioning of the Mimir instrument on the Perkins Telescope (operated by Lowell Observatory, outside Flagstaff, AZ).
Current Research Projects & Areas:
I work primarily on problems of Galactic astrophysics, including star formation, Galactic structure, and the interstellar medium. This decade features a coherent effort to map and study the nature of the magnetic field in the star-forming molecular gas clouds in the disk of the Milky Way through use of our Mimir instrument to conduct the Galactic Plane Infrared Polarization Survey (GPIPS). This Survey used the weak (1-2%) linearly polarization signal impressed on unpolarized background starlight by foreground dust grains spinning about the magnetic fields present in the gas and dust clouds to reveal the plane of sky orientation of the field. GPIPS completed its observations phase on the Perkins telescope in Arizona in Fall 2017 and the full data products (images, catalogs) were released to the community in an updated form (DR4) January 2019. The roughly 1 million stellar polarizations measured represent many orders of magnitude improvement in the number of probes of the magnetic field in the Galaxy.
A somewhat organized list of my current activities include:
The Mimir Instrument - a near-infrared wide-field imaging polarimeter and spectrometer, currently used on the 1.8m Perkins telescope.

"Mimir: A Near-Infrared Wide-Field Imager, Spectrometer, and Polarimeter", Clemens, D. P., et al. 2007, PASP, 119, 1385
Standard JHKsL'M' broad band imaging
H2 S(1) line imaging at 2.122um (on, off narrow bands)
H and Ks imaging polarimetry
Many spectroscopy opions (ZYJ, J, JHKss, HK, LM)



The Galactic Plane Infrared Polarization Survey (GPIPS) - an H-band imaging polarization survey of 76 sq deg of the first Galactic Quadrant


Student Projects in our Research Group

"Constraining Galactic Magnetic Field Models with Starlight Polarimetry,"

Pavel, M. D. 2011, ApJ, 740, 21

"Testing Galactic Magnetic Field Models using Near-Infrared Polarimetry",

Pavel, M. D., et al. 2012, ApJ, 749, 71

"Resolved Magnetic Field Strength Map for a Molecular Cloud,"

Marchwinski et al. 2012, ApJ,755, 130

"H II Region Driven Galactic Bubbles and Their Relationship to the Galactic Magnetic Field,"

Pavel, M.D. & Clemens, D.P. 2012, ApJ, 760, 150

"A Lack of Resolved Near-infrared Polarization across the Face of M51,"

Pavel, M.D. & Clemens, D.P. 2012, ApJ, 761, 28

"The Magnetic Field of Cloud 3 in L204", Cashman, L, R., & Clemens, D. P. ApJ, 793, 126 (2014)
"Near-infrared Polarimetry of the Edge-on Galaxy NGC 891", Montgomery, J. D., & Clemens, D. P. ApJ, 786, 41 (2014).
"The Magnetic Field of Cloud 3 in L204", Cashman, L, R., & Clemens, D. P. ApJ, 793, 126 (2014)
Open Clusters as Probes of the Galactic Magnetic Field. I. Cluster Properties, Hoq, S., & Clemens, D. P., AJ, 150, 135 (2015).



Collaborative Projects with outside groups:


Other Projects (Internal)
"The Outer Magnetic Field of L183"

Clemens, D. P., ApJ, 748, 18 (2012)

"Near-Infrared Polarimetry of a Normal Spiral Galaxy viewed through the Taurus Molecular Cloud,"

Clemens, D.P., Pavel, M.D., & Cashman, L.R. 2013, AJ, 145, 74
Mimir H-band polarization vectors overlaid on WISE 12um emission gray-scale image and WISE 25um emission contours. (From Andersson et al. 2013)
Graduate Student Researchers: Jordan Montgomery, Adham El-Batal
Recent Graduates: Dr. Michael D. Pavel (2012 - to Univ. of Texas, now Lincoln Labs in MA), Robert Marchwinski (to Penn State), Katie Jameson (to Univ. Maryland), Josh Shiode (to UC Berkeley, now AAS Policy Fellow), Dr. Emily Mercer (to Univ. Michigan), Dr. Sadia Hoq (to MIT/Lincoln Labs)